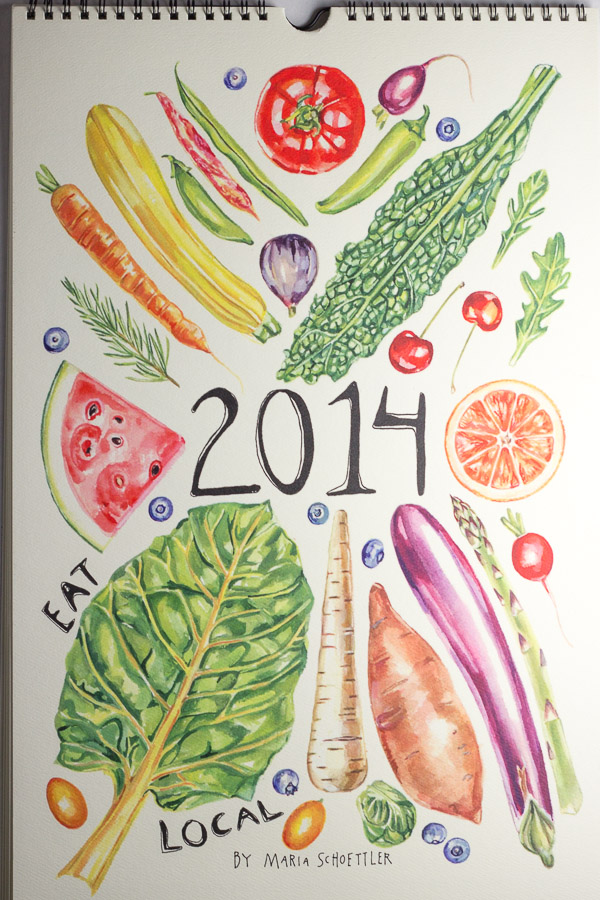 I really love hand drawn illustrations of food so when I first came across this beautiful calendar on the internet I knew I had to have it. I promptly ordered it a few months ago and it's been sitting in my room waiting to be hung on my wall. If you flip through the calendar, you see colorful and detailed drawings of fruits and vegetables and each month has its own unique illustration. The artist who draws these calendars, Maria Schoettler, has created a new calendar every year for the past few years. She also has other food related illustrations on her site, so be sure to check out her shop. She is based in California so her calendar reflects the seasonality of produce there, but despite the fact that I live in the Mid-Atlantic region on the opposite side of the country I think her calendar serves as an important reminder to eat as seasonally and locally as possible, not only for the personal health benefit of eating fresh produce at its prime, but also supporting local businesses and the environmental benefit of eating food that hasn't traveled halfway across the world.
You have until the end of Friday to enter into this giveaway, and the winner will be randomly selected using the Rafflecopter widget below. If you need some help figuring out how to enter, check out the video at the end of this post.
Full Disclosure: I have personally purchased this calendar and this is NOT a sponsored post. I just love this calendar and I want to support artists and share the work that I enjoy. 🙂
***This giveaway is now closed! Thank you to all who participated 🙂
How to Enter Rafflecopter Giveaways from Rafflecopter on Vimeo.
0