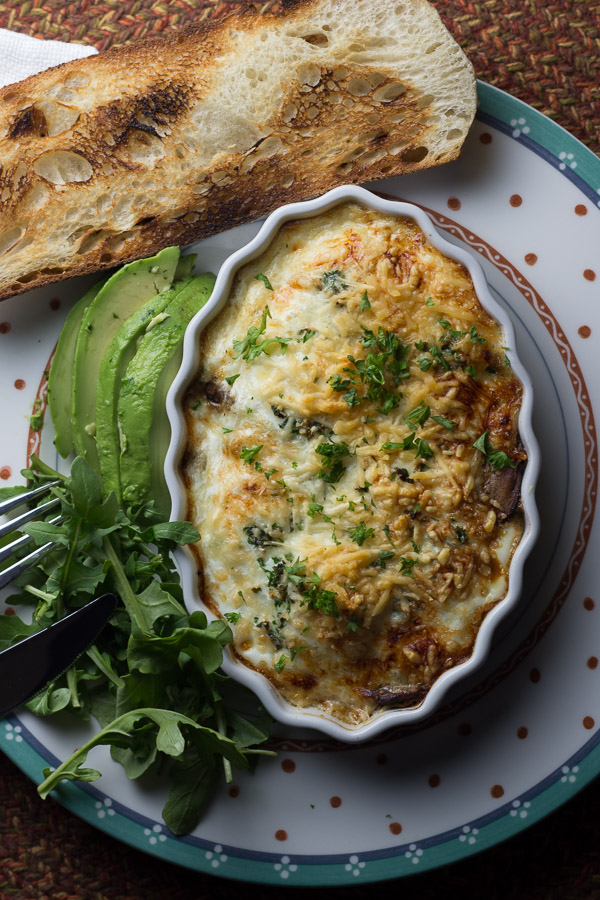 The first time you cook for someone can be a bit nerve wracking. You hope what you make is to their taste and that it turns out well. You don't want to make anything too complicated as it presents more opportunities for error but you also don't want to make anything too simple because you want to impress. The choices are endless and if you're as indecisive as I am (if you ever dine with me, take away my menu the first time I declare I know what I want) it can be an endless cycle of choosing and doubting. Choosing what to cook for someone I have over is so hard for me! Sometimes I plan weeks in advance so that I can properly prepare and maybe even practice once or twice. I know to some people this seems ridiculous- if someone is over shouldn't they just appreciate and at least pretend to enjoy what you make for them? Yes, maybe. But I want a guest to think on the meal later and I would like to create a memory with them- I know, so dramatic.
Baked eggs are really simple. The reason I chose this dish to cook recently for a first homemade meal together was because I think brunch at home is special for the average person. Maybe a scrambled egg in the morning before work or a boiled egg on a lunch time salad is mundane, but baked eggs are a bit novel and present themselves nicely. A handful of ingredients create a lot of flavor for just set whites and a runny yolk. Herbs and garlic add freshness and zip and a dry, crumbly cheese creates the perfect broiled crust on top of soft eggs. Served with some crusty bread that has been well toasted, it is the perfect start to a Saturday.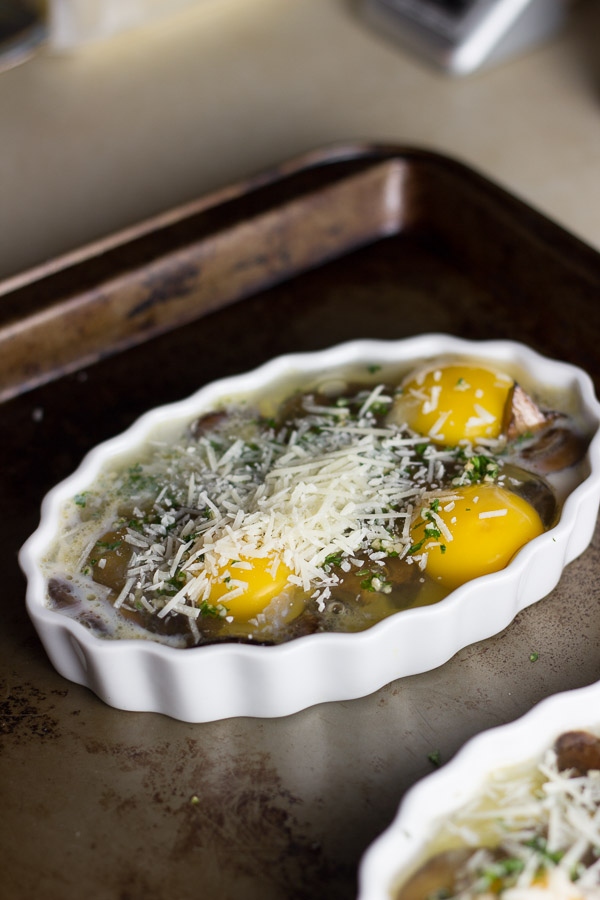 For a bit of heartiness I added some sautéed mushrooms. During my weekend in Tampa about a month ago my friend Katharine told me about how her British mum adds a splash of soy sauce to the butter in a pan before adding mushrooms to brown. Upon trying it I learned that the touch of soy enhances the already umami richness of mushrooms. What is the not-so-secret secret behind perfectly browned mushrooms? Don't mess with them too much in the pan and don't crowd them. Give them time to sit in the butter and sizzle away and make sure there is plenty of room in the pan so that they really sauté and don't steam. The beautifully done mushrooms hidden beneath baked eggs make it an even more special treat- one that goes well with good company on the balcony during a sunny spring day.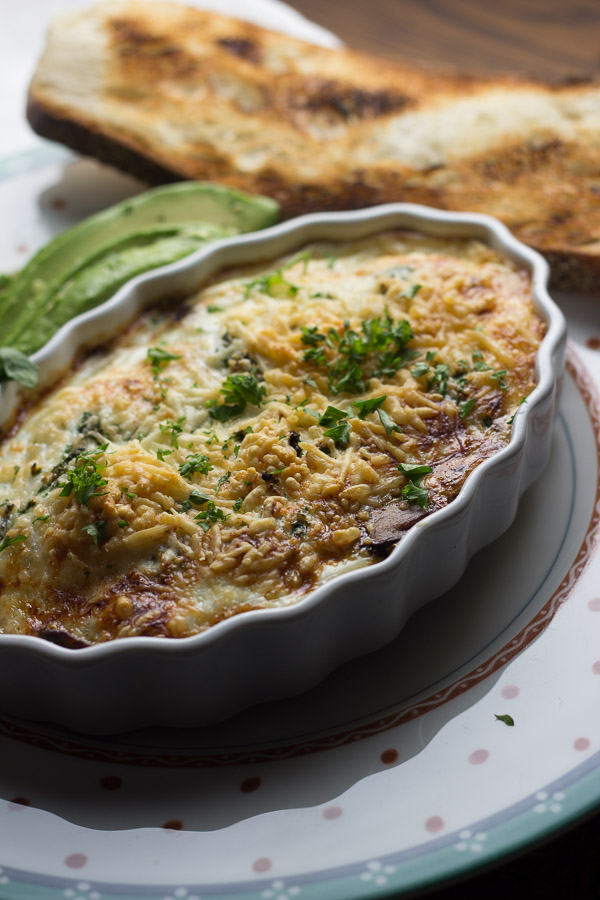 Baked Eggs with Soy Sauce Mushrooms
You will need two ramekins or gratin dishes for this dish. I prefer gratin dishes because it allows the eggs to cook evenly and it lends a larger surface area for the broiler which translates to more crispy cheese crust.
Ingredients
2 tablespoons of butter, separated
a splash of soy sauce (I used about half a teaspoon)
4 ounces of mushrooms, sliced (I used creminis)
2 teaspoons of cream or whole milk, separated
¼ cup of fresh herbs such as parsley, chives, tarragon, thyme, etc.
1 clove of garlic
¼ cup of dry, sharp cheese such as parmesan or romano, grated
Freshly ground black pepper, to taste
Instructions
Melt a tablespoon of butter in a large pan or cast iron skillet that is very hot over medium high heat.
Add the splash of soy sauce to the melted butter and add the mushrooms.
Let the mushrooms sit for about five minutes in the pan undisturbed until nicely brown. Meanwhile mince the fresh herbs and garlic together until fine.
Flip the mushrooms and let them cook on the other side for another five minutes. Set aside.
Turn on the broiler to high and set two gratin dishes or ramekins on a cookie sheet. Add half the tablespoon of remaining butter to each pan and a teaspoon of cream or milk to each. Put the dishes in the oven for about 30 seconds until the butter and cream are bubbling.
Take out the dishes (on the sheet) and put half of the mushrooms into each of them. Crack three eggs into each ramekin and top evenly with the herb and garlic mixture. Sprinkle half the cheese onto each dish.
Put the cookie sheet under the broiler and let it cook for about 5 to 6 minutes, rotating halfway through. Cook until the egg is just setting and remove immediately (the egg will continue cooking when you take it out of the oven).
Sprinkle freshly ground black pepper on top and serve with toasted crusty bread.
2