Sometimes I'm a lazy food blogger. Generally, yes, I love to get my hands dirty and I make a big mess in the kitchen happily. But I'm not ambitious enough to make things from scratch every time I want something to eat. I do have a day job and I am prone to watching entire seasons of TV shows in one sitting on the weekend (don't judge me).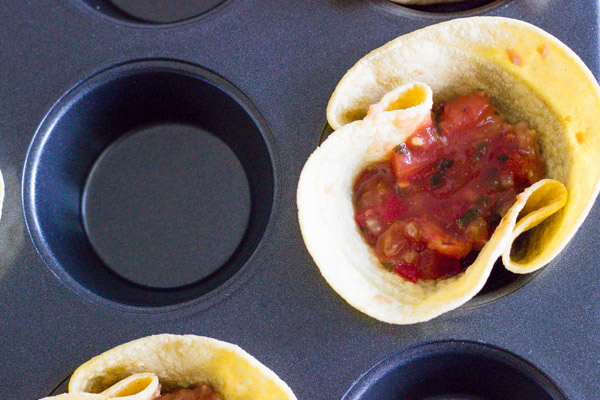 I saw a great idea for making taco cups on my friends' blog, lavebeli. I decided to take their method of baking taco cups into the base of their taco salads to make little muffin sized cups in a muffin pan and fill it with the ingredients needed for huevos rancheros, which is one of my favorite breakfast foods. I used mostly ingredients on hand and from the pantry- refried beans, prepared salsa, some grated cheese and eggs. You can assemble and bake these in 30 minutes or less meaning more time to watch a TV marathon read the newspaper and sip your coffee. I like to top these with lots of hot sauce and eat them with a side of sliced avocado.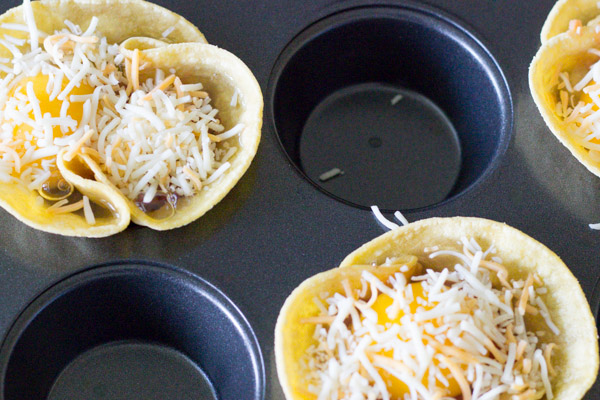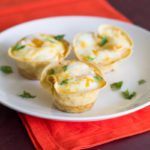 Baked Huevos Rancheros in a Tortilla Cup
Ingredients
cooking spray

8 6-

inch

corn tortillas

1/2 to 3/4

cup

of refried beans

I used a canned vegetarian version

1/2 to 3/4

cup

of prepared salsa

8

eggs

3/4

cup

of grated cheese

I used monterey jack

1/4

cup

of chopped fresh cilantro

hot sauce to serve

tabasco or sriracha are both delicious on here
Instructions
Preheat the oven to 350 degrees.

Spray the muffin tin with cooking spray.

Wrap the tortillas into a paper towel and microwave on high for 30 seconds.

Working quickly, work the tortillas into the muffin tins folding a few times on the side to maintain a cup shape.

Put a heaping spoonful of refried beans on the bottoms of each cup.

Top lightly with the salsa, just covering the beans.

Crack an egg into each cup, and spoon a thin layer of salsa on top of the egg.

Sprinkle cheese generously on each cup.

Bake 15-20 minutes, taking it out of the oven when the egg whites are just set (the yolks should still be runny).

Top with chopped cilantro and serve with hot sauce.
2