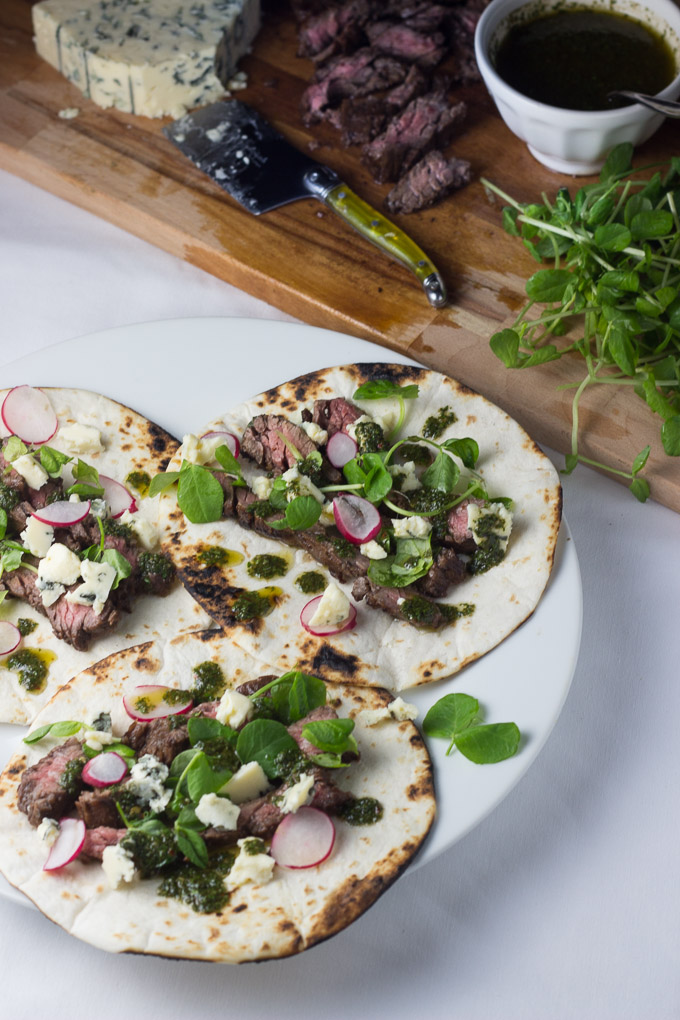 I'm partnering with Castello for a Summer of Blue. A big thank you to Castello for sponsoring this post!
I seem to be on a grilling kick since the weather this May has turned to weather you'd typically experience in the DC area in mid-August. Yesterday it was sunny, hot, and humid at dawn. The heaviness hung in the air until dark clouds formed across the sky and a deluge of big, heavy raindrops soaked the city during the evening commute. This weekend is a long weekend since Monday is Memorial Day. Swimming pools will open, grills will be cleaned of the winter cobwebs and fired up as people attempt to soak up the nice days that this season brings.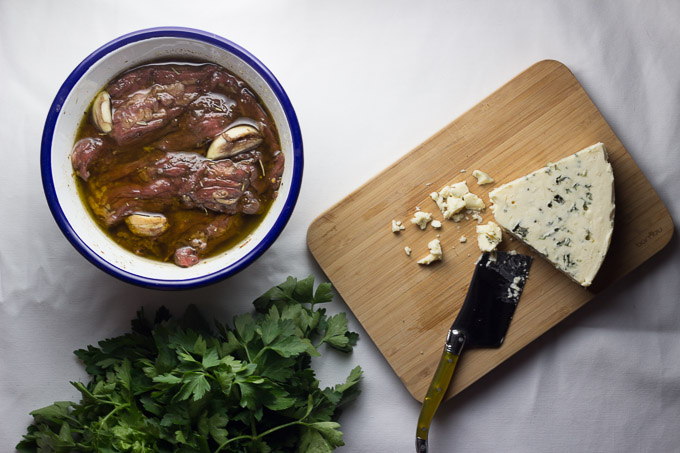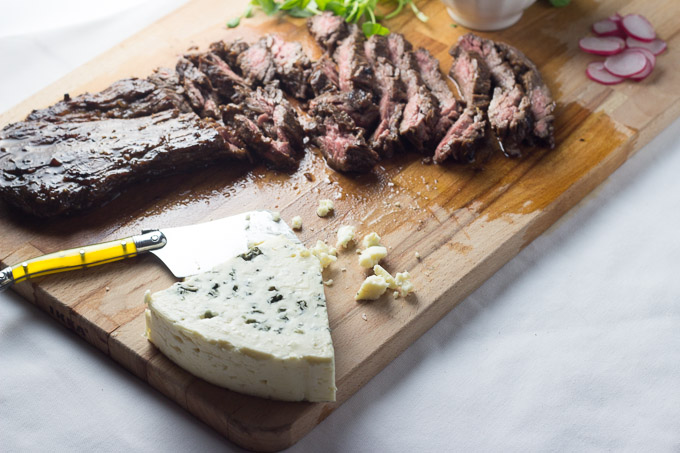 I thought about what kind of summer recipe extra creamy Danish blue cheese would shine in. I decided that the slight sweetness of a skirt steak marinaded in a balsamic vinegar mixture would be a nice balance to the sharp tang of blue cheese in a taco. Spicy, crunchy radish slices break up the richness of the cheese well, and the pea shoots of this spring season add a green freshness. To top it off I've added a simple chimichurri featuring parsley. Enjoy your long weekend with friends and family and please don't forget to remember what Memorial Day is really about — remembering the men and women who sacrificed their lives while in the military service.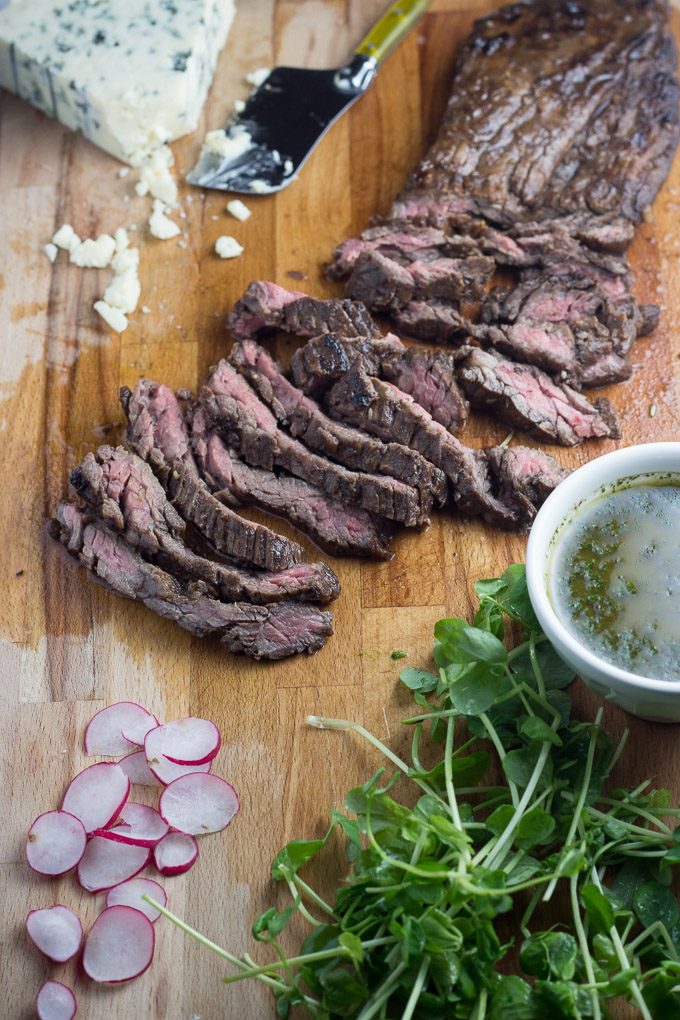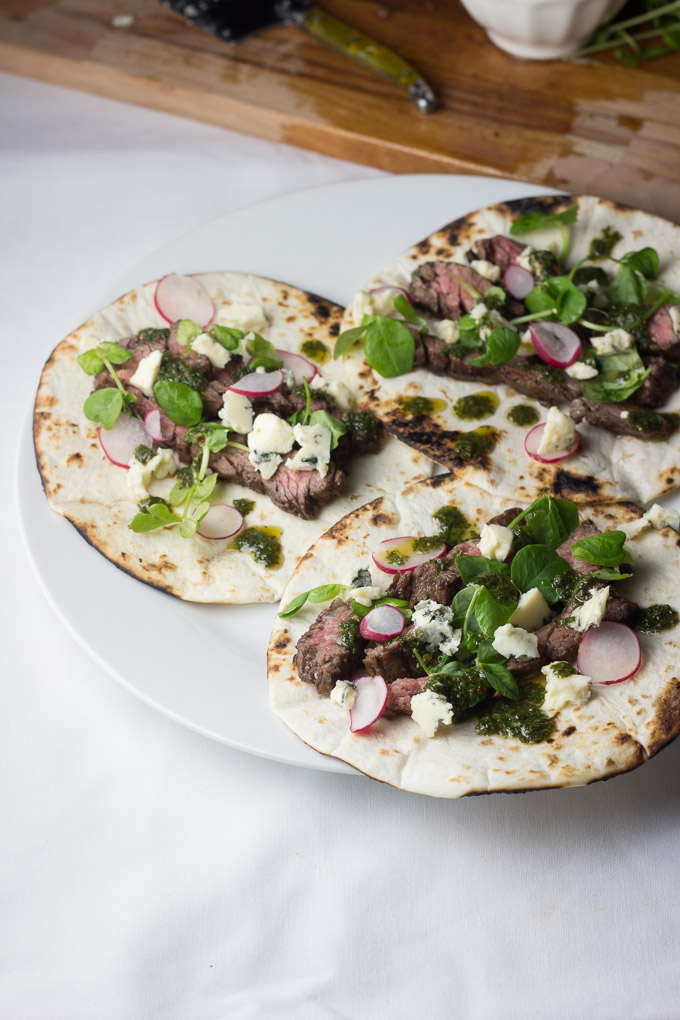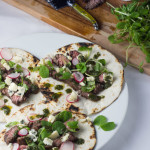 Balsamic Skirt Steak Tacos with Blue Cheese and Chimichurri
The recipe for chimichurri makes well over the amount needed for these tacos. Save it for other uses such as spooning over any grilled meat and veggies. It would also be delicious on some fish.
Ingredients
1

pound

of skirt steak

cut into two pieces

8

small soft flour tortillas

3

ounces

of Castello Extra Creamy Danish Blue Cheese

crumbled

1

small bunch of radishes

thinly slices

2

handfuls of pea shoots
Steak Marinade
1/4

cup

of balsamic vinegar

1/4

cup

of olive oil

3

cloves

of garlic

smashed

1

teaspoon

salt

1/2

teaspoon

black pepper

1

teaspoon

of Italian seasoning/herb mix or a mixture of dried rosemary

thyme, garlic and onion powder
Chimichurri
1

packed cup of fresh parsley

1/2

teaspoon

of crushed red pepper flakes

1

teaspoon

of salt

3

tablespoons

of red wine vinegar

1/4

cup

of extra virgin olive oil
Instructions
Mix all the ingredients for the steak marinade and let the steak soak in it for at least 30 minutes or overnight.

Process all the ingredients for the chimichurri in a food processor until smooth, set aside.

Heat a grill to high.

Cook steaks for about 3 minutes on each side until the steak is a medium rare (don't overcook or the steak will be tough). Set aside to rest for about 10 minutes.

While the steak is resting put the flour tortillas on the grill for about 30 seconds on each side until they are lightly charred.

Slice the steak thinly across the grain. Assemble the tacos by dividing the meat between the 8 tortillas. Drizzle about 1/2 a teaspoon of chimichurri over the meat. Top each taco with cheese, sliced radishes and pea shoots.
0