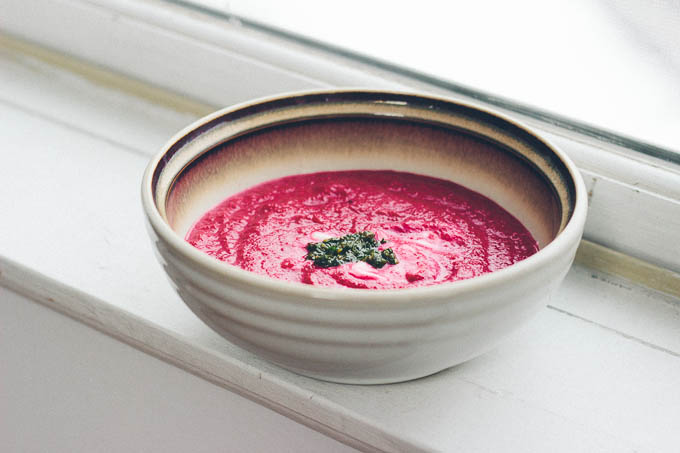 The past few days I've been at my boyfriend's apartment in Hoboken, NJ. I originally came up with my friends to celebrate New Year's Eve and to hang out in New York but since I had a few days between jobs (yes, a big change for 2015!) I decided to stay longer to hang out a few more days. Yesterday as I made this soup a good amount of snow fell and blanketed the town and the skyline of Manhattan was blurred, the Empire State Building a shadow in the sky.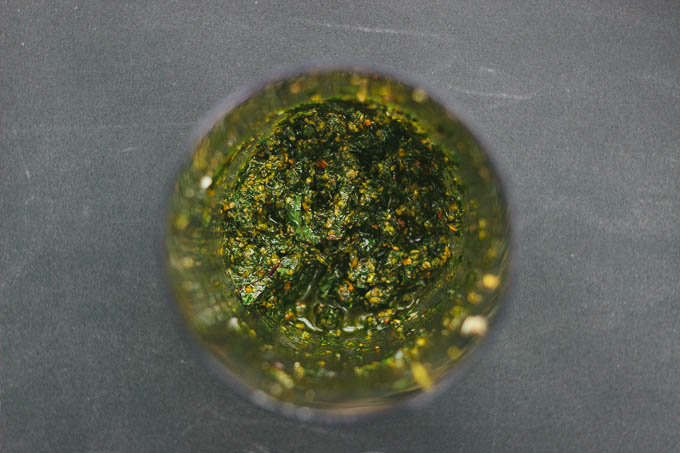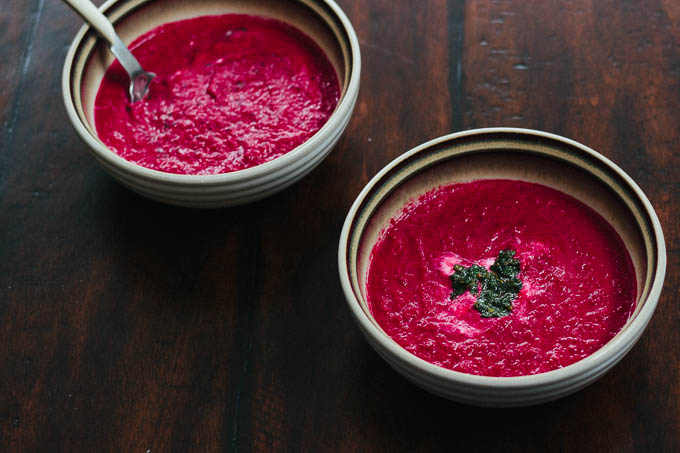 It was (and still is) frigid outside, rendering a five minute walk to the grocery store around the corner into a painful endeavor. Despite the blasts of icy air, I had to stop and appreciate the beauty of this winter's first real snowfall. I was here, in this little city on the Hudson, cozy at home making this bright soup while looking out the window at Manhattan's shadow. I felt thankful and really, really lucky. Life trudges along here in the snow, while my Twitter feed was a running commentary on the ineptitude of public officials and DC drivers back home.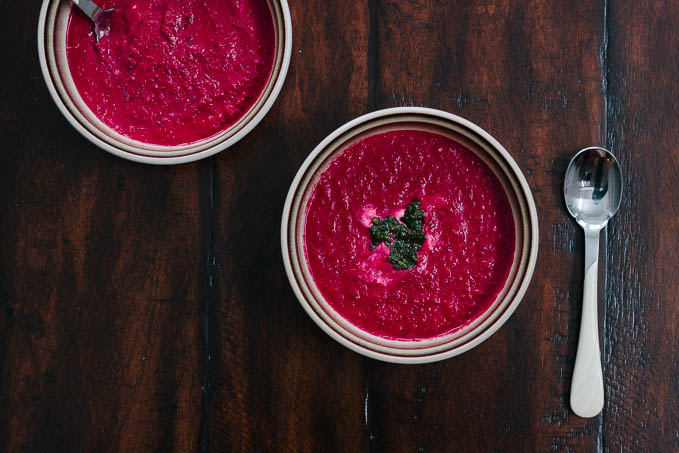 At the store I had grabbed some beets with the greens still attached. Not wanting to waste anything, I chopped the leafy greens and processed them with some toasted pistachio nuts, garlic and olive oil. The fennel in this is mellow, the sharpness slowly cooked out with the onions before turning pink and sweet with the addition of beets. It's a really simple soup, the kind of soup I like to eat at home when it's freezing out and one is content with staying in. The color is cheerful, the caraway seed and fennel floral, the garlic in the pesto is sharp and the crème fraîche adds a bit of richness. Add some buttered toast and you have a great winter meal.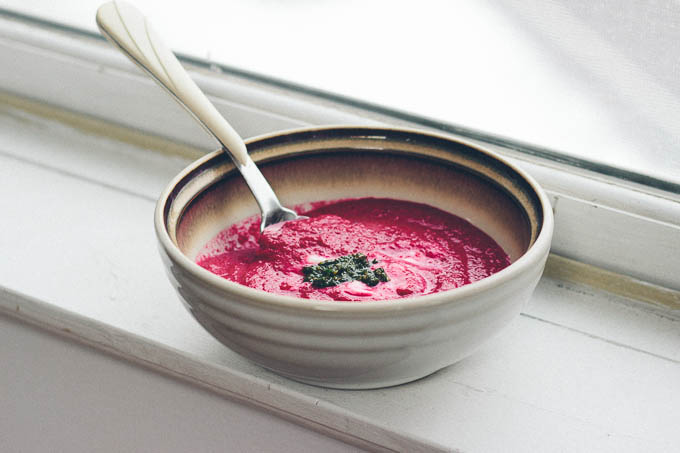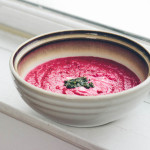 Beet and Fennel Soup with Beet Green Pesto
Ingredients
2

tablespoons

and 1/4 cup of olive oil

1/2

teaspoon

caraway seeds

1

large onion

chopped

1

fennel bulb

chopped

3

large beets

peeled and chopped into 2 inch pieces

3

cups

of vegetable stock

1

teaspoon

of salt

greens from 3 beets roughly chopped

about 2 cups

1

garlic clove

1/2

teaspoon

of salt

a handful of shelled

raw pistachio nuts- about 20

1/2

cup

of creme fraiche plus 6 teaspoons for garnish
Instructions
Over medium heat add the olive oil to a large pot. Add the caraway seeds and let them cook until a few start to pop.

Add in the onion and fennel, and cook them for about 10 minutes, until they are lightly golden. Stir frequently.

Add the beets, 1 teaspoon of salt, and vegetable stock. Bring the soup to a boil over high heat, then lower the heat to a simmer and cover the pot with a lid. Cook for about 25-30 minutes until the beets are very tender.

Meanwhile, toast the pistachios in a dry pan over medium-low heat until fragrant, about 5 minutes.

Process the nuts in a food processor with garlic and beet greens until a chunky paste forms. Slowly stream in the 1/4 cup of olive oil until blended. Stir in 1/2 teaspoon of salt. Set aside.

Turn off the heat for the soup and process with an immersion blender or in a blender in batches (be careful, it is hot and can expand!) until smooth.

Stir in the creme fraiche. Serve the soup in bowls and top with another dollop of creme fraiche and spoon full of pesto.
0