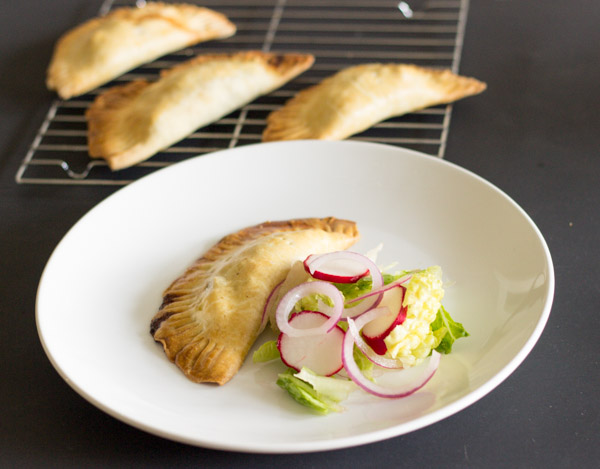 The first cookbook I ever got was from the library of Mrs. Garabelli, my best friend Victoria's mom. Some of the first dishes I attempted to make came out of that cookbook, and it kind of sparked my love of learning about food and developing recipes. In high school, I would often stop by the Garabelli house where one could always find some sort of delicious meal cooking on the stove. I learned a lot about Uruguayan cuisine from eating with the Garabellis, and some recipes and techniques from a great teacher (Mrs. Garabelli was even on a cooking show back in Uruguay!).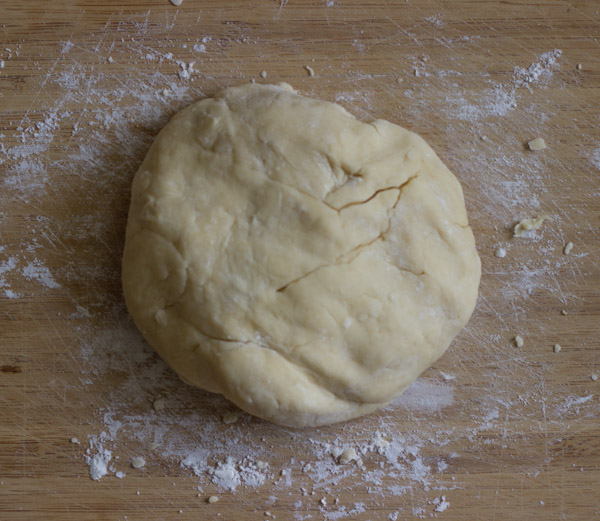 A few weeks ago it was Mrs. Garabelli's birthday and they graciously invited me over to the family dinner. That's the thing about the Garabelli family- you always feel welcomed at their house. They are the warmest, friendliest family I know and I would have to say my favorite family to hang out with (outside of my own, of course!). As we sat in the kitchen sipping wine, assembling empanadas and gossiping, I just thought of how thankful I am to be home again where I can not only spend time with my own family, but be part of the lives of my friends and their families again.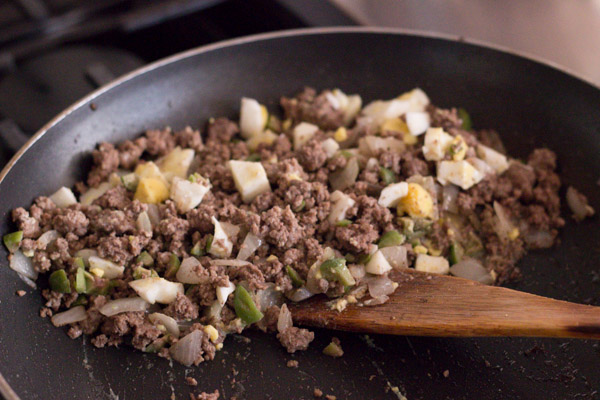 We used premade empanadas wrappers, often labeled empanada discs that you can find easily at most Latin grocery stores in the freezer section, but I felt particularly ambitious today and made my own dough (though the exercise made me realize why most people don't go through the trouble). You can also use any kind of premade pie crust dough you may find at any grocery store. You could fill empanadas with anything, meat and veggies and/or cheese. But I really love the idea of using ground bison meat in place of beef like we did for Mrs. Garabelli's birthday.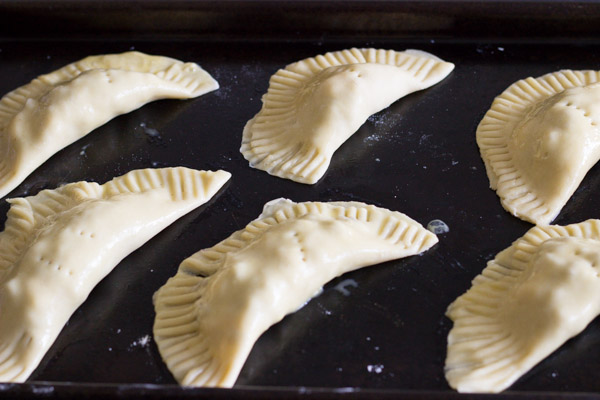 I really love the flavor of bison meat, and a lot of bison is grown free range and hormone free, plus it's very lean. I tossed in chopped boiled eggs and green olives just like they did along with some sautéed onions. It's a very simple but filling meal alongside a salad. I dressed my salad simply with some red wine vinegar and a bit of olive oil and it was the perfect hit of acid with the buttery, flaky crust and flavorful meat inside.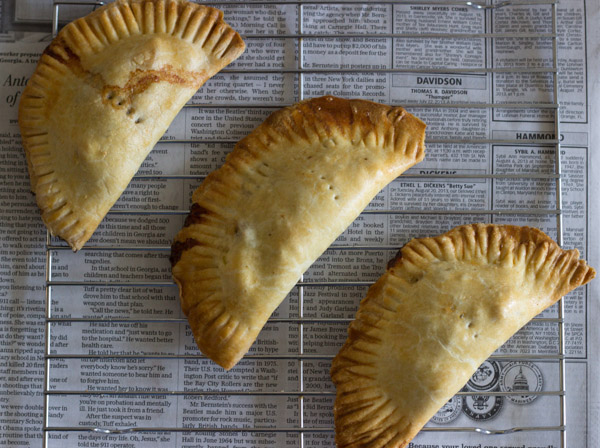 Bison Empanadas
This recipe makes 12 empanadas which can serve 6 people well. There might be a little filling left over, which is fine because it's better to have too much filling rather than too little.
Ingredients
For the pastry:
2⅓ cup of all-purpose flour
1 teaspoon salt
½ teaspoon baking powder
1 stick of very cold, unsalted butter (1/2 cup), diced into ½ inch cubes
1 egg
¼ cup of ice water
1 tablespoon of vinegar (apple cider or white)
Filling:
1 teaspoon of vegetable oil
½ cup of diced onion
¾ pound of ground bison
2 boiled eggs, chopped
10 green olives (I used castelvetrano olive, they're the large, light green ones), chopped
½ teaspoon of dried oregano
½ teaspoon of salt
¼ teaspoon of ground black pepper
1 egg, whisked to brush the empanadas for baking
Instructions
Pulse the flour, salt and baking powder in a food processor (or sift into a bowl).
Add the butter and pulse until the butter and flour are the texture of coarsely ground cornmeal (or use a pastry cutter or your fingers to cut the butter into the flour).
Whisk together the water, egg and vinegar. With the processor running, slowly stream in the wet mixture until the dough comes together.
Turn out the dough onto a floured surface and knead a few times just until the dough comes together. Flatten into a round disk and wrap with plastic wrap. Put it in the fridge to rest while you make the filling.
Heat the vegetable oil in a large frying pan over medium heat and sauté the bison meat with the oregano until just cooked through (the meat is very lean, so be careful to not overcook it). Set aside in a bowl.
Sauté the onion for five minutes and add to the meat. Add the chopped boiled eggs, olives, salt and pepper.
Heat the oven to 400 degrees. Meanwhile, assemble the empanadas.
Take out the dough and cut into 12 even pieces.
Take each piece and roll out to a 5-6 inch circle, about ⅛ inch thick.
Fill with 2 and a half tablespoons of filling and fold in half, sealing by using the tines of a fork to crimp the edges.
Put on a baking sheet lined with parchment paper (or spray with cooking spray).
Whisk one egg and brush on the empanadas.
Bake for 25 minutes in the oven until golden brown.
0