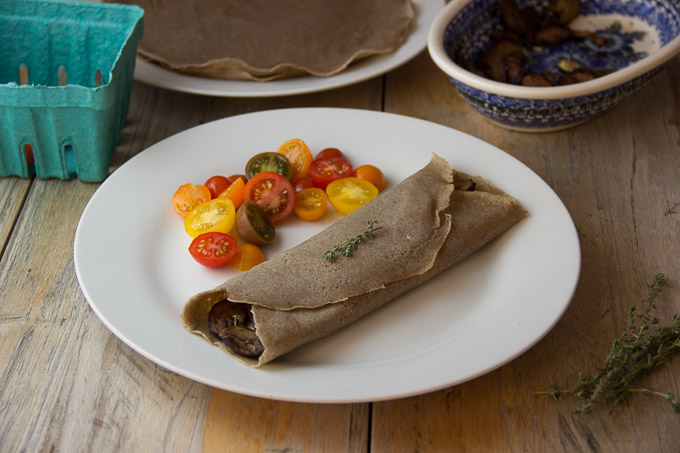 In the past few days the weather has cooled considerably and I've need a light jacket in the mornings and evenings when outside. Fall has arrived! Despite having an unseasonably cool summer here in the DC area I've eagerly anticipated the first signs of fall. Fall is my favorite season both here and in Korea. Cooler weather, a more relaxed pace of life, my favorite dishes and the leaves changing are all reasons I love fall. In Korea it was a short sigh of relief after the long and stifling monsoon season filled with unbearable humidity and unrelenting rain and a gentle period before the long winter with cutting Siberian gusts coming off the Han River.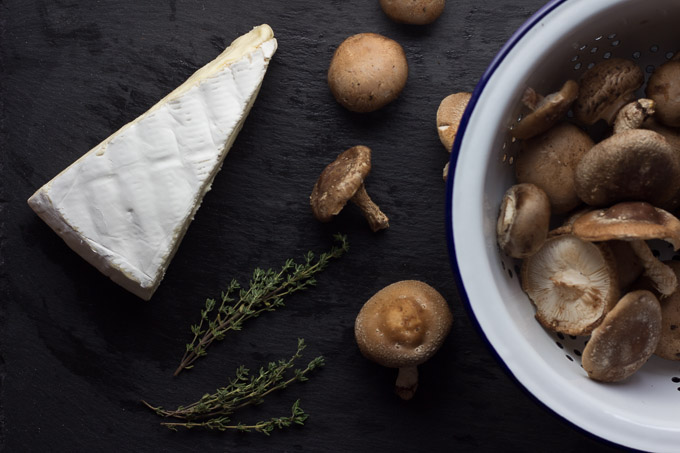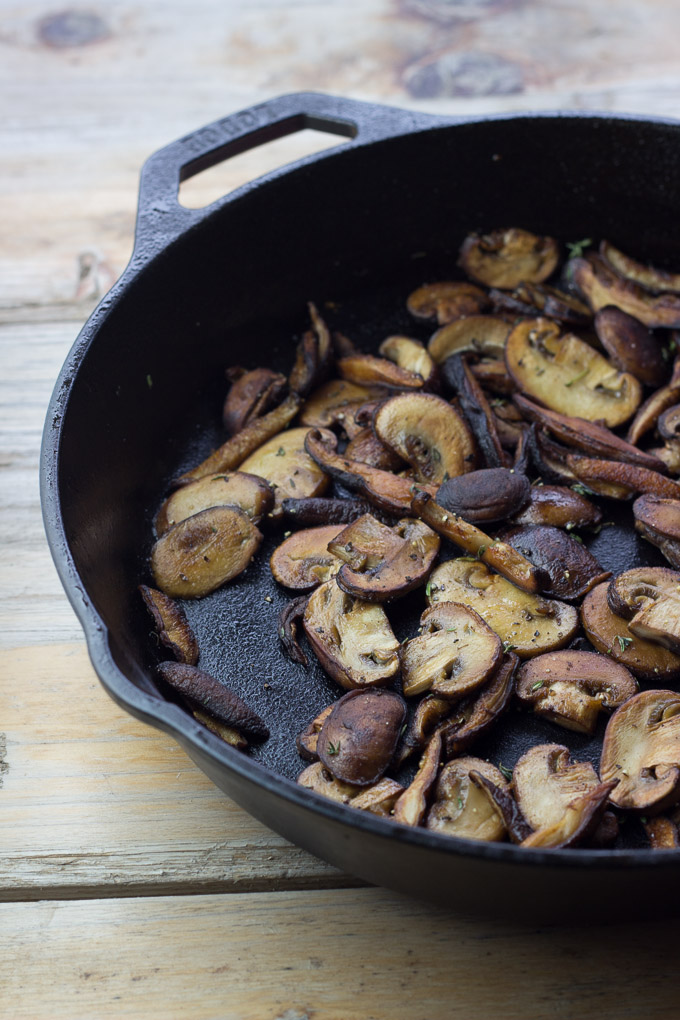 The fall also makes me think of heartier, earthier dishes like this buckwheat crêpe filled with mushrooms and brie. Buckwheat flour is one of my favorite alternative flours. It's gluten free and has a slight nutty, earthy flavor. One of my favorite Korean dishes, jeon, is a savory pancake-like dish typically made with a variety of vegetables. The version I like best is made with buckwheat flour. That's how I was first introduced to this tasty wheat alternative. For this dish mushrooms are carefully cooked in some butter and oil with plenty of room so that they brown and don't steam (don't follow the photo above; I actually sautéed the mushrooms in three batches). The brie was set out to come to room temperature so that it would be creamy and spreadable in the crêpe. Seasoned with thyme, salt and pepper, the filling is wrapped in a buckwheat crêpe. I think this dish could also benefit from a runny egg on top to add a bit of richness if you'd like. I enjoyed mine with a side of cherry tomatoes from my CSA and some nice red wine.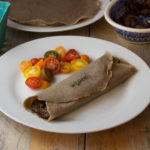 Buckwheat Crêpes with Mushrooms, Brie and Thyme
Ingredients
1

cup

buckwheat flour

3

tablespoons

of melted butter

2

eggs

1 1/2

cup

of whole milk

1

teaspoon

of salt

1

tablespoons

of butter

1

tablespoons

of vegetable oil

4

cups

of sliced mushrooms

2

teaspoons

of fresh thyme

5

ounces

of brie

black pepper
Instructions
In a large bowl mix the buckwheat flour, 1/2 teaspoon of salt, 2 tablespoons of melted butter, eggs and milk until smooth. Cover and let it sit in the fridge for at least 30 minutes (it can sit overnight).

Melt 1 tablespoon of butter and 1 tablespoon of vegetable oil in a large frying pan over medium heat. Sauté the mushrooms until brown. Don't crowd the pan so that the mushrooms brown and don't steam. You may need to do this in several batches. Add more oil and butter if the pan gets too dry.

Season the mushrooms with half a teaspoon of salt and 1 teaspoon of fresh thyme.

In clean 10 inch nonstick pan or crêpe pan, use a paper towel to grease the pan with a some of the melted butter lightly.

Pour in 1/4 cup of the batter, swirling the pan to create a thin layer on the bottom of the pan.

Cook until it lifts easily from the pan and flip. Cook both sides until lightly brown but not too mud (or it will get too crispy and won't be pliable). Cook until all the batter is gone (this should yield at least 8 crêpes).

Layer the middle of each pancake with thin slices of the brie, top with about an eighth of the mushrooms, and sprinkle with some more fresh thyme. Fold the sides over to the middle.

Serve with a fresh salad or sliced tomatoes.
0