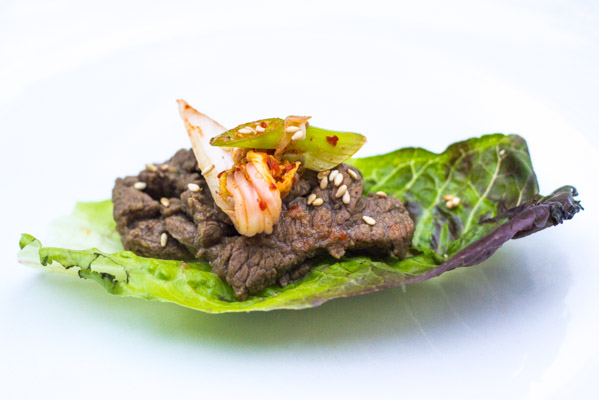 I got a lovely email from a reader in the Philippines telling me about a kind of recipe contest for Ingredient Matcher, a new cooking app that is launching this fall. It sounded really interesting and right up my alley. They are putting together an ecookbook featuring national dishes from all the countries in the world. I submitted an email of interest to whip up a dish representing Korea. The dish they chose to represent Korea was bulgogi with kimchi. At first, I was a bit overwhelmed by the challenge of creating a kimchi recipe. Kimchi is something that usually takes days to ferment. This recipe uses a short cut method of pouring very hot, salted water to quickly pickle the cabbage leaves. It's a fresher kimchi that has no hint of sourness. If you've been put off by the pungent aroma of kimchi I'd suggest this recipe as an introduction into the big, wide world of kimchi!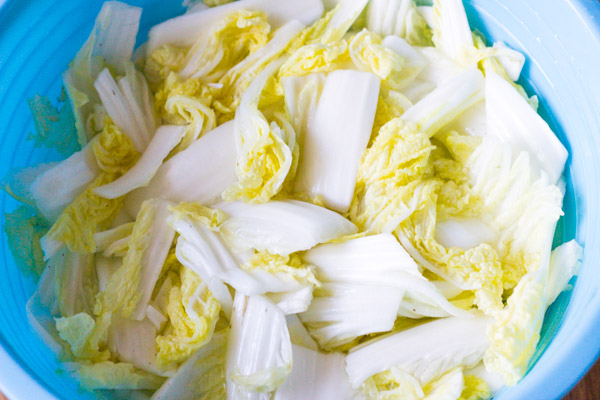 With the deadline for submission looming over me with very little time to put everything together, my mom graciously lent me a hand and gave me advice as I created this recipe, tested and photographed it. Bulgogi is one of those dishes that is so easy and simple to make at home. I often walk away from Korean restaurants disappointed by their lackluster bulgogi and I wonder why I didn't just take the time to make it at home (or convince my mom to make it). My  mom usually makes it for a birthday or some other special occasion. Sometimes she marinades tougher cuts of meat overnight, with Asian pear juice added to break down the meat and make it tender. In this recipe, a more marbled and tender cut of meat is used so that the time is cut down to only thirty minutes. The onion in the marinade should do a good job of tenderizing the meat. While the bulgogi marinades, you can prepare a quick pickle kimchi to accompany it. It got the halmoni (grandmother) seal of approval so I present it with some confidence. Wrap some bulgogi and a piece of kimchi in a lettuce leaf and eat it in one tasty bite.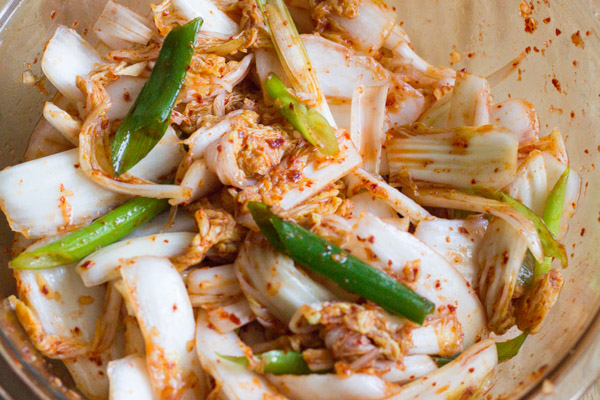 Bulgogi and Quick Pickled Kimchi
Ingredients
For the bulgogi:
1 pound of top sirloin
¼ cup of onion, diced
¼ teaspoon of black pepper
½ inch of fresh ginger
3 cloves of garlic
1 tablespoon of dry red wine
3 tablespoons of soy sauce
2 tablespoons of dark brown sugar
2 tablespoons of toasted sesame oil
3 tablespoons of toasted sesame seeds
For the quick pickle kimchi:
1 2-pound head of napa cabbage
4 cloves of garlic
2 tablespoons of fish sauce (I used Thai fish sauce)
4 tablespoons of Korean red chili flakes (also called gochugaru)
2 teaspoons of sugar
1 tablespoon of apple cider vinegar
3 scallions/green onion, root trimmed and cut into two inch pieces
⅓ cup of kosher salt
5 cups of water
Lettuce to serve
Instructions
Slice the sirloin thinly across the grain about, cutting it about ⅛ inch thick. To make slicing easier, you can put the meat in the freezer for 15 minutes so it will become firmer.
Blend the rest of the ingredients minus one tablespoon of the sesame oil and the sesame seeds in a blender until pureed evenly.
Pour the marinade over the sliced meat and mix until each slice is evenly coated.
Let the meat marinade for about 20-30 minutes.
Meanwhile prepare the kimchi. Boil the water and add the kosher salt and stir until dissolved. Turn off the heat and let it cool for about five minutes.
Remove the core of the cabbage and slice each leaf in half vertically and then into 2 or 3 inch pieces.
Pour the salted water over the cabbage, mix well and let it sit for 10 minutes.
Mix again and let it sit for 5 more minutes.
Drain the water and rinse the cabbage two or three times under cool water. Let it sit in a colander to drain.
In a large mixing bowl, combine all the remaining ingredients for the kimchi.
Shake off the excess water off the cabbage and add the to spice mixture. Mix well until all pieces of cabbage are evenly coated.
Taste and check for seasoning. Add more fish sauce to make it saltier, more chili flakes for heat or vinegar/sugar to tone down the heat according to your preference.
Heat a large frying pan over medium high heat with the remaining tablespoon of sesame oil.
Removing as much of the marinade from the meat as possible and stir fry the meat until mostly cooked through. If you prefer a lot of juice with your bulgogi, keep it on medium high heat allowing for some liquid to be left in the pan (some people like to mix this into their rice)
Alternatively, turn up the heat to high for a few minutes until slightly browned and all the liquid is evaporated.
Garnish with sesame seeds and serve with lettuce leaves, the kimchi and steamed sticky rice.
2