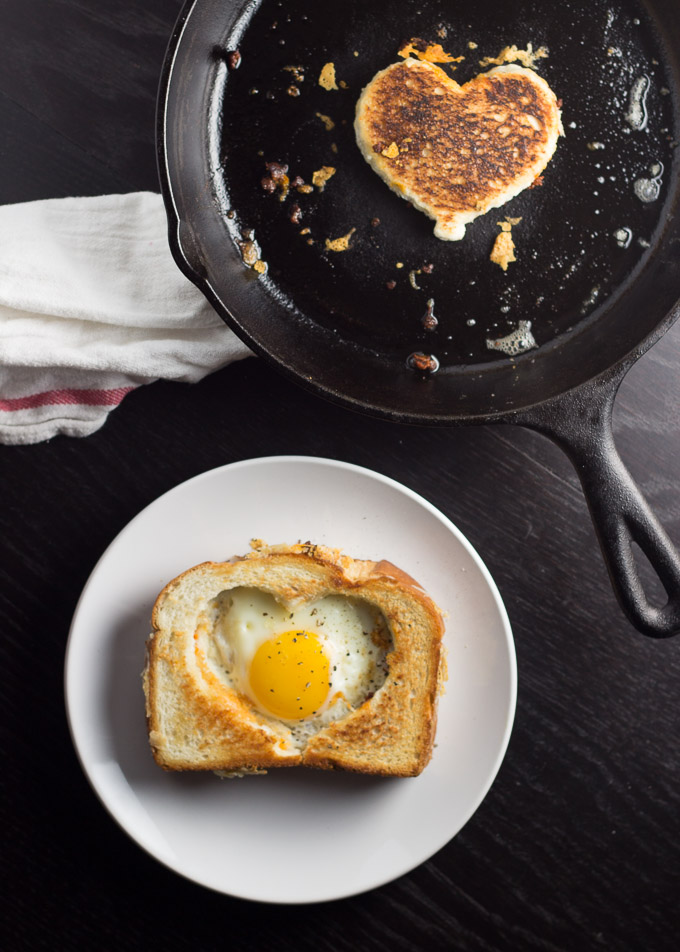 Today is Friday the 13th and the day before Valentine's day. I'm not the biggest fan of this holiday but I do like a reason to do something extra special for someone I love. On the morning of the 14th I'll be making this egg-in-a-grilled-cheese-basket for my boyfriend, with a special addition of fresh Mexican style chorizo. Why? Because dark chocolate is my food love and chorizo is his. If we are out together at a restaurant and there's something with chorizo on the menu I know that's what he'll order. 95% of the time that's the case. So here is my special Valentine's day brunch dedicated to my chorizo obsessed, runny yolk loving boyfriend. <3
Some more love on the web: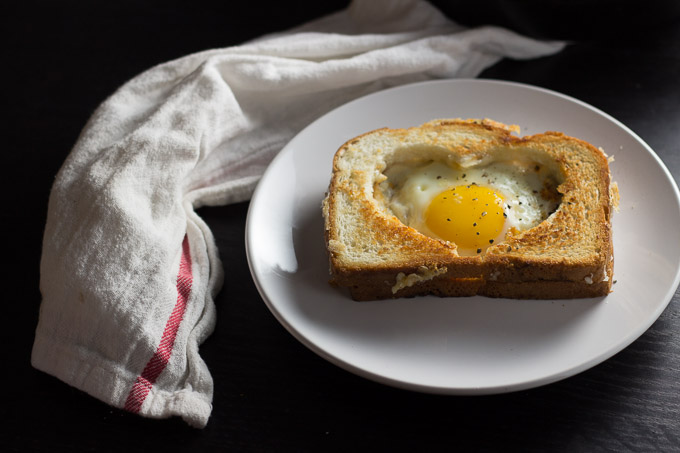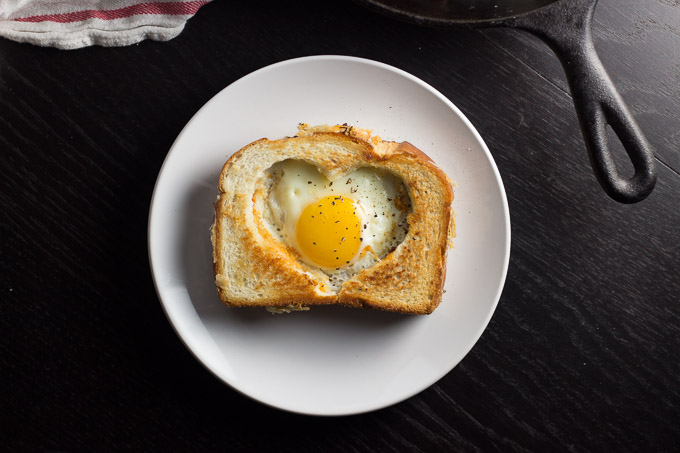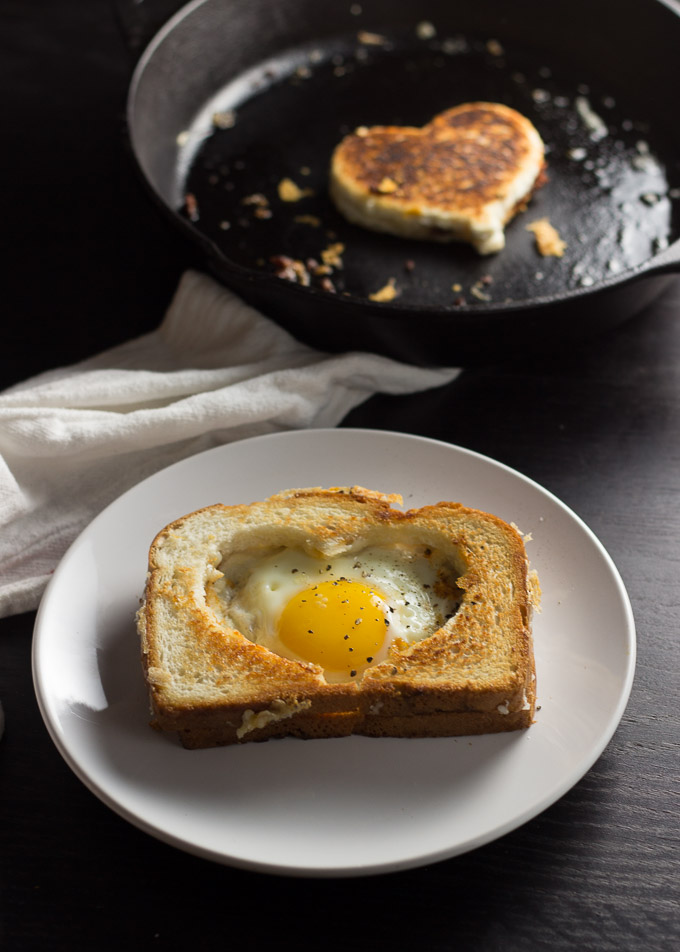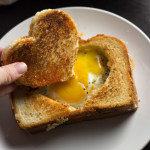 Egg in a Grilled Cheese Basket + Happy Friday
Ingredients
2

large slices of bread

2

tablespoons

of butter

4

oz

of freshly grated cheese

I used cheddar

3

oz

of fresh Mexican chorizo

casing removed, cooked fully and crumbled

1

egg
Instructions
Use a 2 1/2 to 3 inch heart shaped or round cookie cutter to cut out a hole in both slices of bread.

Heat a medium size frying pan over medium heat and melt half the butter.

Put one slice of bread and one heart into the pan. Divide half the cheese between the slice and the the heart and do the same with the cooked chorizo and top with the rest of the cheese. Top with the other slice of bread and heart.

Use a spatula to press the slices of bread and hearts together until the bottom has become golden brown. Add the rest of the butter to the pan and flip the sandwiches.

Crack the egg into the heart shaped cut out making sure there's enough butter in the pan (if not, add a bit more).

Cover the pan with a lid to cook the egg until the white are set and the yolk is still runny (if you like a harder yolk, flip after 2 minutes and cook 2 minutes longer).

Serve together and use the heart to dip into the yolk. Enjoy!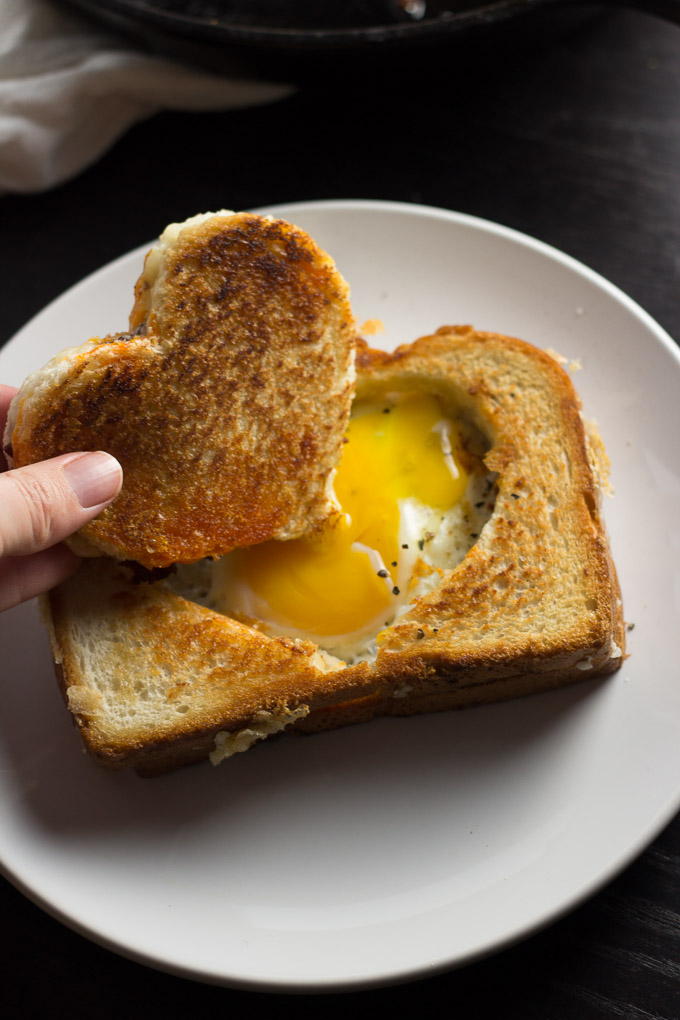 1