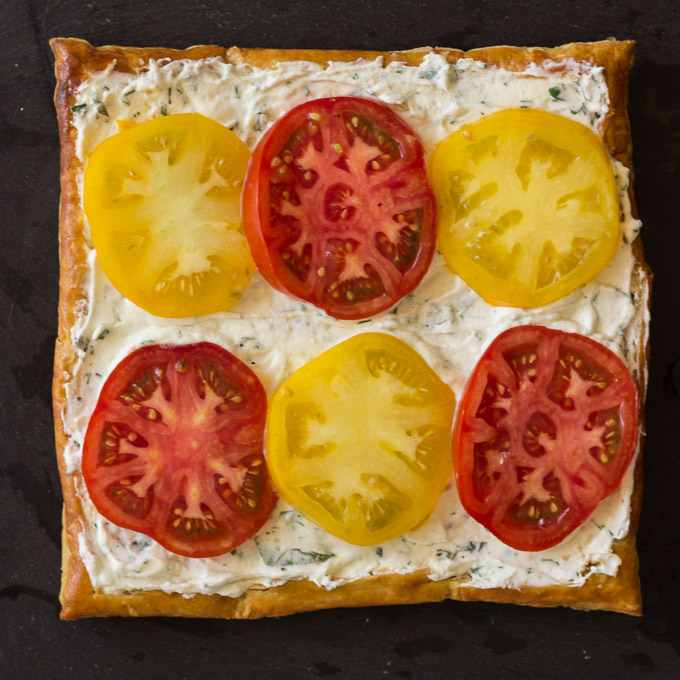 The scorching hot weather of the past week seems to be the last gasp of summer. With it came what I expect to be some of the last tomatoes that will come in my weekly CSA. The tomatoes this season have been truly gorgeous and I think that having invested a share in a farm and seeing the progression week to week has really made me appreciate the seasonality of fruits and vegetables. Every time I make a meal of this produce I think of where it came from, Waterpenny Farm in Rappahannock County, Virginia and all the work and care the farmers took to bring this to my table. It makes me feel grateful and humbled.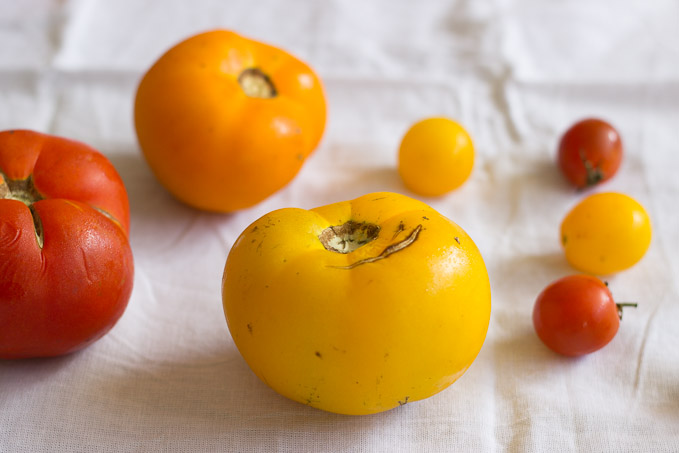 Another thing I've been grateful for this week is my beloved cat Nabi, who passed away the Saturday before Labor Day. She was more than 16 years old and although she seemed perfectly healthy- youthful even, it was her time to go. It was one of the worst experiences I have gone through since she was right beside me when she had her stroke, but I am grateful that I was with her in the end. Although she was probably unconscious through it all (for which I am grateful), I am glad that she wasn't alone when it happened.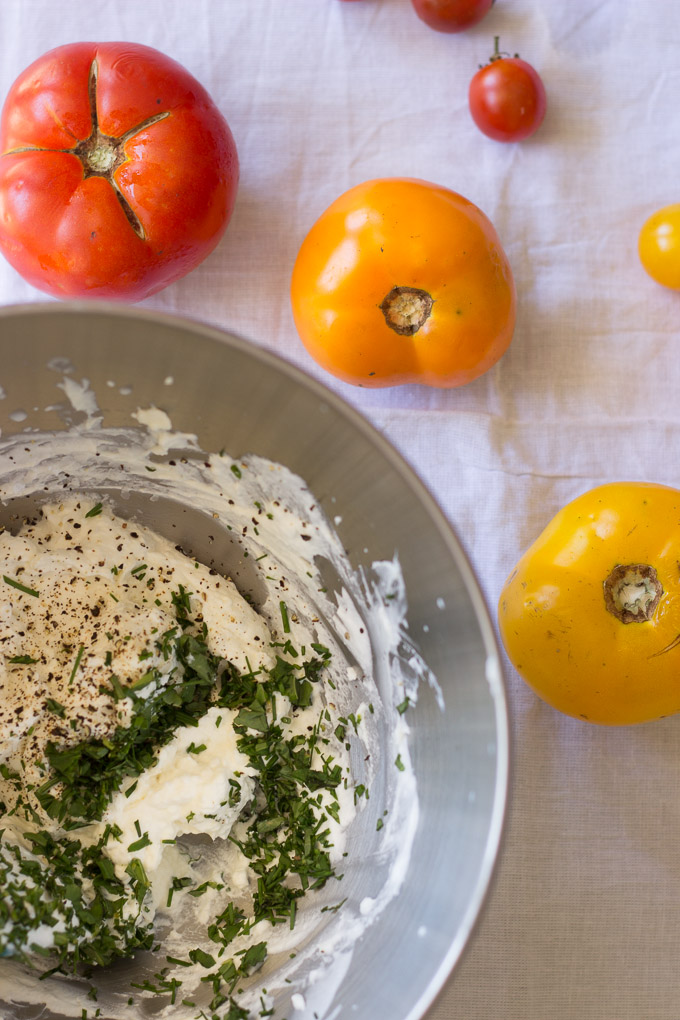 Nabi had been in my life for more than half its length.  Nabi means butterfly in Korean, and it seemed to perfectly describe her lovely calico coat. Later I learned that Koreans call most cats Nabi- kind of like how we call unknown cats kitty. It seems that more than a few Korean Americans had Nabis. I very much like the idea that there are other Nabis in the world.
I miss her greeting me at my door after a long day at work and the way she cuddled right next to me at night and said good morning to me every morning with a soft mew. I miss her incredibly soft fur that even the vet remarked about. I miss her climbing on my lap every time I had a goat cheese snack at my dining room table watching bad TV. I miss her eager exploration of the hallway of my apartment building and how she loved being held as I went down to the lobby to check the mail. I miss her dearly and feel her absence deeply. But in the end, I am grateful that I had the opportunity to spend the last season of her life with her as my companion after I had been away from home for so long. Thank you, Nabi.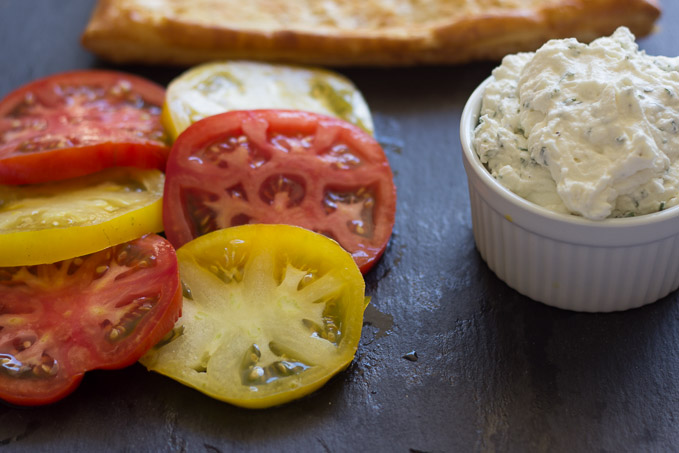 So as a tribute to Nabi's last season and her favorite human food (and really the only thing humans consume that she seemed even vaguely interested in) I decided to make a fresh tomato and goat cheese mousse tart in a puff pastry. It's quite simple really, keeping the ingredient count to a minimum and just highlighting the fresh and summery taste of perfectly ripe tomatoes. They match nicely with the goat cheese that has been folded gently into fluffy whipped cream and accented with fresh herbs from my balcony. I'd like to think that if Nabi was here, she'd hop into my lap and watch me take a bite of my tart and I'd pinch off a bit of the goat cheese mousse for her to enjoy.
Goodbye, Nabi. I'll always think of you as I snack on goat cheese and wish you were here to share it with me.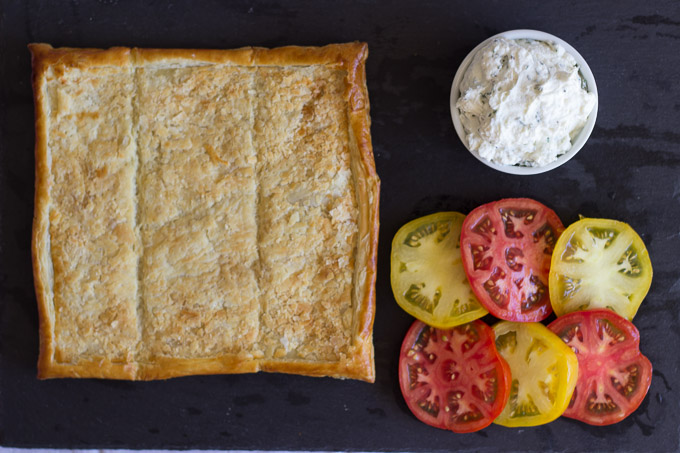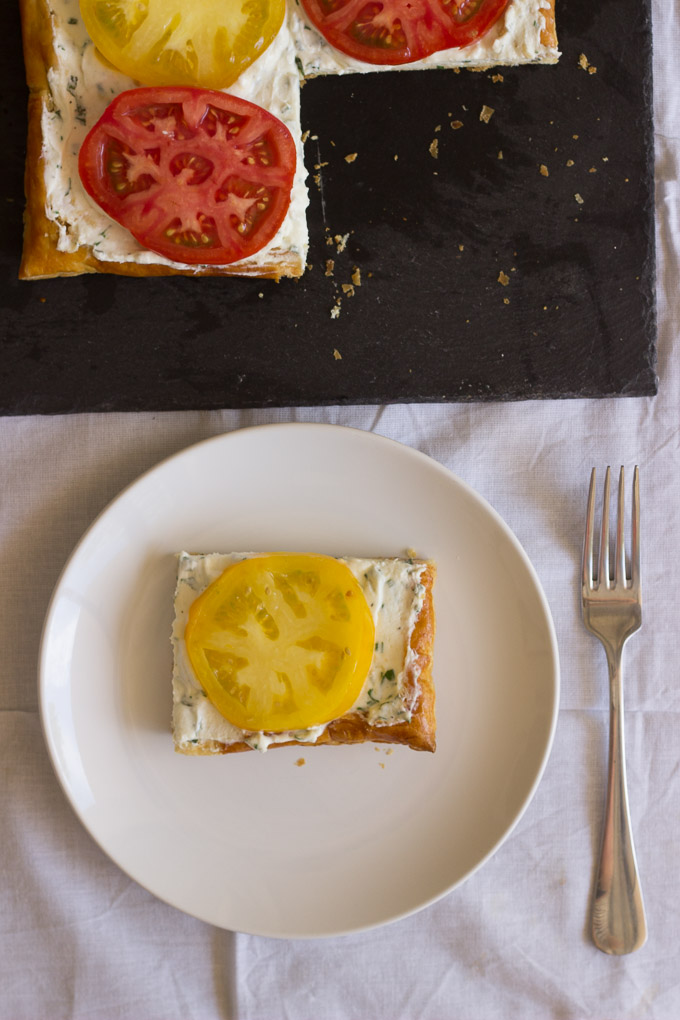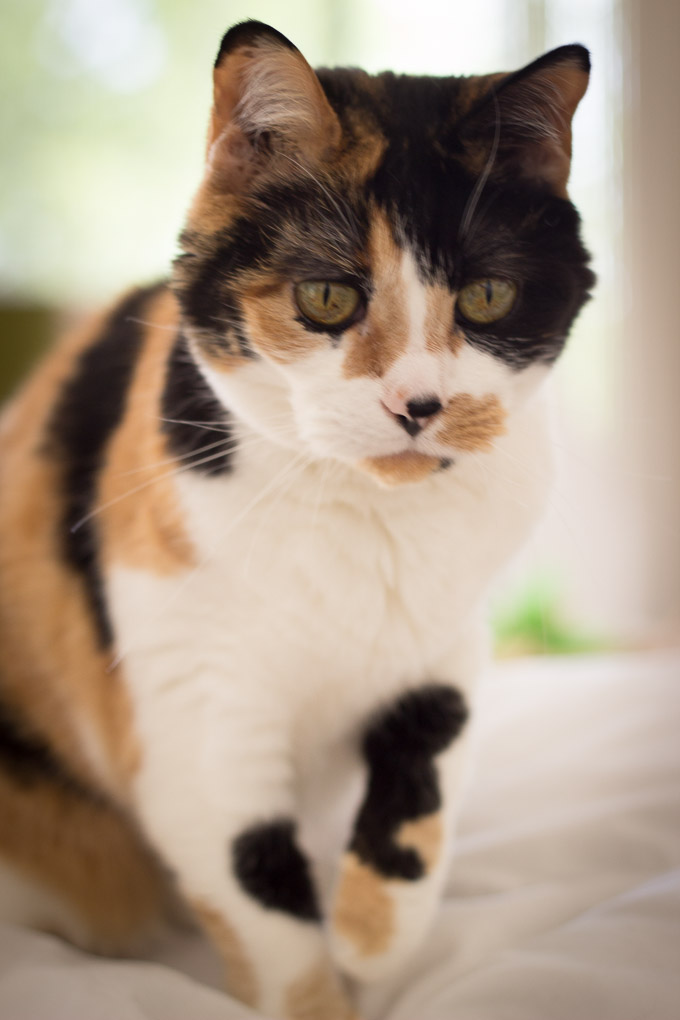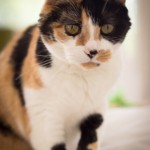 Fresh Tomato and Goat Cheese Mousse Tart
Ingredients
1

sheet of puff pastry

defrosted according to package instructions

1

egg

5

ounces

of fresh goat cheese at room temperature

2

tablespoons

of milk

1/4

cup

of heavy cream

2

tablespoons

of chopped fresh herbs

chives, basil, parsley and/or dill work great

1/2

teaspoon

of salt

1/4

teaspoon

of black pepper

1

large

or 2 medium heirloom tomato

salt
Instructions
Heat the oven to 400 degrees and line a baking sheet with parchment paper.

Unfold the pastry dough on the paper and press the dough together along the folds.

Score a 1 inch border around the edge of the puff pastry with a knife (be careful not to cut all the way through the dough) and use the tines of a fork to prick all over the dough within the border.

Whisk the egg in a small bowl and use a pastry brush to wash the border of the pastry dough with the egg.

Put the dough in the freezer for 10 minutes.

Bake the pastry for 20 minutes or until golden brown and puffed up. Let cool completely.

While pastry is cooling beat the goat cheese with the milk until well blended.

Whip the cream on high until stiff peaks form.

Fold a third of the whipped cream into the goat cheese mixture until mixed then add the rest of the whipped cream into the goat cheese along with the herbs, salt and pepper.

Flatten the middle of the puff pastry so that the raised border remains. Spread the goat cheese mousse into the pastry evenly.

Slice the tomato into 1/4 inch thick slices and arrange evenly across the mousse. Season the tomato lightly with salt.
1