Korean carrots are enormous. If you haven't ever seen one in person before, let me describe these carrots for you. A typical carrot you find in the grocery store here in the U.S. might be around an inch across, maybe two inches if you find a particularly large one. Korean carrots that I've seen are three (or more) inches in width!
Korean cuisine doesn't feature much in the way of raw carrots, so observing someone eating a whole, peeled, raw carrot might pique the curiosity of any bystanders there. This is one of my first memories of the French Fry (my boyfriend): during a short break in our four hour long Korean class he'd whip out a whole, raw carrot and eat it as a snack. The majority of our classmates were originally from Japan or China (I concluded that they use carrots like Koreans use carrots), and they kept commenting about Mr. Fry snacking on a huge carrot in class.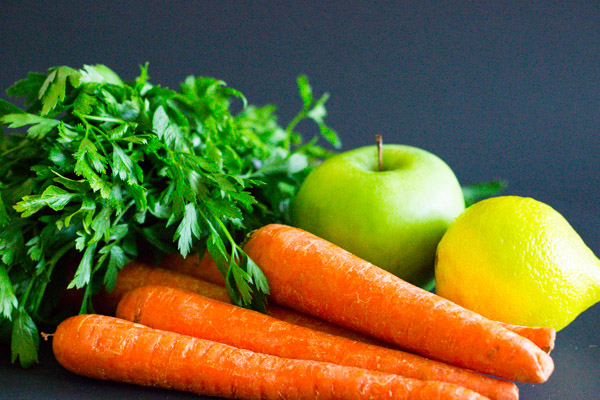 "Do westerners typically eat whole carrots like that?" my classmate Shiori asked me one day.
"We eat raw carrots cut up into small sticks in the U.S… but I haven't seen that before," I answered.
Mr. Fry and I were strangers at that point, but I did observe that he ate a whole carrot or an apple at break time daily, and with much enthusiasm (he really made those carrots and apples seem like the most delicious things he had ever eaten).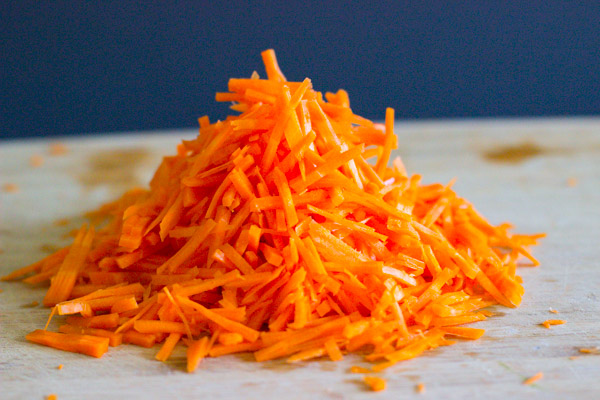 Fast forward to a few years later and we had just started seeing each other when he moved back to Paris to attend business school. After months of anticipation, I joined him there for three weeks. Not only was I seeing him after months of being apart, but it was my first visit to continental Europe and the City of Light so saying that I was excited to go to the food city is an understatement. It was there I first encountered salade de carottes rapées, or grated carrot salad. The carrots are grated and dressed lightly in some sort of vinaigrette with some fresh herbs and perhaps a garnish of nuts- a very simple, fresh and satisfying salad. And you can find it everywhere. Seriously, it's everywhere. It's available at many restaurants, bistros, cafés; they even sell it by the kilo in the grocery store pre-made (the evidence of which I would sometimes find in my Frenchie's trash can).
I asked him what the best version of this salad he ever had included and his response was, "simple- some lemon, herbs, nuts… pine nuts? I don't know, I just eat it and rub my belly and say 'yum!'" A very cute answer, but not very helpful. So I took his very few descriptive words and combined it with what I thought made a great carrot salad and named it in his honor.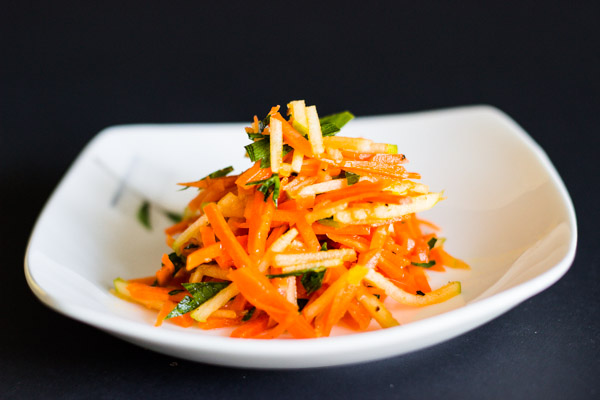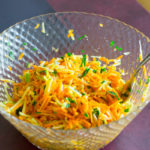 Grated Carrot and Apple Salad à la Rémy
Servings
:
6
as a side dish
Ingredients
5

carrots

1

tart apple

I just used granny smith

1

lemon

2

tablespoon

of extra virgin olive oil

handful of parsley

about 1/4 cup

1/2

teaspoon

salt

1/4

teaspoon

freshly ground pepper
Instructions
Peel the carrots and grate them and the apple on a box grater or using a Japanese mandoline and place in a large bowl.

Whisk together the juice from the lemon and the oil and pour over the carrots and apple.

Roughly chop the parsley. Reserving a tablespoon of the parsley, add the parsley to the rest of the ingredients.

Add the salt and pepper, and mix the salad thoroughly. Taste for seasoning and adjust according to your taste.

Top with the reserved parsley and serve.
0