This is a post sponsored by Colavita and inspired by Italian summer grilling. The content and opinions expressed below are mine.
An unseasonably cold spring has turned into a hot, sticky summer seemingly overnight. Scarves and jackets quickly turned into flowing dresses and open-toed shoes as I attempt to commute to work in DC by subway. There's a commonly repeated fact to explain the humidity that is untrue. DC was not built on a swamp but rather a tidal plain. Either way, DC is one humid place when the weather gets hot.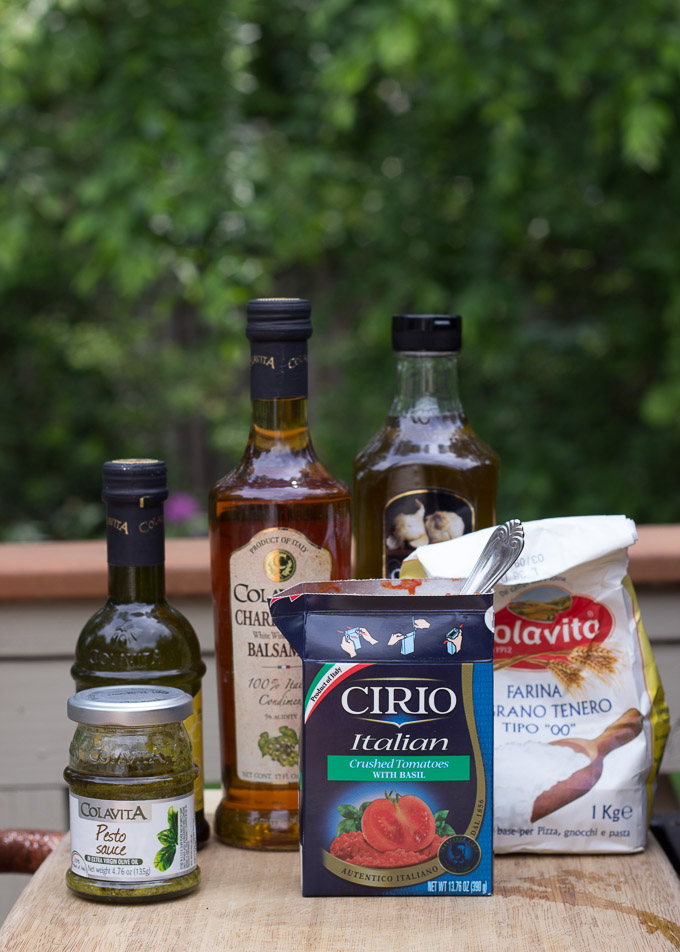 Although I was not really made for living in this sort of climate (I basically melt into a puddle), I appreciate lots of things about summer. Afternoon thunderstorms, lazy days by the pool or at the beach, and many gatherings centered around grilling in the cooling evening.
I was inspired by Colavita's various Italian products to create something I thought perfect for a summer meal cooked on the grill — pizza. You may or may not be familiar with this technique of cooking pizza. To me it's the closest method to cooking in a pizza oven. The flames give the crust a nice slightly charred texture and a hint of smokiness. A grill can reach temperatures that many ovens cannot, in excess of 500 degrees. That creates the perfect conditions for a well cooked crust, which in my opinion is what makes pizza, pizza.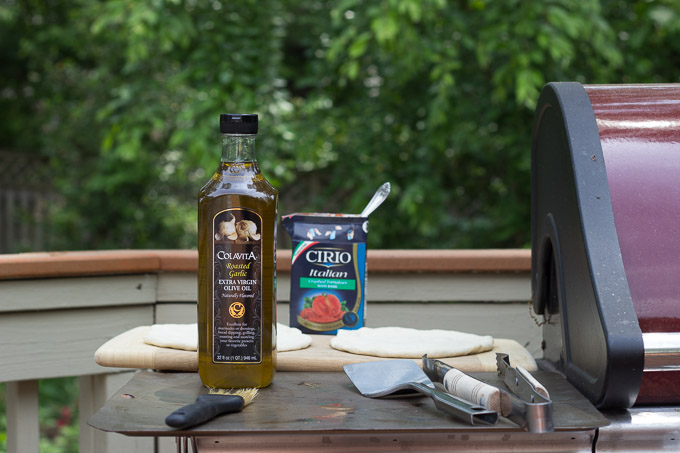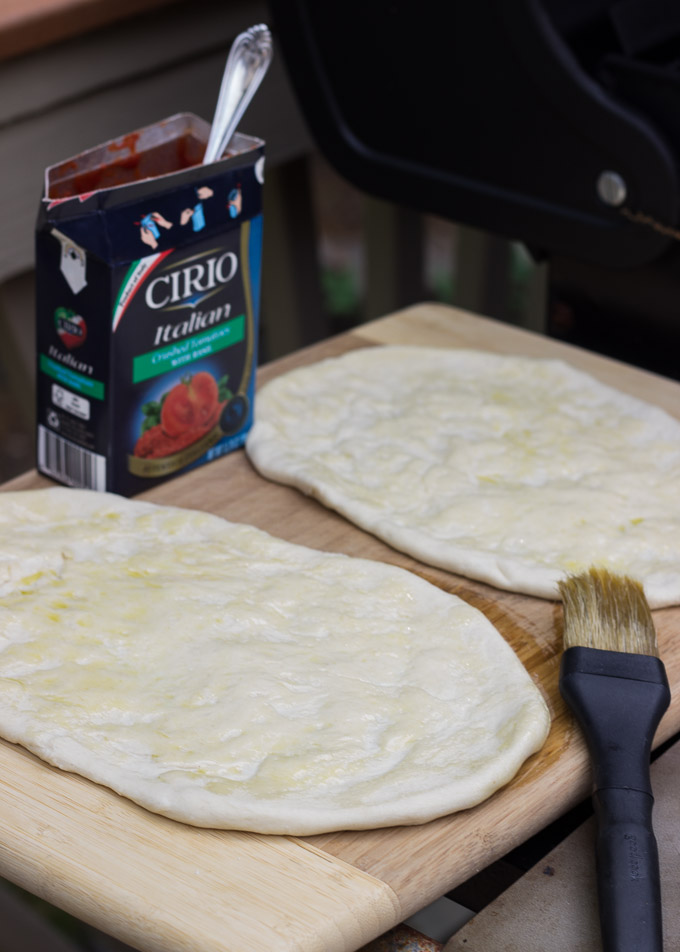 I used fine Italian "00" flour to make the dough. I then divided it into four parts for personal sized pizzas. The dough was brushed with roasted garlic olive oil. Two of the pizzas were spread with jarred pesto and the other two with boxed (an alternative to canned) tomatoes to create the base for the grilled pizzas. I topped the classic red sauce pizza with shredded mozzarella, then garnished it with prosciutto and arugula tossed in chardonnay vinegar after it came off the grill. For the pizza with pesto, I made it in the style of white pizza with ricotta and mozzarella, and I finished it by drizzling it with a white balsamic glace infused with white truffle.
Grilling pizza is quick work that requires organization. Have all your toppings ready by the grillside by the time the dough is ready to be cooked. Cook one side first, flip it, and then dress it with sauce and cheese. Enjoy it with some nice wine, and if you add a few cubes of ice to keep your white chilled I won't judge you (I do it, too).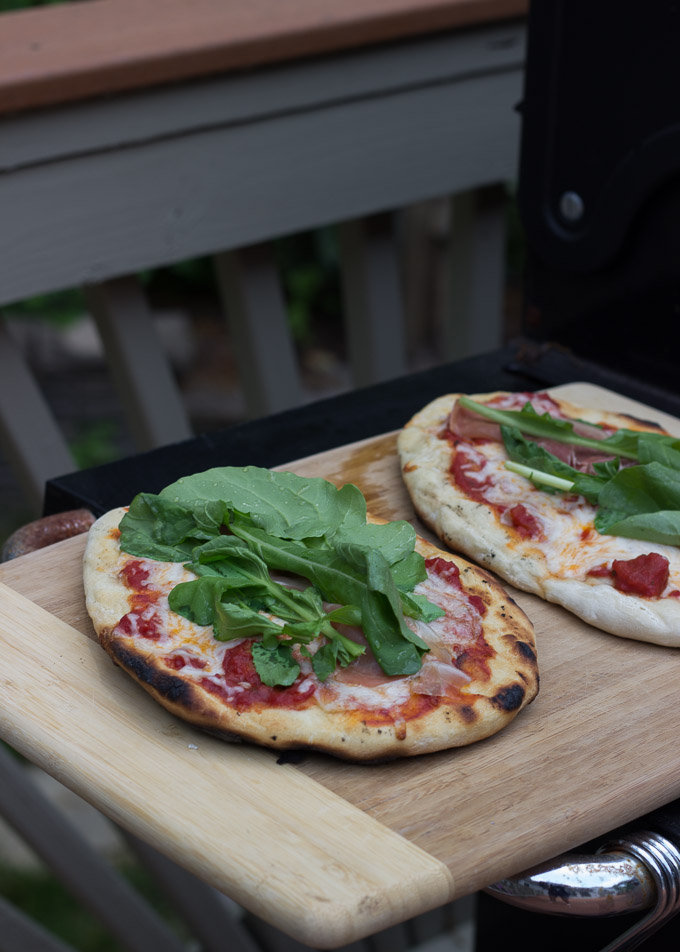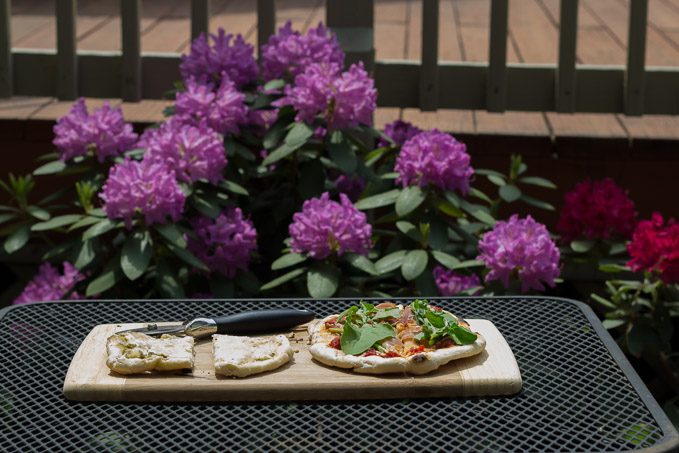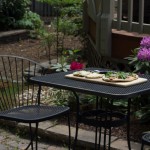 Grilled Pizza Two Ways
Servings
:
4
8-inch pizzas
Ingredients
Pizza Dough
1

envelope active dried yeast

or 2 1/2 teaspoons

1 1/2

cup

of warm water

about 100 degrees F

4

cups

of fine Italian flour

also labeled as "00" or bread flour or all purpose flour

1

teaspoon

salt

roasted garlic olive oil for brushing
Proscuitto, Arugula and Red Sauce Pizza (2 8-inch pizzas)
1/2

cup

of crushed tomatoes with basil

divided

2

handfuls of shredded mozzarella cheese

2

handfuls of arugula

1

teaspoon

of chardonnay vinegar

2

slices

of proscuitto ham
White Pesto Pizza (2 8-inch pizzas)
3

tablespoons

of jarred pesto

divided

3/4

cup

of ricotta cheese

divided

2

handfuls of shredded mozzarella cheese

white balsamic glace infused with white truffle for drizzling
Instructions
In a large mixing bowl, stir yeast into 1 cup of warm water until it dissolves. Mix in a 1/2 cup of flour, cover and let it sit for 30 minutes.

Add the 1/2 cup of remaining water and salt. Gradually mix in the rest of the flour until it's all incorporated. Knead the dough until it's smooth (alternatively, you can use a food processor or stand mixer with a dough hook). It could take up to 10 minutes.

Slightly dust the dough with flour and place it in a large bowl. Cover with a kitchen cloth and let it rise for an hour or until it's doubled in size.

Punch down the dough and divide into four equal parts. Form the four parts into smooth balls and let them sit, covered, on a board for about 30 minutes.

Turn on the grill to high and let it reach a temperature of about 550 to 600 degrees (depending on your grill, this could take 10-20 minutes). While the grill is heating up, form the dough into round pizzas (it's okay if they're not perfectly round). Stretch the dough by pressing from the inside out in a circular motion, forming an outer raised crust, until it's about 8 inches across. Don't make the dough too thin so that it breaks.

Brush each top of dough with the garlic olive oil. Place the pizza rounds over direct heat, oil side down, brush the tops with more oil and quickly close the grill. Cook for about two minutes. Use tongs to lift the side of the pizza to look underneath. When dough feels set but isn't too charred, flip and top two with the tomato and cheese and two with pesto and ricotta/cheese. Close the lid and let cook for another two minutes until the cheese is completely melted and bubbly. Carefully slide off the grill onto a cutting board, let the pizzas rest for a few minutes and top with either the arugula tossed in chardonnay vinegar and proscuitto or drizzle on the white balsamic glace. Slice each pizza into fourths and serve.
Recipe Notes
You can make the dough up to two days ahead and refrigerate it in a sealed container. Let it reach room temperature before you attempt to stretch it into pizza rounds.
Colavita makes a roasted garlic olive oil, a chardonnay vinegar and a white balsamic glace infused with white truffles. Any kind of olive oil can be used to brush the dough. If you cannot find chardonnay vinegar feel free to use any kind of wine vinegar to toss the arugula in. The white balsamic glace can be replaced with any kind of balsamic vinegar glaze.
It is helpful to use tongs and a spatula for cooking the pizza on the grill. I prefer to use a gas grill for this recipe because the temperature is easier to control.
0