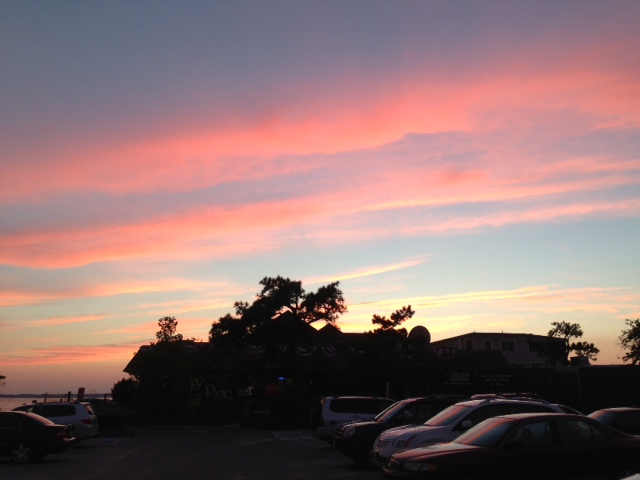 While you read this I will either be on my way to the beach or at the beach (I hope at the beach since I'm leaving at 7am to beat the DC area traffic). I haven't had an American beach vacation in a few years and I haven't had a "beach week" since graduating high school (wait, was the really almost 11 years ago?).
I usually made it to the beach at least twice a summer when I lived in Korea, but it's a completely different beach culture there. First, if you go to one of the popular beaches such as Haeundae in Busan, good luck even seeing the sand as it is completely full of people during the peak season. Despite the crowds, I'd have to say it was always fun to see Korea's second city and I always had a great time there. The seafood was so fresh and delicious (many people opt for the still-moving octopus you can get chopped right out of the fish tank), with many fish markets and seafood restaurants, and it's actually there that I had my first kimchi stew with tuna, beachside.
My best friend's sister is getting married next month, and we're driving up to Delaware tomorrow to our rented beach house to celebrate. It'll be ten ladies in one house, so it should be interesting (I hope for more than one bathroom…). Games and surprises have been planned by her bridesmaids, family meals discussed over phone, driving arrangements made- all that is left to get ourselves there. I hope that everyone has a fun and relaxing labor day weekend- celebrate summer while it lasts!
Here are some links from around the web that inspired/amused me this week:
1. Check out this awesome interactive flavor map that scientists created on the hypothesis that certain foods go together as long as they share enough flavor components. Click on it to discover foods that compliment each other; you'll be surprised at what you find!
2. Here's an article about food shame and how others' reactions to the food we eat can make us feel ashamed of our backgrounds and heritage. It had me thinking about how I grew up eating "smelly", underappreciated Korean food and how shocked yet proud I felt as I observed Korean food trends grow in the U.S. while I lived overseas.
3. Erica Skolnik started her baking business, Frenchie's, by baking her signature croissants and selling them at farmers markets around DC. This week she was featured in the Washington Post and I was really impressed by how she locally sources her ingredients (locally sourced butter!) and stays up all night Fridays baking so that her products will be fresh at Saturday's market. Trying one of her croissants is on my to-eat list (yes, I have one of those) and I can't wait to have one!
4. This is perfect for my beach theme: a tumblr account that features beach selfies of legs, asking the age old question- are they legs or hot dogs?
5. Food and Wine Magazine feature five essential Korean ingredients, and I couldn't agree more. Although I do cook more Korean food than the average American bear, I use Korean ingredients when I'm not cooking Korean food all the time. Do you need a hot spice in a dish? Try Korean chili flakes! Do you need hit of umami flavor in a dish? Try fermented baby shrimp! I'm a big fan of mixing ingredients from different world cuisines.
0