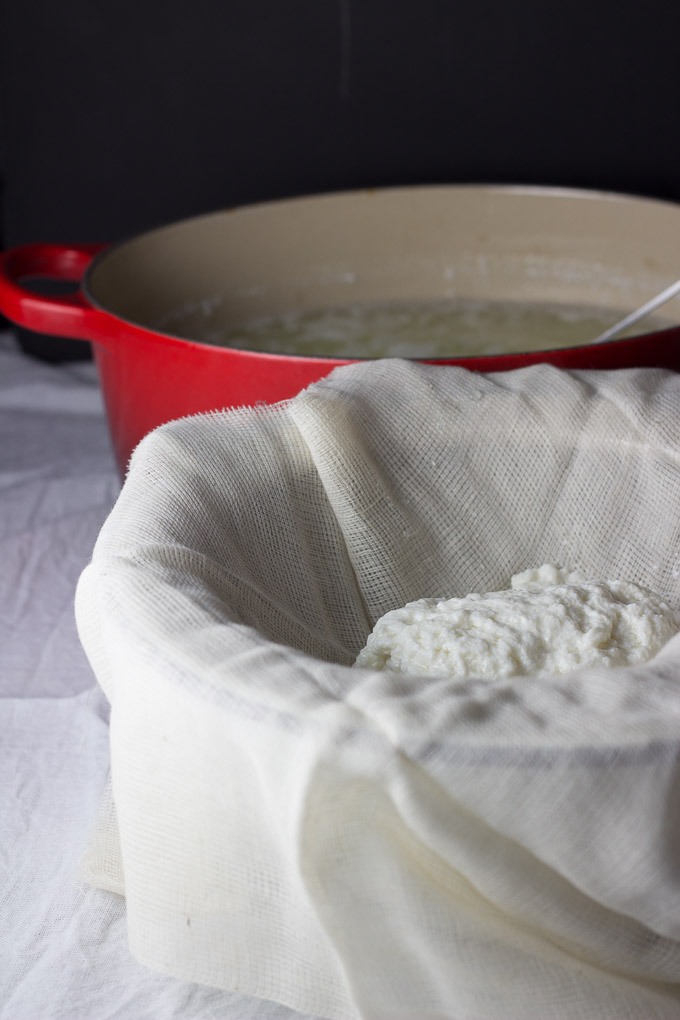 I am crazy about goat cheese. Any type of cheese made from goat's milk is bound to make a meal complete in my mind. To be honest, some days I come home from work exhausted and all I can muster up the energy for is a cheese snack for dinner. Cheese and crackers- is there anything so basic and satisfying? Give me a side of cornichons and/or olives, too, please. Sometimes I lazily attempt to add some green in there with a sprinkling of herbs or arugula. These days I'm topping it with the last of my CSA tomatoes. 90% of the time the cheese of choice is goat cheese: chevre, gouda, cheddar, even goat's milk brie! Let's just say the cheese section of Trader Joe's is my happy place.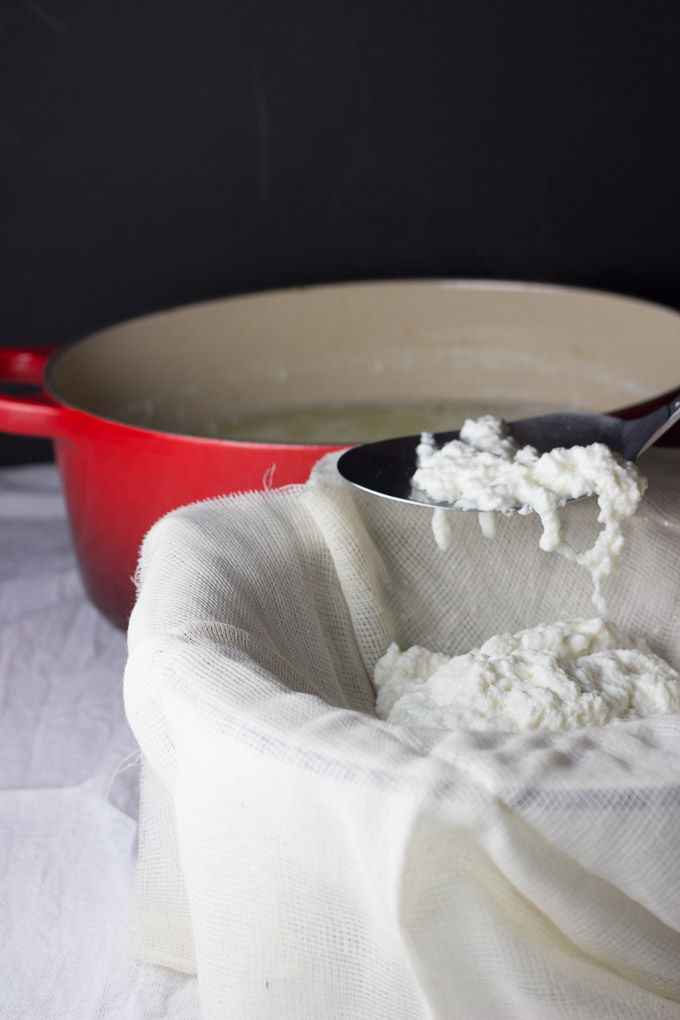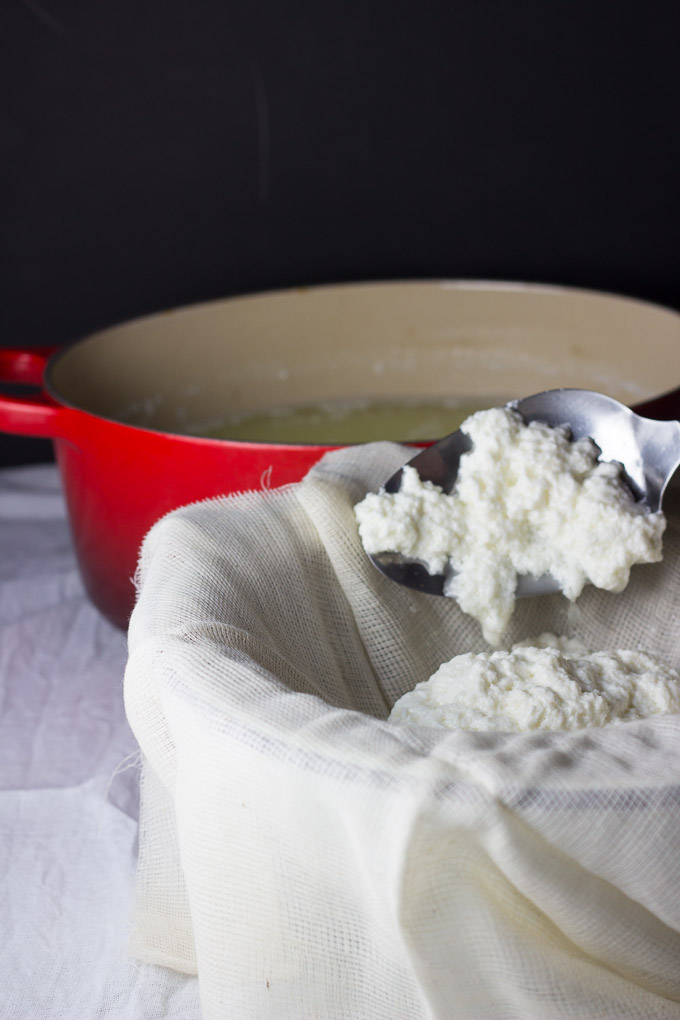 I knew that ricotta cheese was fairly simple to make from seeing several online tutorials but I didn't really know how simple it was until I tried it myself. Ricotta cheese can be made from any kind of milk- cow, sheep or goat (possibly camel or llama?) but I chose to use goat's milk since I love the tanginess of it. I found Trickling Springs Creamery goat's milk at The Local Market in Falls Church, VA. I've also seen it at Trader Joe's and some of the Harris Teeter's in the DC area. If you're in an area serviced by Relay Foods, I'd suggest you order it from them as well if you cannot find it in stores.
The process is simple. You bring the goat's milk up to a low simmer (never let it boil) and as soon as it reaches about 200 degrees (Fahrenheit), you take the pot off the heat. Keep some sort of thermometer ready (instant-read or candy) and observe the temperature closely. You can then pour in some type of acid:  lemon juice, distilled white vinegar or citric acid, but I used apple cider vinegar because that was what I had around. As soon as I poured in the vinegar and the curds separated from the whey, I could smell the distinct scent of goat cheese coming from the pot.  I strained the curds with a slotted spoon into a colander lined with cheese cloth and suddenly I had made cheese. Let it drain just a few minutes to keep it moist and creamy or let it drain even longer for a drier cheese with more texture. I ate the cheese warm and plain and it was delicious. Sprinkled with a little salt, dressed with a drizzle of olive oil or honey, it makes a simple yet satisfying treat. And it's even more special because you made it yourself at home. I can't wait to try it in salads, on pasta, on toast, on crackers, on a spoon…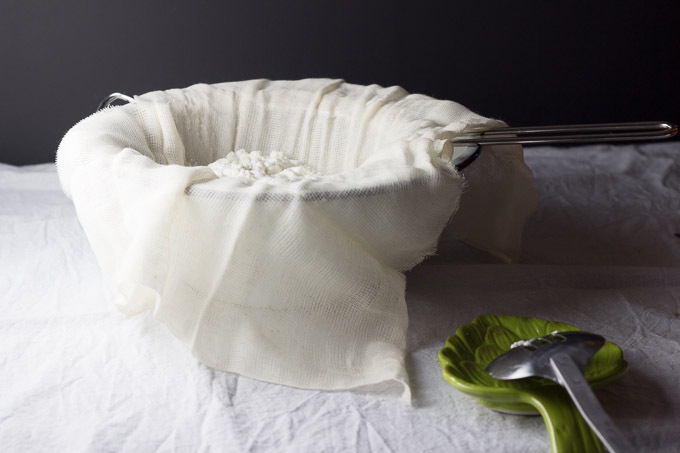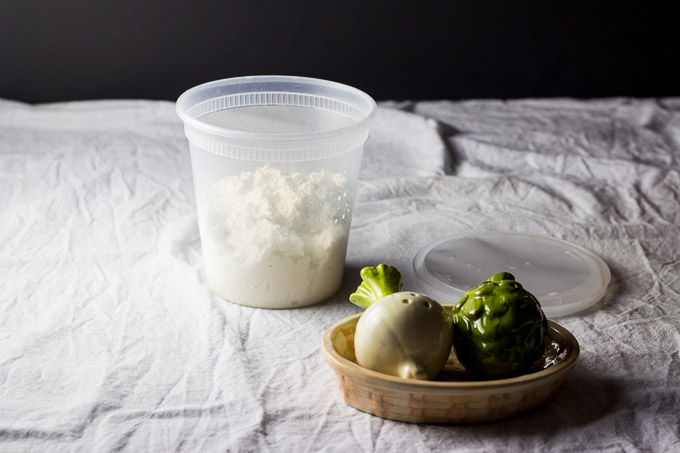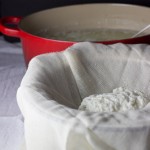 Homemade Goat's Milk Ricotta Cheese
Ingredients
2

quarts

of whole goat's milk

1/3

cup

of apple cider vinegar
Instructions
Heat the goat's milk in a large, heavy bottomed pot over medium high heat and use a instant-read or candy thermometer to check the temperature.

When the milk is barely simmering and reaches about 200 degrees Fahrenheit, remove from the heat and pour in the vinegar. Stir gently and let it sit for about 10 minutes. You should see the solids floating in clear liquid.

Use a slotted spoon to remove the curds into a colander lined with cheesecloth set over a bowl.

Let the cheese drain for about 10 minutes for a creamier ricotta or up to an hour for a drier, lumpier cheese.
0