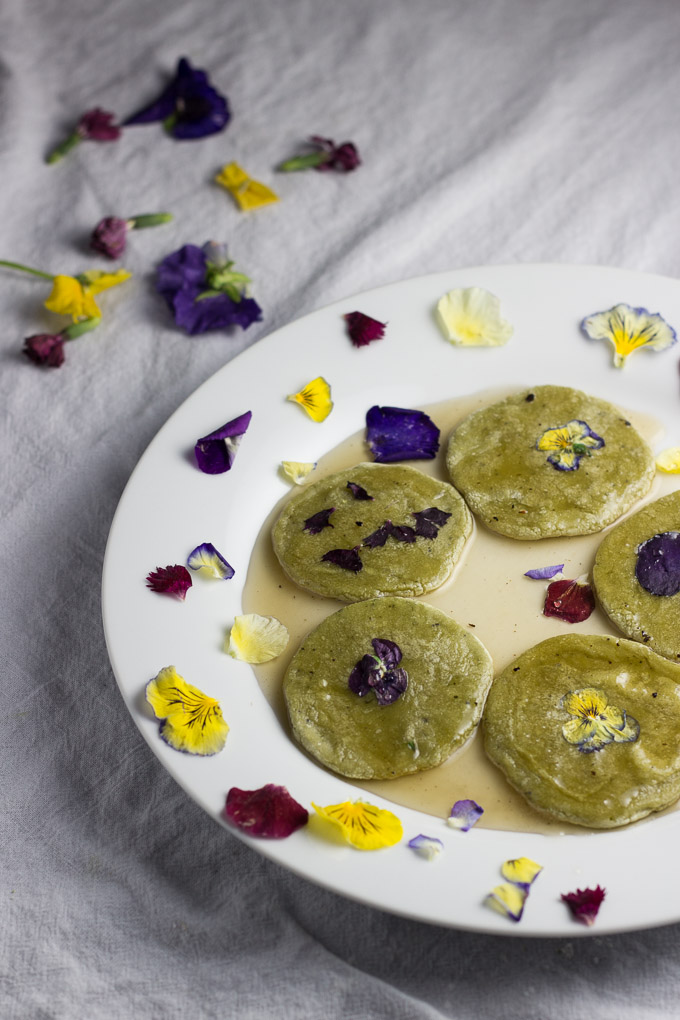 Spring is my least favorite season.
It wasn't always this way. When I was a kid, the arrival of spring heralded warmer weather and a countdown to summer vacation. When I was in my early twenties my immune system decided that tree pollen is my body's worst enemy and I developed seasonal allergies. When I moved to South Korea at the age of 24 I experienced another level of discomfort — yellow dust. Dust from Central Asia floats towards East Asia every spring, mixing with things that are horrible for your health. When it's particularly bad the public is advised to stay indoors as much as possible. You see people wearing face masks and a heavy presence in the air. Outdoor surfaces are covered with a yellow layer of gunk.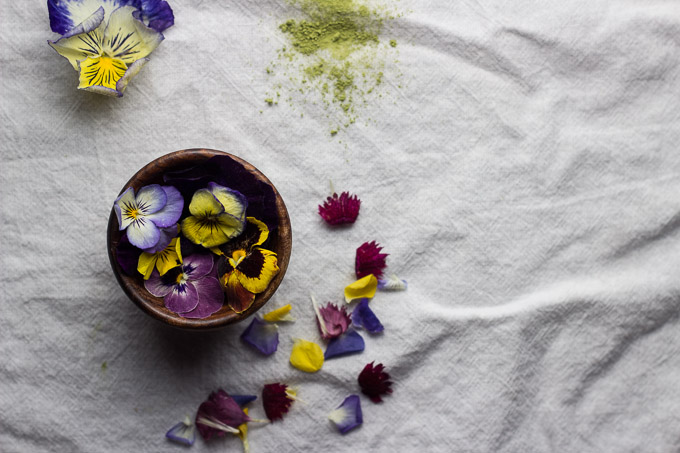 But this spring, despite the sneezing and the red, irritated eyes, I am excited. Spring signals a new beginning and I can especially feel it this year. I just ended the first week of my new job in DC. A few months ago I took a bit of a leap of faith to leave my last job to try and pursue a new career path. A few weeks ago I interviewed for a job and was hired within a span of four days. It was a whirlwind and my friend said that I "secreted" my way into my new career.
On the blog front a bunch of new, exciting opportunities have started coming my way and I feel as though I've finally gotten somewhere with it. This blog is a hobby, but food is my passion and it's nice to know that I can get a little funding for this expensive venture. I look forward to sharing more in the near future!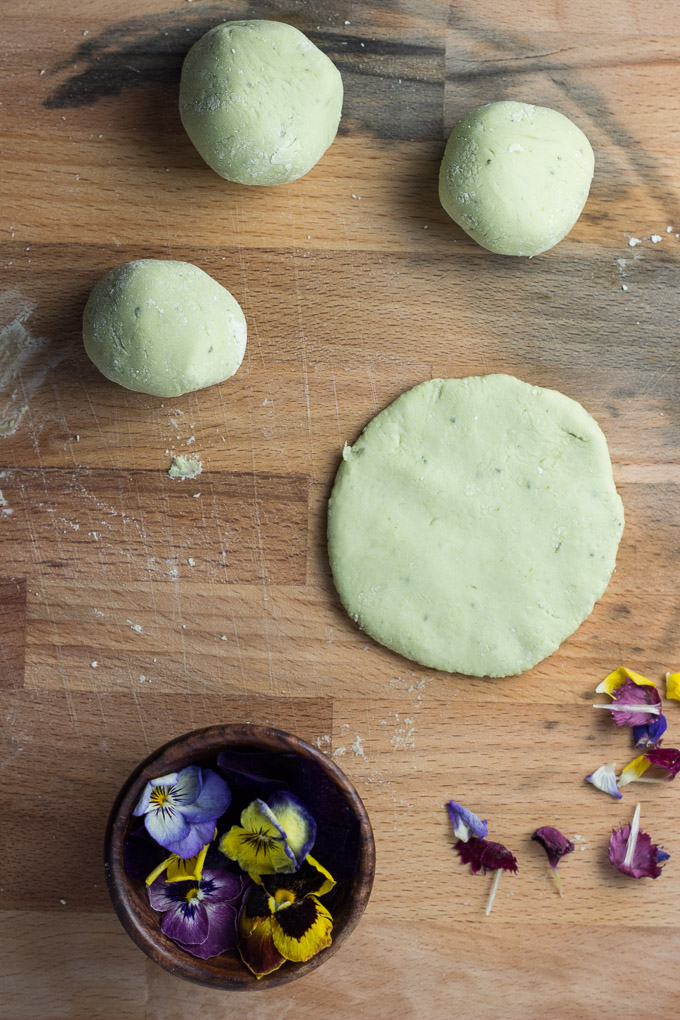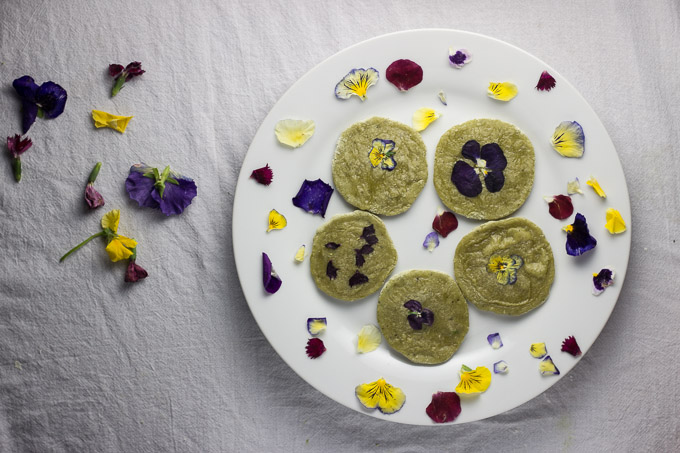 In Korea when spring has sprung hwajeon is made. It is a small, sweet pancake made with glutinous rice flour and wild, edible azalea flowers that are a bright purple-pink (please don't use azalea flowers you might find here in the States, they're not safe for consumption!). When Renee invited me to participate in an edible flower virtual potluck this dish was the first thing that came to mind. I've added matcha powder to give them a light green tea flavor and to represent the greenery of spring all around me. I look forward to new beginnings, the overload of fresh spring produce at the markets, and the anticipation of summer.
And please check out all these lovely bloggers and their floral recipes as well: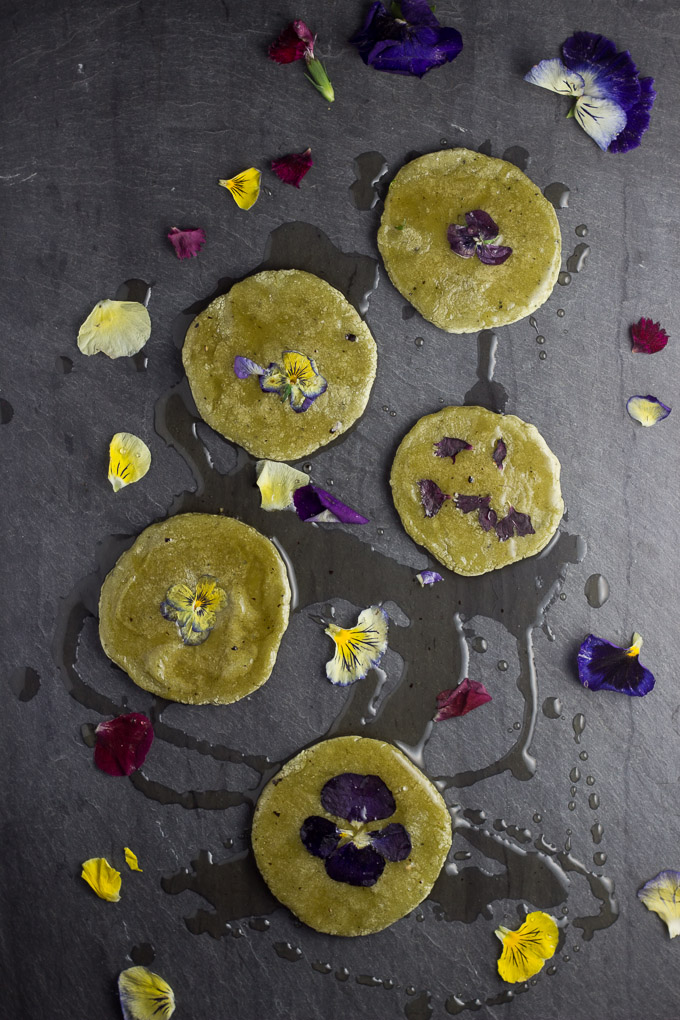 Hwajeon - Sweet Matcha Rice Cakes with Fresh Flowers and Honey Syrup
Ingredients
Hwajeon
½ cup of glutinous rice flour
½ teaspoon of matcha powder
pinch of salt
¼ hot water
2 teaspoons of vegetable oil
edible flowers
Honey Syrup
3 tablespoons of honey
3 tablespoons of water
¼ teaspoon of freshly ground black pepper
Instructions
Sift together the rice flour, matcha and salt.
Pour in the hot water and mix until the dough comes together. Knead a few times until it comes together in a ball and roll into a log.
Cut into five equal pieces and roll each piece into a ball.
Use your fingers to flatten each ball into a round disk about 2½ - 3 inches wide.
In a small sauce pan combine the ingredients for the honey syrup. Heat until the mixture bubbles and turn off the heat. Keep it on the stovetop to keep warm.
Heat the vegetable oil in a nonstick pan over low heat. Slide each pancake in and fry for two or three minutes until slightly crisped on the bottom.
Flip over and lightly press flowers or petals into the top of each pancake as the bottom cooks for another few minutes.
Flip each pancake over cooking the side with the flowers for 1 or 2 seconds and flip back over and place on a plate.
Pour the honey mixture over the pancakes and garnish with more fresh flowers.
Enjoy with hot tea.
Notes
Please make sure to use flowers that are labeled edible. Conventionally grown flowers are usually sprayed with pesticides and herbicides which make them unsafe to eat. I found these flowers in the herb section of my local Whole Foods but I've also seen them at farmers markets.
0