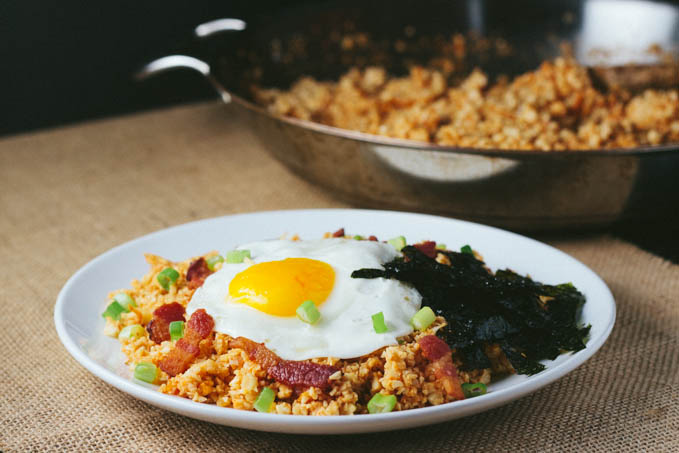 A few weeks ago I tried cauliflower fried rice for the first time. I was a bit skeptical at first; cauliflower is no real substitute for rice. I grew up on rice, eating it often in my Korean home with a stew, vegetable sides and kimchi- always kimchi.  And while this certainly isn't comparable to actual rice, it is a nice stand alone dish featuring cauliflower. In Korea we throw some cold, leftover rice into a pan with some oil, old kimchi, chili paste and either scramble an egg into it or put an egg on top. It's a fast and easy way to use up leftovers. I decided to merge these two ideas together to make a Korean variation on a trendy dish.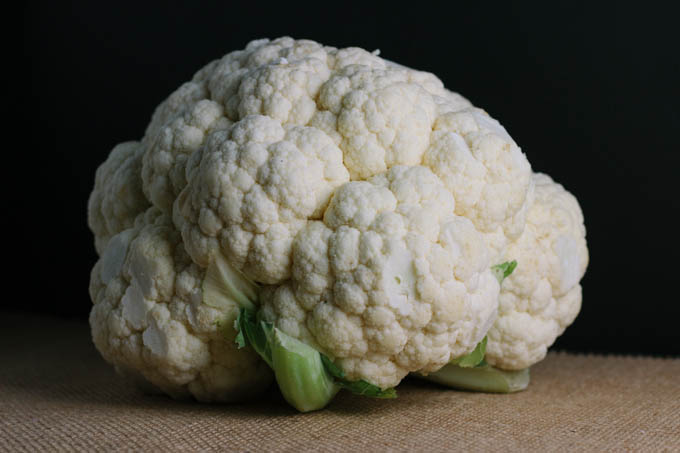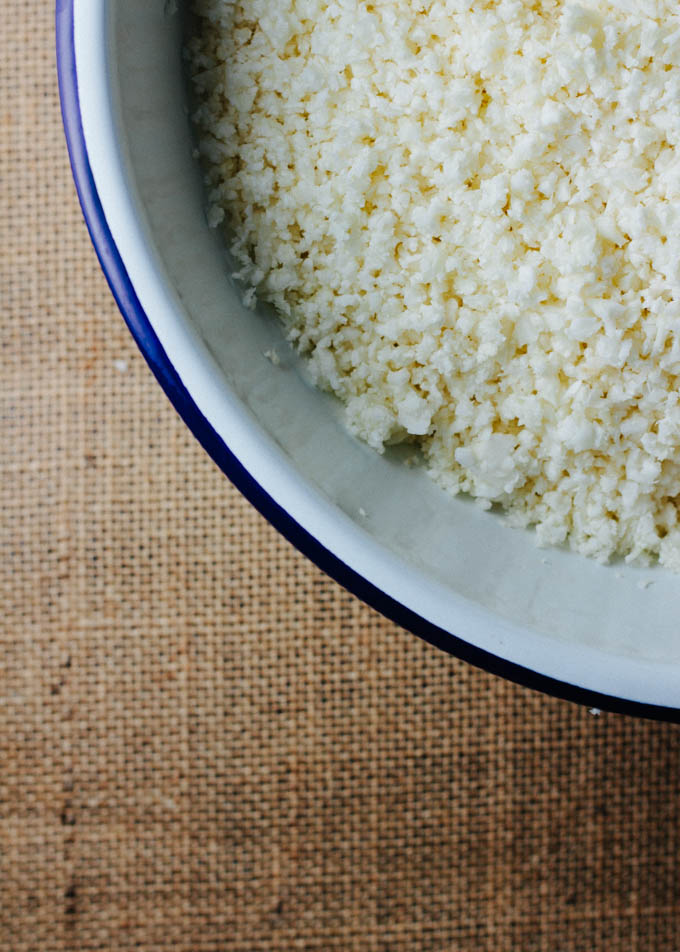 In any dish where one cooks kimchi old, sour kimchi is preferred. It's a great way to use kimchi that is past its prime and it caramelizes nicely in a pan, especially in some bacon fat. Cauliflower takes on this assertive flavor well, and while it doesn't have the same chew as rice does, it does have a nice texture to it. Pulsing cauliflower in a food processor makes it more like couscous than rice in appearance and texture, but the structure is much sturdier than couscous. It does well in a stir fry and as long as you take care to not overcook it, it maintains its slight crunch. A nice fried egg on top with a runny yolk adds richness, and I wouldn't skimp on the roasted laver either.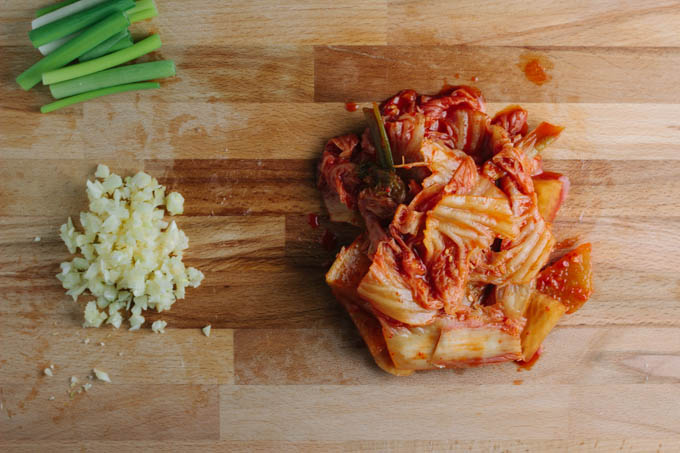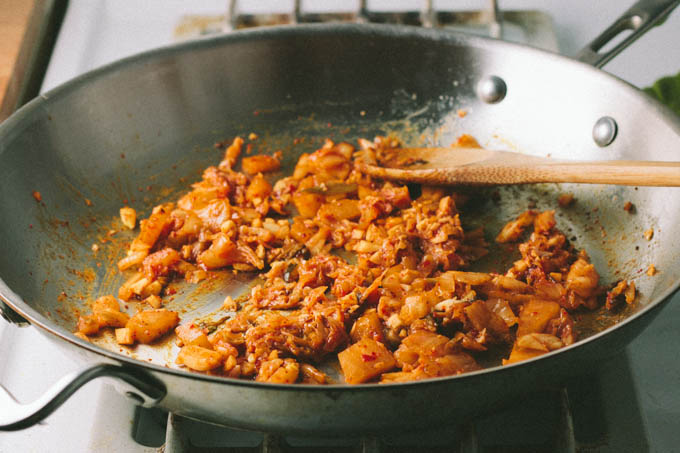 I used the last of my mom's kimchi that's been hanging out in my fridge wrapped up in three layers of plastic so the smell doesn't seep into the rest of my fridge. It's precious to me as it's something my mom made with her own hands. It was the first kimchi she had made in decades since her mother, my grandmother, had come to live with us when I was a toddler and had always made it for our household. In Korean there is a term that sounds odd when translated literally, 손맛 or sohn maht. It's directly translated as "the taste of your hands" or "hand flavor" which sounds really, really strange in English. I saw a restaurant in Seoul once called "the taste of mom's hands". But what it really means is that the care you put into making something to eat, that "flavor" is transferred into the food you create. I used to think the "taste" of my grandmother's hands was the most delicious, but after eating this kimchi, I'm convinced it's my mother's. It is the culmination of years of my grandmother lovingly making food for my mother and my mother making it for me. Maybe like most traits it's part genetic and part learned, or maybe I can never make kimchi or cook as well as either of them. I just hope that I can enjoy their sohn maht as much as possible while I still can and pass it on to those I love. 엄마, 사랑해~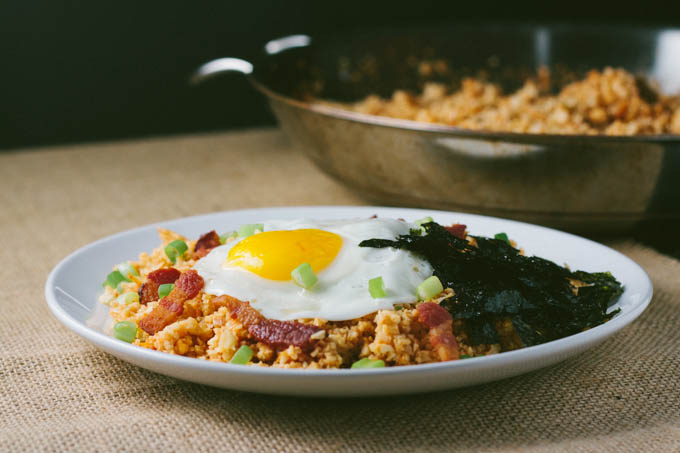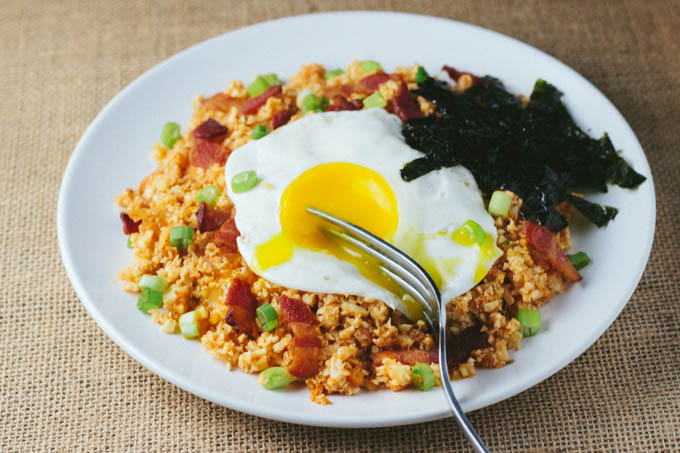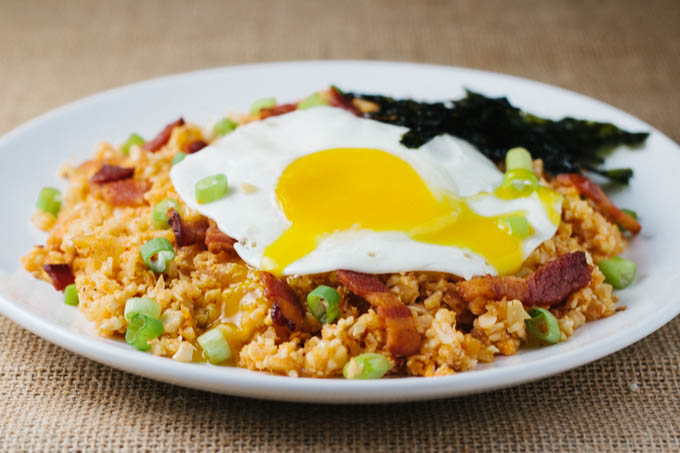 Kimchi Fried Cauliflower Rice
Ingredients
1

head of cauliflower

2

cloves

of garlic

minced

3

slices

of bacon

chopped

2

cups

of chopped kimchi

2

tablespoons

of Korean chili paste

gochujang

3

tablespoons

of soy sauce

2

tablespoons

of rice wine vinegar

1/2

teaspoons

of black pepper

2

tablespoons

of toasted sesame seeds

4

teaspoons

of toasted sesame oil

3

stalks of green onion

sliced thinly

1

teaspoon

of vegetable oil

4

eggs

roasted laver

optional
Instructions
Cut the cauliflower into florets and pulse in a food processor until it is similar to the texture of rice (don't over process of it will liquefy).

Heat up a large frying pan (12 inches would be best) over medium heat and cook the bacon until crisp. Remove the bacon and drain on a paper towel. Drain all but 1 tablespoon of bacon fat.

Saute the kimchi, garlic and chili paste until it darkens slightly, about five minutes.

Add the cauliflower and combine well. Stir the soy sauce and vinegar together and add to the pan and mix well. Cook, stirring often for about five minutes.

Sprinkle in the black pepper, green onions and sesame seeds. Stir and turn off the flame.

Heat up oil in a medium frying pan and fry eggs to your liking.

Portion out the rice, top each plate with an egg, a teaspoon of sesame oil, and roasted laver.
13