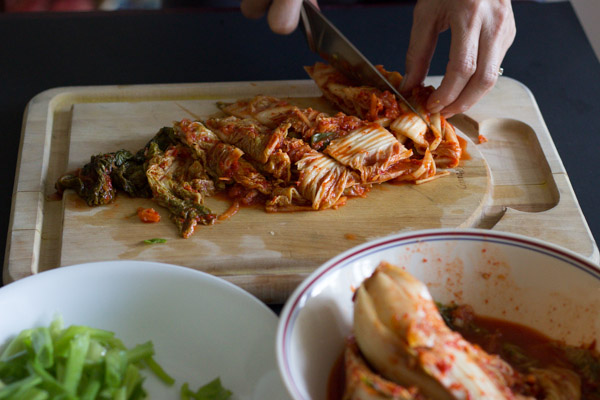 Ah, kimchi: spicy, sour and very fermented. I know a lot of people are put off by the stinky smell that comes from a jar of kimchi, but it's so essential to a Korean meal. Pictured above you can see the image of what people around the world think of when they hear the word kimchi but I like to use to word kimchi as a verb. You can practically kimchi any vegetable and there are so many different ways to kimchi something. It can be red and spicy, but it can also be white and red pepper-less (my favorite of which is a white napa cabbage kimchi which is amazing with some roasted duck). I know of many expats that disliked kimchi when they first arrived but over time it grew on them. I think with Korean food this happens a lot. The more you eat it, the more you become addicted to it.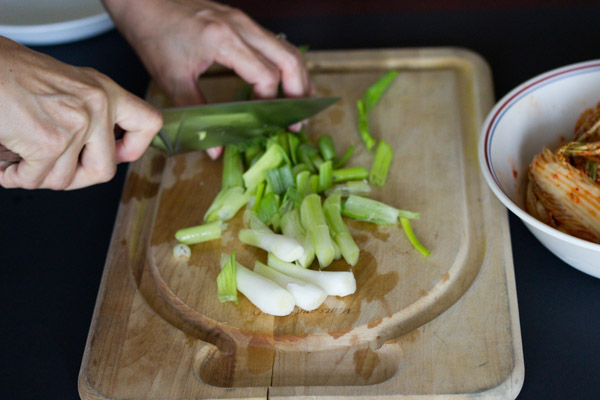 But sometimes, kimchi is just too sour to eat comfortably. It's inevitable, really. Over time kimchi ages and becomes more and more sour and you can only take so much pucker. So what to do with all that sour kimchi? Well, make it a stew of course! Cooking kimchi really turns it into a whole other animal. When I lived in Korea I loved the dishes that featured sautéed kimchi the most. My favorite was grilled pork belly cooked on flat top grill angled so that the kimchi grilled towards the bottom of the pan would have all the juices from the meat run through it. mmm…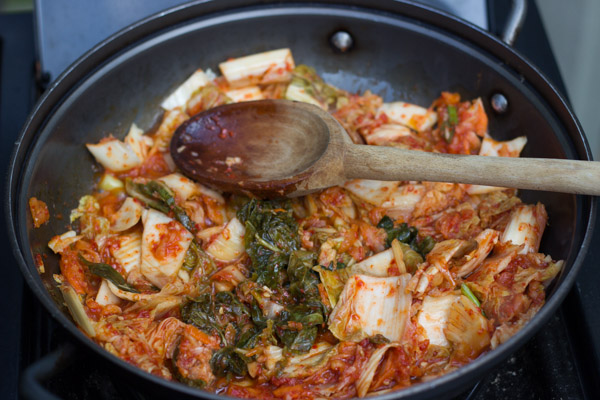 But I'd have to say now that since I've returned to the states, I often think of my kimchi stew meals with my best friend and former roommate Jessica. I met Jessica the third day after I moved to Korea. We had both been hired by the public school system in Seoul to teach English to elementary school children and were randomly assigned to stay in the same room during orientation. She burst into the room full of energy, personality and humor, even after 16+ hours of travel from Ohio. I think she's one of the few people I've met in my life where we were instant friends. After our first two years in Korea we decided to move in together into a two bedroom apartment (very large and luxurious for Seoul English teachers), and lived together for two and a half years together. She moved back to the U.S. the same time I did, and now she's in Edmonton, Canada performing in a two woman play at a fringe festival (she's an amazing actress and one of the funniest people I know).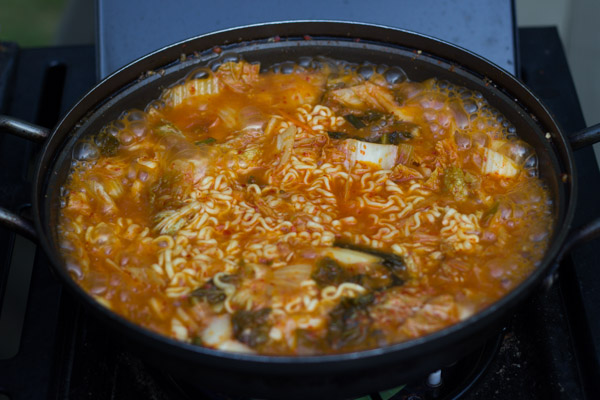 We soon discovered a little restaurant in our neighborhood that specialized in kimchi jigae, or stew that had a special ingredient we both loved- ramen noodles. We also got a fried egg on the side (sometimes we would get this for free in the restaurant because they were very concerned that we would have a hard time finding something to eat as foreigners). We spent many nights there eating our dinner, telling stories and gossiping together. Much like how toasted sesame seeds reminded me of home and my family while I was in Korea, now kimchi stew reminds me of my many happy memories with Jessica.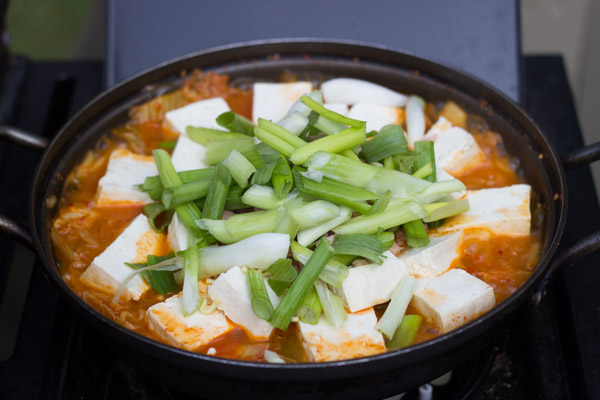 Today is Jessica's birthday (HAPPY BIRTHDAY JESS!!!!) and although we can't be together, I'm thinking of her and wishing I could see her perform in her play. It's a bit sad knowing we will most likely never live together or even live in the same city again, but I know I've made a best friend for life. The experiences we had together in Korea and traveling Asia will forever be in my mind as some of the best times of my life. I love you, Jessica, and I wish you the very happiest of birthdays.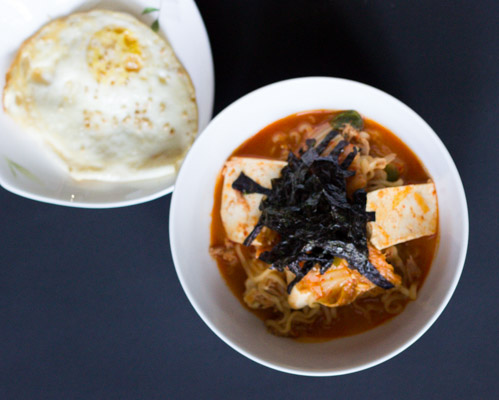 Kimchi Stew with Tuna and Ramen Noodles
Ingredients
2 cups of sour kimchi, chopped into one inch pieces
1 teaspoon of garlic, minced
1 tablespoon of toasted sesame oil
3 cups of water
¼ cup of kimchi broth (the juice from your jar of kimchi)
1 packet of ramen noodles (discard the soup mix)
½ of an 18 ounce package of medium-firm tofu, sliced into ½ inch slices
1 4.5 ounce can of tuna, drained
3 scallions, trimmed and cut into 2 inch pieces
½ cup of dried, seasoned laver cut into thin strips
Instructions
Heat the sesame oil in a pot over medium high heat and stir fry the kimchi and garlic for about 5 minutes.
Add the water and kimchi broth, turn up the heat to high and bring to a hard boil.
Add the ramen noodles and cook until almost done (it took me about 7 minutes).
Add the slices of tofu, the tuna and scallions, cook for another 3 minutes.
Serve with laver strips on top.
2