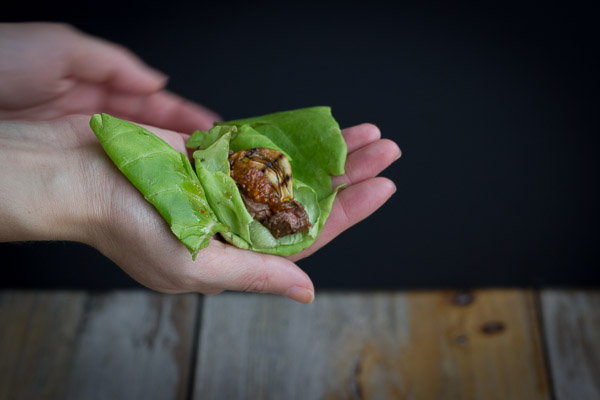 Today marks the first anniversary of the start of Ginger and Toasted Sesame. My very first post was published on August 11, 2013. It seems that this past year has flown by so quickly and it's difficult to remember the place I was in last year. I had moved back home after living in Seoul, Korea for five years and I was dealing with reverse culture shock, a painful and prolonged break up, unemployment and a general sense of feeling utterly lost and directionless.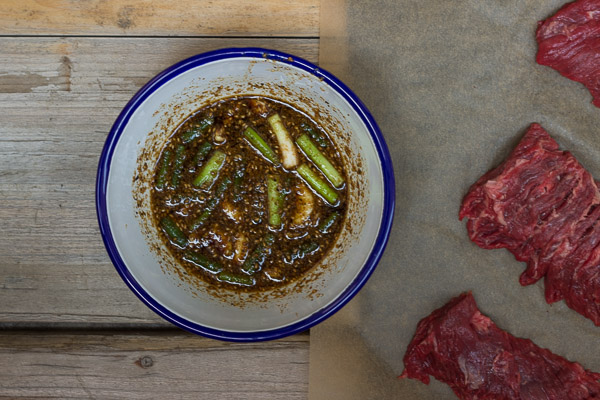 I started this blog because I wanted some sort of positive outlet in my life. I was tired of feeling sad and lost and I wanted to do something creative and fun. I wanted to learn something new, like photography and to expand on something I had done for enjoyment as a teenager- create a website (thank goodness that my old Geocities site has long since been deleted). On top of my desire to do something productive I'm very lucky to have such supportive parents. Knowing that I had a new interest their birthday present to me last year was my first DSLR camera and a 50mm prime lens (great for portraits and food photography as a starter!). I also gifted myself a food writing course through Politics and Prose with Kathleen Flinn. Her class really inspired me to think more seriously about storytelling even though I do not consider myself a writer in any sense of the word. She made me feel so comfortable despite being in a really intimidating classroom of actual writers, journalists and chefs. From there I started, a bit directionless at first and slowly but surely gaining a bit of confidence as people visited my site and I got messages of encouragement and support.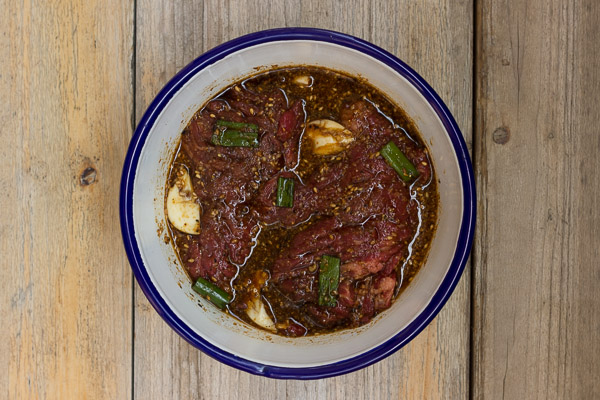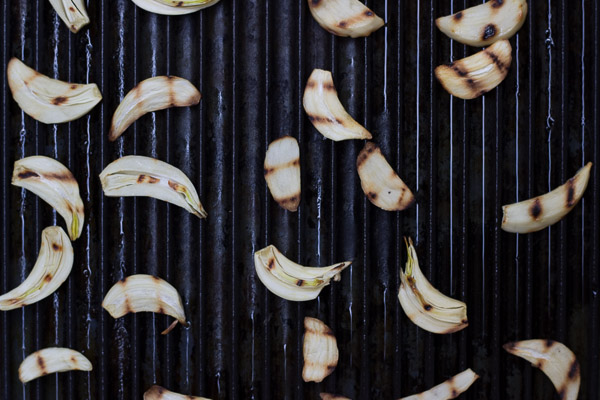 Through blogging I made a good friend, Marcella. I know I've mentioned her before but I want to recognize her for being an inspiration in cooking and blogging in the past year. The best part of blogging so far is connecting with other food obsessed, cooking crazed nuts such as myself, and Marcella was especially easy to connect with because she is also half Korean. The first time we met felt a bit like a blind date of sorts. We only knew each other through our blogs that were just recently started but when we first sat down together at a coffee shop in Richmond, Virginia I felt comfortable and connected with her almost immediately. We talked about food, blogging and our shared backgrounds for hours. Last December we met for a food writing course held through the Smithsonian Associates. We were inspired by our day long course taught by the wonderful Monica Bhide and our dinner at Toki Underground. I still look to her blog Broad Appetite as a source of inspiration and motivation and she's doing big things like being recognized as having the Best New Blog by Saveur Magazine and starting a Richmond food podcast.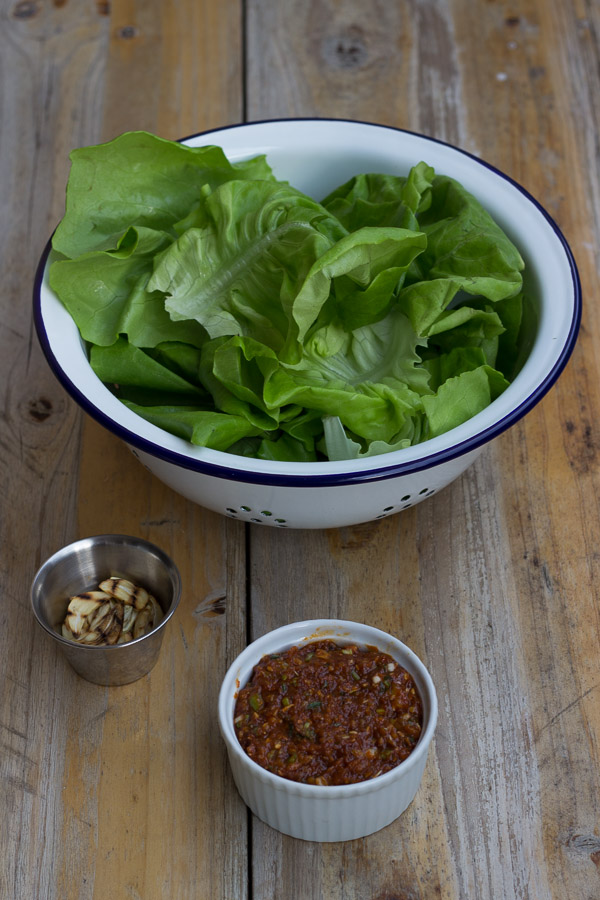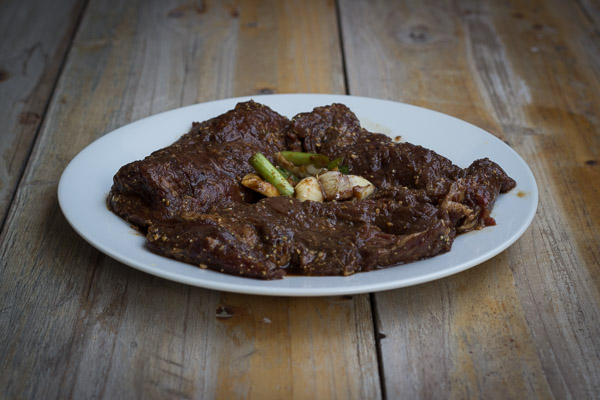 I also want to thank all the friends that have supported me throughout the year personally and blog wise. I don't know where I'd be without the friends who listened to me when I was down, hugged me when I was sad and cheered me on for each small victory. I don't know where I'd be without the friends and readers who have commented on my posts, liked an Instagram pic or cooked from one of my recipes. I need to especially thank the friends who nagged me to post again when I was inconsistent, assisted me when I cooked and shot for a post and taste tested my recipes. Thank you!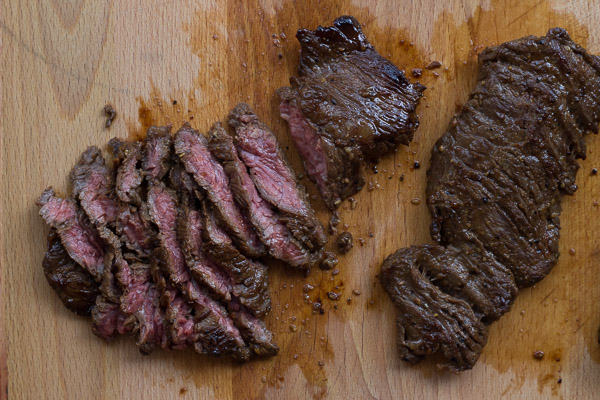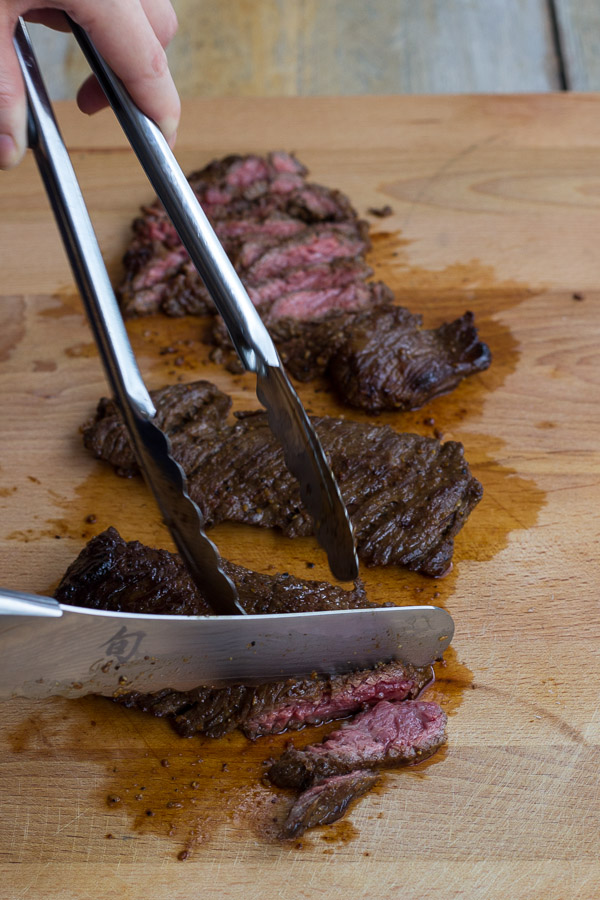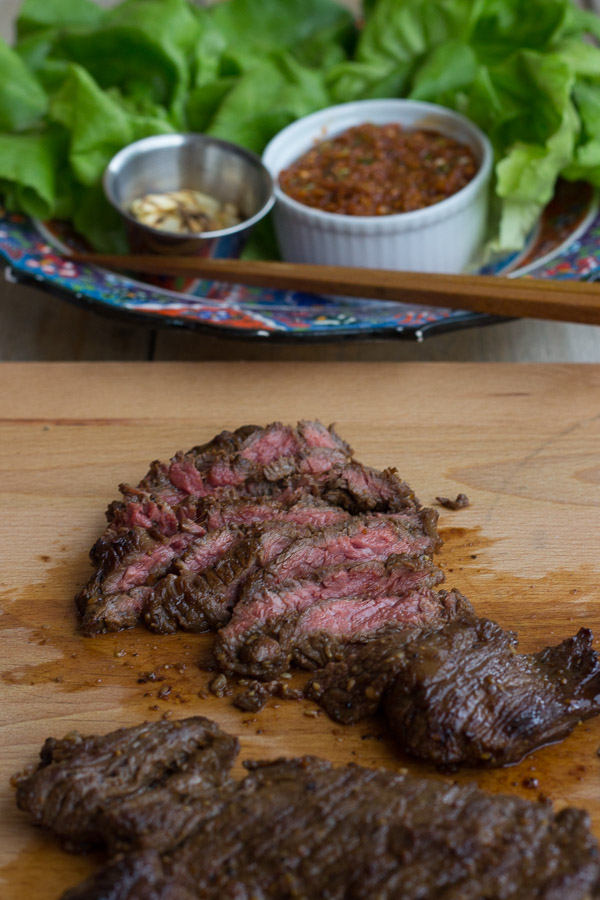 I guess at some point I need to stop blathering and get to the recipe at hand. I've made this Korean style marinaded skirt steak a few times this summer. I first made it eye balling the ingredients for a Korean type of marinade that is often used for grilled pork ribs. I learned that such a marinade needs to balance the flavors of salty and sweet. The sugar in the marinade helps caramelize the meat and since skirt steak is cooked quite quickly at a high temperature the steak accomplishes this very nicely. Skirt steak is a flavorful cut of meat albeit a tougher one. The trick to making it tender and enjoyable is to cook it to about medium rare and to cut it on a bias against the grain. I enjoyed this steak with Maangchi's ssamjang (a really tasty sauce comprised of doenjang which is similar to miso, gochujang- Korean chili paste, garlic, green onion, toasted sesame oil, toasted sesame seeds and honey), slices of garlic grilled until crispy and Boston bibb lettuce. Below you can see a progression of how to create a perfect little ssam, or wrap to fully enjoy the meat.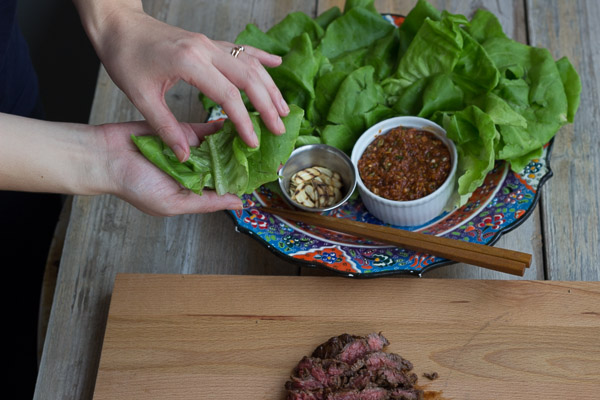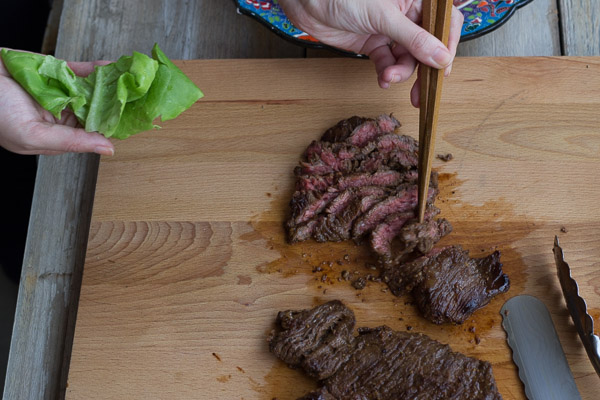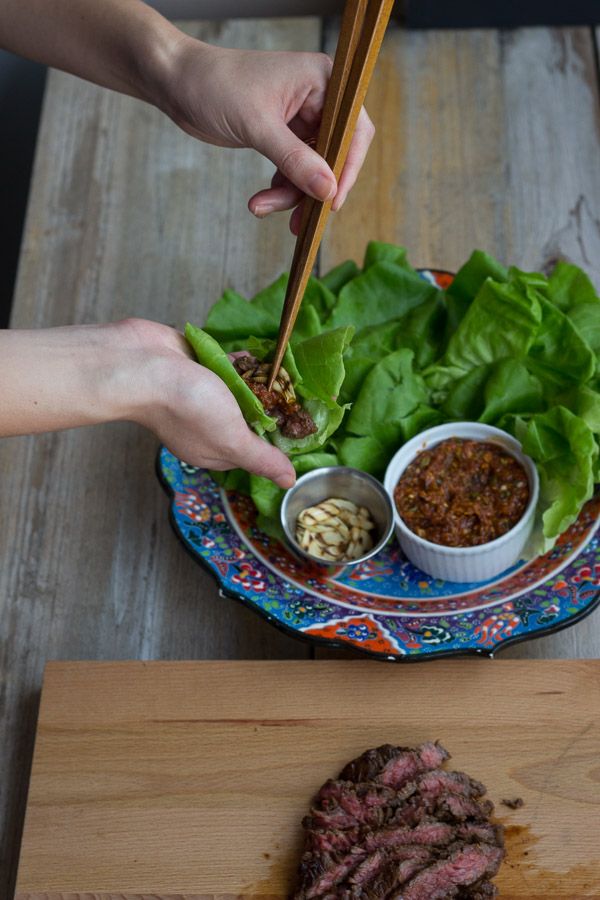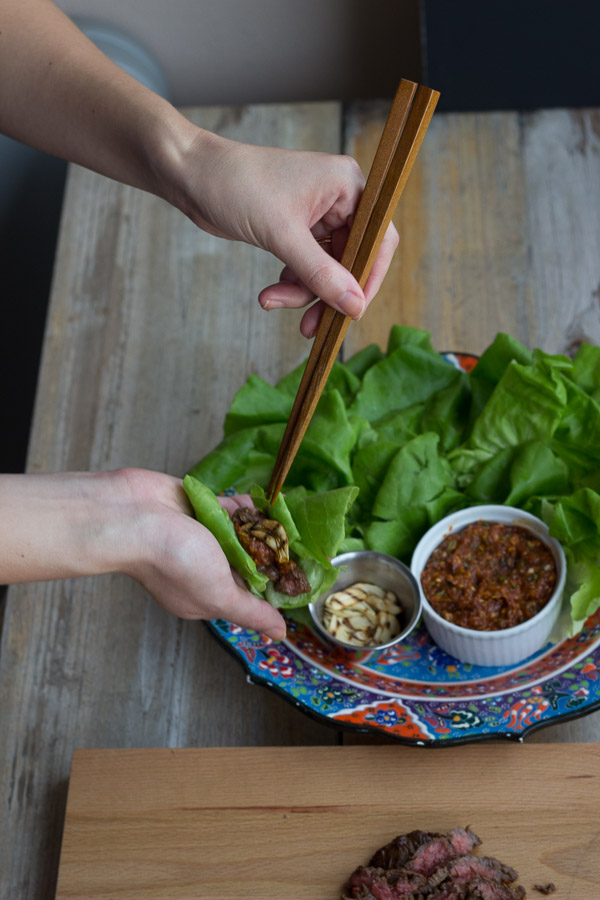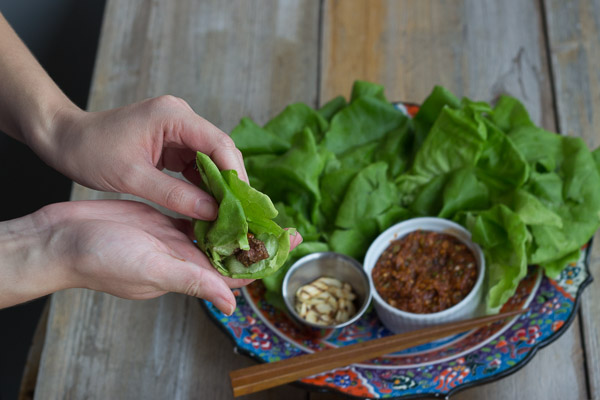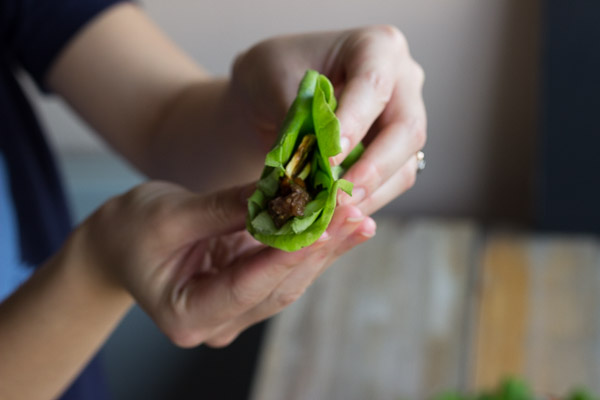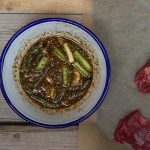 Korean Style Skirt Steak
Ingredients
1/3

cup

of reduced sodium soy sauce

1/4

cup

of dry white wine

4

garlic cloves

crushed

1

green onion

trimmed and chopped into 1 inch pieces

1

tablespoon

of sesame oil

1

tablespoon

of toasted sesame seeds

1/2

teaspoon

of black pepper

1

teaspoon

of gochujang

1

teaspoon

of doenjang or red miso

1 to 1.25

pound

of skirt steak

cut into three pieces
Instructions
Combine all the ingredients except for the steak in a large bowl. Whisk until thoroughly combined.

Add in the three pieces of steak, coating all sides of the steak.

Marinade the steak in the refrigerator for at least 1 hour or marinade it overnight.

Heat a grill pan or grill to high heat.

Remove the steak from the marinade, discarding the garlic and the green onion pieces.

Grill on each for side for 4-5 minutes until steak is caramelized and it is cooked to about medium rare.

Let the steak rest for about ten minutes.

Slice the steak against the grain and service with ssamjang, grilled garlic and lettuce leaves.
0