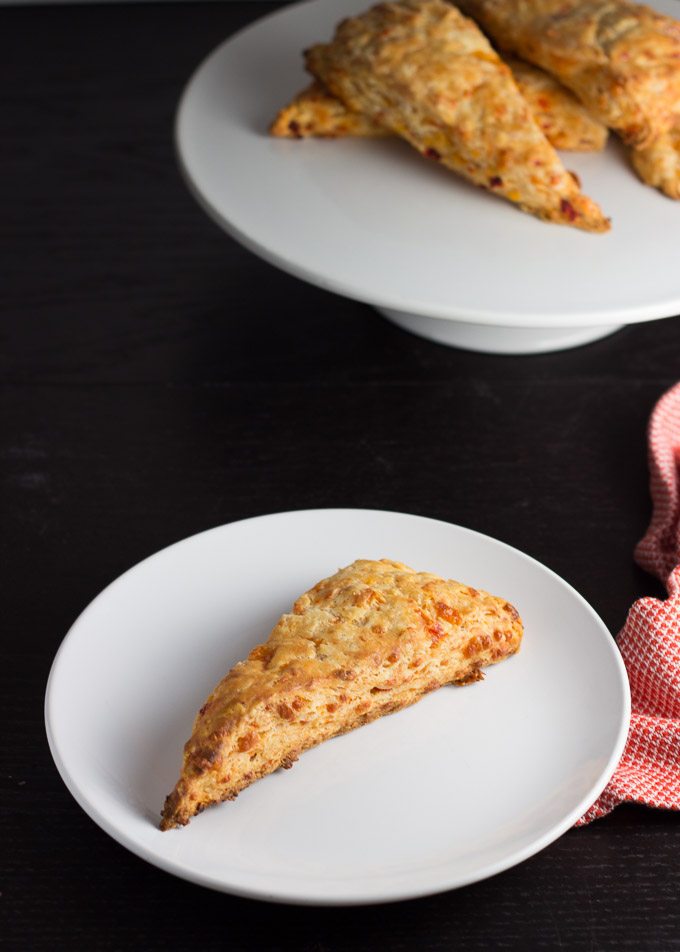 Sometimes a certain food gets ingrained in my mind to the point of obsession and it doesn't stop until I finally have had my fill of it. This can lead to certain food catastrophes, such as the Cheesecake Incident of 1998 where I helped myself to large, gluttonous portions of Costco cheesecake until I got sick. I still can't have more than a few bites of the stuff 17 years later, and I am filled with regret that the teenage version of myself lacked restraint.
Lately I've had my mind on pimento cheese, the southern staple that has recently popped up more and more on menus and food blogs. Grated cheese, minced pimento peppers and mayo are typically the foundation. It's rich and satisfying stuff, whether you eat it on pork rinds or spread it on bread to make a sandwich. I wanted to incorporate it into a scone because I imagined the cheese inside being melted and gooey while the cheese on the outside crisped up on the baking sheet. I think we can agree that the best part of a grilled cheese sandwich is those crispy bits of cheese on the pan.
I tried a new method when making these scones. I froze the butter and grated it instead of pressing it into the flour. Once the dough comes together roll it out into a large rectangle, fold it in thirds like a business letter, and fold it in thirds again. Let the dough rest in the freezer to keep the butter cold. Roll out the dough into a 12″ x 4″ rectangle and cut the dough into four equal squares. Then cut each of the squares diagonally. Inhale deeply as they bake because your kitchen will smell like the essence of pimento cheese. After restraining yourself by only eating one or two (or three…), give them away to your friends as I did so that there is no repeat of the Cheesecake Incident of 1998.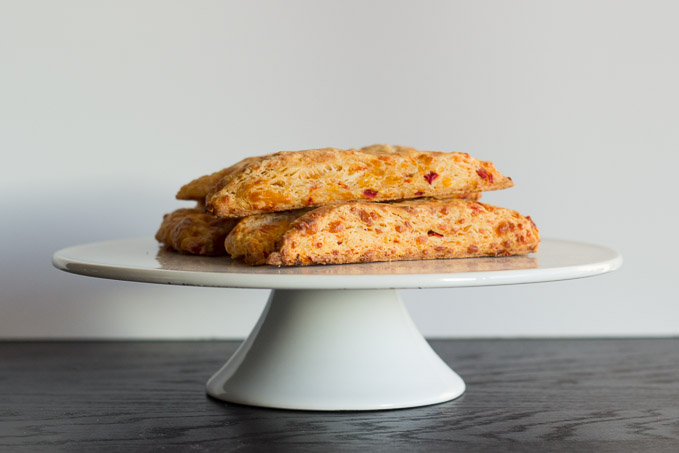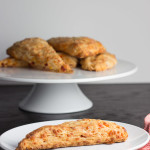 Pimento Cheese Scones
Ingredients
2

cups

of all purpose flour

1

teaspoon

of salt

1

tablespoon

of baking powder

1/8

teaspoon

of white pepper

1/8

teaspoon

of cayenne

1/8

teaspoon

of smoked paprika

8

tablespoons

of unsalted butter

frozen

1

packed cup of sharp cheddar cheese

freshly grated

3/4

cup

of buttermilk

preferably whole milk plus 2 tablespoons

4

oz.

of jarred pimentos

minced
Instructions
Preheat the oven to 375 degrees.

Whisk the flour, salt, baking powder, white pepper, cayenne, smoked paprika together in a large bowl.

Grate the butter on the large holes of a grater.

Toss the butter and cheese into the flour. Fold in the pimentos.

Pour in the 3/4 of the buttermilk with a spoon until it comes together as a wet but shaggy dough.

Put the dough on a floured surface and knead a few times until it's a cohesive dough.

Roll out into a large rectangle and fold into thirds like a letter. Fold again into thirds.

Put the dough on a floured plate and stick it in the freezer for about ten minutes.

Roll out the dough to 12 by 4 inches.

Cut the dough into fourths. Cut each of the squares in half diagonally.

Put on a baking sheet lined with parchment paper and brush with the 2 tablespoons of buttermilk.

Bake for 25-30 minutes until risen and golden.
0