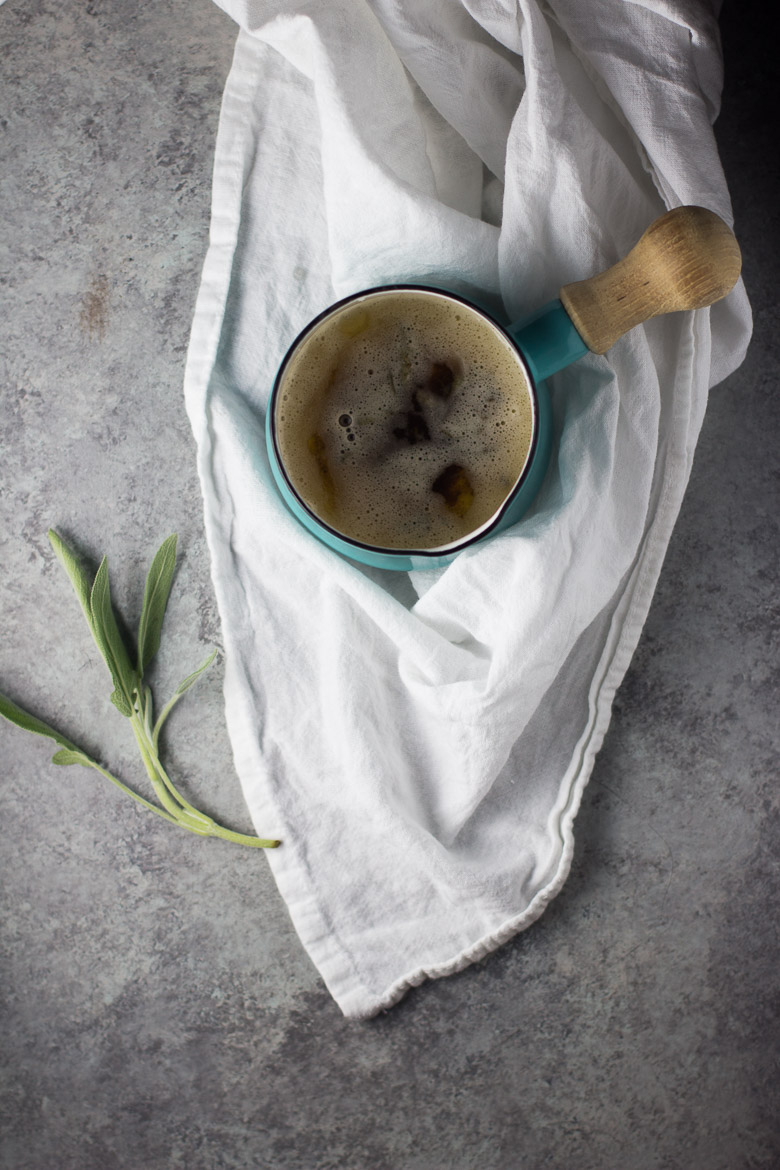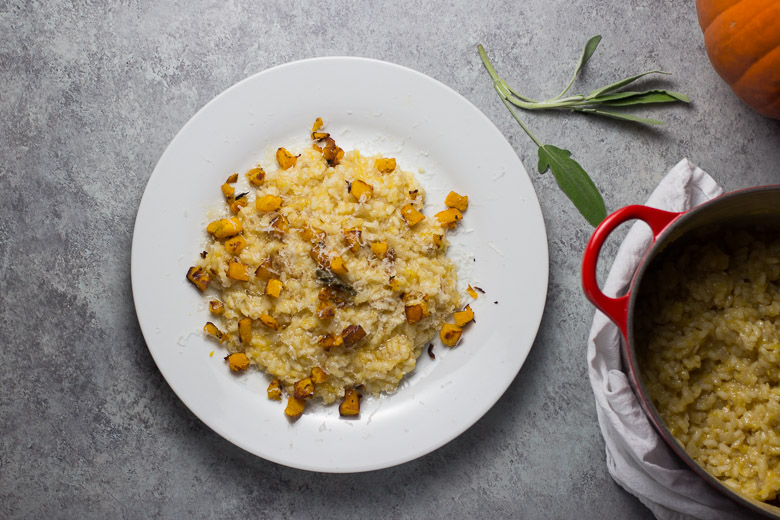 This post is part of the #VirtualPumpkinParty hosted by Sara of Cake Over Steak. Check out all the amazing recipes that are part of this party!
It's hard to believe it is nearly the end of October already. It has felt like this whole year has been a nonstop blur ever since we found out that we would have to move to New York City. Back in May, Dave was offered a job and we had to scramble to find an apartment in Brooklyn (no small feat), take a planned vacation, and move all within a three week timespan. Suddenly, our wedding planning went on the back burner and we were trying to settle into a very different life than the one we previously had.
Once the wedding nightmares started in August (showing up to the ceremony with no flowers, a dress that hadn't been fitted properly, and no music), I realized that we had to focus on finishing up planning our wedding down in Virginia, and things kicked into full gear. Now we are less than 50(!) days away, and I can hardly believe everything we've done and still have to do. The things we are focusing on now are fun things though, namely planning our honeymoon to Vietnam and Hong Kong. We've traveled a lot but never to Asia together. It'll also be our first trip that has lasted more than a week- a true and immediate test of our new marriage! 😛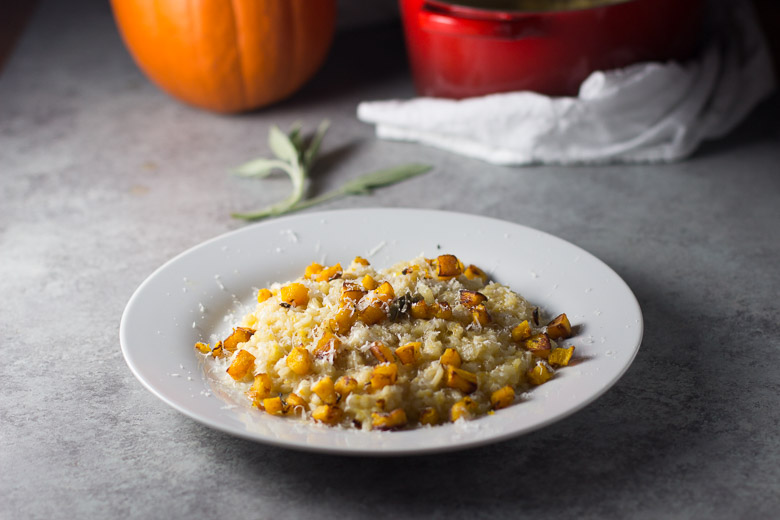 And of course, as with every October, we must celebrate all things fall and pumpkin. This year I've contributed a pumpkin risotto with sage brown butter to the Virtual Pumpkin Party. Roasted pumpkin purée has been added to the risotto, and it's served with cubes of roasted, caramelized pumpkin, and nutty, sage brown butter.
Make sure to check out all the other delicious pumpkin recipes today!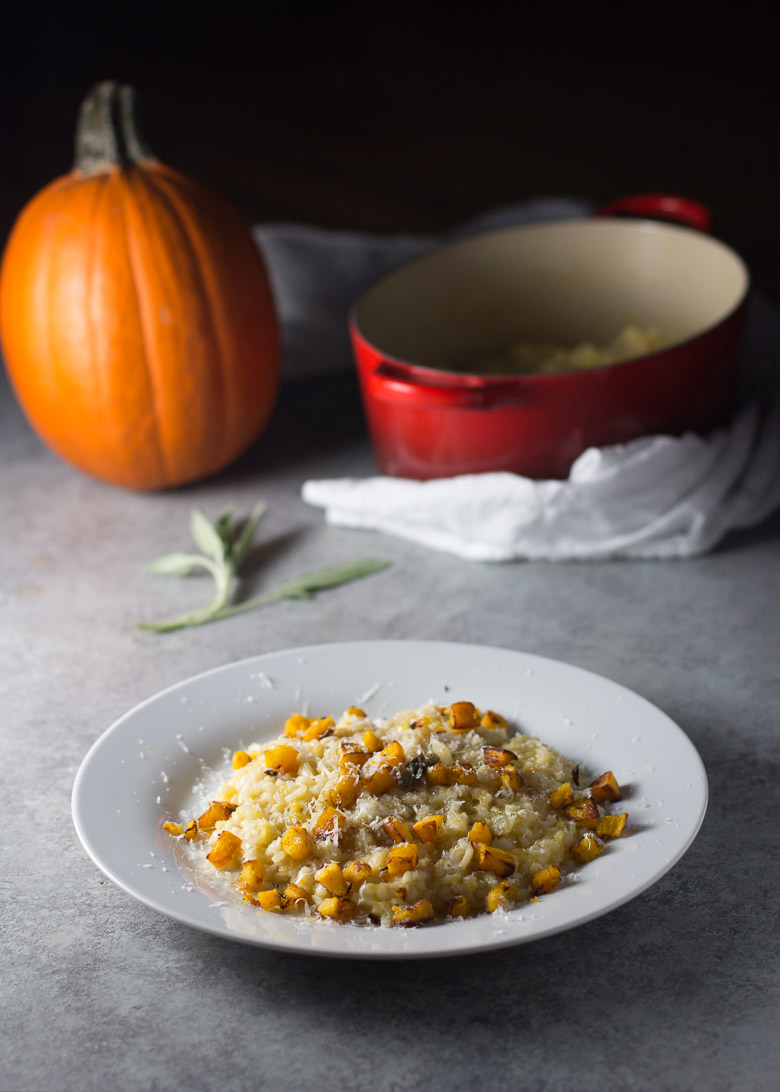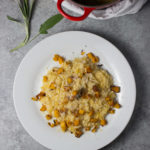 Pumpkin Risotto with Sage Brown Butter
Ingredients
1

small sugar pumpkin

about 2.5-3 pounds

1

tablespoon

+ 2 teaspoons of olive oil

1 1/4

cup

of arborio rice

1/4

cup

of dry white wine

1

small onion

chopped

2

cloves

of garlic

minced

4

cups

low sodium chicken broth

4

tablespoons

of unsalted butter

12

fresh sage leaves

salt

grated parmesan cheese to serve
Instructions
Heat the oven to 400 degrees. Put the chicken broth into a small saucepan and set it over low heat.

Chop off the stem of the pumpkin and cut it in half vertically to scoop the seeds out. Take one half of the pumpkin and slice it horizontally, the cut off the orange peel carefully with your knife. Chop the pumpkin flesh into 1/2 inch cubes.

Rub the whole half of the pumpkin with a teaspoon of olive oil and sprinkle a pinch of salt. Toss the cubes of pumpkin with the other teaspoon of oil, salt, and four sage leaves. Cook for about 30 minutes, tossing the cubes after about 15 minutes. Cook until the whole half of the pumpkin is tender enough for a fork to go through it (remove the cubed pumpkin if it finishes before the other half).

When pumpkin is finished roasting, scoop out the flesh from the whole half of the pumpkin and mash or puree until smooth.

While the pumpkin roasts, heat the olive oil over medium low heat in a medium sized saucepan or dutch oven and cook the onion for a few minutes. Add the garlic and cook for another minute. Add the rice and stir until evenly coated with oil. Let it toast for about two minutes.

Add the wine and let it cook until it is mostly evaporated. Add a ladle full of broth to the rice.

Stir frequently, until the broth has been completely absorbed and add another ladle full of broth. Repeat with adding the broth until the rice is cooked (either al dente or a little softer, to your taste). Add about a half teaspoon of salt and stir. Taste to check the seasoning and add more salt if needed. Add a cup of pumpkin mash to the finished risotto.

Melt the butter in a small saucepan with the sage leaves over low heat watching it carefully so it doesn't burn. The foam should subside and the butter should smell nutty and turn a rich, toasted color. Remove the sage leaves.

Serve risotto with cubed, roasted pumpkin cubes, sage brown butter and grated parmesan cheese.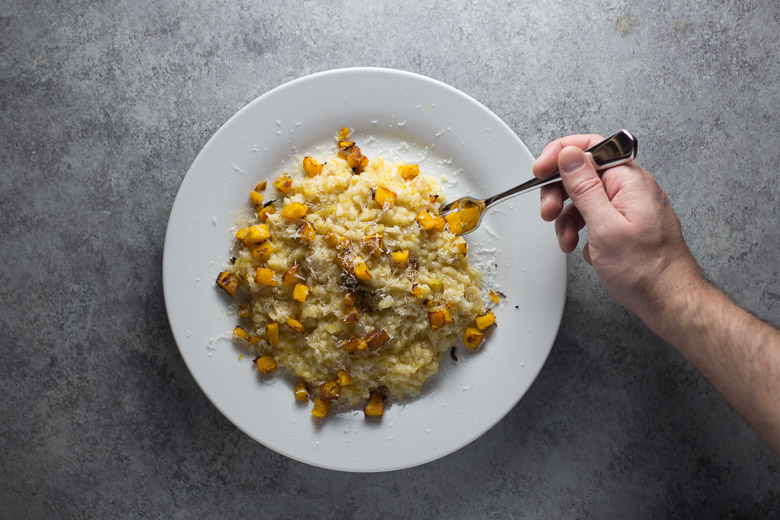 6