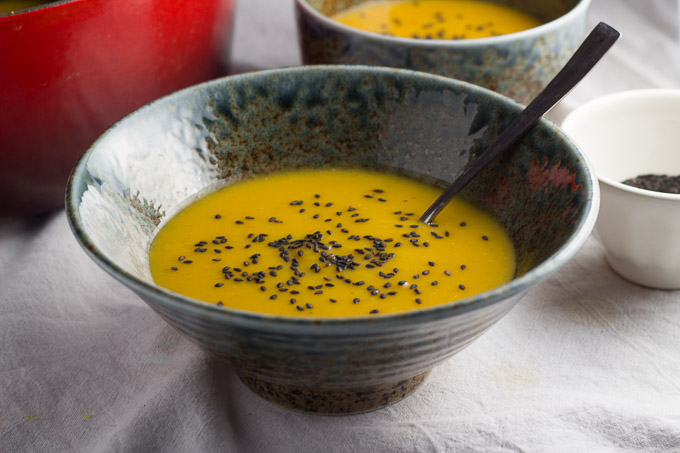 When I first envisioned this soup it had black sesame paste perfectly swirled on the surface, festive and perfectly dressed for Halloween. Of course once you start cooking and putting ingredients together in a pot things don't always go as you imagined. Sesame paste is a thick, unwieldy thing. Numerous attempts to dilute it with water, oil and coconut milk lead to a milky gray goop- a very unappetizing looking mixture that still tasted and smelled great. Regardless, I think this soup turned out well and I am satisfied instead with the intensely dark speckles of sesame throughout the dish.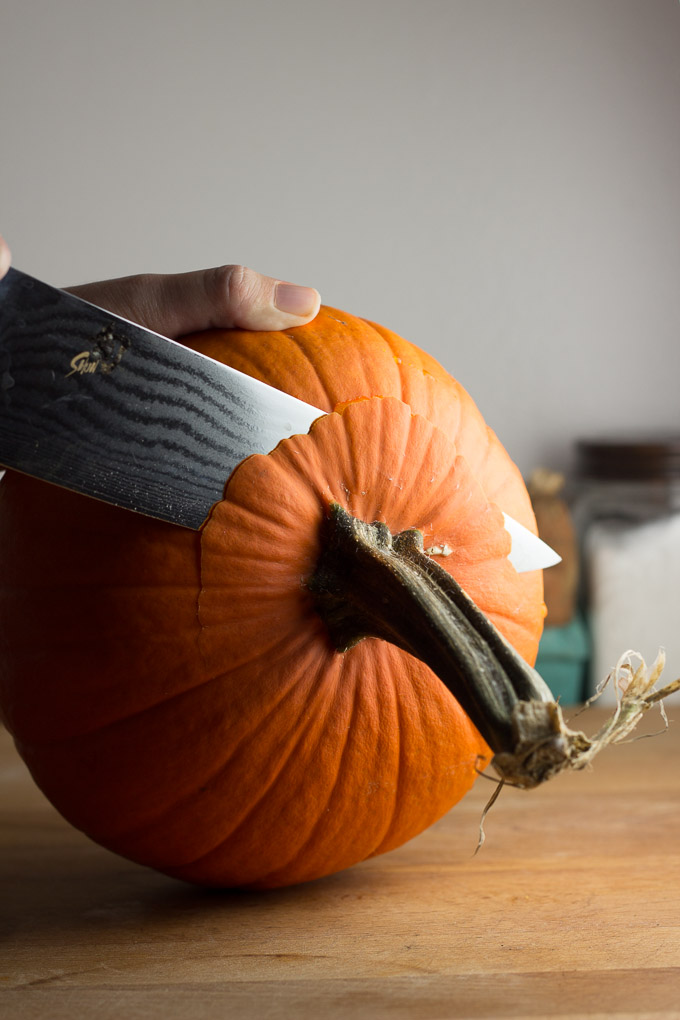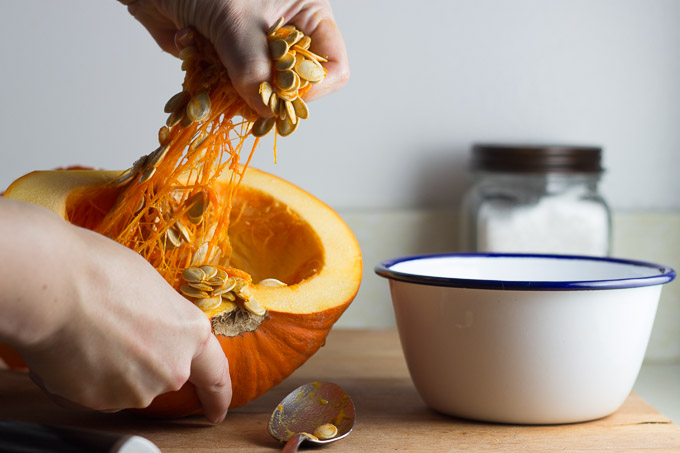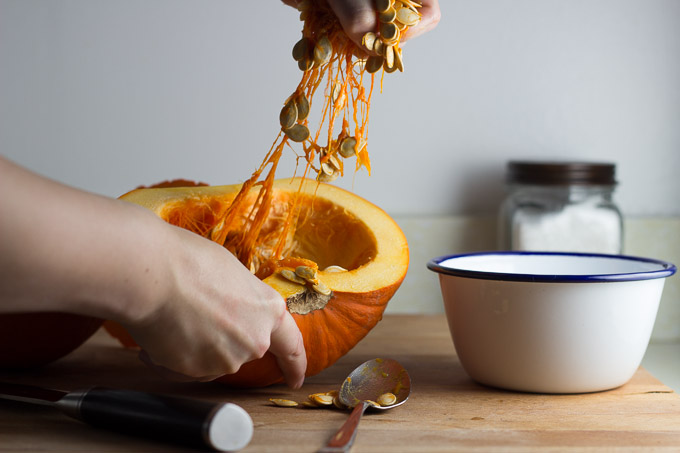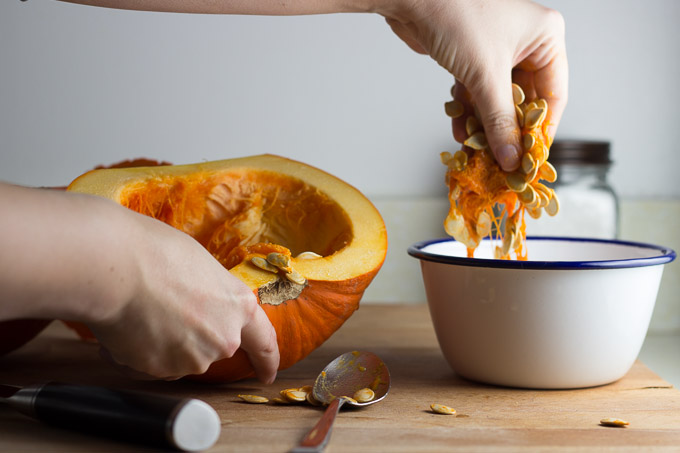 The warmth that garam masala lends to this soup is perfect for a chilly day. When I first added it to the soup I felt a little panicked- does it taste like a savory pumpkin spice latte in a bowl? Gross. My boyfriend suggested calling it "pumpkin spice latte soup or PSL soup". This was immediately shot down. I might not have been as polite with my retort as I should have been to someone helping me scoop out pulpy pumpkin guts. Fortunately, the warm spices in the garam masala worked really well with the slightly sweet pumpkin.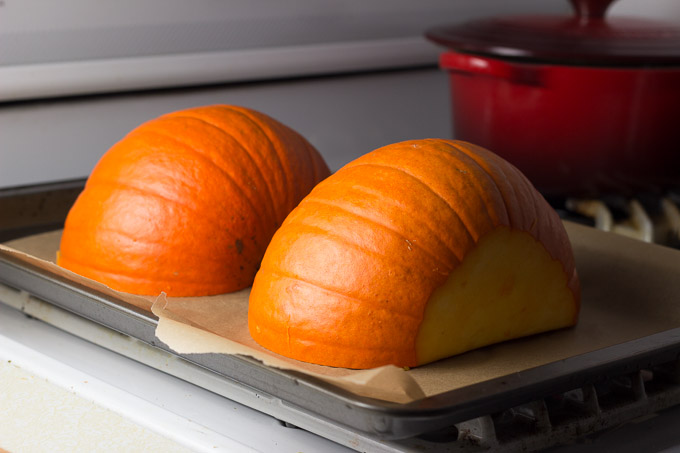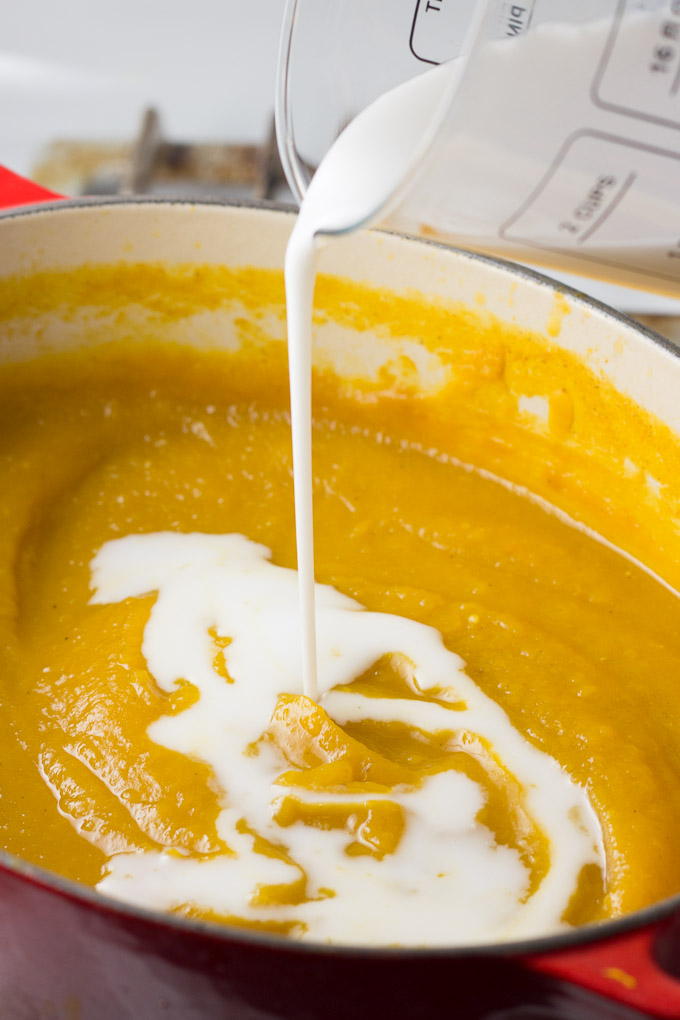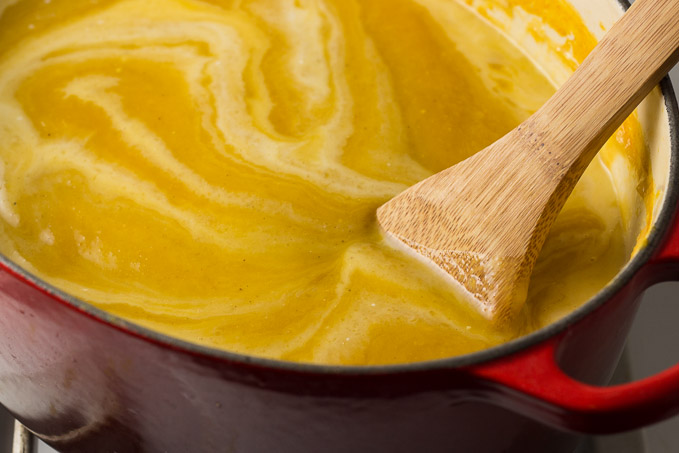 A multitude of spices, a bit of coconut milk for creaminess and the final addition of the toasted sesame seeds made for a very satisfying meal in a bowl. I found my black sesame seeds in a Korean market alongside the white sesame seeds. They shouldn't be too hard to find in any Asian market. Toast them over low heat in a dry pan, shaking the pan often and taking care that they don't burn. Throwing in a few white sesame seeds will help you determine how far along they are in the toasting process. I use my sense of smell to determine that they're ready. They should be fragrant like toasted sesame oil and taste like it too. Sprinkle the toasted seeds on top of the soup and enjoy this warm, creamy flavorful soup.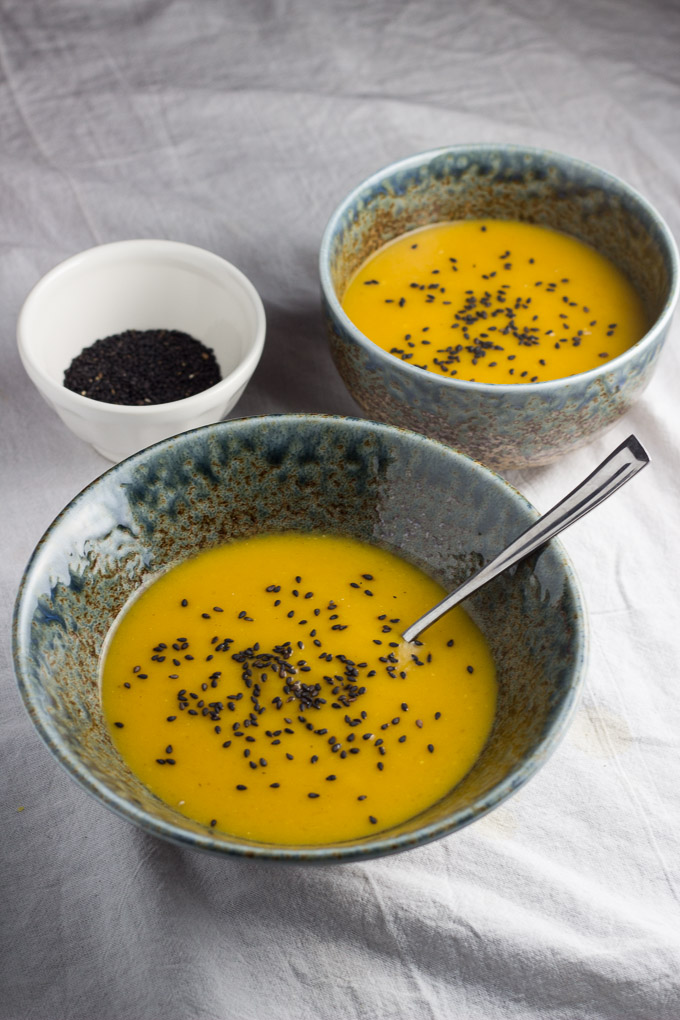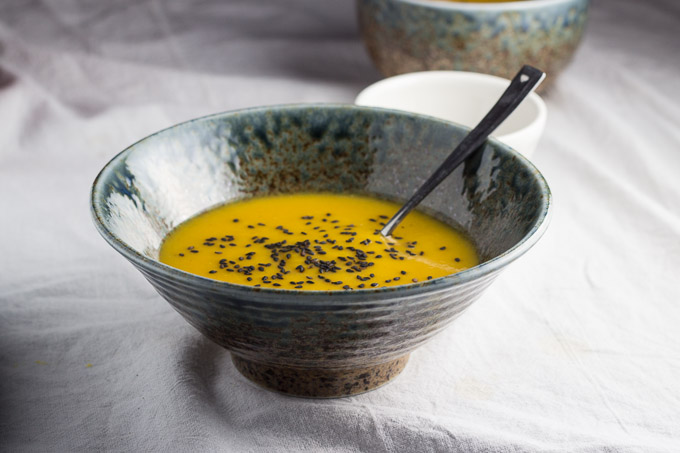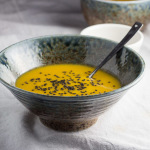 Pumpkin and Black Sesame Soup
Ingredients
1

sugar or pie pumpkin

about 4 pounds

1

tablespoon

of olive oil

1

onion

diced

1

garlic cloves

minced

1

teaspoon

of garam masala

1

bay leaf

4

cups

of vegetable stock or broth

preferably low sodium

1

cup

of coconut milk

1

teaspoon

of salt

divided

2

tablespoons

of black sesame seeds
Instructions
Heat the oven to 350 degrees Fahrenheit.

Cut off the stem end of the pumpkin and then split the pumpkin in half vertically. Scoop out the seeds and stringy pulp. Put the two halves of the pumpkin cut side down on a baking sheet and bake for 50 minutes or until a fork easily pierces the pumpkin flesh all the way through. Scoop out the pumpkin flesh and discard the skin.

In a large pot or dutch oven heat the oil over medium high heat. Cook the onion and garlic until translucent, about 5 minutes. Add the bay leaf, garam masala, pumpkin, stock or broth and 1/2 teaspoon of salt. Bring to a boil and then simmer for about 15 minutes.

Heat a dry pan over low heat with the sesame seeds. Frequently shaking the pan, toast over low heat until seeds are fragrant. Be careful not to burn.

Turn off the heat and use an immersion blender or a blender (you may need to do this in batches) until smooth. Return to pan and add in the coconut milk.

Taste for seasoning and add another 1/2 teaspoon if needed.

Serve in bowl and top each with a teaspoon of black sesame seeds.
0