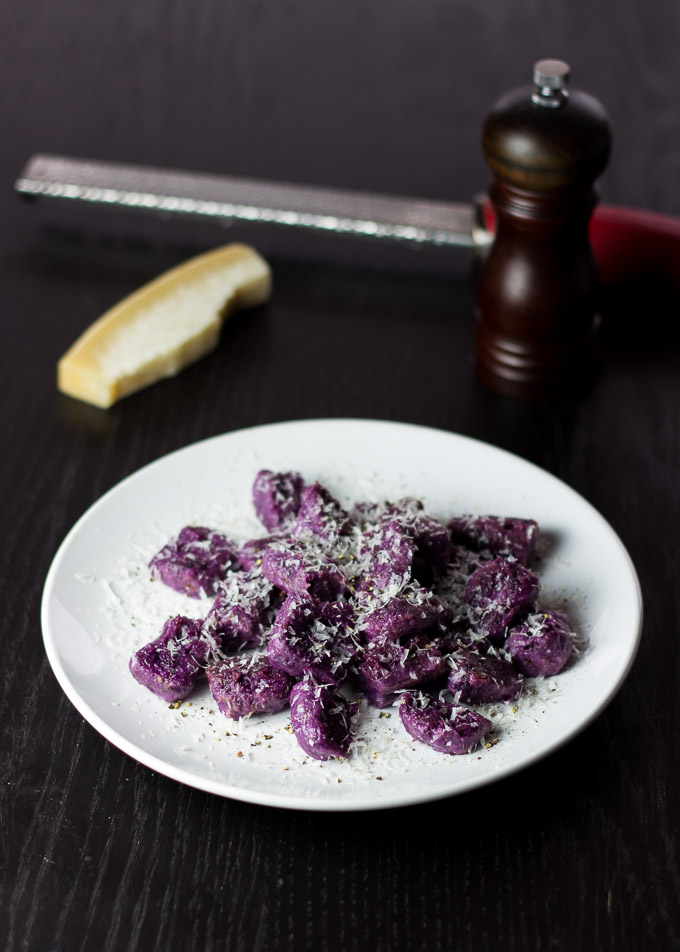 One of the pleasures of dating someone who loves eating as much as you do is that there are no restrictions to what they're willing to try. This is especially helpful when you cook and spend a lot of time in the kitchen experimenting. Your partner is a willing taste tester for all your new inventions. They'll volunteer to go to the store when you realize that there is hardly a quarter cup of milk left in the carton in the midst of recipe development (thanks, sweetie!). Or they understand the importance of spotting ramps or purple sweet potatoes at the farmers market because you've been mentioning them constantly for weeks (sorry, sweetie!). When you love food, the only thing that makes food even better, more enjoyable, is a companion to share that love with.
And that is how these purple sweet potato gnocchi came to be. I searched for these purple beauties every where for weeks and even took trips to every grocery store within a 10 mile radius of my home to look for them. I couldn't find them anywhere. Then after I had given up, I went to the Arlington Farmers Market (I think I was in the area to watch a soccer game- it's important to support your partner's interests). It was freezing cold and we were walking briskly through the small market when I found them in one stand, barely recognizable because of how covered in dirt they were. They were purchased with excitement and then promptly stored in the closet and forgotten about for months (a cool, dry place helps keep sweet potatoes good, longer). Last weekend when the snow fell and all I wanted to do was stay in the kitchen to warm up, I decided to tackle making gnocchi.
Gnocchi isn't difficult. It's a simple process, but the tricky part is getting a feel for the dough. It should be a little tacky, but not too sticky and you want to avoid adding too much flour or they become heavy. If you add too little though, they can disintegrate as they cook in boiling water. I like the process of making gnocchi because it has that same meditative feel of kneading dough. Although I like that part, I have little patience for baking. This is a nice way to play with dough but not sit around waiting all day for it to rise.
I like my gnocchi served simply. A little browned butter, maybe sage if you like, parmesan and pepper is all you need. You want to taste what you've cooked, in this case brilliantly colored sweet potatoes, ricotta and parmesan.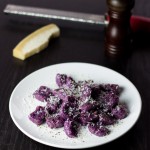 Purple Sweet Potato Gnocchi
Ingredients
2

pounds

of sweet potato

purple (or any color)

2/3

cup

of whole milk ricotta

1

cup

of freshly grated parmesan cheese

pinch

of freshly grated nutmeg

1

teaspoon

salt

1/2

teaspoon

pepper

1-1 1/2

cup

of flour

I only needed 1 cup and extra for dusting the board

large pinch of salt

8

tablespoons

of butter

6

large fresh sage leaves

optional

parmesan and freshly ground black pepper

for serving
Instructions
Bake the sweet potatoes at 400 degrees for about an hour or until tender.

When cool enough to handle, slip off the skins and mash the potatoes (or put them through a ricer). Bring a large pot of water to boil with a large pinch of salt.

Mix in the ricotta and parmesan cheese, nutmeg, salt and pepper.

Add half a cup of flour at a time, mixing it in until dough forms. It should be a little tacky (a little bit sticky, not completely dry) but not too sticky.

Form into a log onto a floured surface and cut into 6 even pieces.

Roll a piece out with hands to create a long 1-inch thick rope. Cut into 1-inch pieces and press along the back of a fork for grooves if desired. Dust with flour and put on a baking sheet. Repeat with remaining pieces of dough.

When the water has reached a boil, cook in batches, making sure they aren't crowded in the pot and that if they go to the bottom of the pot they do not stick. When they are fully cooked (about 5 minutes) they should be floating.Collect with slotted spoon and put onto another baking sheet. Repeat until all gnocchi are cooked.

In a large pan, melt butter over medium heat until it starts to brown and smells nutty. Add in sage leaves and turn off the heat. Divide the butter among serving dishes, top with gnocchi, pepper and parmesan chese for serving.
2