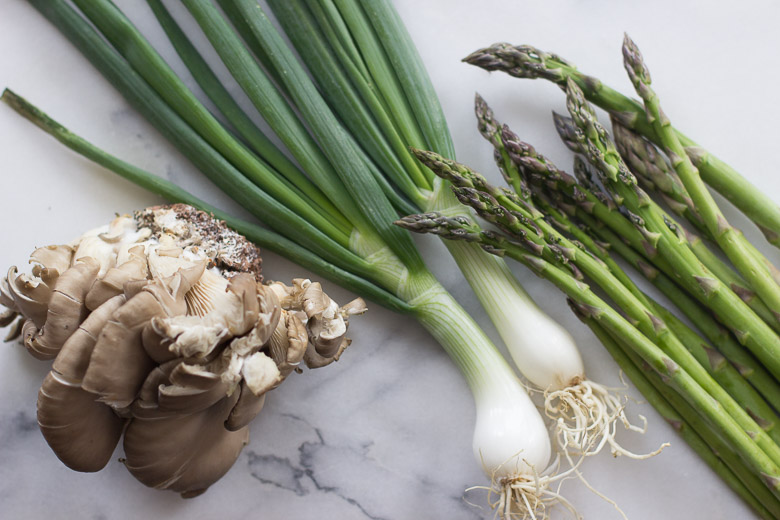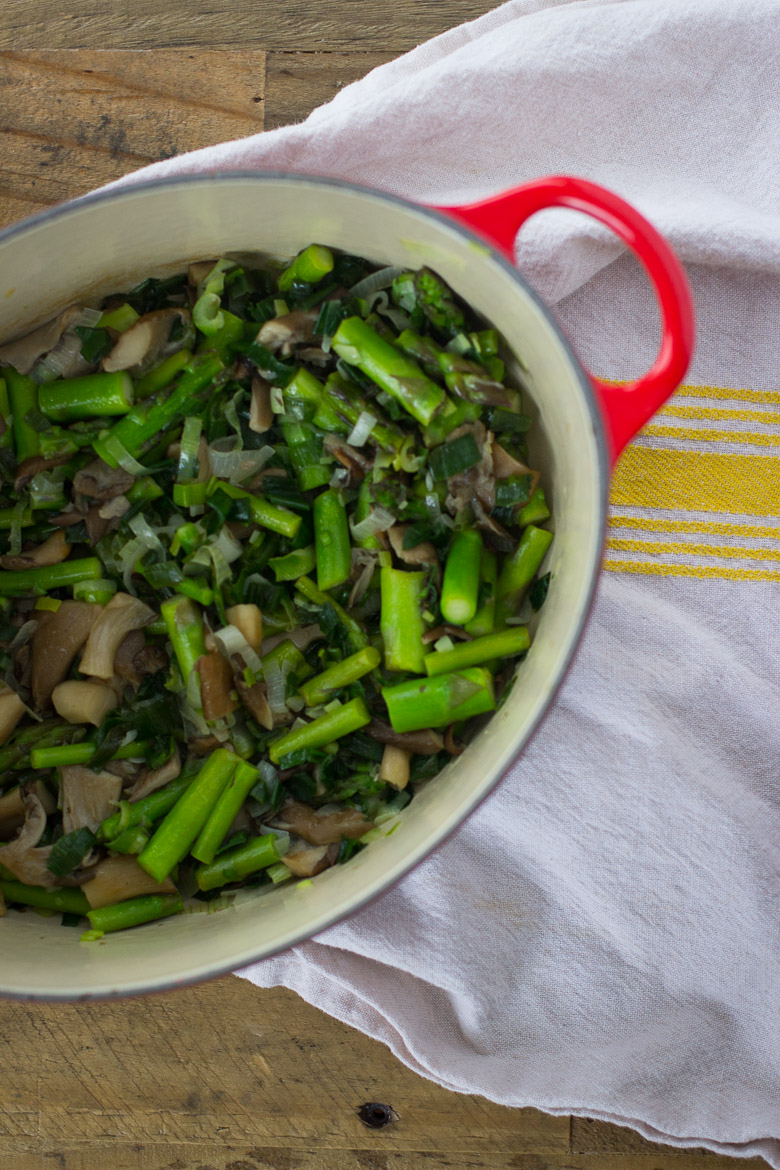 Although ramps are the most loudly heralded on social media every April, I also look for spring onions and asparagus. Spring onions are young onions that haven't fully grown into the round onion you find in the supermarket. They have a small bulb and come with the greens attached. They have a less assertive onion flavor and I love them charred on the grill.
Though we now see asparagus in the market year round these days, asparagus also comes into season in spring. I love the tender, skinny asparagus that require very little cooking. I will eat them prepared in any fashion- grilled, boiled, steamed, and if in season, cut into long, raw ribbons.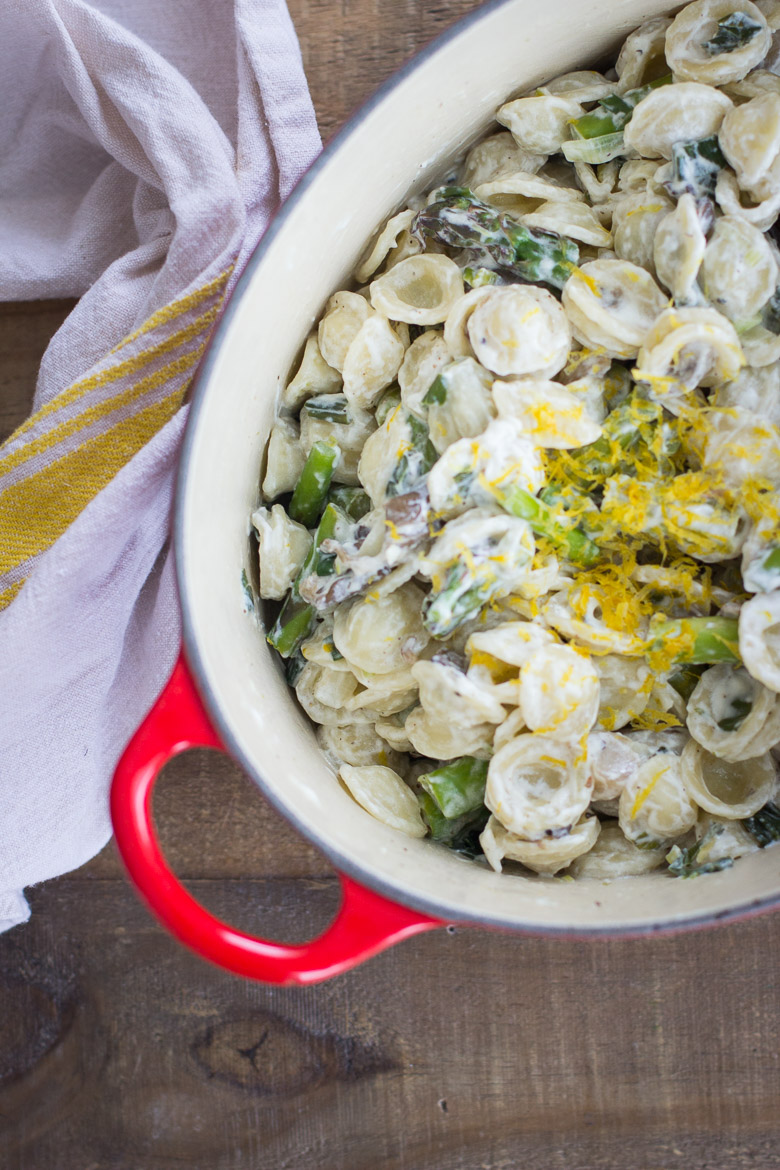 My friends or maybe even anyone who visits this blog might think that because I love cooking and discovering new foods that I dine nightly on a fancy meal with exotic ingredients and difficult preparations. But in fact I suspect most cooks, even people online that present a perfect plate of food with lots of pretty elements and complicated techniques, typically eat fast, easy, and simple dishes. This is a perfect example of such a dish.
This pasta is a kind of pasta primavera, or spring pasta, tossed with mushrooms, asparagus, and spring onions and the simplest of sauces, fresh goat cheese thinned with a few splashes of the pasta cooking water. You can use any kind of small bite-sized pasta for this dish, but I like orecchiette because it kind of catches the sauce like a little scoop. With lemon peel zested right into the pasta for a bit of brightness and topped with freshly grated cheese and black pepper, it's the the perfect easy dish for spring.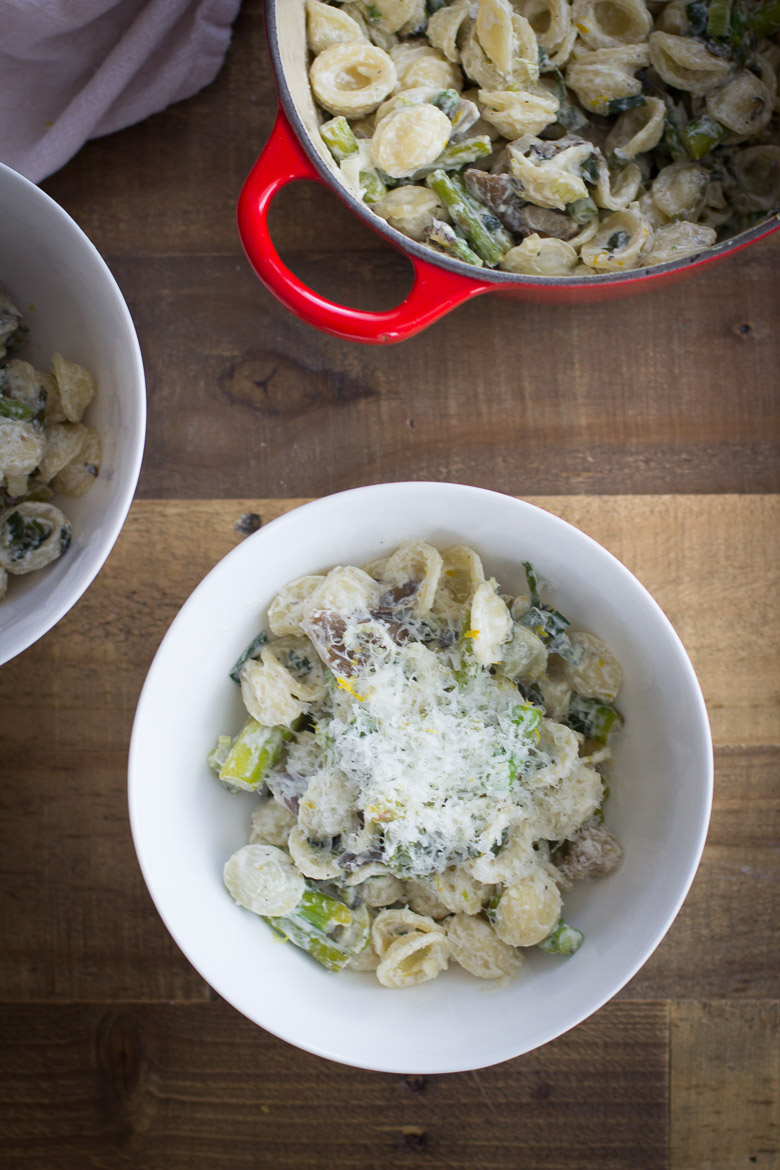 Spring Pasta with Mushrooms, Asparagus, Spring Onion and Goat Cheese
Ingredients
½ lb of pasta (I used orecchiette because the scoops capture the sauce!)
1 tablespoon of oil
4 oz of mushrooms, chopped into bite sized pieces
1 bunch of the skinniest asparagus you can find, trimmed of the woody bottoms and chopped into 1 inch pieces
2 spring onions, trimmed of their roots and any dry, green tips and chopped
¼ cup dry white wine
5 oz of goat cheese (chevre)
lemon (to zest over pasta)
pecorino or parmesan for serving
salt and pepper
Instructions
Bring a large pot of water to boil. Cook the pasta according to the maker's instructions (my orecchiette took 10 minutes).
Meanwhile, heat the oil in a Dutch oven or large sauté pan over medium hight heat and add the mushrooms. Let them sit undisturbed for about five minutes until golden then stir fry until all the liquid has released.
Add the onion and cook until the white parts are translucent.
Add the asparagus and cook for about 2 minutes. Pour in the wine and scrape up any brown bits at the bottom. Let the wine evaporate completely. Season the vegetables with salt and pepper.
Put the drained pasta into the pot, reserving about a ¼ cup of pasta cooking water. Stir in the goat cheese and thin out the sauce with pasta cooking water a spoonful at a time until smooth.
Zest the whole lemon over the pot and stir. Check for seasoning and salt as needed.
Serve with grated cheese and fresh black pepper.
1