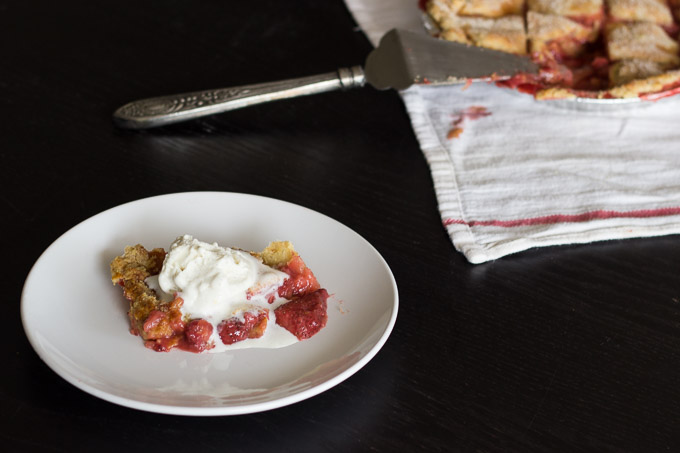 This post is sponsored by Sharp. A big thank you to sponsors that make this little blog possible! All opinions are my own.
June is a very special month in American history.  June 12 is Loving Day, the anniversary of the 1967 Supreme Court decision Loving v. Virginia which struck down anti-miscegenation laws. Anti-miscegenation laws made interracial marriages illegal in 16 states at the time. Mildred and Richard Loving were Virginians that went to Washington D.C. to marry as it was illegal in Virginia. When they returned home they were arrested for breaking the law and had to move to D.C. in order to avoid jail time.
As a child of interracial marriage, this day is particularly meaningful to me. My parents were married only 15 years after this ruling. Growing up, I knew that the composition of my family was different than most, but I was never fully aware of the challenges that interracial couples had in the past. I was educated on the Civil Rights Movement, but I didn't know about the Lovings until very recently. It's hard to imagine a world where my parents' marriage is illegal and considered wrong, but it once existed in our country.
I believe all Americans, no matter their race, no matter their sex, no matter their sexual orientation, should have that same freedom to marry.

-Mildred Loving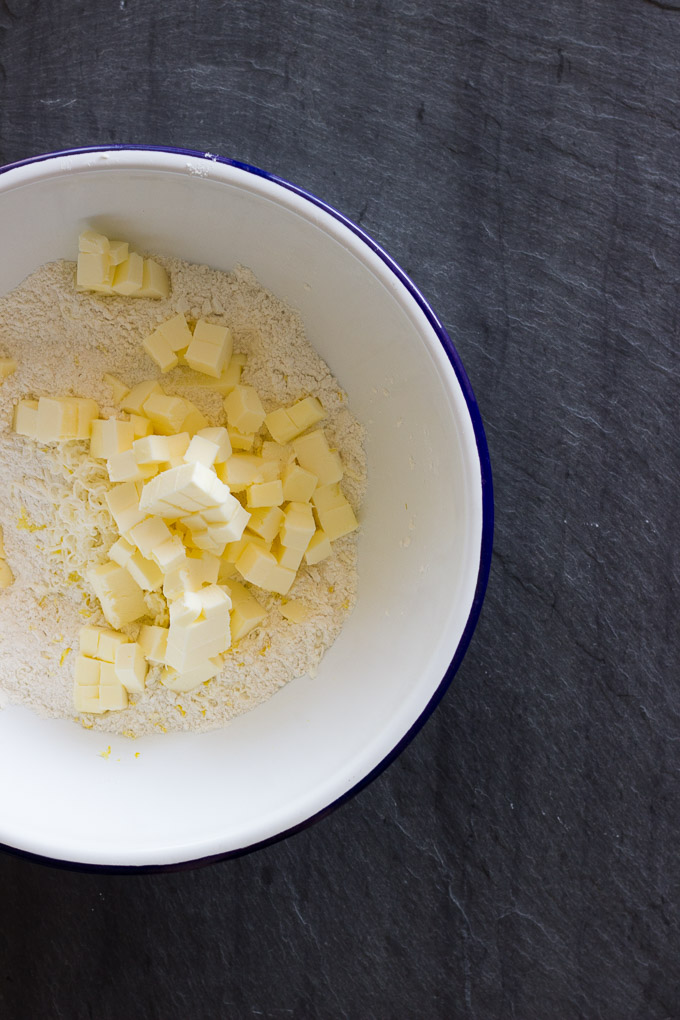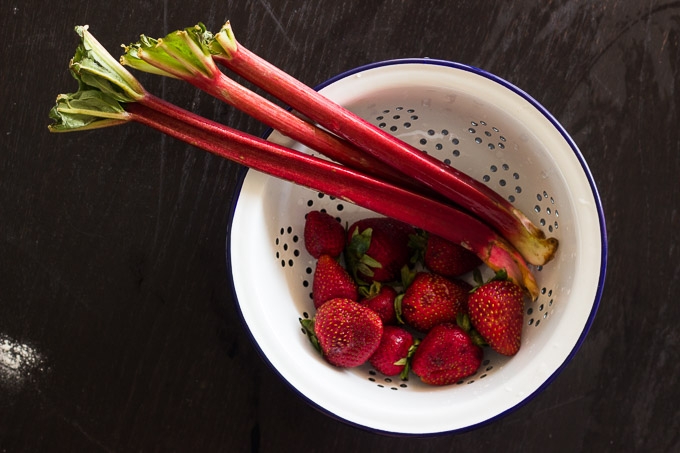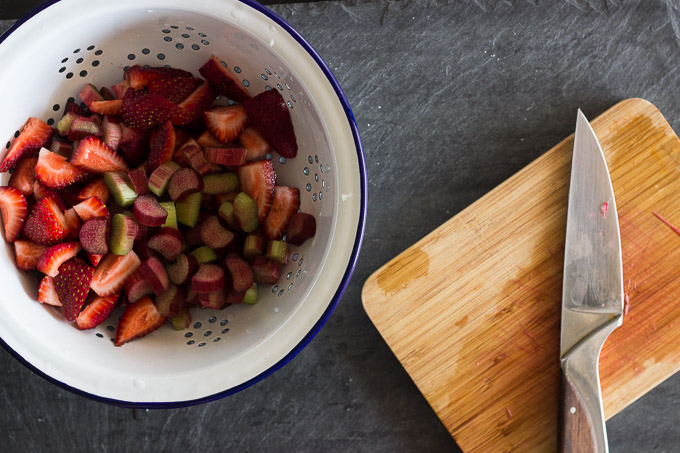 Along with Loving Day, June 19 is Juneteenth, a day that commemorates the abolition of slavery in Texas in June 1865 but also used to commemorate the emancipation of slaves in the Confederate South.
And now, with the Supreme Court ruling that same-sex couples have the right to marry no matter what state they reside in, June has become the perfect month leading up to Independence Day.
I felt so many emotions when reading the last few paragraphs of Justice Kennedy's opinion:
No union is more profound than marriage, for it embodies the highest ideals of love, fidelity, devotion, sacrifice, and family. In forming a marital union, two people become something greater than once they were.

As some of the petitioners in these cases demonstrate, marriage embodies a love that may endure even past death. It would misunderstand these men and women to say they disrespect the idea of marriage. Their plea is that they do respect it, respect it so deeply that they seek to find its fulfilment for themselves.

Their hope is not to be condemned to live in loneliness, excluded from one of civilisation's oldest institutions. They ask for equal dignity in the eyes of the law. The Constitution grants them that right.

The judgment of the Court of Appeals for the Sixth Circuit is reversed. It is so ordered.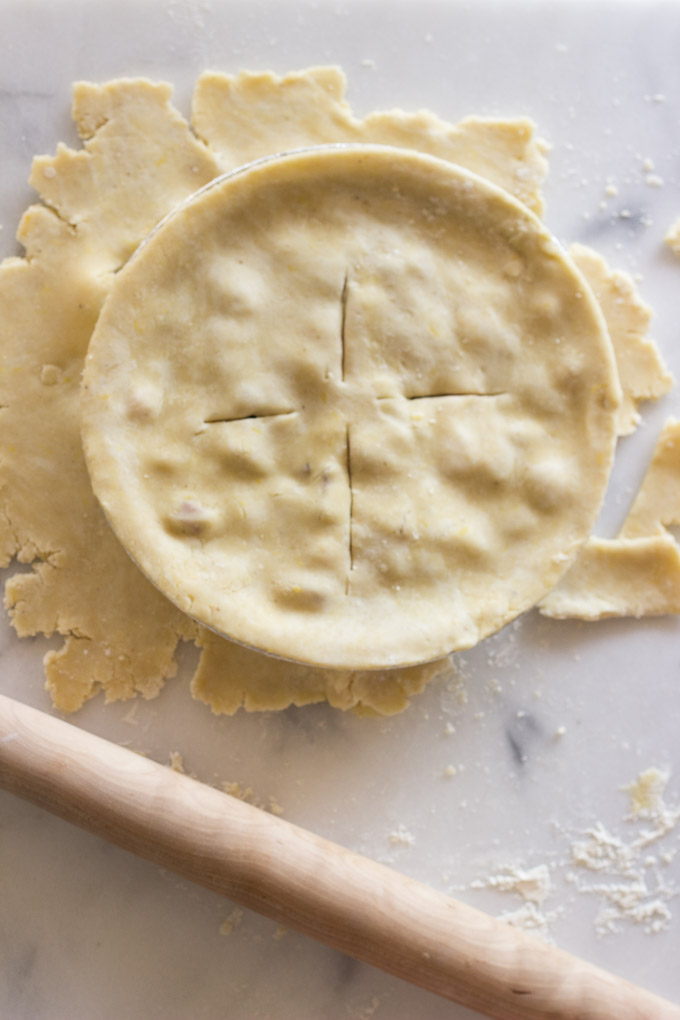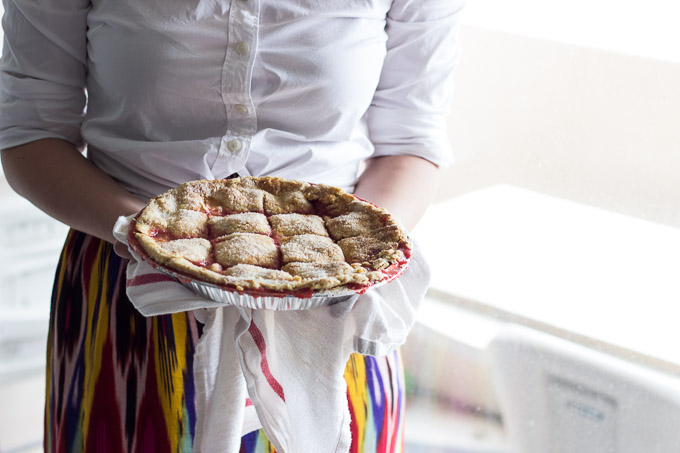 A pandowdy is similar to a pie. It has a buttery, flaky crust that's made in a similar way to pie crust. There is only one layer of crust on top, and it is broken up halfway through baking, leaving a pretty broken topping with fruit juice peeking through. I used some cornmeal and lemon zest which adds a nice texture and brightness to the crust.
With my Sharp microwave/convection oven I was able to bake this pandowdy in 30 minutes flat. Typical pie-like desserts can take up to an hour for the fruit to bubble up and the crust to brown beautifully. The advantages of this convection oven is that it's small and fits into my tiny studio kitchen and doesn't heat up the joint in this sticky, humid weather. Instead my home smells of fragrant, buttery pie crust and sweet strawberries and I get to eat a homemade dessert in 30 minutes!
Sharp has generously offered an oven to giveaway to one reader. Enter below and best of luck! Happy 4th!
This giveaway has since been closed.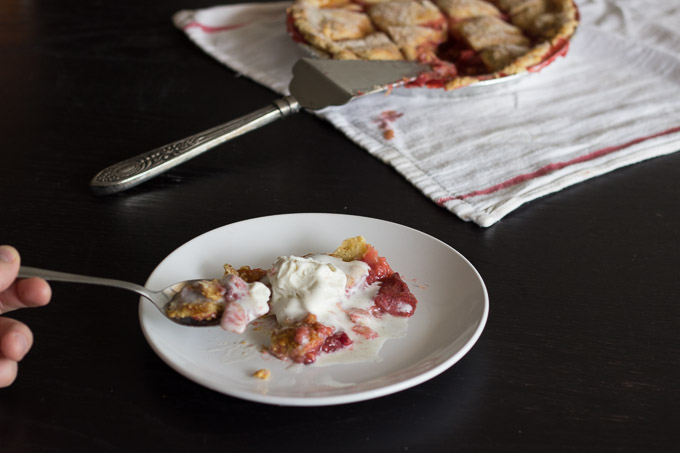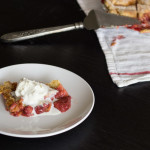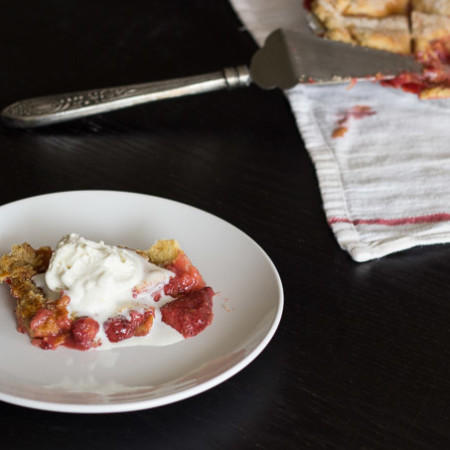 Strawberry Rhubarb Pandowdy + Sharp Microwave Giveaway
This recipe was design for a convection oven which requires little to no preheating and a shorter cooking time. You can also bake this in a regular oven for about an hour or until the fruit is bubbling and the crust is golden brown.
Ingredients
Crust
1 1/4

cup

of all purpose flour

1/4

cup

of cornmeal

zest of one lemon

1

teaspoon

of kosher salt

8

tablespoons

of very cold

unsalted butter cut into small cubes

6-8

tablespoons

of ice cold water
Filling
2

cups

of strawberries

hulled and halved

2

cups

of rhubarb stem

cut it 1/2 inch pieces

3/4-1

cup

of sugar

1/3

cup

of flour

1/2

teaspoon

of kosher salt

juice of one lemon

2

tablespoons

of butter
For Assembling
flour for dusting

one beaten egg

a few tablespoons of sugar

Optional: vanilla ice cream for serving
Instructions
For the crust, whisk together flour, cornmeal, lemon zest and salt. Using your hands, mix in the cold butter and break up until the size of small peas. Add cold water a few tablespoons at a time, stirring until the dough comes together easily when pressed together but isn't wet.

Wrap the dough in plastic wrap and set in the fridge for at least an hour.

Melt two tablespoons of butter in a pie plate by putting it in the oven for a few minutes. Let the butter brown and become nutty (but be careful to not let it burn!).

In a large bowl, stir together the fruit, the lemon juice, flour, sugar and salt until well combined. Add to the pie plate and stir all together to incorporate the butter.

Preheat the oven to 400 degrees.

Take the dough out of the fridge and roll out into a roughly 12 inch circle. Drape the dough over the pie, pressing the sides and cutting off the extra that's hanging over the side.

Brush with beaten egg and sprinkle sugar all over.

Cut four slits into the dough to let it vent. Bake in the oven for 30 to 40 minutes until golden brown. Halfway through baking, take a knife and cut several slits across the pie to break up the crust.

Let it cool for about 20 minutes and serve with vanilla ice cream.
1