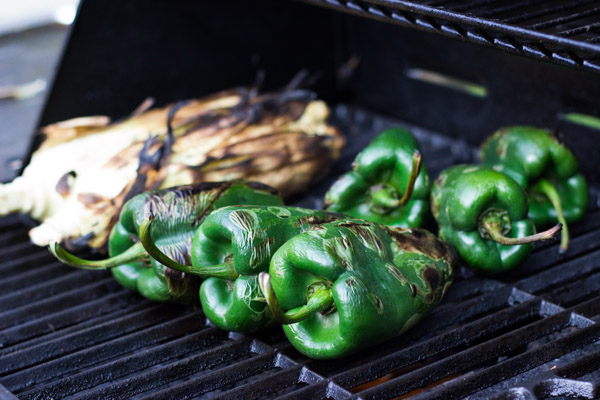 I loved stuffed vegetables of any kind, which is usually a benefit to my health but I must say that my guilty pleasure when it comes to vegetables is anything stuffed AND fried. Whenever I'm in a Mexican restaurant my eye goes immediately to a chile relleno- a pepper stuffed with meat and cheese, covered in batter and deep fried. While my taste buds dance I know that inevitably I will suffer later… I will spare you the details, but deep fried, cheese stuffed peppers are not my tummy's best friend.  So I thought of a way to make a healthier version of this dish without sacrificing flavor.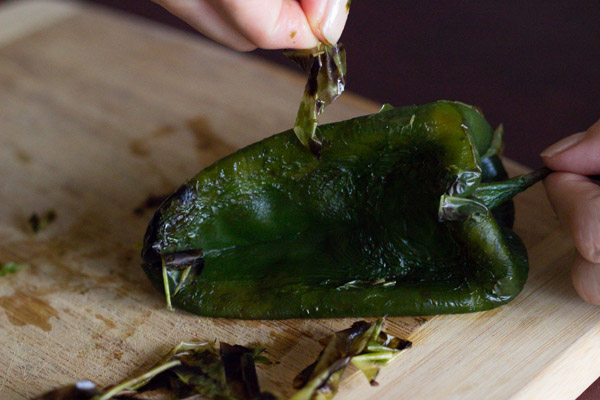 I took two of summer's great vegetables, corn and peppers, and made a tasty and healthy stuffed vegetable dish. I first grilled the poblano peppers (sometimes mislabeled as pasilla peppers) and ears of corn still in their husks (but with the silk removed) until the skins of the pepper were charred and the corn husks blackened to get a nice smoky flavor. I peeled the peppers, cut a slit down one side on each of them and deseeded them.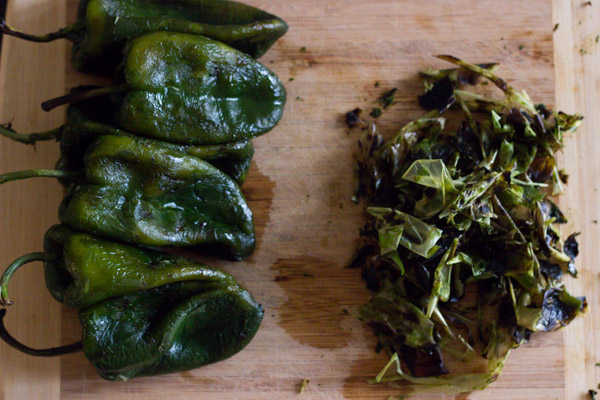 After preparing the peppers, I cut the corn off the cob and sautéed some onions, black beans, garlic and chipotle pepper. I stuffed the poblano peppers halfway first with black beans after mashing them and then added the grilled corn on top. On top of this I added some grated cheese and put the stuffed peppers under the broiler to melt the cheese. After taking them out of the oven I sprinkled some chopped cilantro. Along side these stuffed peppers I made a simple, fresh tomato salad with onions, lime juice, salt and cilantro.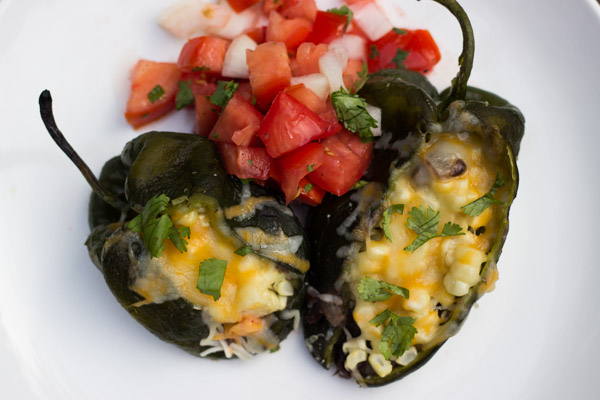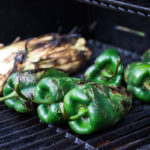 Stuffed Poblano Peppers With Black Beans, Grilled Corn and Cheese
Ingredients
2

ears of corn with husks intact but silk removed

8

poblano peppers

1

teaspoon

of vegetable oil

1/2

cup

of onions

diced

1 15.5

ounce

can of black beans

drained

1

teaspoon

of garlic

minced

1/2

teaspoon

of chipotle pepper in adobo sauce

minced

1/2

teaspoon

of salt

1/4

cup

of cilantro

roughly chopped

3/4

cup

of cheese

grated (I used a mix of cheddar and Monterey jack)
Instructions
Grill the corn and peppers on high heat until charred on all sides (alternatively you can put them under the broiler), about 15-20 minutes.

Put the charred peppers in a bowl and cover tightly with plastic wrap. Cut the corn kernels off the cobs.

While the peppers cool, sauté the onion and garlic in the vegetable oil over medium heat. Add the black beans, salt and chipotle pepper and mash with the back of a wooden spoon (or potato masher). Turn off the heat.

Turn on the broiler to high.

Uncover the peppers, and peel off the skin. Cut a slit down the side of peppers and carefully remove the seeds and inner membrane, keeping the stem and shape of the pepper intact.

Stuff each pepper halfway with the black beans mixture, then top with the corn.

Distribute the cheese equally among the stuffed peppers and put under the broiler for 7-10 minutes until the cheese is melted.

Top with chopped cilantro and serve.
2