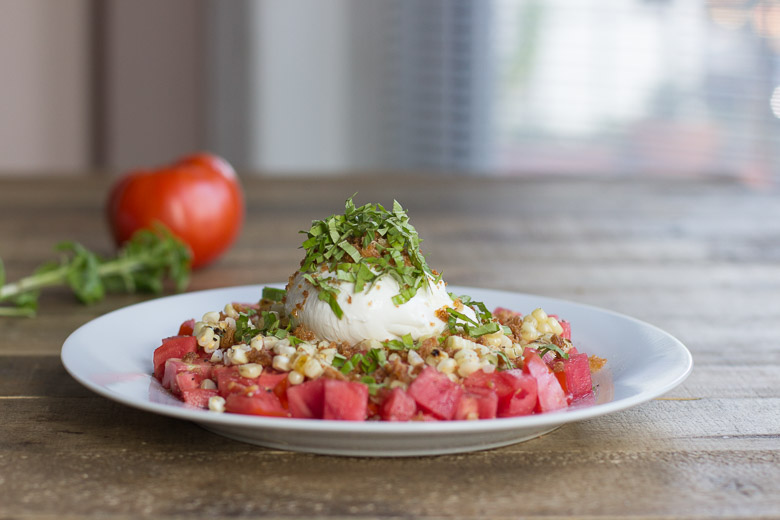 I think the best part of traveling to Italy this spring, besides watching our two friends get married, was the food. Of course, I'm not the first person to write about the experience of eating in Italy and I certainly won't be the last. But there's a reason so many people leave with the impression that they experienced something special and worth sharing. Simple ingredients, at their peak, are expertly prepared to make them shine, rather than obscuring them under heavy sauces, novel assembly, or complicated technique.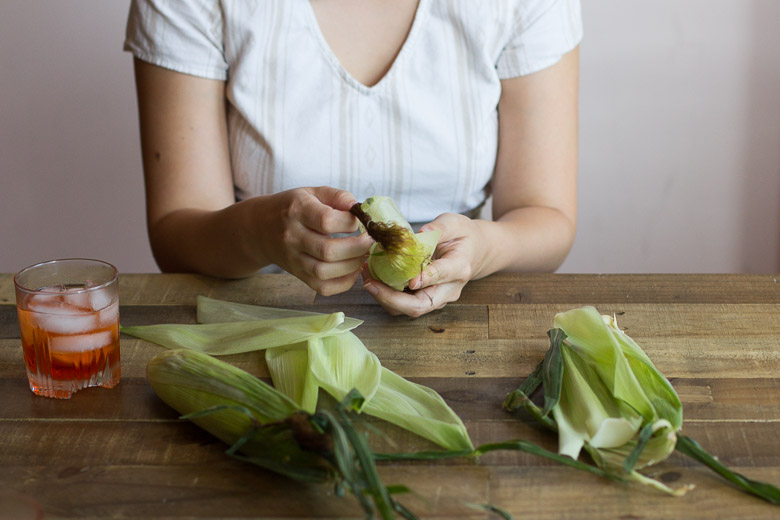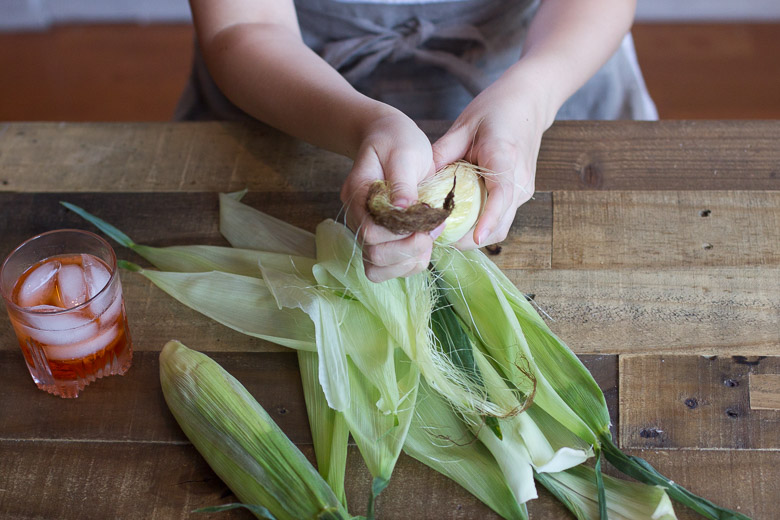 A food tour in the Emilia-Romagna region was the highlight of the trip for me. We stayed in Bologna and took a day to learn about the production of the region's most famous food products. We headed to a factory where Parmigiano Reggiano is created and saw the process from milk to wheel, culminating in a walk through the cheese library. Rows and rows of floor to ceiling shelves of aging wheels of cheese had me looking up in wonder. We had a breakfast al fresco, eating standing up in the parking lot of the factory sampling large chunks of "fresh" and aged parmesan cheese, various cured meats, pastries, cappuccinos, and Lambrusco, a sparkling red wine native to the region.
We also learned about the process that creates balsamic vinegar – 12 long years of cooked grape must (juice) being transferred from barrel to smaller barrel – and how it's more of a passion project than a money maker for those who wish to continue creating this black gold in the traditional way. The last stop on the tour before lunch was a prosciutto factory and we saw innumerable haunches of pork, covered in salt for the long, two-year process of preservation.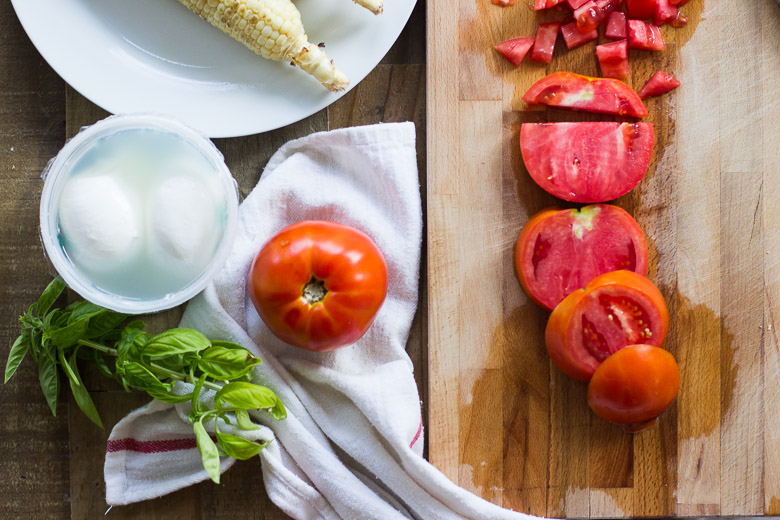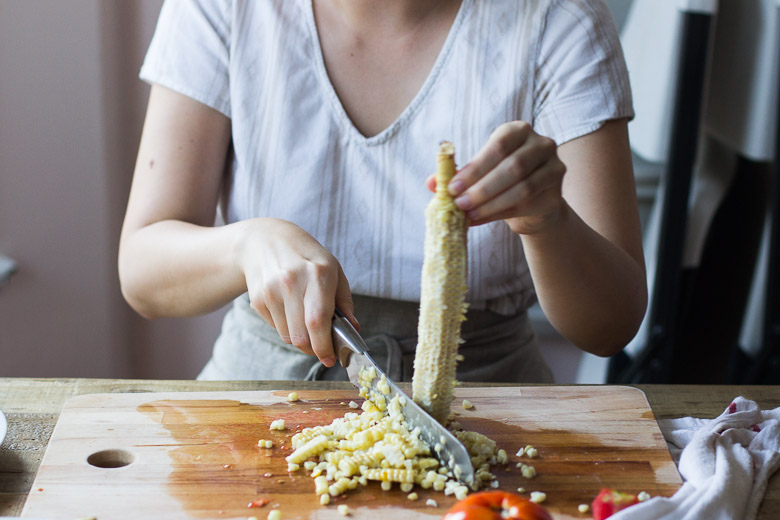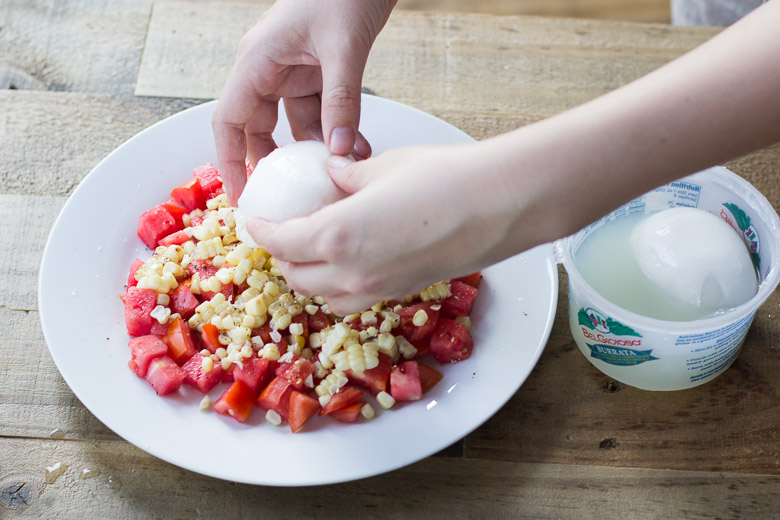 We ended the day with a three hour lunch at a country restaurant where I proceeded to eat the most in one sitting that I have ever eaten. We started with a giant stuffed pasta, a pasta with asparagus, tagliatelle with bolognese, and tiny tortellini in a broth. After our four pasta courses I went for a walk, and saw many of my tour group doing the same, some smoking cigarettes. I returned to find roasted veal, steak, grilled vegetables, fried polenta, and a variety of other side dishes. I tried to get a bite of everything, but it was overwhelming, especially with the nonstop pours of wine with every course. After another walk outside we sat down for dessert, a plate filled with various sweets and served after a generous scoop of trifle had been added. Our tour guide, Eleonora, insisted on us having an espresso and a sip of nocino, a walnut liqueur. Somehow the combination did the trick and we felt less full afterwards. Enough so that when we returned to Bologna we had enough room to get gelato for dinner.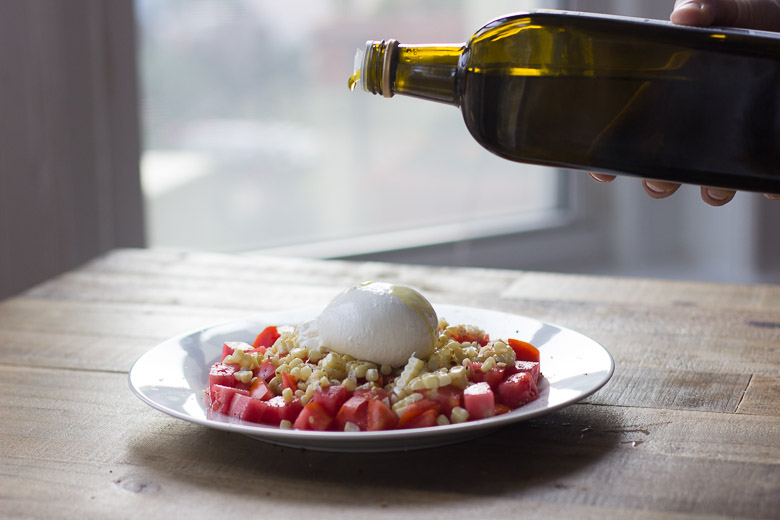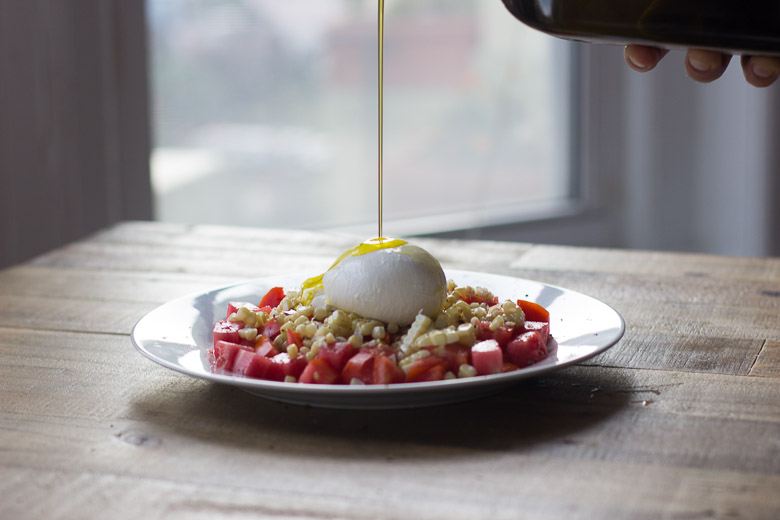 This recipe is an attempt to recreate that feeling we had in Italy whenever we ate something fresh, bright, delicious, and simple. It's hardly a recipe but more of a suggested assembly of late summer produce. Burrata with it's cool, creamy interior covered in peppery, sharp extra virgin olive oil and crunchy breadcrumbs on top of a medley of summer vegetables and fruit. Earthy tomatoes at their final peak as summer lets out it's final gasp. Corn so sweet you can't believe it, the sweetness heightened by a quick turn on the grill. Sweet basil picked off my front stoop cut into thin ribbons, serving as a green garnish and herbaceous finish. Ingredients at their finest remind us that the season is fleeting. It'll be back, but memories of juicy tomatoes will seem far off in the darkness of winter.
We've had quite a frenzied year traveling, attending four weddings, and the like. There's a sense of change hanging in the air that coincides with the transition of the seasons. I look back on the busy-ness with a feeling of appreciation for all the things I've gained – the tastes, the places, and the people I've met. But I also feel a sense of relief for the winding down of my schedule and an impatience to move on to the next phase. Though once it has all passed I'll feel that nostalgia one always feels when memories are made and time has rendered them faint.
By all these lovely tokens September days are here,
With summer's best of weather
And autumn's best of cheer.

-Helen Hunt Jackson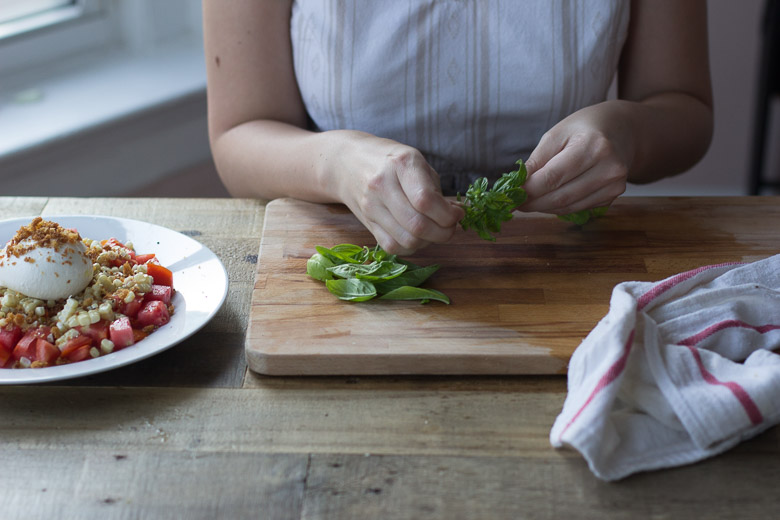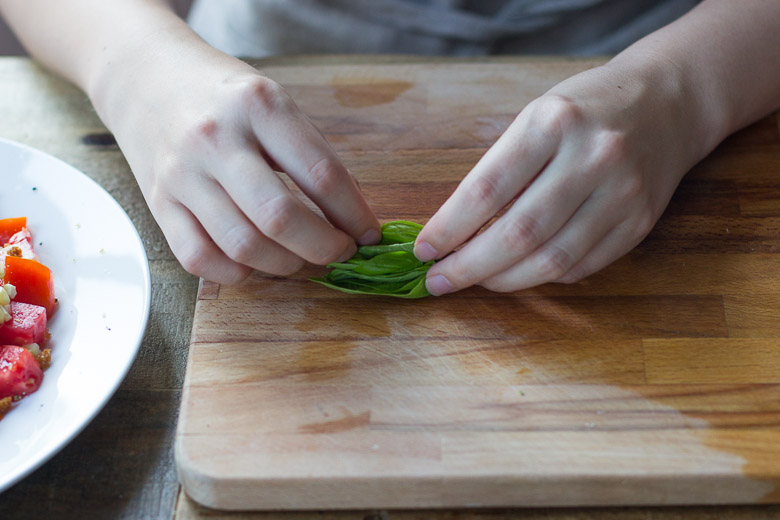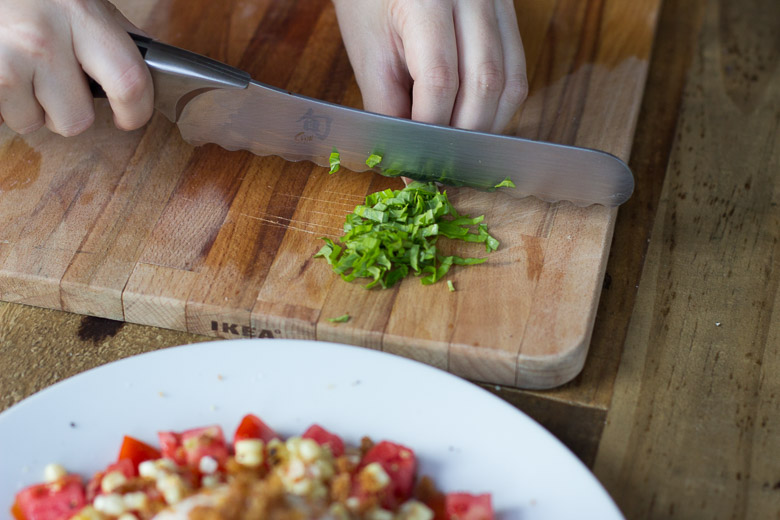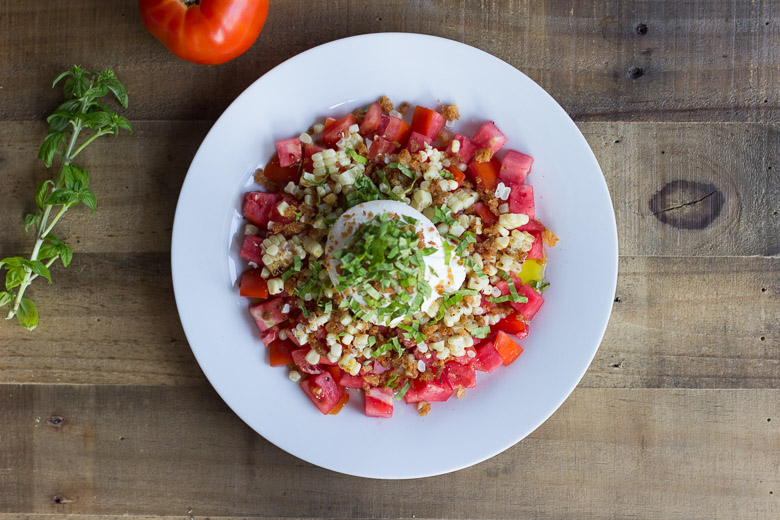 Tomato, Charred Corn, and Burrata Salad
Ingredients
2 large, ripe tomatoes
2 ears of sweet corn, shucked
1 large ball of burrata or 2 - 4 oz balls of burrata
¼ cup fresh basil leaves
1 cup of crusty bread, cut into cubes
3 tablespoons of extra virgin olive oil, divided
salt
freshly ground pepper
Instructions
Process the bread cubes in a food processor until it is transformed into coarse crumbs. Heat a tablespoon and a half of oil in a skillet over medium high heat. Toast the crumbs until golden brown, stirring frequently. Let drain on paper towels and sprinkle with a pinch of salt.
Turn on a grill to high heat or your broiler. Lightly coat or spray corn and put on grill or under the broiler until lightly charred, about 5-7 minutes. Turn several times to ensure even color. Set aside until cool enough to handle.
Meanwhile, chop the tomatoes into 1-inch cubes and layer on a large serving plate. Cut corn kernels off the cob and layer on top of the tomatoes. Sprinkle vegetables with salt.
Set burrata on top of the corn and tomato, and drizzle rest of the oil on top of the cheese. Sprinkle cheese and vegetables evenly with toasted breadcrumbs.
Stack basil leaves and roll tightly into a long cylinder. Slice into thin strips (chiffonade) and garnish the top of the burrata with the basil.
Sprinkle freshly ground pepper over the salad.
1