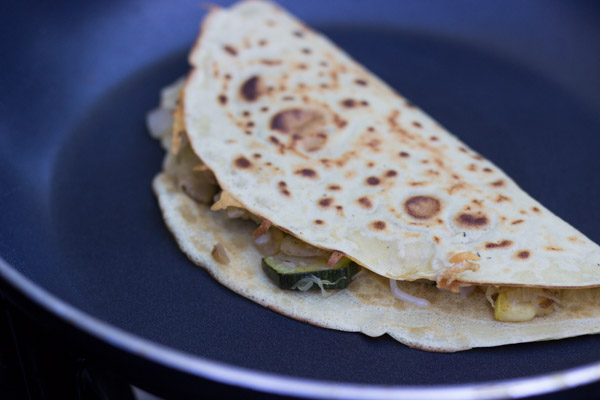 When I lived in Richmond, Virginia I frequented a bar just a few blocks from my apartment where my roommate and best friend worked. I spent many nights there with friends having drinks and listening to live music. I was really sad to hear it left its old space while I was overseas and moved to a new location. I visited the new version of it but sadly it just wasn't the same. One of my favorite ideas on the menu was something called a Veggie Whip. It was the vegetarian version of the Whip McCord, which featured a potato pancake with sauerkraut and different kinds of meat. The Veggie Whip featured diced vegetables and sometimes it could be a bit hit or miss but I loved the concept.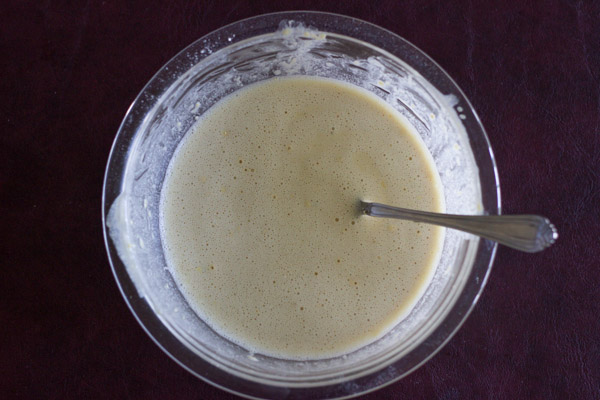 Lately I've been experimenting with flour made of dried and ground chickpeas. It's labeled chickpea flour, garbanzo bean flour, gram flour or besan. It's featured in Indian and Mediterranean cuisine and it has a slightly grainy texture and nutty taste. It's also gluten-free (if that's your thing). It takes a little searching but you can find it. I found mine in Whole Foods and I've heard that Indian grocery stores carry it as well. The batter is very thin and watery, much like a crepe batter (it's thinner than pancake batter).
I decided to make my own version of the Veggie Whip using a thin crepe-like pancake made of chickpea flour, and sautéed onions, sauerkraut, zucchini and yellow summer squash topped with melted cheese. I was pleasantly surprised to learn that cooked sauerkraut smells and tastes very similar to kimchi (actually, it shouldn't have surprised me since they're essentially the same thing- fermented cabbage).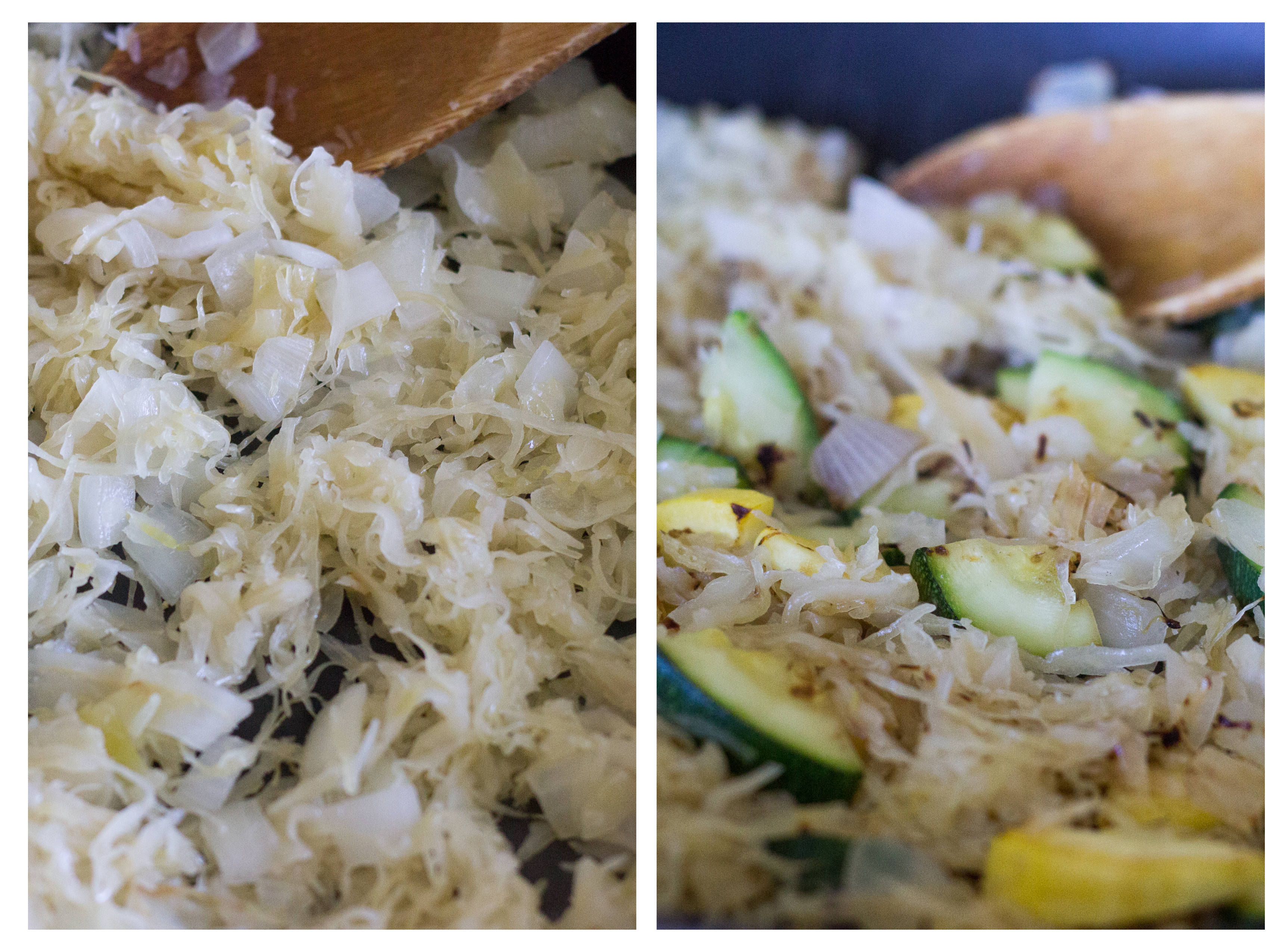 It's a very straightforward dish to make, although making the pancakes can be a little time consuming. You can either assemble the whips in the pan right as the pancake is finished cooking and serve them as they are ready or you can cook all the pancakes at once before assembling them altogether and heating them in the oven to melt the cheese.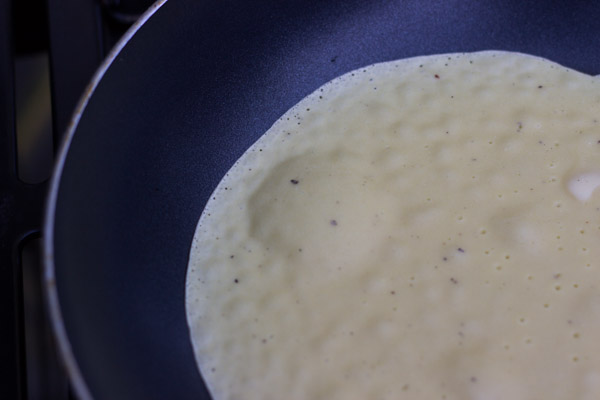 A paper towel moistened with vegetable oil carefully swept over a nonstick pan will ensure the pancake won't stick. Much like making crepes, you must put in a small amount of batter in at a time and swirl it to coat the pan. As you can see in the photo above, the edges will form small bubbles. At this point it should easily move in the pan when nudged by a spatula where it can be flipped over. From here you must work quickly to cover half of it in cheese, then the filling and another layer of cheese. The pancake can then be folded and flipped onto its other side so that the cheese can melt. When it is golden brown in spots and the cheese is melted, it's ready to eat.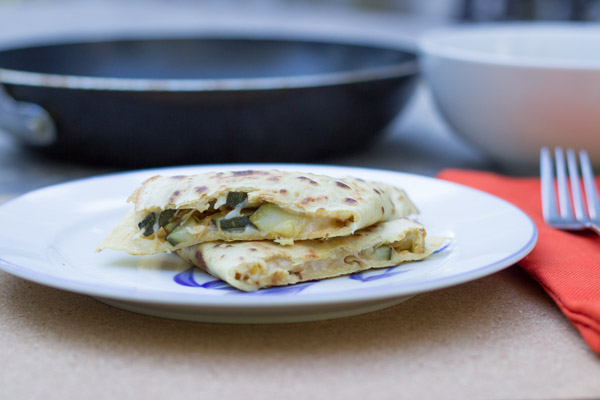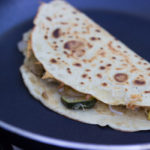 Veggie Whip
The instructions below are to serve the whips as they are ready, but if you'd like to serve them all at once, make all the pancakes ahead of time and assemble the whips on a baking sheet and bake in the oven at 350 degrees for 15 minutes or until the cheese is melted.
Ingredients
For the pancake batter:
1 1/2

cup

of chickpea flour

1 1/4

cup

of water

1

tablespoon

of extra virgin olive oil

1/2

teaspoon

of salt

1/2

teaspoon

of fresh thyme

minced
For the vegetable filling:
1

teaspoon

of vegetable oil

1/2

cup

of onions

diced

1

cup

of sauerkraut

2

cups

of zucchini and/or yellow summer squash

sliced into thin half moons

1

teaspoon

of caraway seeds

optional

1

cup

of grated cheese that melts well

I used a mix of colby and cheddar

1

tablespoon

of vegetable oil

sour cream to serve

optional
Instructions
Mix the ingredients for the batter together until smooth and free of clumps. Set aside to rest while preparing the vegetable filling.

Saute the onions and sauerkraut with the caraway seeds (if using) in oil until golden brown. Set aside in mixing bowl.

Saute the zucchini and/or yellow summer squash for about five minutes. Add to the onion and sauerkraut mixture.

Use a paper towel moistened with vegetable oil to grease a nonstick 10 inch pan. Heat over medium low heat and pour in about a 1/2 cup of the batter. Swirl around the pan evenly to make a thin pancake.

Cook until small bubbles form on the edges and the pancake can lift easily off the pan and flip.

Put a sparse layer of grated cheese on half the pancake and top with the vegetable filling then another thin layer of cheese and fold the pancake in half.

Flip onto the other side to melt the cheese. When the outside is slightly browned and the cheese is melted it is ready to serve.
0