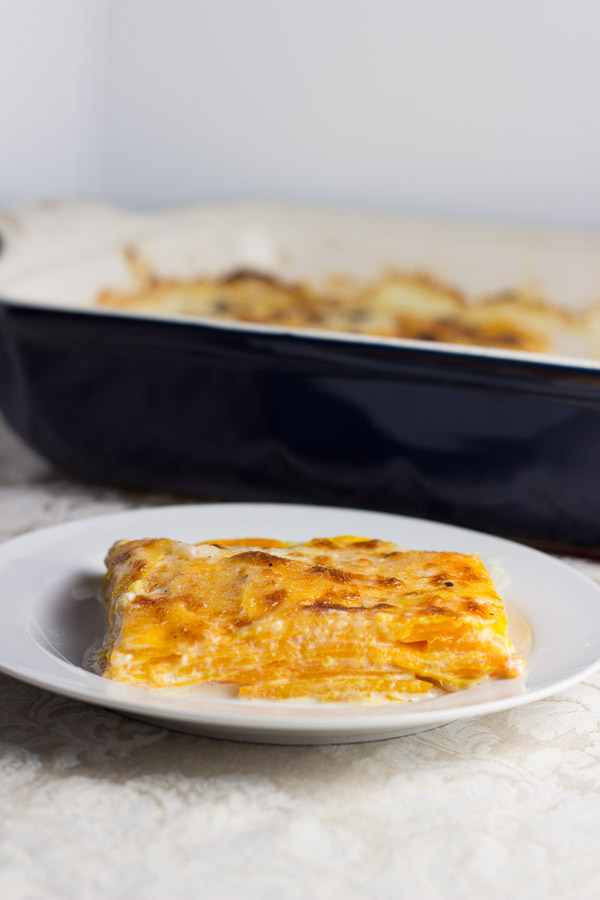 The weekend before Thanksgiving, I went to a local farmers market with my dad. I had lured him into going there with me by buying our family some delicious buffalo sausages from a local Virginia farm on my previous visit for dinner. He's a huge fan of buffalo meat and he wanted to check out all that they had to offer. This lead to a bit of a buffalo meat shopping spree, which involved the purchase of various cuts to use in soups, stews and braises. We will even attempt to smoke a buffalo brisket for Christmas this year. Besides the delicious meat we procured, we browsed the various produce vendors and stumbled across an almost freakishly large squash. It was labeled as a type of heirloom pumpkin but it looked just like a butternut squash. It's neck was at least four times longer than an average butternut squash, and it curved into a hook-like loop. When we had it weighed at the time of purchase, it was nearly 9 pounds! Before I cut it up for the gratin dish, my brother wore it around his neck like a yoke and walked about the kitchen. I regret that I didn't take a photograph of it, because it was truly a marvel.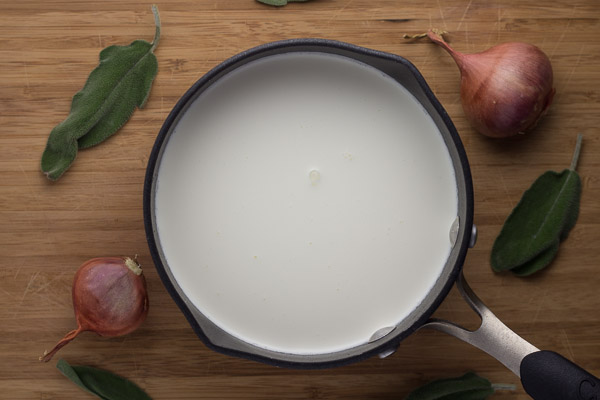 We decided that we wanted to use it in a dish for our Thanksgiving meal and I thought that it would feature nicely in a gratin type of dish. Lightly bathed in a cream that had been infused with fresh sage and sliced shallots, the flavor of the squash wasn't over powered by strong seasoning or flavors but left to shine as the feature of the dish. I improvised on Thanksgiving day, but luckily it turned out very well, with several people telling me that it was their favorite side dish of the meal.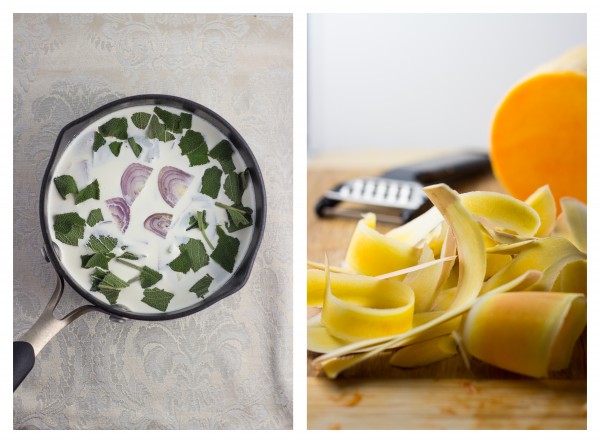 I recreated this dish by using a regular, large sized squash from the grocery store that was about 3 pounds. A tip for finding a squash with a bit more flesh is to look for one that isn't so tapered in the middle, but more squat with a thicker neck. I used a mandolin to create more uniformly thin slices, but a sharp knife carefully wielded can also do the trick (just watch those fingers!). It's important to not drown the squash with too much cream, you want it to be just covered in it so that it will cook nicely but you don't want the casserole dish to be flooded. Topped with a dry, sharp cheese such as pecorino or parmesan, the casserole is broiled to create a crispy crust on top (isn't that the best part of any such dish?).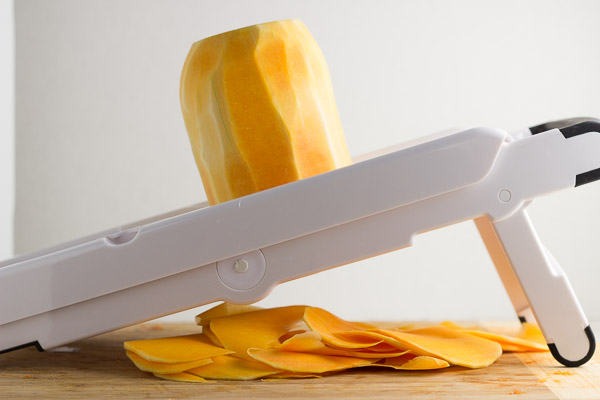 It's a type of dish that works well for a large party of people as it yields quite a lot. We fed around twenty people at our Thanksgiving with one recipe doubled.  I made it again a few weeks later for a Sunday night dinner with just our family, and it made a lot of leftovers that I took for lunch all throughout the week. The ingredients are few and quite simple, but together they make a spectacular side dish perfect for the winter holidays.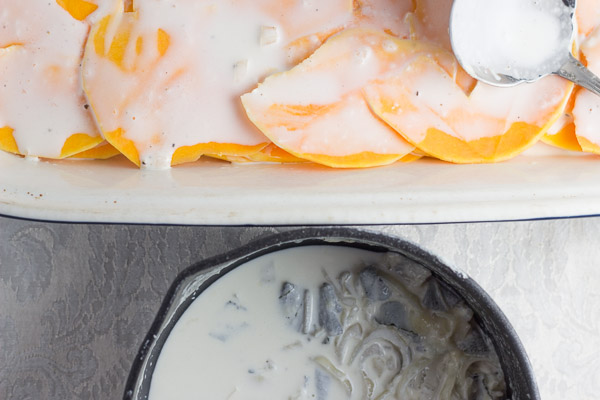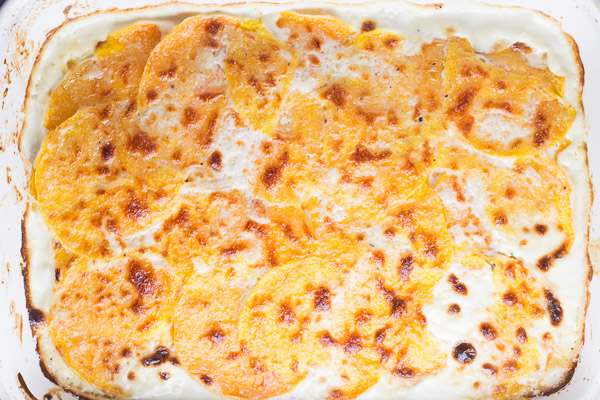 Butternut Gratin with Sage and Shallots
Ingredients
1 large butternut squash, about 3 pounds
5 or 6 large, fresh sage leaves
1 shallot
1 pint of heavy cream
¾ cup of grated pecorino or parmesan cheese
1 tablespoon of butter
½ teaspoon salt
¼ teaspoon black pepper
Instructions
Turn on the oven to 400 degrees.
Peel and slice the shallot thinly. Tear the sage leaves in small pieces and put both the sage leaves and shallots with heavy cream in a small pot over very low heat for fifteen minutes. Add the salt and the black pepper. Stir often and do not let the cream get to a boiling point.
Meanwhile, slice off the neck of the butternut squash and trim off the stem end of the squash. Use a vegetable peeler to peel the skin off the squash. Peel the bottom half of the squash, slice in half and scoop out the stringy pulp and seeds out. Using a mandolin or a very sharp knife, slice the squash into very thin slices, about ⅛th of an inch thick.
Taste the cream for seasoning and add more salt and pepper to taste if needed. Strain the cream and discard the solids.
Butter a 9 x 13 inch casserole dish on the bottom and sides.
Create one even layer of butternut squash in the dish, spoon on and spread a thin coating of the cream on the squash and repeat the process until the the last layer is topped with cream. Sprinkle the cheese on top of the cream evenly.
Cover with aluminum foil and bake for 35 minutes. Remove the foil and turn up the heat to a high broil until the cheese is melted and golden brown (about five minutes, but watch carefully so it doesn't burn) and take out of the oven.
Let the squash sit for 10 minutes and serve.
0