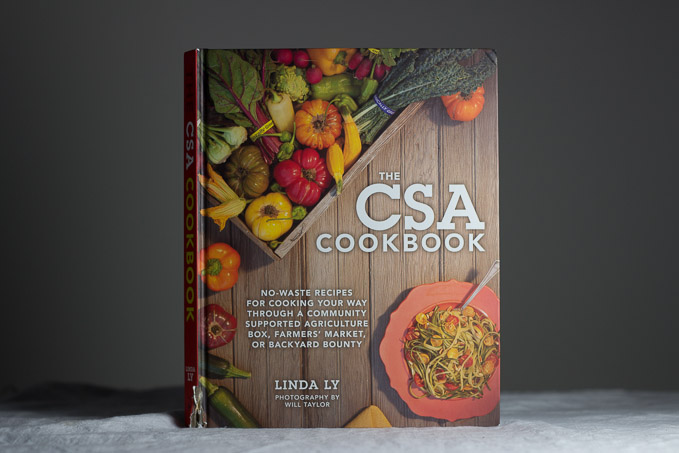 I've been following Linda Ly of Garden Betty for years. Although I seem to kill every living plant I attempt to grow, I have these romantic notions of growing my own food and having backyard chickens someday. This of course is a dream that will need to wait since I live in an urban condo with only a concrete balcony for my outdoor space. In a way I live vicariously through Linda sharing her life on her verdant urban homestead-by-the sea in California. While searching for tips on growing seedlings a few years ago, I stumbled upon Linda's blog which had a really cute idea of growing them within eggshells. Over the years I've been inspired by her stories of gardening, raising chickens, traveling and cooking.
Last summer I subscribed to a CSA (community supported agriculture) box from a small family run farm in Rappahannock County, Virginia. I had a third of a full share with a couple and as the spring turned into summer the weekly boxes of produce became overwhelming. Because last summer was cooler with a good amount of rainfall, the tomato and bell pepper harvest was explosive and I had a hard time using up all that we received. Even with my friend staying with me for three months last summer, I sometimes couldn't use them all. I don't want to waste anything but it felt unavoidable. It had me asking myself, how does one responsibly consume food?
Visiting the farm my food came from last year and meeting the people who grew it caused me to think a lot about the journey of something as simple as a cherry tomato. The whole process, from tilling the soil, sprouting seeds, keeping pests and weeds at bay (without using pesticides and herbicides), harvesting and delivering the vegetables in a timely manner despite the challenges the weather may present- it's a lot more complicated than we give credit for. Many times in the sterile environment of the average American grocery store, I've chosen an onion without a second thought, with no idea where it came from, who handled it, if anyone even cared about the way it was grown.
I wanted to change that flippant consumerism of food and so I subscribed to this CSA. But as I've mentioned before, it's a challenge to consume vegetables in a timely and responsible manner. All at once, I realized that eating fruits and vegetables from root to flower is the most responsible thing to do- but also the most challenging.
When I saw that Linda had written a cookbook based on using up the produce in a CSA box I knew that I needed to own such a resource. Most recipes do not tackle the question of how one deals with stems, roots, flowers and peels when cooking a meal. Many say to discard these scraps or they might mention composting or saving for stock in passing. Linda's The CSA Cookbook: No-Waste Recipes for Cooking Your Way Through a Community Supported Agriculture Box, Farmers' Market, or Backyard Bounty
 addresses these issues. Some of these recipes blew my mind with their creativity. Watermelon rind kimchi, kohlrabi home fries and spicy stir-fried sweet potato leaves make me excited for the upcoming farmers markets.
However, due to the prolonged winter this year the farmers market I attended last weekend (in my parka due to freezing cold temperatures) only yielded a few vegetables. I found some brightly colored chard and in my initial skim of the cookbook I knew that there were a few recipes I could work with.
I usually save chard stems for stir fries but I was really interested in the chard stalk hummus Linda had in her book. Apparently it's a Lebanese dip similar to the taste and texture of baba ganoush, which is a creamy eggplant dip that I love even more than hummus. A quick blanche of the stalks in boiling water and a whir in the food processor with garlic, lemon and tahini yielded a delicious dip that I ate with pita chips. I would have never thought to create a dip out of the stalk of a leafy green!
The leaves of the chard were sautéed and put inside grilled cheese sandwiches with caramelized onions, mushrooms, gruyere and mustard. The method was interesting, using two baking sheets heated up in a hot oven to press several sandwiches at once so that if you are serving a crowd you can have many sandwiches ready at the same time instead of standing over the stove cooking them one by one. I really enjoyed both these recipes and their creativity. They were simple and easy to follow, and Linda always explains new ingredients and employs photos to show you any new techniques.
I own many cookbooks, but if I'm going to be frank, a lot of them serve as works of art I keep on the shelf. I occasionally flip through them for inspiration for photos or ingredients, but I don't really cook from the recipes in them. Linda's cookbook will not be one of those. Her cookbook is a reference for cooking plant based meals and using up your vegetables. From her recommendations on how to stock your pantry, the chart on how to create endless combinations for pestos, to her creative use of plants and all their parts in recipes, I can see myself reaching for it again and again and learning something new every time.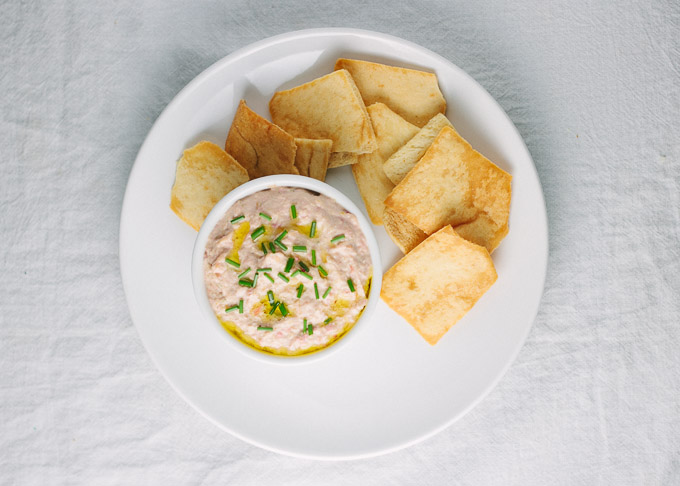 Full Disclosure: When I saw that she was looking for cookbook reviews, I reached out to the author and I received a copy of this cookbook from her publisher in order to write this review. The opinions expressed here are mine.
1