I enjoyed this beautiful view of Manhattan from a college campus on the edge of the Hudson River in Hoboken, New Jersey. I was on a bluff overlooking the river in a relatively empty, green park, taking in the striking skyline on such a sunny summer day. It wasn't too hot and a nice breeze was coming off the water as we tried to take frame after frame of ourselves, testing out the remote shutter release on my camera with very little success. Selfies taken with DSLRs are not very practical, I learned. Sometimes you need to give into the practicality of the smart phone. I didn't take very many photos last Saturday as I enjoyed watching three World Cup games (Uruguay and England both lost- terrible disappointments!) and several pints.
Afterwards, I had Pok Pok on my mind. I had seen the cookbook on shelves and on food websites and enviously took in the photos of friends at the restaurants in Portland and New York via social media. And I wanted to taste the flavors of Thailand- sweet, salty, and tangy. Maybe it was all that talk of travel in Southeast Asia with my summer roomie, Mary Soo, or maybe it was the mango sitting in my fruit basket the past week (mangoes will forever remind me of Thailand) but I just wanted a taste of what I had experienced there. We walked from 14th Street south to a block short of Delancey to the Pok Pok Phat Thai location on Rivington. It was the longest 24 hungry minutes of my life. But I was richly rewarded with a delicious dish filled with rice noodles, mussels and cuttlefish. Afterwards I just wanted to curl up and take a happy nap.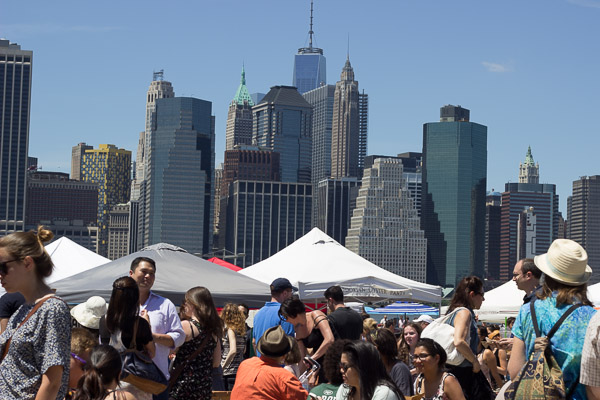 The next morning our food agenda involved making our way to Smorgasburg. I had been wanting to go to this weekend gathering of food vendors for a while now and one previous failed attempt had made me more determined than ever. We drove from Jersey to Brooklyn, weaving through tunnels and lower Manhattan and crossing the Brooklyn Bridge. On Sundays it's held at Pier 5 in Brooklyn Bridge Park. When we arrived around noon it was already full of people eating and waiting in lines to eat some more. We were right by the water with a spectacular view from the other side of Manhattan.
We passed several people with these tasty looking paper plates of something that could be best described as some sort of a roll at first glance. We found the source of this dish, Outer Borough. It was a scallion pancake wrapped around roast pork, onion and hoisin. The pancake was crispy and flaky, the pork tender and juicy and it was easy to eat standing in a crowd. I think it was my favorite dish of the day.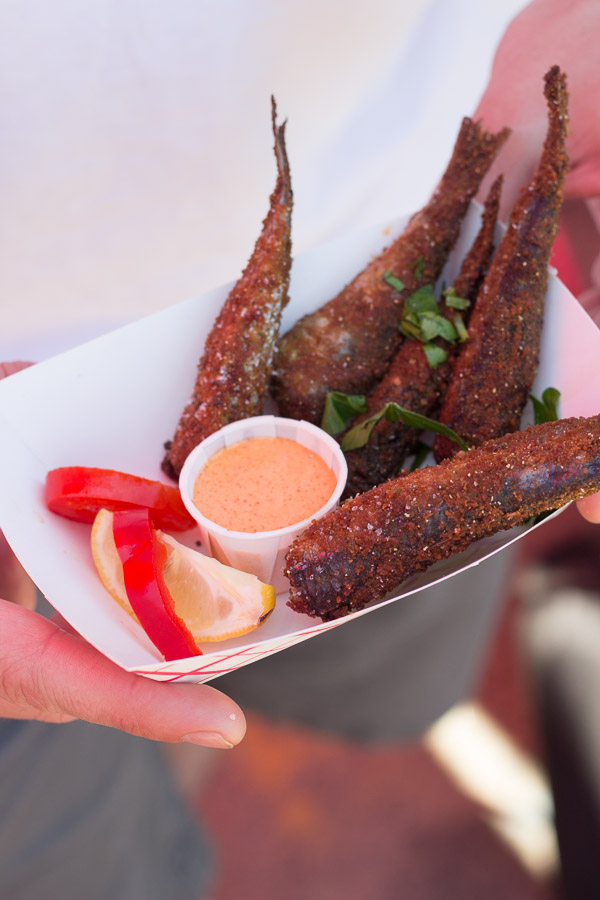 I had also seen a friend post these fried anchovies from Bon Chovie. I grew up eating anchovies as it is a very common banchan, or side dish in Korea but I had never had such large anchovies fried whole before. They were delightfully crunchy and the squeeze of lemon and smoked paprika mayo balanced well with the oily richness of the anchovies.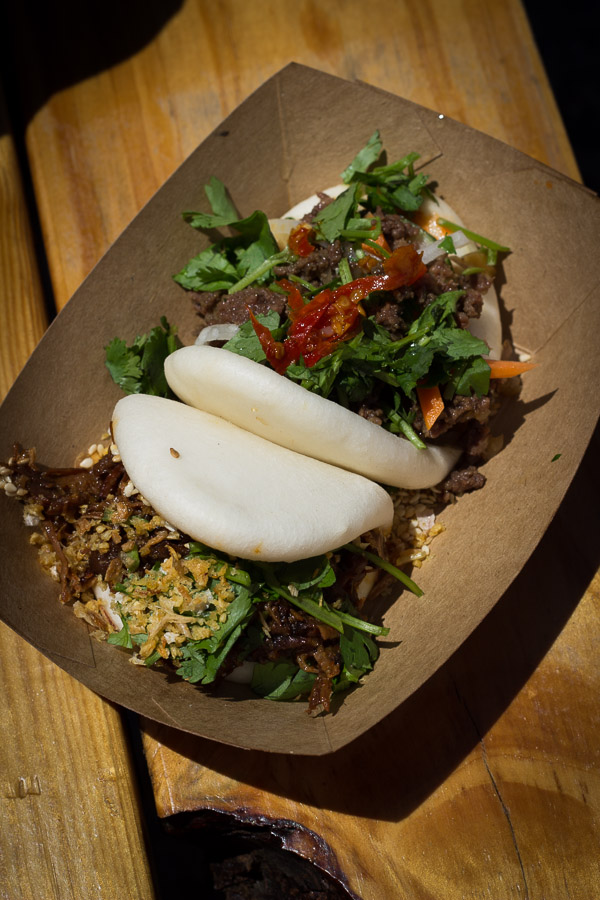 The last dish we decided to try were some bao filled with sweet beef and duck legs from Bite Size Kitchen. I loved the garnish of fried shallots and garlic on the duck. The chili paste was a perfect counterpoint to the sweet beef. They were little but the right size to get just a taste of each style.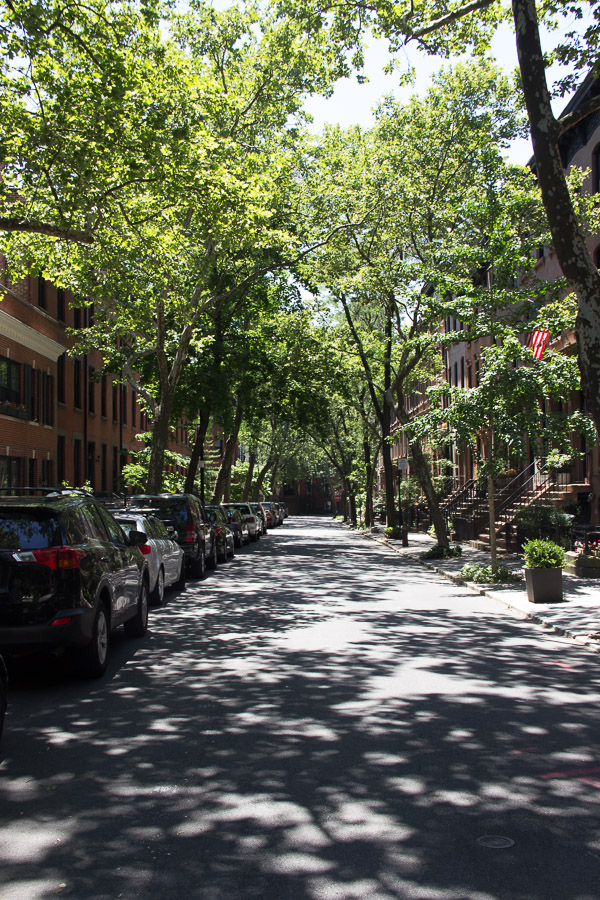 Afterwards we walked through Brooklyn Heights to look for a good place to watch the France vs. Honduras World Cup match. We couldn't find a nice place to really view the game but we enjoyed the walk around this pretty neighborhood. Smorgasburg was a very satisfying experience- it was a great way to taste a lot of delicious and innovative dishes at once in a very nice setting. I can't wait to go back and try the Uruguayan sausage from Txorizeria, an Asia Dog, and one of these huge ice cream sandwiches!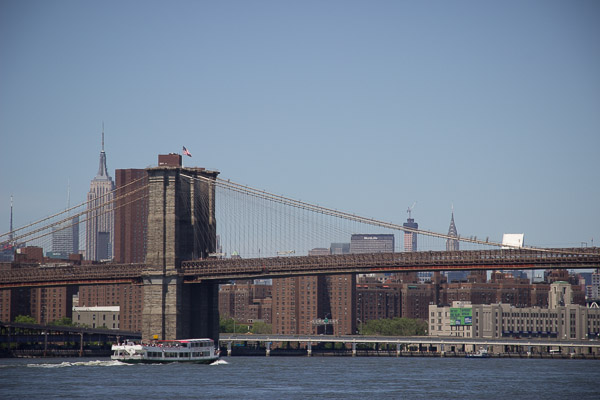 0