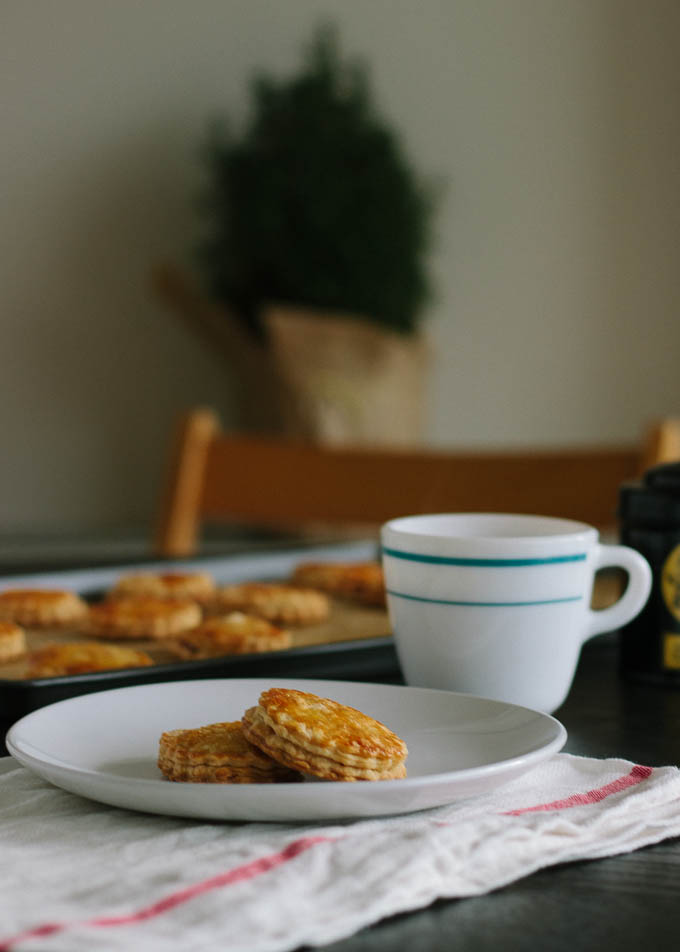 Last year a few bloggers I follow participated in a cookie swap for food bloggers. It seemed like fun (who doesn't like receiving packages of cookies in the mail?) and a great opportunity to connect with other bloggers. I signed up for the Great Food Blogger Cookie Swap to benefit Cookies for Kids' Cancer a few months ago. We received an email with the names of three bloggers and a few weeks ago I shipped out three boxes of a dozen cookies each to three food bloggers all around the country. In the following week I received three boxes of cookies from three other food bloggers, all delicious and beautifully presented. I got Peppermint Chocolate Chip Teacakes from Bake N Quilt, Snickers Surprise Cookies from Dining with Alice, and Candied Buddha's Hand Olive Oil Shortbread from Culinary Adventures with Camilla. My coworkers really appreciated the many cookies I brought to the office (and my waistline appreciated it, too).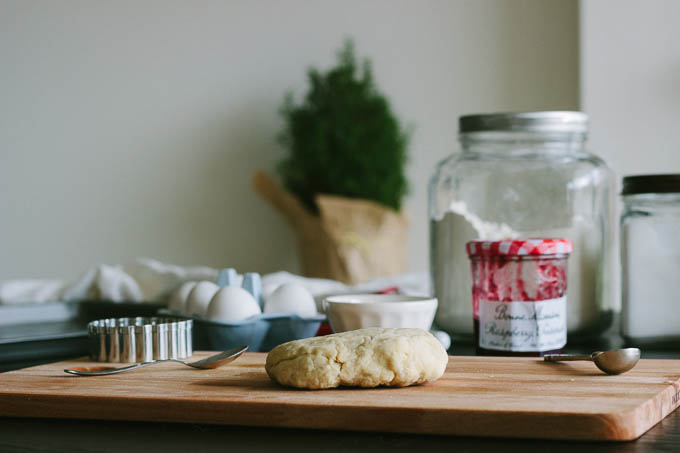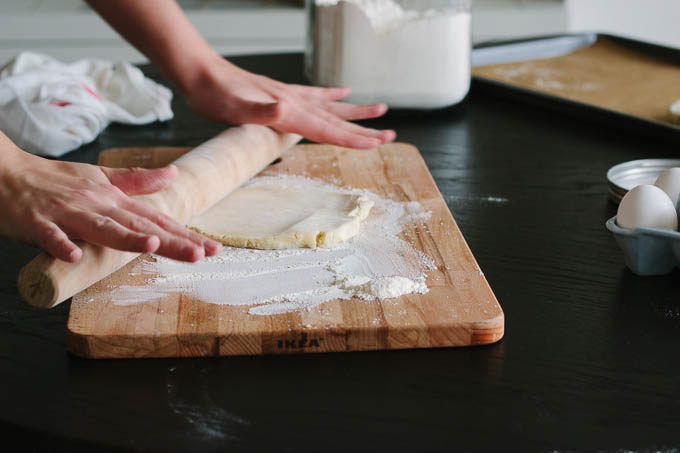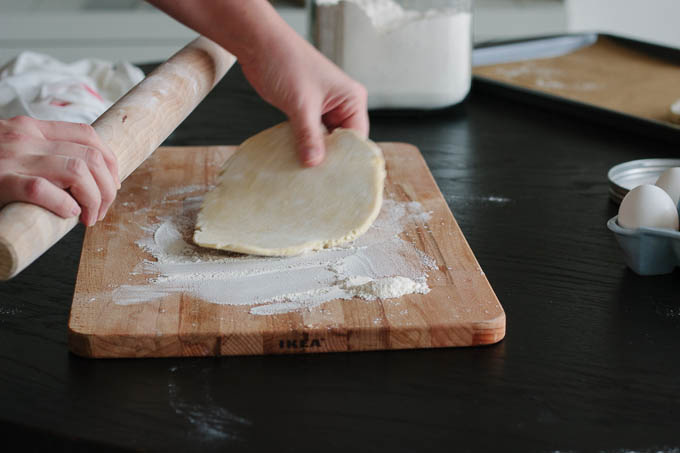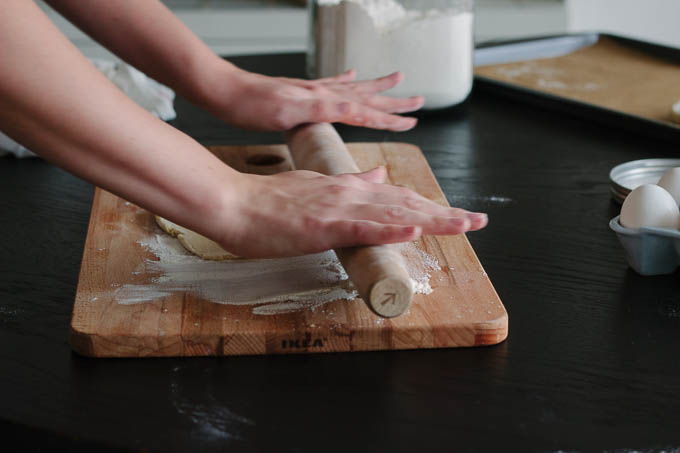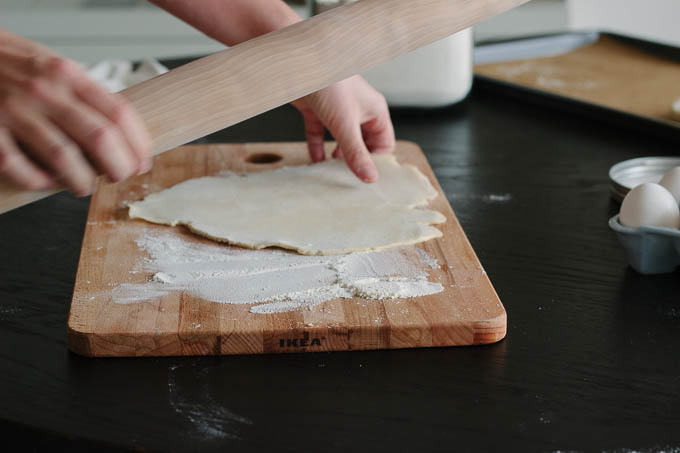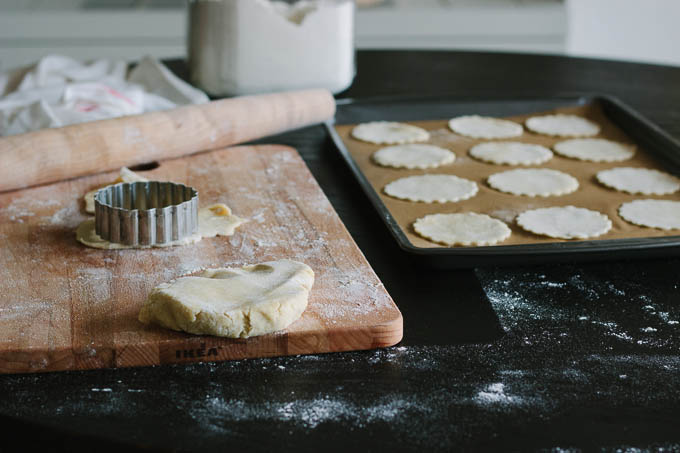 It took me a long time to figure out a cookie to share in the cookie swap. I am not a baker but I do enjoy making a nice pie crust. When I was a kid we would occasionally bake pies with my grandmother, and any pie scrapes were sprinkled with sugar and baked alongside the pies as a quick snack to enjoy while the pies cooled. Originally I thought I would make sandwich cookies with two baked rounds of crust held together by jam but I realized that pie dough quickly puffs up when it hits a hot oven. So I assembled them before they went in the oven, pressing the edges together with the end of a spoon handle.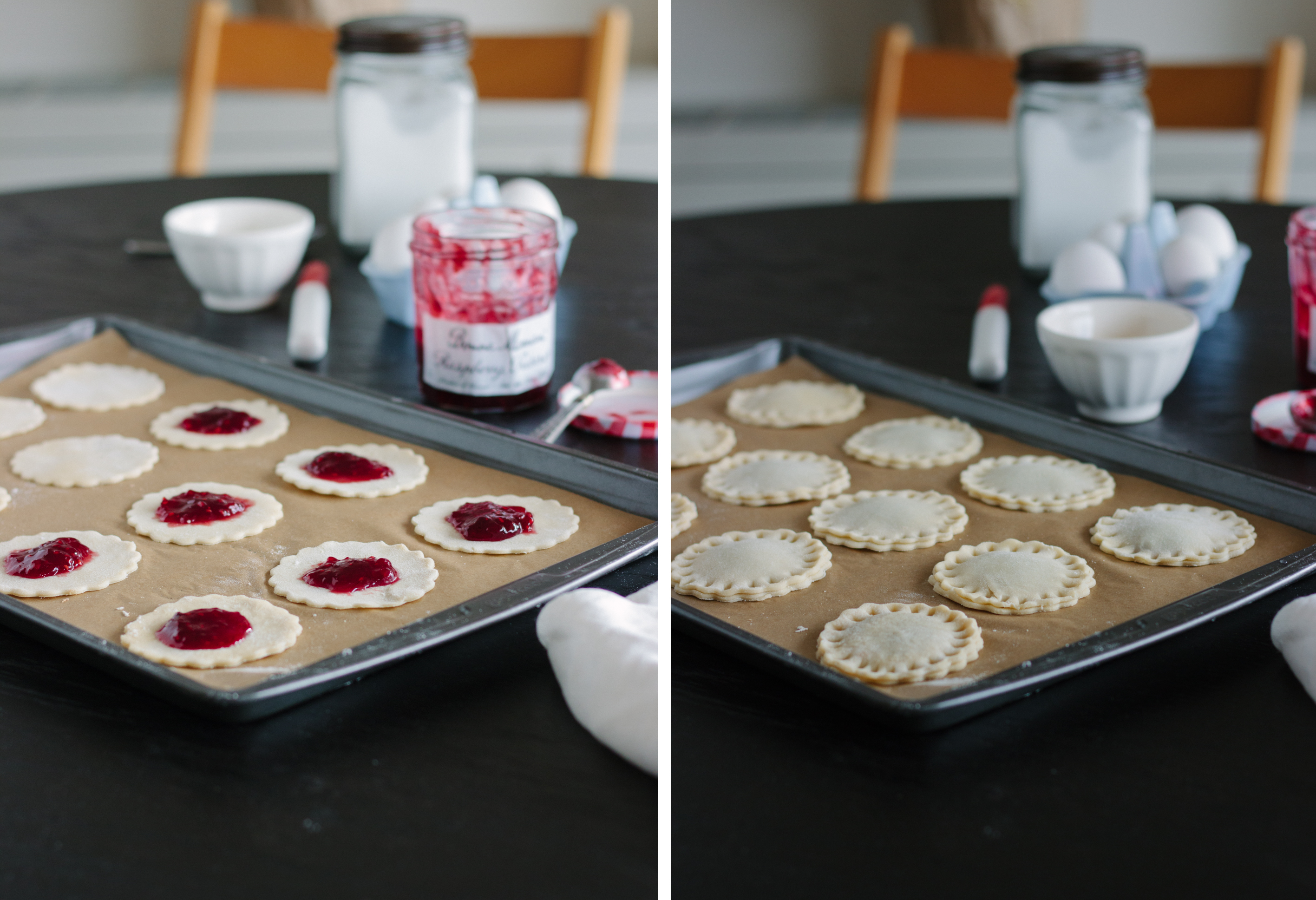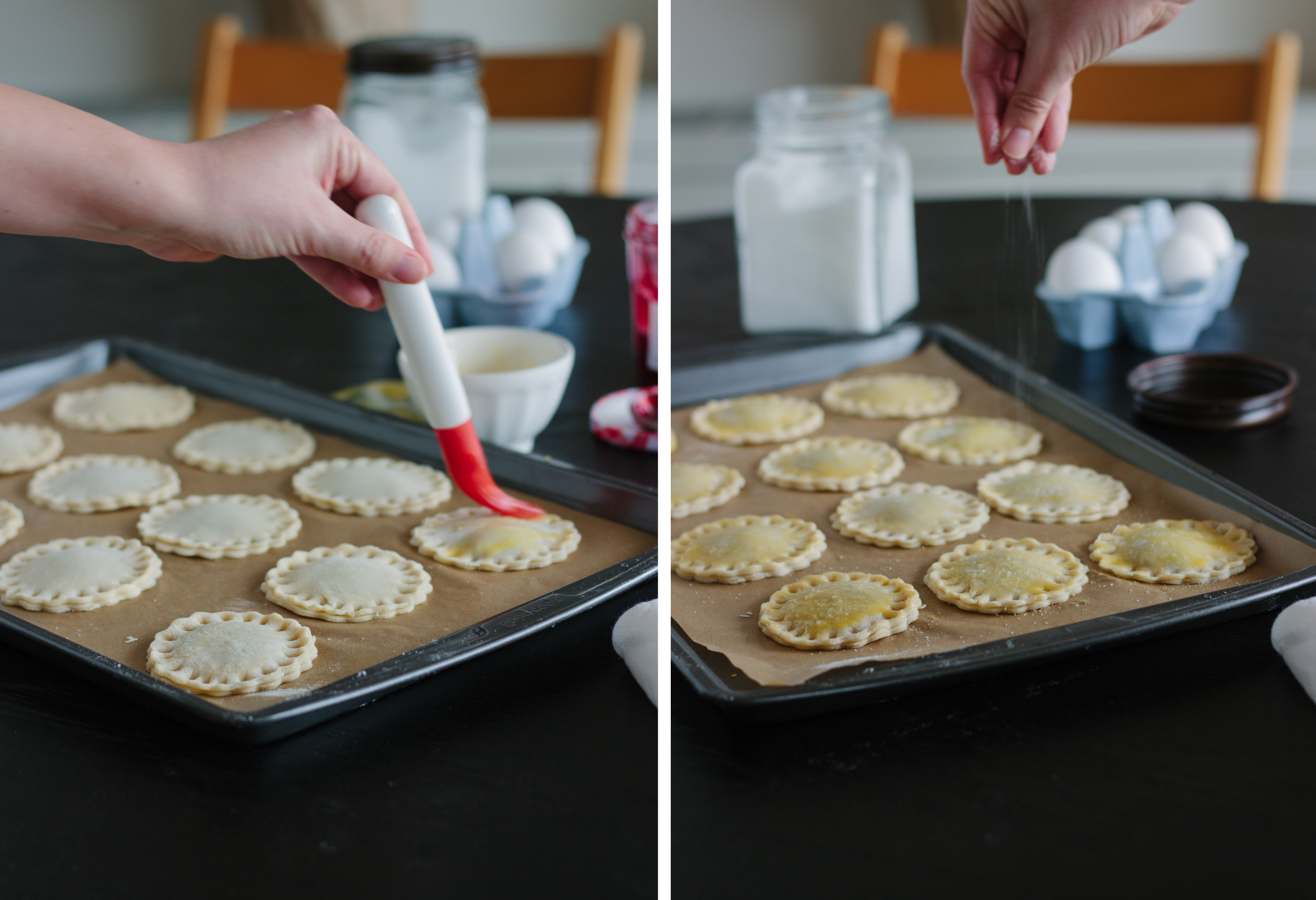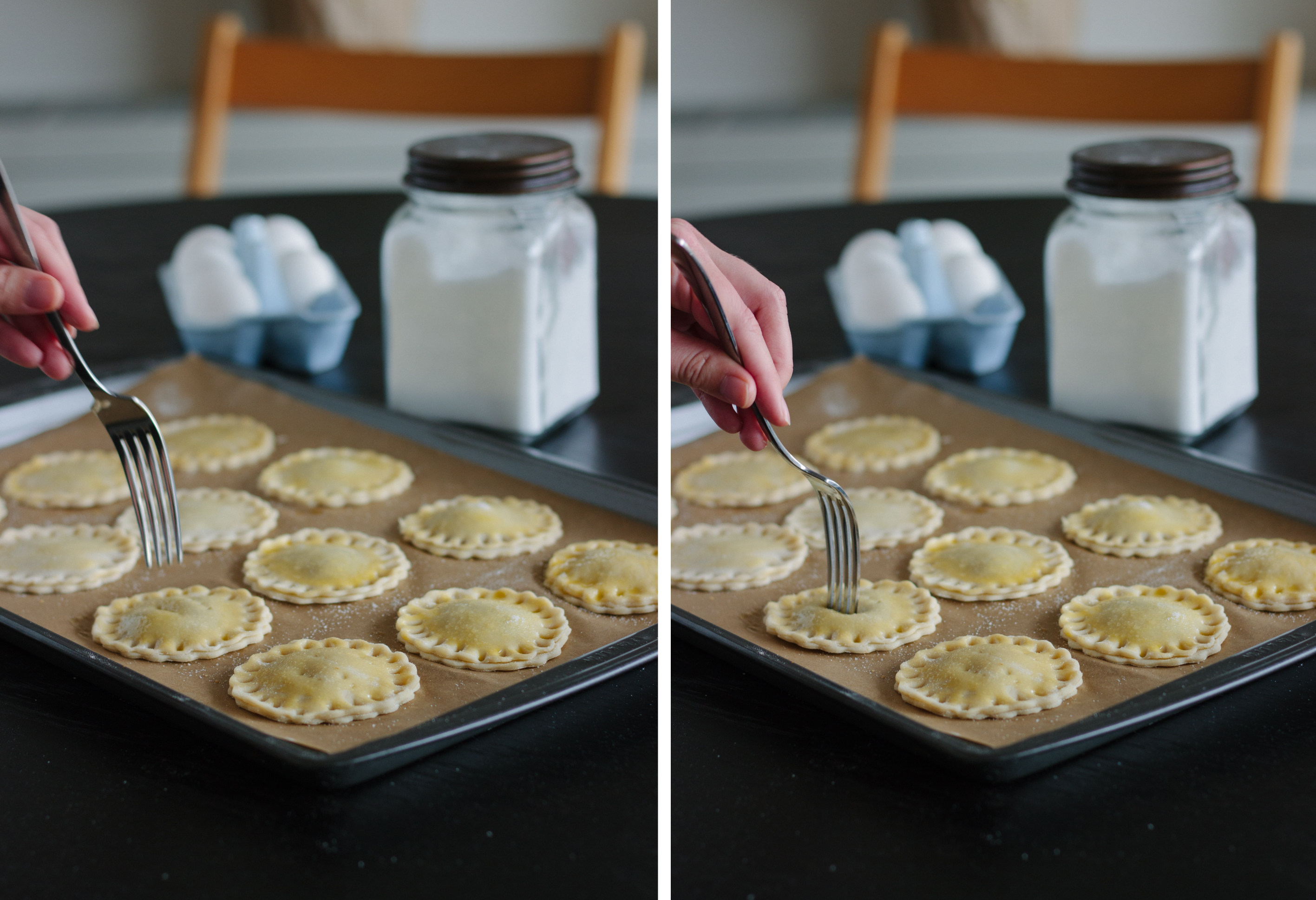 For this recipe I used Smitten Kitchen's all butter crust for the pie crust and some good quality raspberry jam for the filling. Assemble and brush the crust with egg, sprinkle with sugar and poke holes into it to let the steam vent out of it. Bake until golden brown and let them cool (please be careful, the jam inside gets insanely hot). These cookies are buttery and flaky, and not too sweet- perfect with a cup of coffee or strong tea.
Pie Crust Cookies
Ingredients
1 all butter double pie crust, quartered
flour to roll out the dough
½ cup of raspberry jam
1 egg
granulated sugar to sprinkle
Instructions
Preheat the oven to 375 degrees.
Roll out a quarter of the pie dough to be about ⅛th of an inch thick. Use a 3 inch pastry round to cut out a dozen circles and place on a cookie sheet lined with parchment paper.
Repeat with the other three quarters of dough until you have 48 circles cut out and laid on two lined cookie sheets. Put these pans in the freezer to for about ten minutes.
Take the pans out of the freezer and put a teaspoon of jam in the center of half the rounds and top with another round.
Use the end of a spoon handle to press the edges together.
Whisk the egg and brush over the cookies. Sprinkle with sugar.
Use a fork and poke two sets of holes with the tines into each cookie.
Put both pans into the oven for about 25 minutes or until they turn golden brown and are puffy.
Cool for about 20 minutes and serve.
0