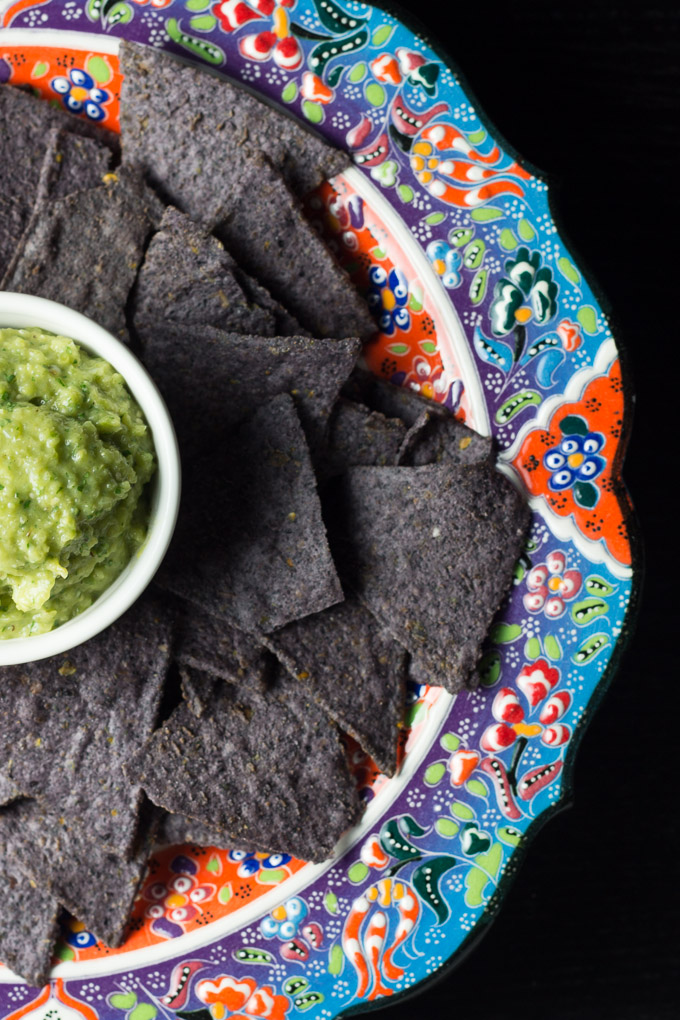 Last weekend I stopped by my parents' house and took a quick walk through their garden. Despite it being cold and rainy, the herbs were still green and I spotted a few tomatoes still on the vine. I was suddenly reminded that my dad had asked me to pick all the tomatillos that had ripened, heavy in their husks, the plants bowing towards the ground. There were about a dozen in varying sizes, still bright green in the gray and wet day. It was funny they were growing in our North American/Korean hybrid garden since no one in my family recognized what they even were.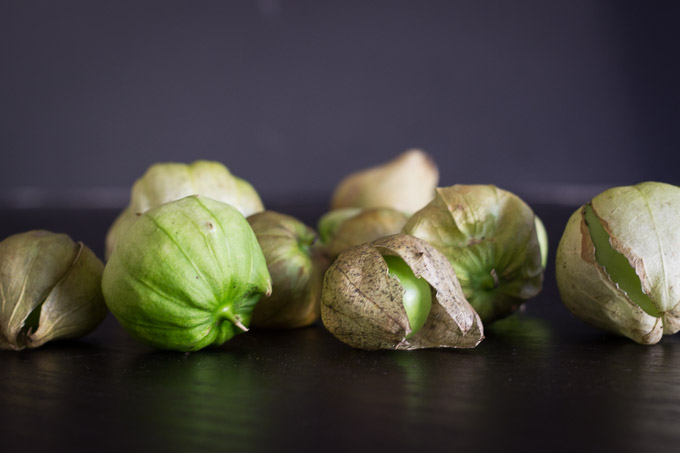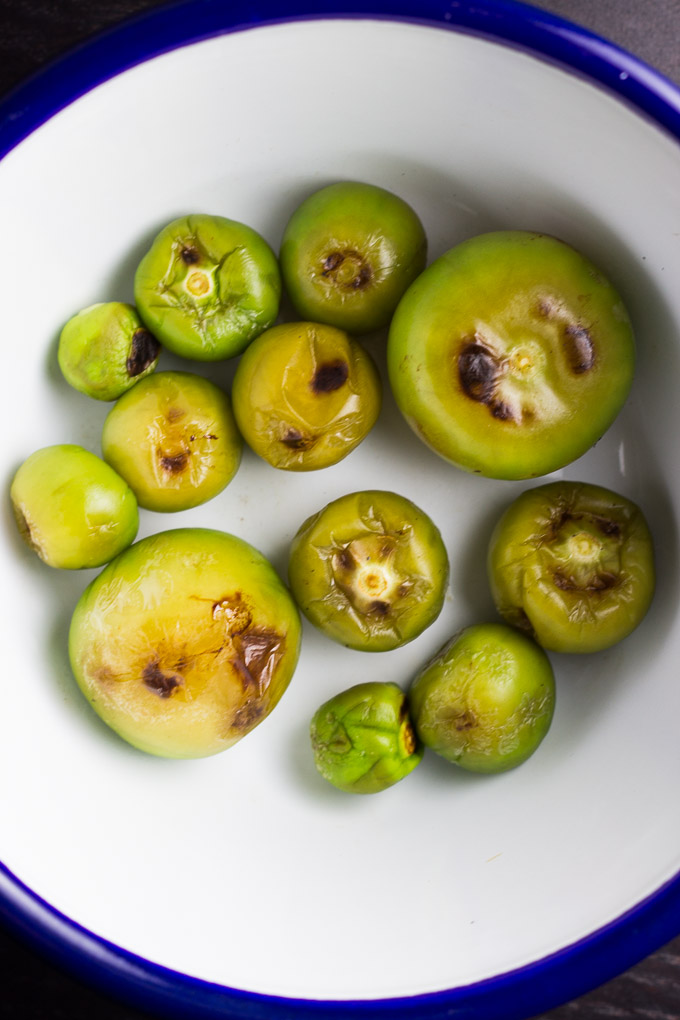 I've eaten my fair share of things with tomatillos in them but I've never really cooked with them before. They're quite firm when raw but they soften as they cook in the pan. After removing the papery husk the tomatillo berry is quite sticky which can be remedied with a quick wash of soap and water. I read that the flavor of tomatillos can really range from quite sour to mild and sweet. Dry roasting them in the pan should really help temper any sourness. I didn't have any sour ones because most of my tomatillos were small (smaller ones are milder). The onion and the jalapeño smell like a plate of fajitas you can order in a Mexican restaurant as they sear in the pan. The cilantro adds a freshness to the salsa and the raw garlic that distinct bite. I really like the addition of the avocado in this because it gives it a nice creaminess and it also softens the sharpness of the other ingredients.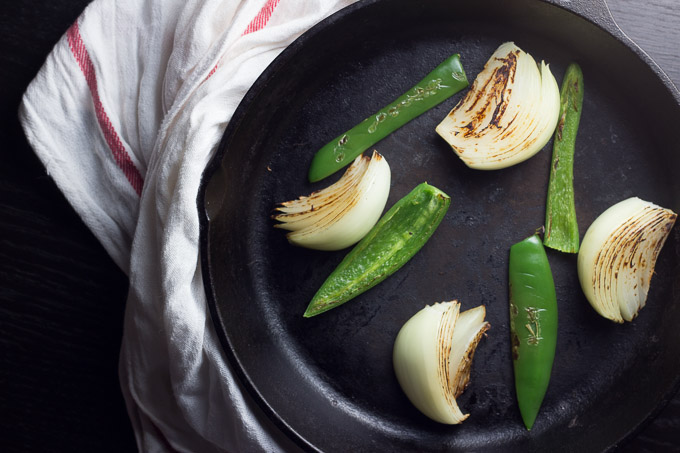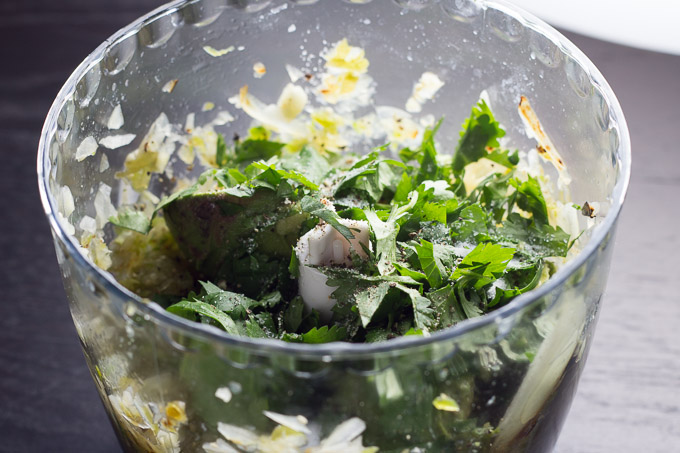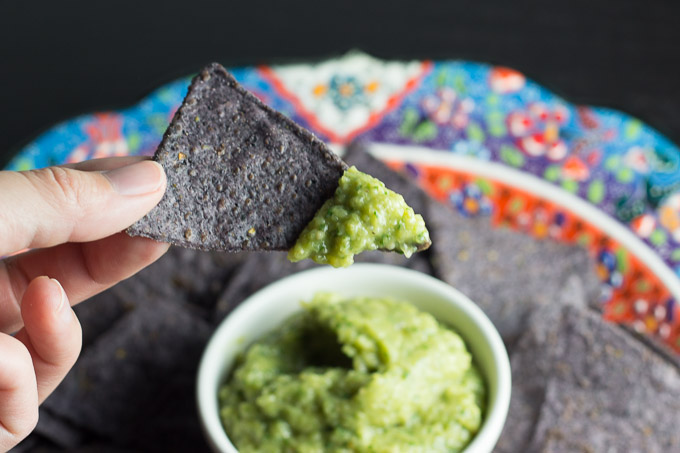 I enjoyed this as a salsa to dip tortilla chips in when I first made it (as you can see in the photos) but last night I used it to top my dinner of migas (tortillas scrambled into eggs with some onion and bell pepper along with cheese) and it was quite delicious. I imagine it would also be a great topping on some white fish or any kind of tacos. You can find them easily in most grocery stores now since they are widely available. Look for ones with split husks that are brown but not shriveled. This is the perfect time to try cooking with tomatillos because they are in season and you will find them at the perfect ripeness this month.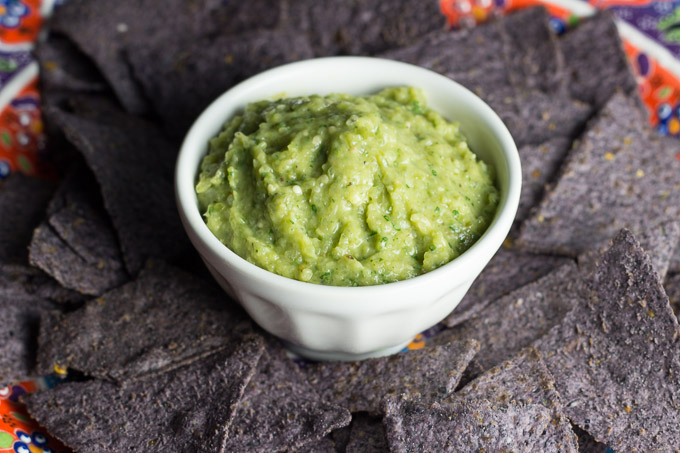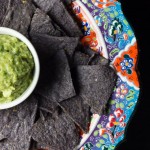 Tomatillo and Avocado Salsa
Ingredients
1/2

pound

of tomatillos

husked removed and washed

1/2

large onion cut into large wedges

1

jalapeño

stem and seeds removed and quarter lengthwise

1

large garlic clove

peeled and smashed

1/4

of fresh cilantro

roughly chopped

juice of 1 lime

1

ripe Haas avocado

1/2

teaspoon

of salt
Instructions
On a dry cast iron skillet or grill pan over medium high heat, let the tomatillos lightly char on all sides. When they turn from a bright green color to a faded olive color, remove from the pan and set aside to cool.

Add the onion wedges and jalapeño and add color to all sides, being careful not to burn. Set aside to cool.

In a blender add all ingredients and blend until smooth, scraping down the sides a few times.
0