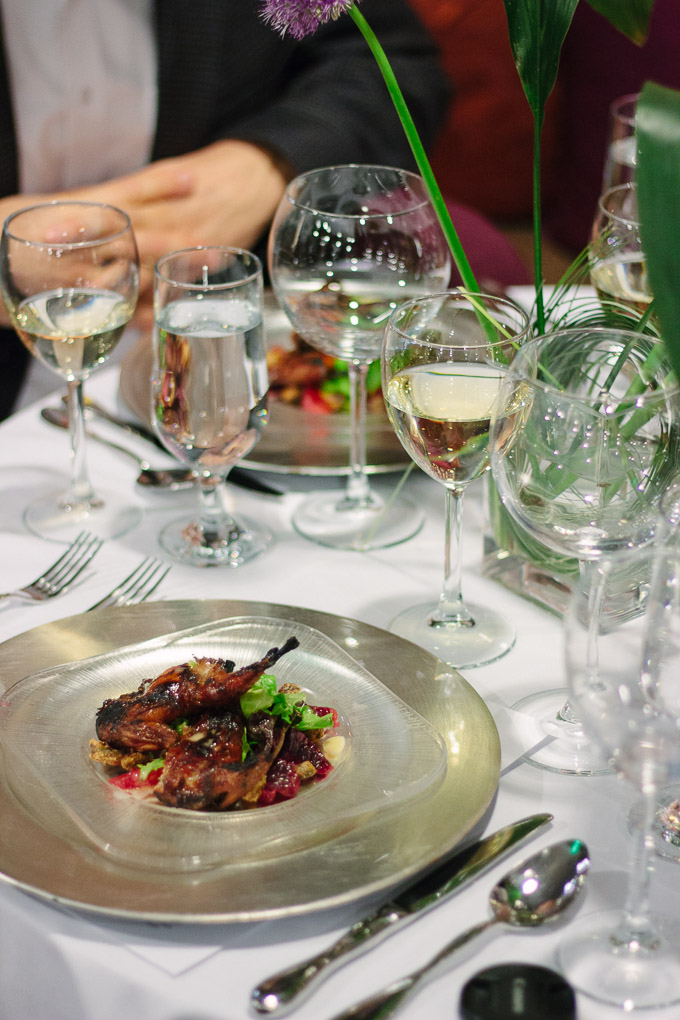 A few weeks ago I got an email from Jennifer inviting me to a dinner with Underground Kitchen, a pop-up supper club that originated in Richmond, VA but has since expanded to DC. I excitedly accepted, having heard great things about them from the Post and my friend Marcella who attended a dinner in Richmond a few months ago. This particular supper club is very secretive; you don't receive the details of the dinner until it's a few days before and after you've purchased a ticket for a certain date and seating time (which usually sell out in minutes). An email arrived with the location and a copy of the menu. After reviewing the lengthy and detailed menu, I realized I was in for a real treat. The menu called for five courses with appetizers beforehand and a dessert afterwards. Each course was paired with wine. Besides these details, I didn't really know what to expect.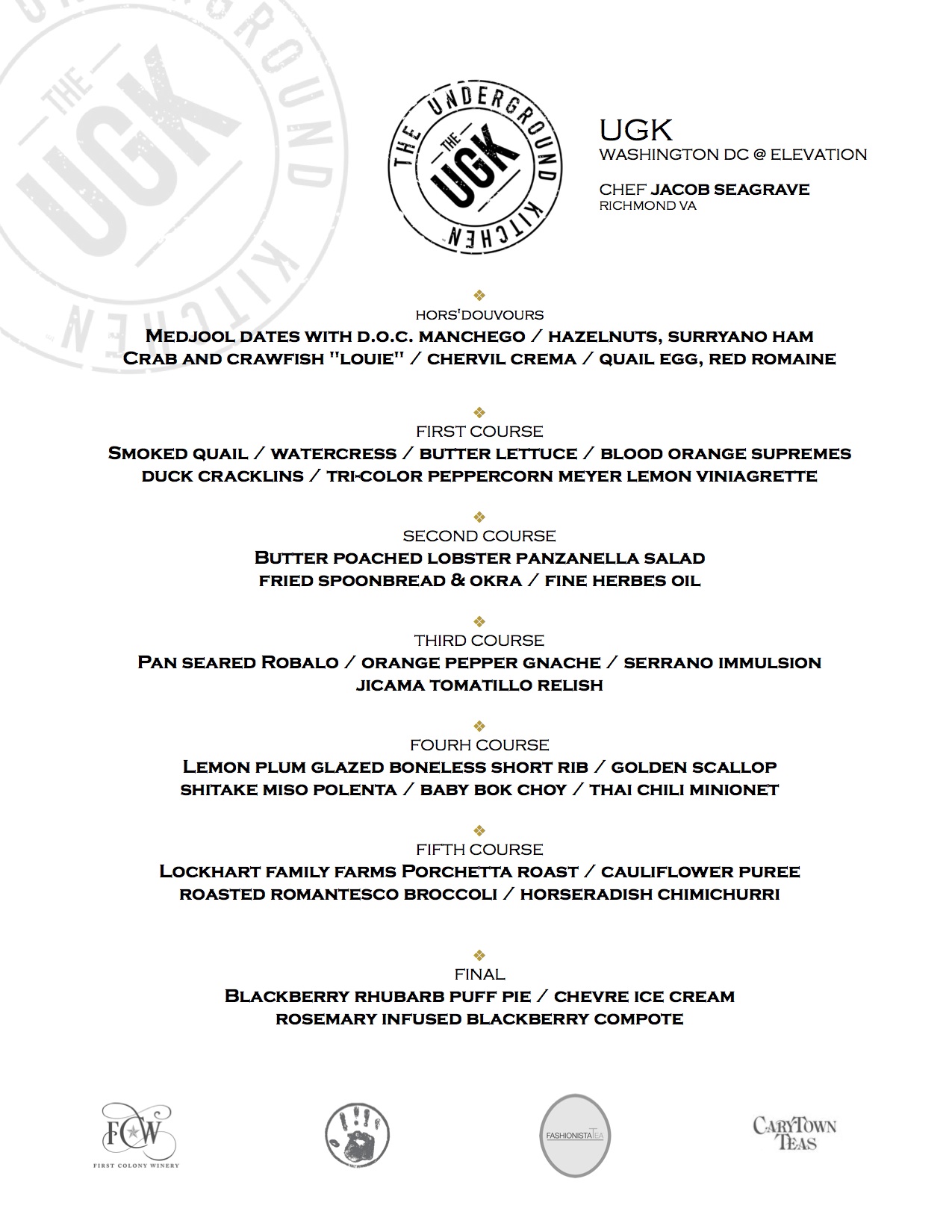 The dinner was held at Elevation, a new high rise apartment building in the NOMA district blocks away from my favorite eating destination in DC, Union Market. I arrived later than most of the guests and as there were no seats at the main communal table, I was sat at a smaller table with three other people. They were a married couple and their sister-in-law and they were all from Vienna, Virginia, the suburb of DC that I grew up in. We became acquainted over hors d'oeuvres created with surryano ham wrapped dates and a tiny lettuce cup with crab and egg. Once I told them I am a food blogger, they revealed that they were the parents and aunt of the chef! I thought to myself that they looked awfully young to be the parents of a chef at the helm of such an operation. Later when co-founder Micheal Sparks thanked Chef Jacob Seagrave of Deco Ristorante along with chefs Jason Stewart and Deonté Samuel of The Commonwealth Club in Richmond for the beautiful meal they cooked for us, we were told Jacob is only 23 years old. Someone said out loud, "What were you doing when you were 23?". Some people were just born to cook. In fact, his parents shared that he had been aspiring to be a chef since he was a little boy. It was very clear that they were extremely proud of him, and rightfully so.
During the whole affair the service was attentive and gracious, and there was no shortage of good conversation or wine. Food is, in my opinion, the best way to gather a group of people and create a sense of family and community. This is a stated goal of UGK, and the atmosphere of the dinner reflected that. The best part of going to a meal like this even when you're alone like I was that night, or to be more accurate especially when you're alone, is that you meet people you wouldn't otherwise become acquainted with. Good food doesn't just nurture your body, but it can also feed the conversations that create relationships and connections.
It was clear the ingredients were thoughtfully sourced, many of them from Virginia producers I could recognize, like the makers of the surryano ham, or the pork used for the juicy porchetta from Lockhart Family Farm. I had a delicious smoked quail, a salad combining lobster and blood oranges, and a creamy ice cream made with chèvre. All these dishes were well executed despite the fact that the chefs were cooking in not-so-ideal conditions, such as a makeshift kitchen on the outdoor terrace on a freezing cold night. I can really appreciate the fact that they were expected to produce quality plates on the fly and they did it very well.
After the dinner we were given gift bags filled with treats, many of them from places I love in Richmond. Unfortunately I put mine down to take the photo below, became engaged in a conversation, and promptly left, leaving my gift bag still sitting on this table (with the lovely flowers from the centerpiece, too!). I was pretty sad about it until the next afternoon. Always a good host, I was asked for my address so that Micheal could send me one in the mail. I look forward to enjoying the contents of that gift bag as well as seeing what the future of Underground Kitchen holds.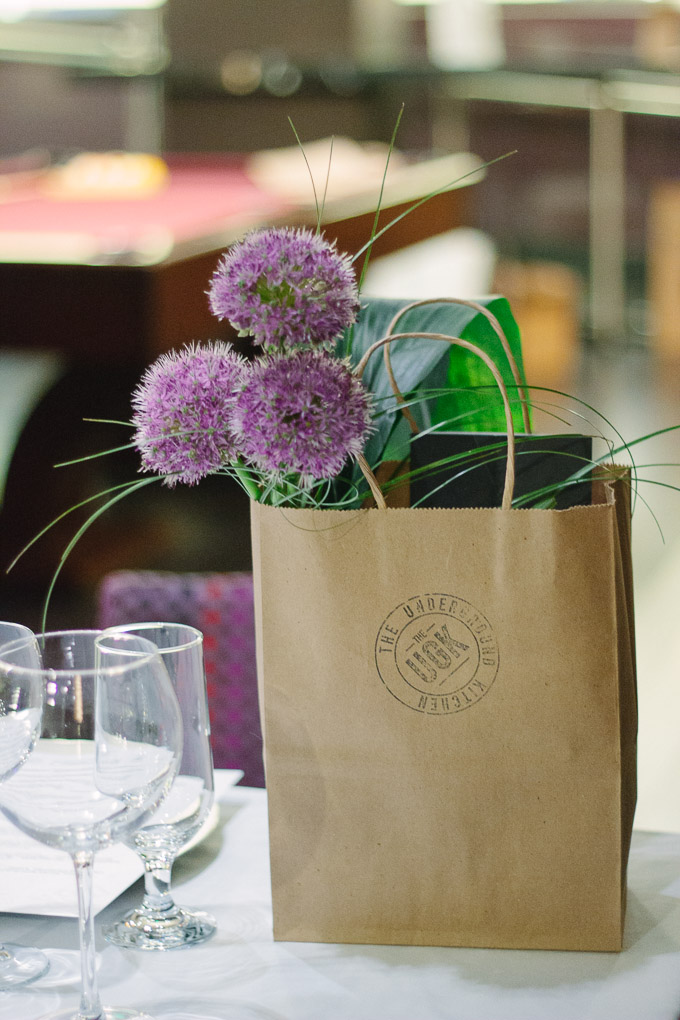 0