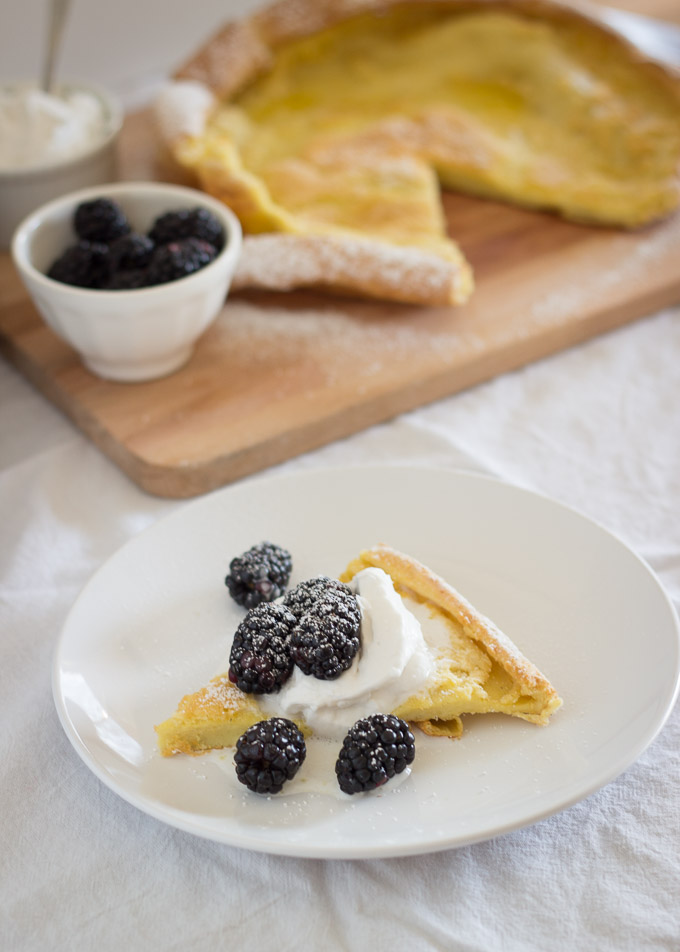 Yesterday over a groggy brunch with some girlfriends weekend plans were shared. There was talk of getting nails done, some shopping and then I added in my plans of working on a recipe for my blog. They asked me what I would be creating this time.
"I'm going to cook a Dutch baby."
Silence and a few looks of horror and confusion came from the other side of the table. I was slow to respond because I was still suffering the consequences of a Friday night happy hour that lasted a little too long.
"Oh no! A Dutch baby is a pancake you bake in the oven in a skillet. It gets puffy and then deflates when you take it out, kind of like a popover."
We laughed and I realized that I need to work on my delivery and not assume that everyone knows what I'm talking about. Not everyone obsessively reads food blogs and does endless Google searches on recipes. Some people like leaving their homes and interacting with other human beings outside of social media.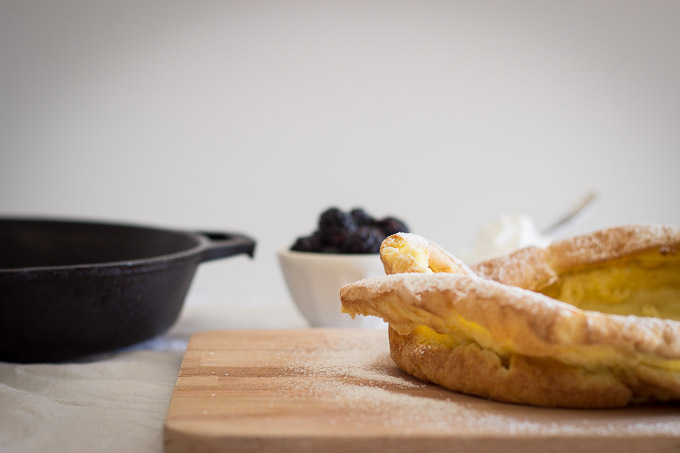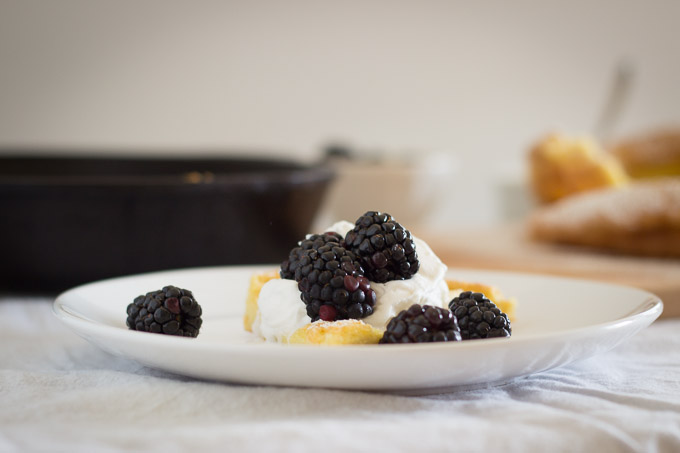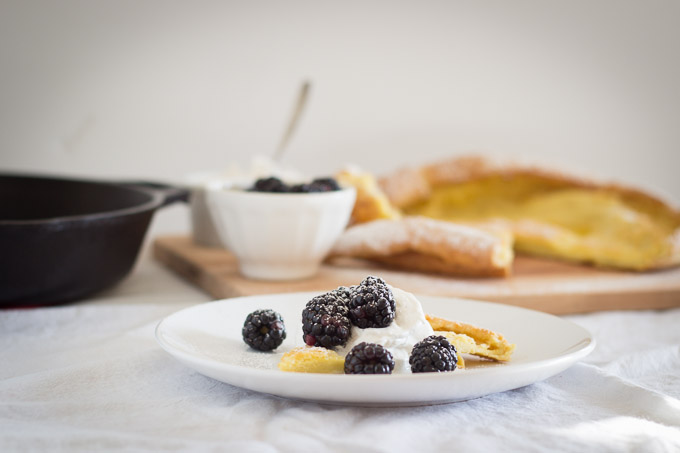 I am a big fan of this kind of breakfast. The idea of flipping over pancake after pancake or pieces of French toast sounds exhausting to me. In my early, more ambitious days of hosting brunches in my home I elected to follow this route. This lead to a lot of frustration, uneven levels of quality for each guest served, and the inability to interact with anyone that had come over to my house to eat with me.
Last Easter I hosted a brunch featuring baked French toast and it was delicious and so easy. This Dutch baby might not serve such a large group of people, but it's an easy breakfast for a table of a few guests. The prep is quick and easy, the results are impressive and delicious, and it's novel to many people as well. Ground cardamom is used to flavor the batter along with vanilla. The coconut cream is whipped until it's light and airy, sweetened with powdered sugar and vanilla. Topped with the slightly tart yet sweet blackberries, it makes a nice and easy breakfast for two hungry people.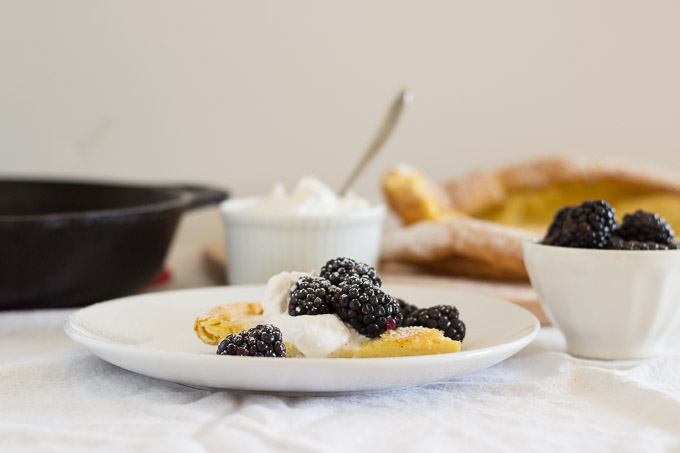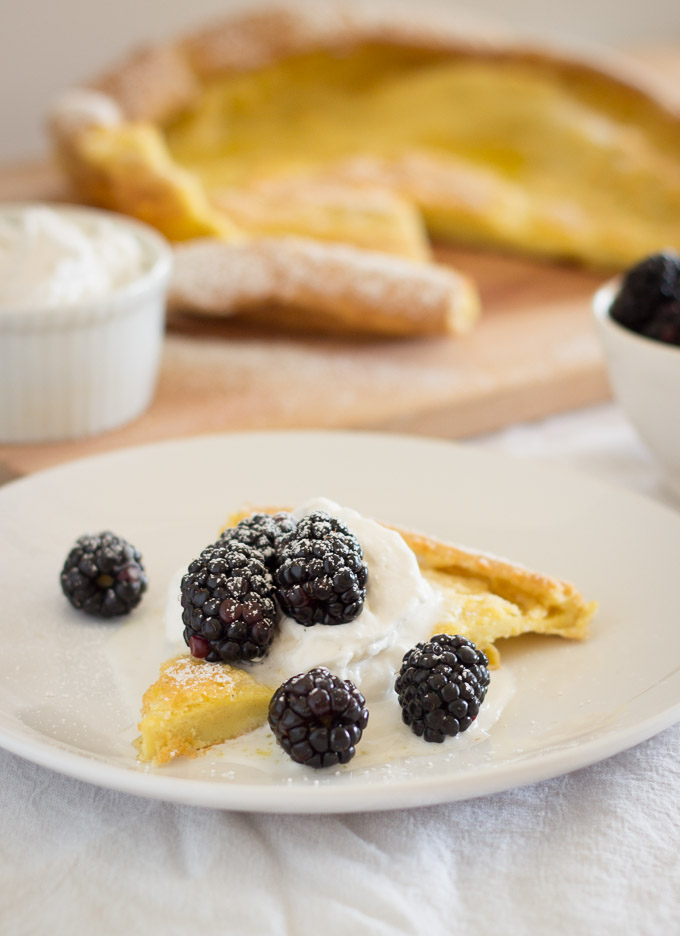 Cardamom Dutch Baby with Whipped Coconut Cream and Blackberries
Ingredients
3 tablespoons of butter
4 eggs
¾ cup of milk
1 teaspoon of vanilla extract
¾ cup of flour
½ teaspoon of salt
½ teaspoon of ground cardamom
1 can of coconut cream of full fat coconut milk kept in the fridge overnight
⅓-1/2 cup of powdered sugar, plus extra for dusting
½ teaspoon of vanilla extract
1 pint of blackberries
Instructions
Heat the oven to 400 degrees and put a 10 inch cast iron skillet in the oven on the middle rack to heat up.
Use a blender to mix the eggs, milks, vanilla, flour, salt and cardamom for about 30 seconds on high to make a smooth, runny batter. If mixing by hand, whisk the eggs, milk and vanilla together until smooth and add the flour, salt and cardamom in slowly. Whisk vigorously until the batter is smooth and has no lumps.
Take the skillet out of the oven and put in the butter. Put the skillet back in the oven until the butter is melted and very hot (about five minutes).
Take out skillet and pour in the batter evenly. Bake for about 25 minutes until puffy and golden (do not open the oven or it may deflate).
Meanwhile, open the can of coconut cream and pour out the coconut water, add the powdered sugar and vanilla extract and whip on high until fluffy and light.
Slide the pancake onto a cutting board, sprinkle the powdered sugar onto the pancake and cut into wedges.
Top with the whipped coconut cream and blackberries.
Notes
Equipment Used:
10 inch cast iron skillet
hand mixer or stand mixer
0