When I attended Fire, Flour and Fork a few weekends ago, I discovered many new food products in their tasting tent. One of my favorite things in that tent was grits from Woodson's Mill. These are not your instant grits sold in packets in the grocery store. These are stone-ground grits made from the best local corn they can find. Based in Lowesville, Virginia, Woodson's Mill is a historic business, a working mill since 1794! Their grits are minimally processed and all natural with no preservatives (you have to keep them in the fridge or freezer to keep them fresh longer). They're freshly ground and you can tell when you taste them. They cook up in 15 minutes and are the creamiest, tastiest, corniest grits I've ever had.  I was so surprised when they said they added just a touch of butter and cheese to the giant crockpot of grits they were serving us out of. They were so flavorful without any special add ins.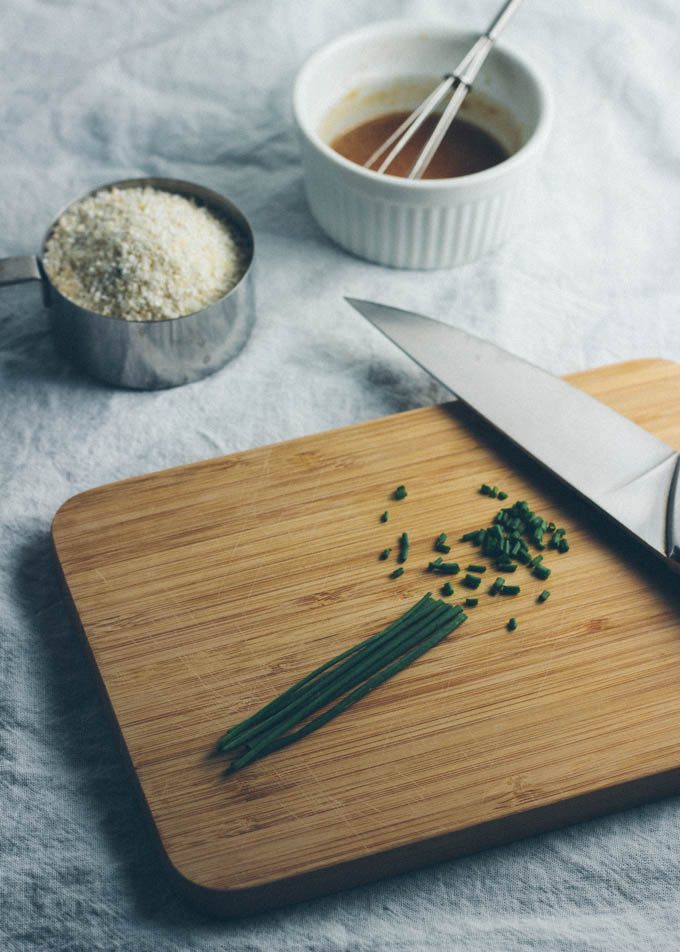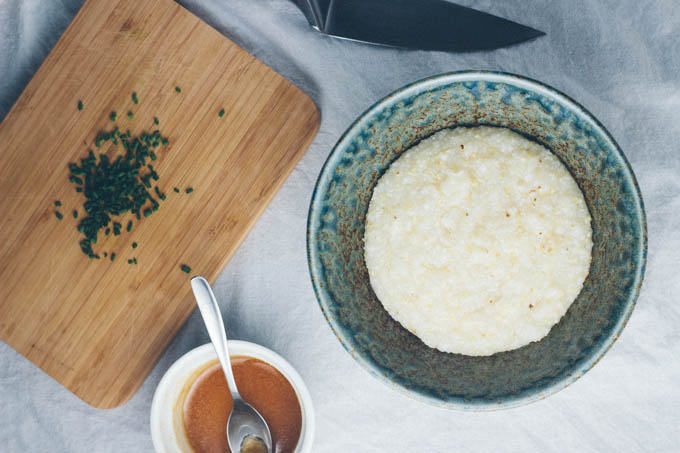 I bought a bag of their grits right then and there and have been eating them for breakfast with a just a smudge of butter, salt and pepper. If you'd like to try Woodson's grits out you can visit their site and order them or look up their list of retailers that carry their products.Recently though I thought of how I could dress them up a little in a unique way. I thought of miso and brown butter. When I first tasted them together I said, "whoa" out loud in my kitchen. The flavor is amazing- nutty, caramelized and addictive. It's like savory caramel, if that makes any sense at all.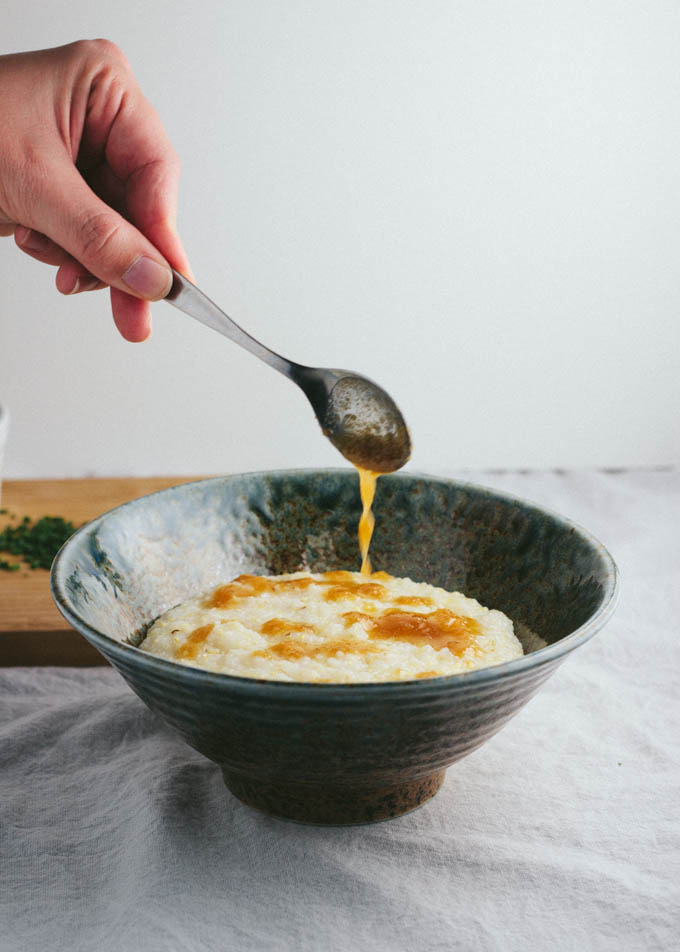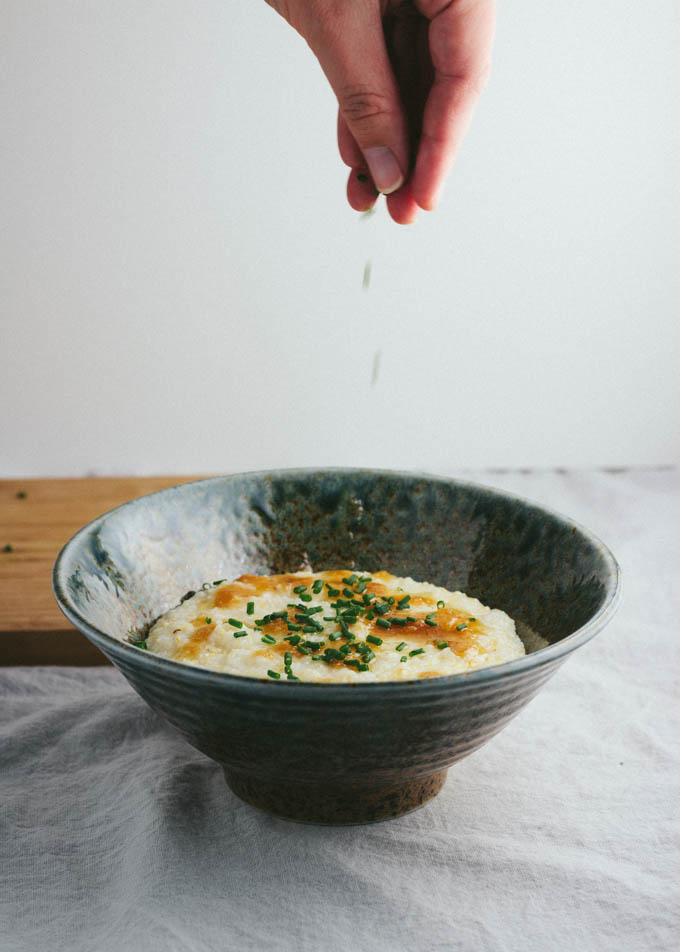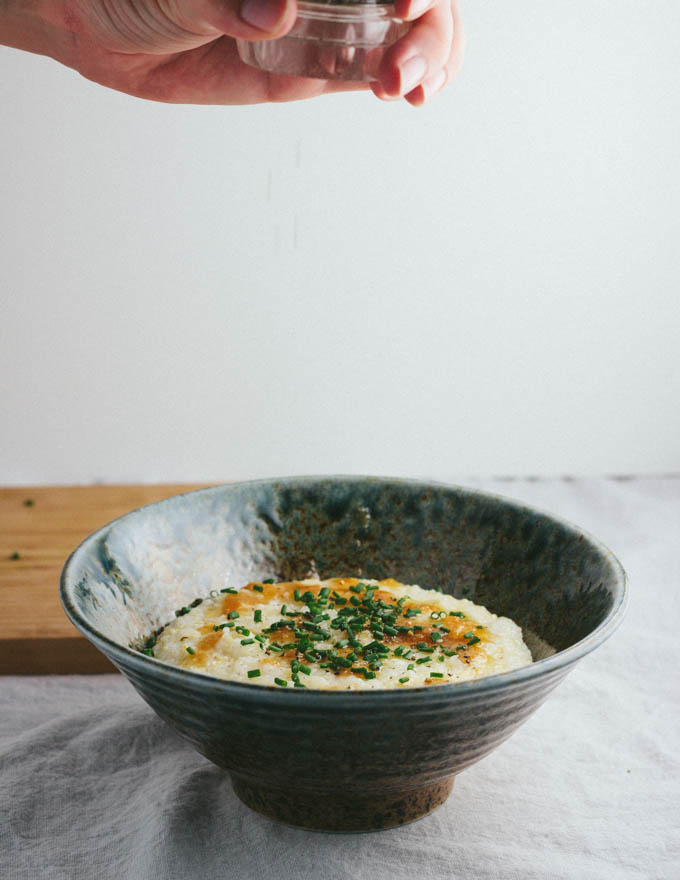 This recipe is just for one serving but you can easily double it or triple it to make a big pot for a crowd. For a large single serving I used a half cup of dry grits which made a little less than two cups of cooked grits. The miso brown butter is just a tablespoon of butter cooked until brown and nutty with white miso whisked in. Topped with freshly ground black pepper and chives it's a simple but flavorful dish.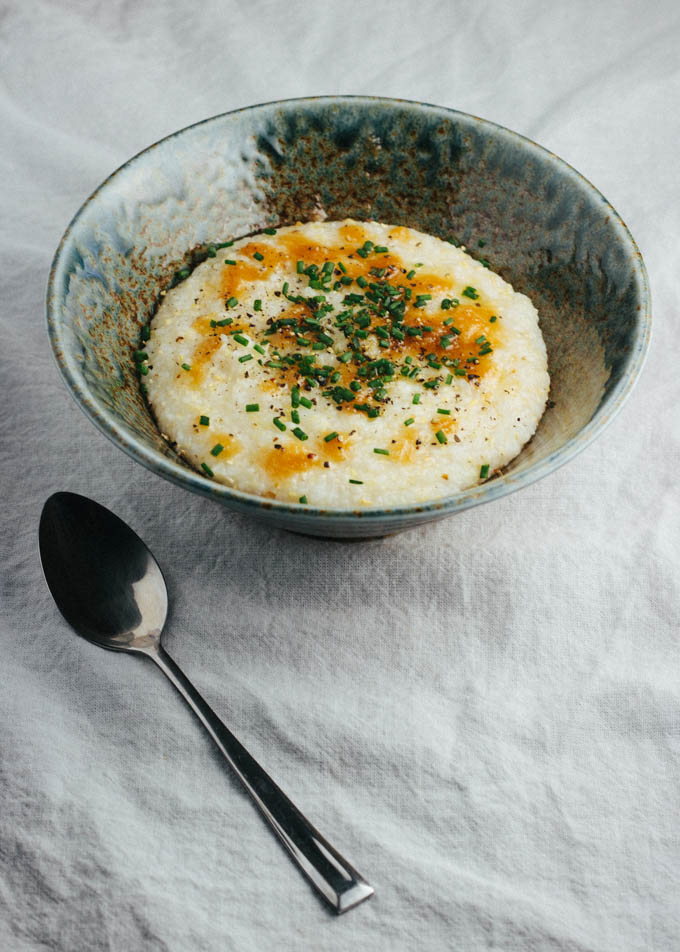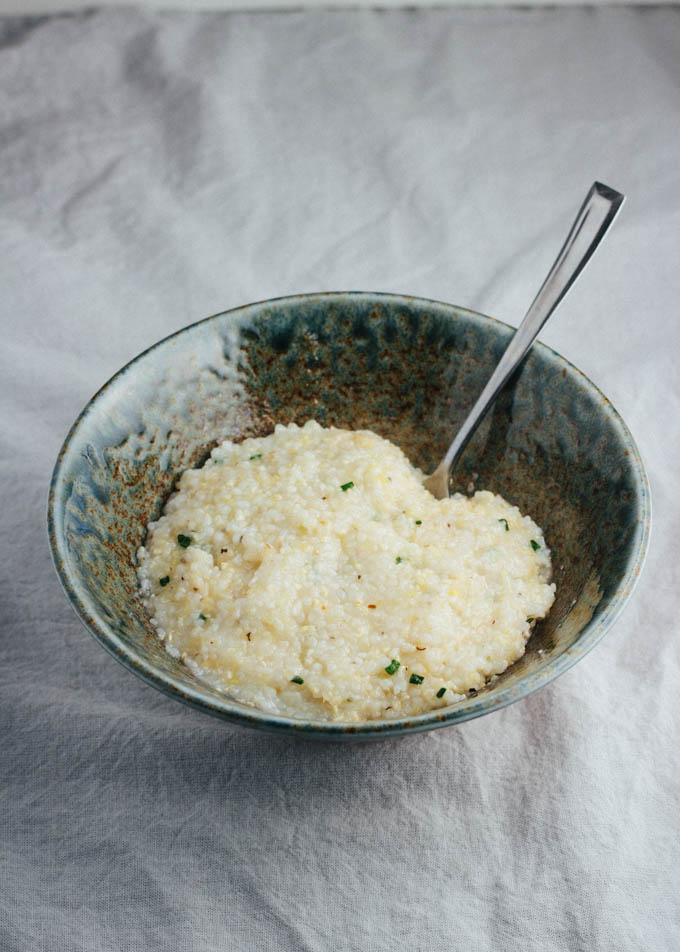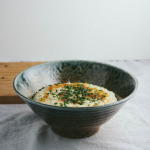 Miso Brown Butter Grits
Ingredients
1 1/2

cups

of water

large pinch of salt

1/2

cup

of grits

1

tablespoon

of unsalted butter

1

teaspoon

of white miso

freshly ground black pepper

1

tablespoon

of minced chives
Instructions
Bring water and salt to a boil. Whisk in the grits and lower the temperature to a low simmer and cover. Stir frequently and cook at a low simmer for about 15 minutes until fully cooked or cook according to package instructions.

While the grits are simmering, melt butter in a small saucepan or butter warmer over medium heat, swirling constantly until you seen brown bits at the bottom of the pan, about three or four minutes. Be careful not to let it burn!

Take the butter off the heat and whisk in miso paste until well combined.

Pour grits into a bowl, top with miso brown butter, a few grinds of black pepper and minced chives. Stir and enjoy.
0