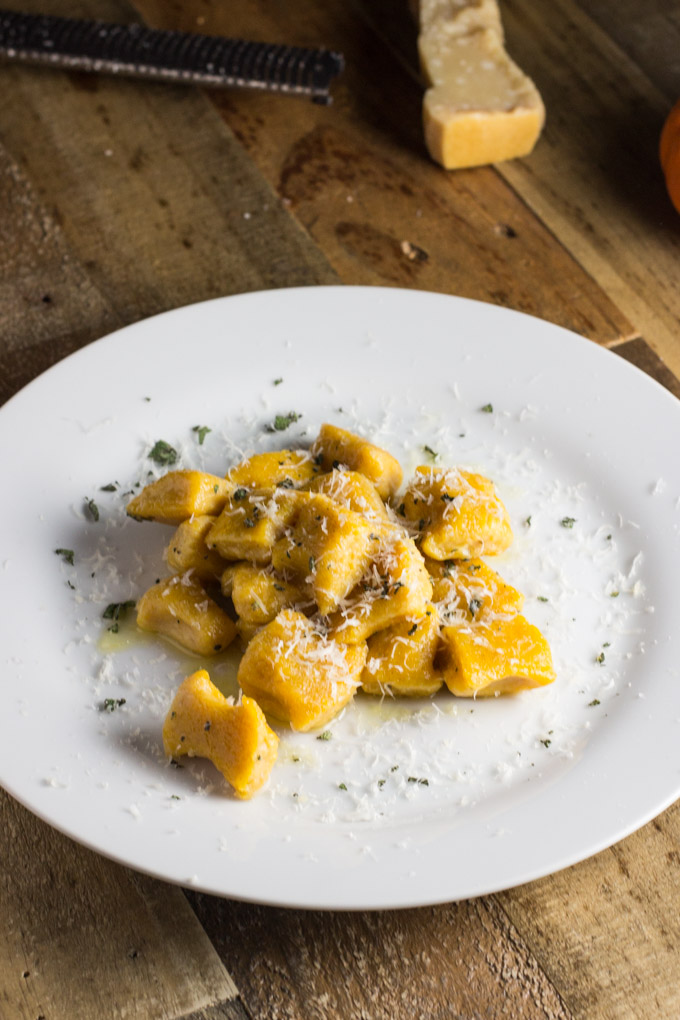 The last time I posted here was for a #drinkthesummer virtual party over two months ago. Since then summer has ended and we even had a cold snap this past weekend that had us bundled up in parkas and fighting the sniffles with copious amounts of hot tea. I originally intended to just take a bit of time off to move (I live in DC now!) and settle into my new life with my boyfriend, who just moved back home. However summer turned into fall, weekends became filled with plans with friends, community events, and exploring our new home. The blog got a bit away from me so when Sara from Cake Over Steak asked me to participate in a virtual pumpkin party to celebrate fall and all things pumpkin, I thought it a perfect opportunity to get back on track and share how much my new neighborhood and home have been inspiring.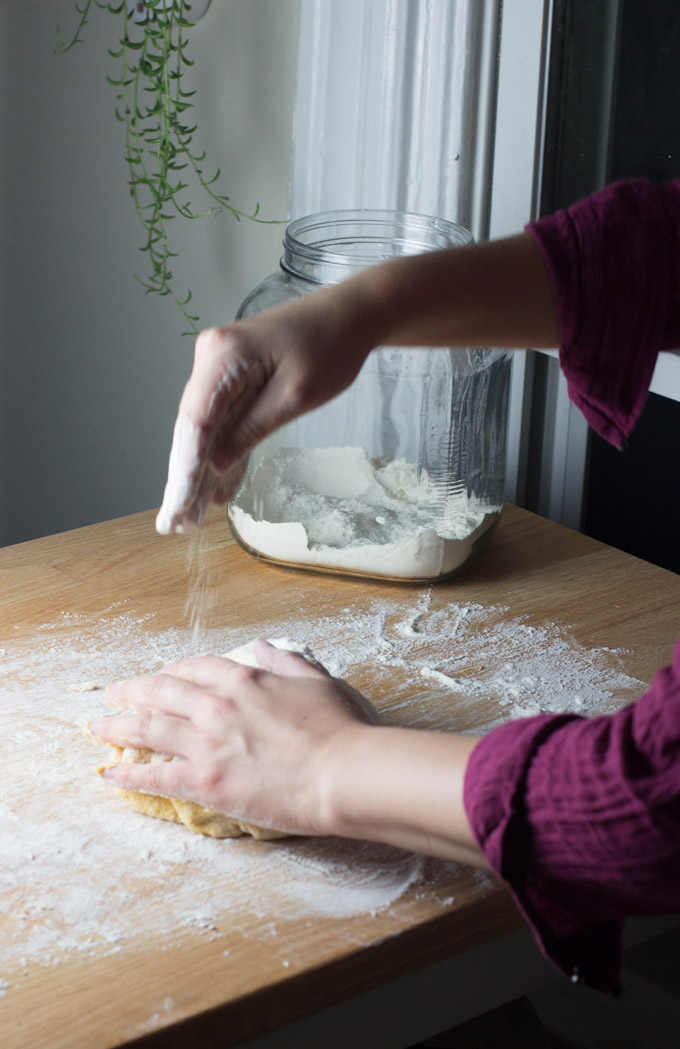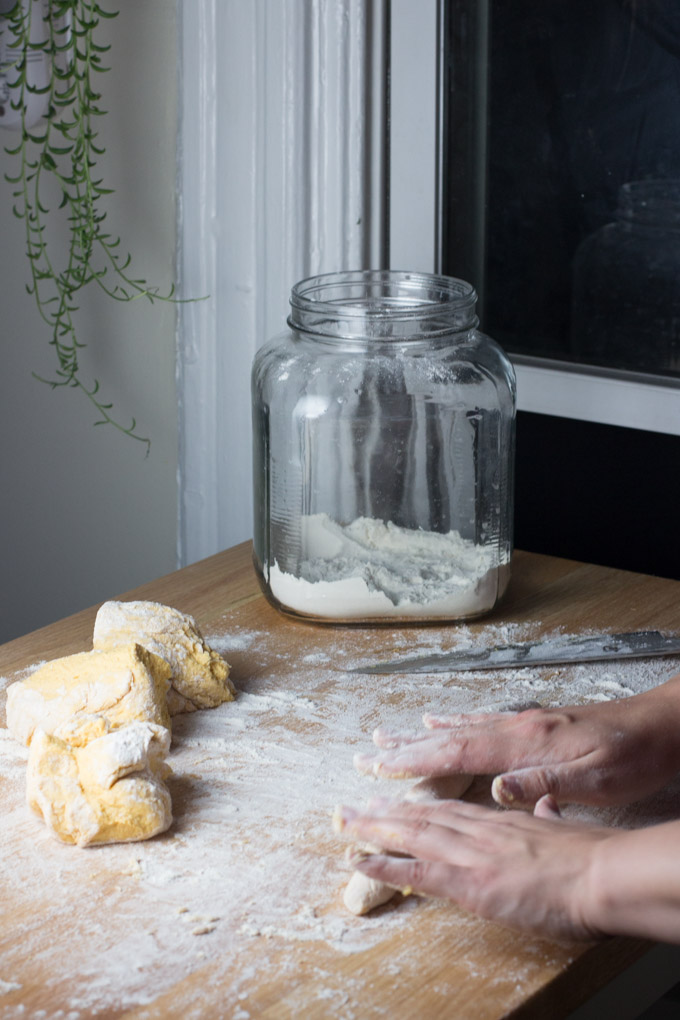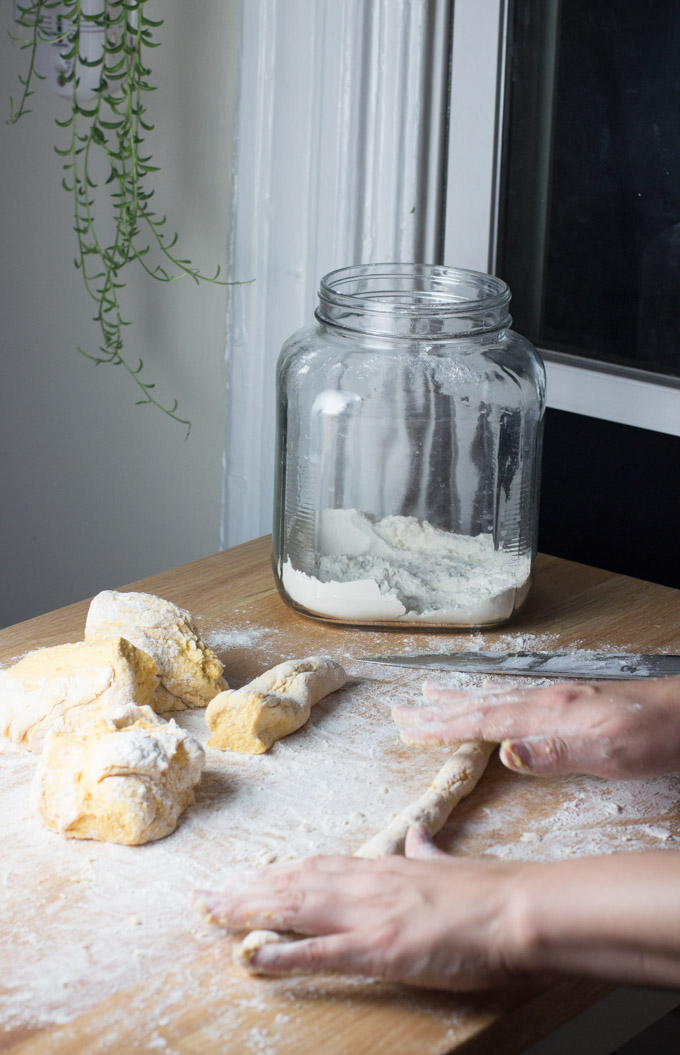 I now live in a little neighborhood in DC called Bloomingdale and I fell in love with it as soon as I took a walk through it one morning while apartment searching. The row houses with their distinct spires are the first thing I see when I look out my bedroom window in the morning, and we can walk a block to a few of our new favorite bars and restaurants with many more to look forward to in the near future. We have an urban farm a block away that serves our community and one block away in the other direction we have a secret park. It makes me so happy to live in a city again.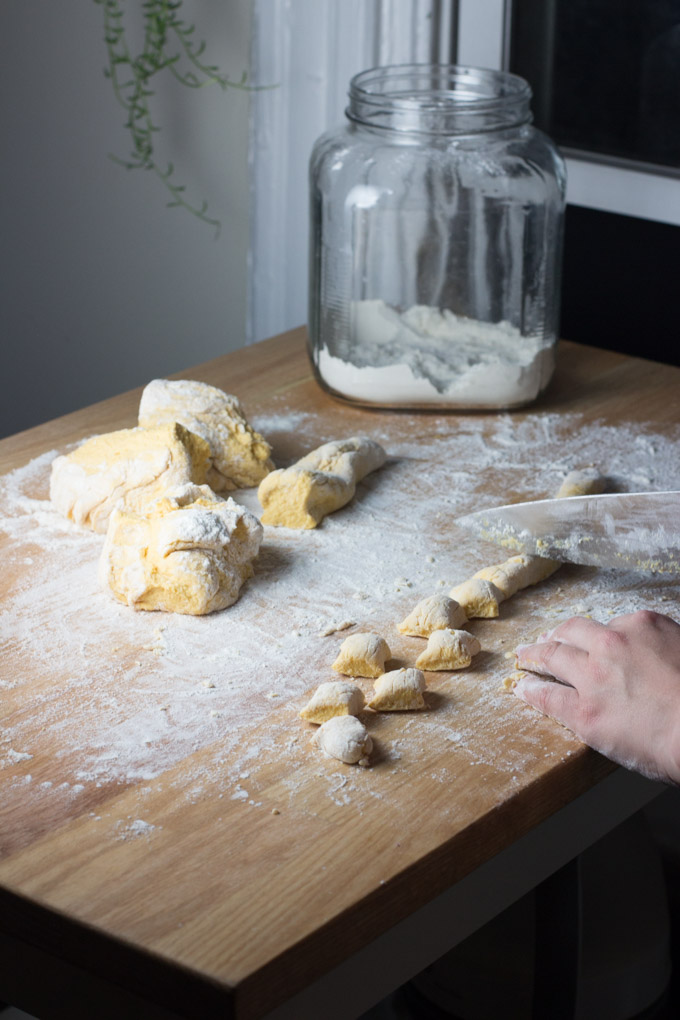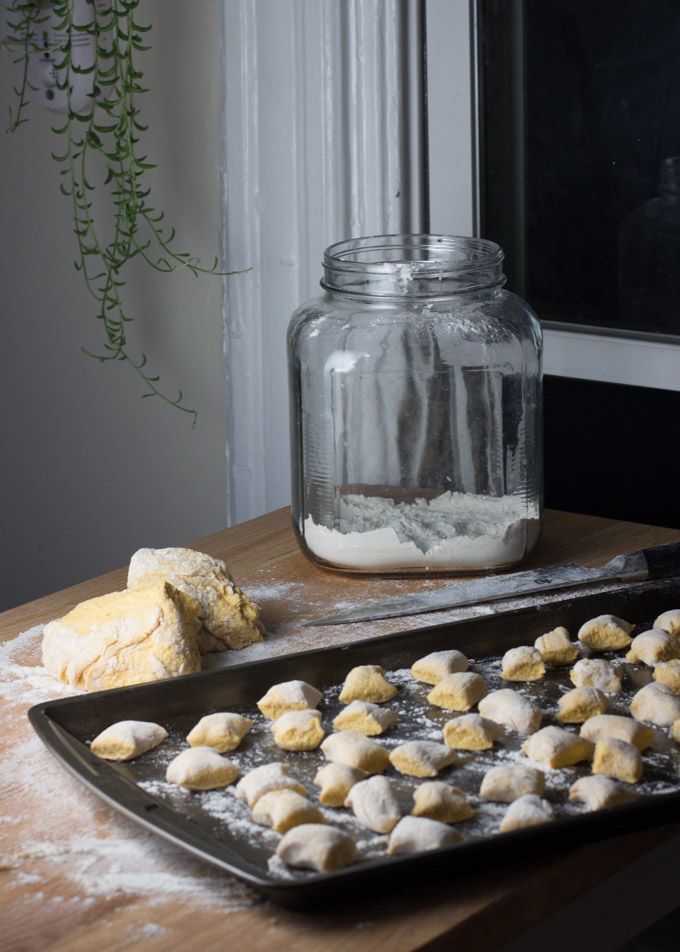 I chose to make these gnudi since I have enjoyed making these little ricotta dumplings over potato gnocchi lately. They take less time and effort (I'm lazy) and they always turn out unbelievably light and tender. You can serve them with the brown butter as I have here, or opt for a pesto or tomato based sauce.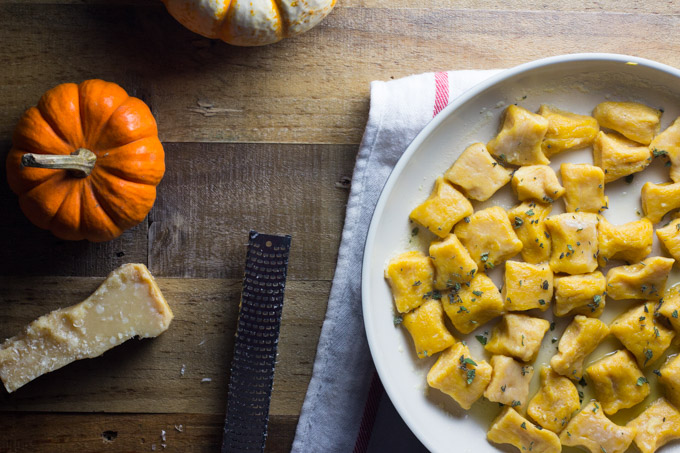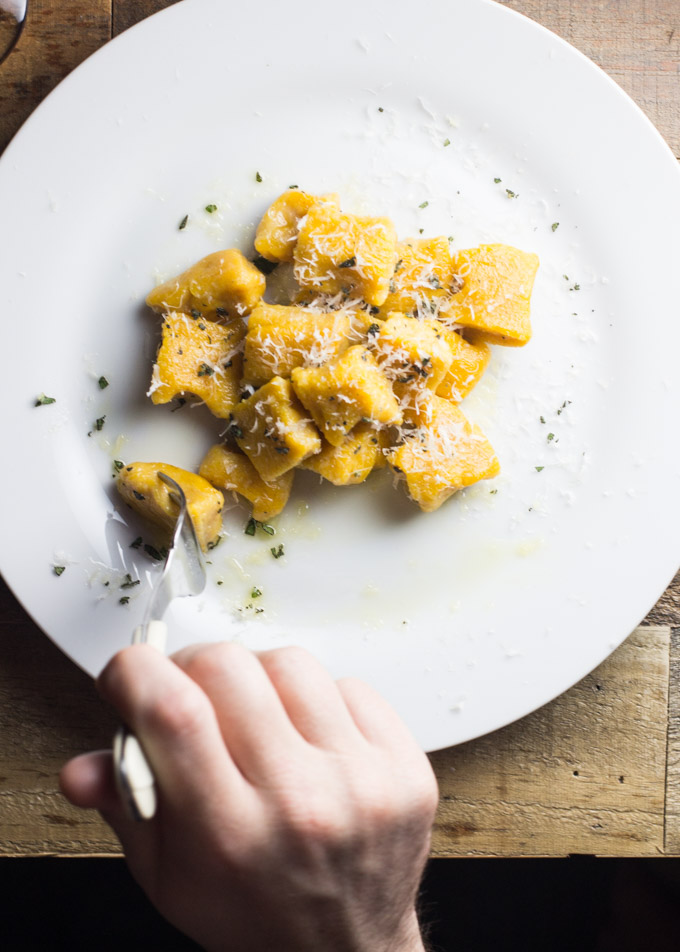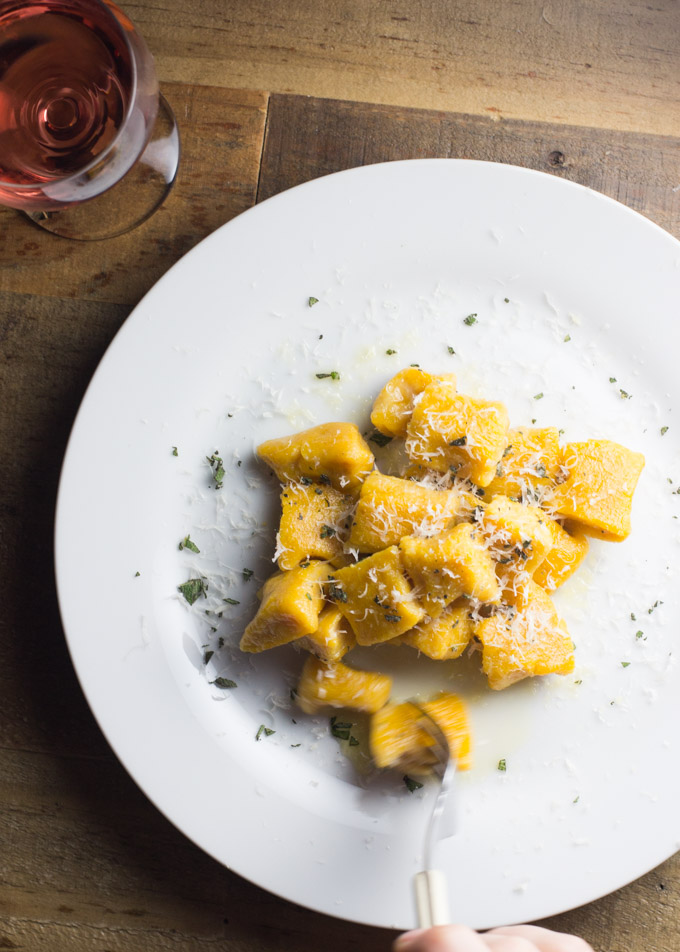 Pumpkin Ricotta Gnudi
Ingredients
8 oz drained ricotta
1 cup canned pumpkin puree
1 oz grated parmesan
1 egg
1 teaspoon salt
dash of freshly grated nutmeg
6 oz flour
extra flour for dusting and rolling out dough
For Sauce
6 tablespoons of unsalted butter
3 tablespoons of chopped sage
Parmesan and black pepper for serving
Instructions
Bring a large stockpot of salted water to boil.
Mix together the ricotta, pumpkin puree, parmesan, egg, salt and nutmeg until smooth.
Add the flour and stir until well incorporated.
Dust a work surface with flour and add the dough. Cut into four equal pieces.
Roll one of the pieces into a cylinder and cut in half. Roll out that half into an inch thick long log.
Cut into about 10 pieces, dust with more flour and put on a baking sheet.
Repeat with other half of the dough.
Repeat the process with other pieces of dough.
Add gnudi to pot of water and stir gently to prevent sticking. Allow to cook for a few minutes until they float to the surface. Drain well.
In a pan over medium heat, add butter and melt until nutty and brown. Add chopped sage and turn off heat. Pour over gnudi and top with parmesan and freshly ground black pepper.
Notes
I learned about how to quickly drain ricotta cheese thanks to
Serious Eats
4