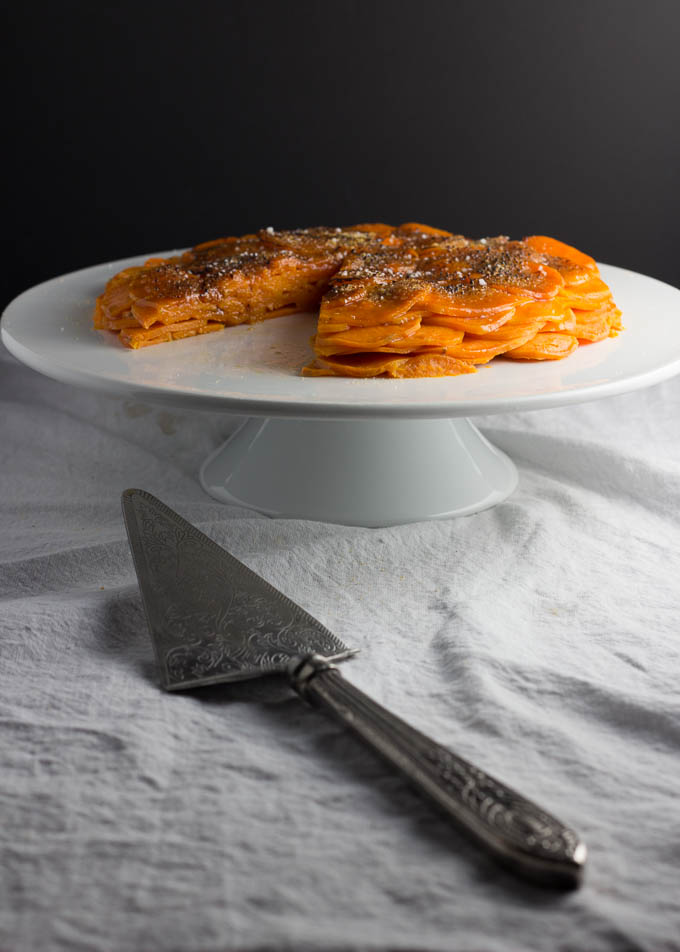 I think that Thanksgiving is the holiday I missed the most while I was living overseas. It's my favorite holiday, at least in terms of food. My family takes Thanksgiving pretty seriously, and with a crowd of 15-20 (mostly Korean), it's a big production to make sure we have everything ready by the time dinner rolls around. This year I attempted to bring a bit more order to this meal by starting a Google doc to share with my parents and brother, but unfortunately my parents don't really use gmail and dishes haven't been firmly decided upon, despite being a few days away from the big day.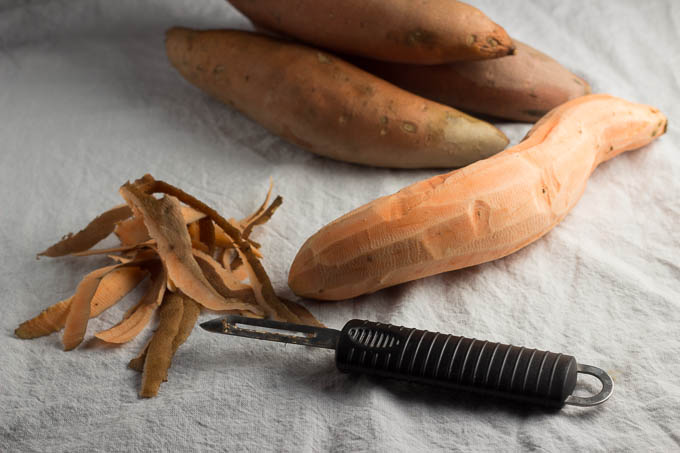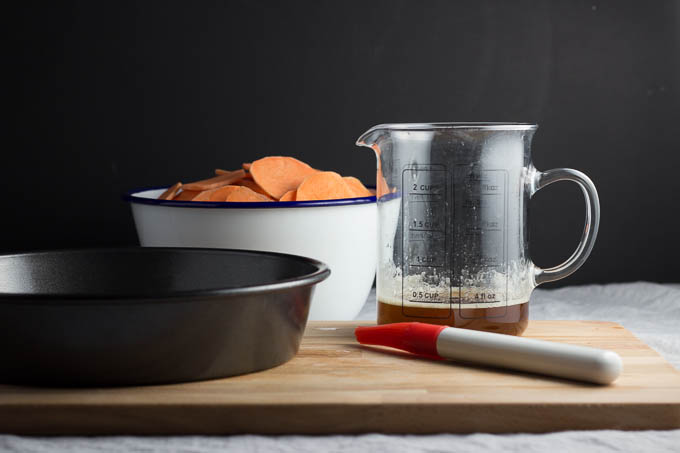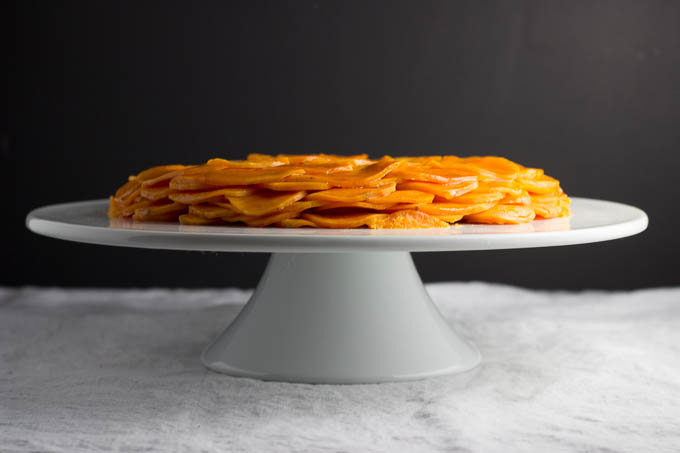 There of course can be good things that come out of being half a world away from your family on such a big holiday. I enjoyed several epic Friendsgivings that involved artfully shoving several chickens into an oversized toaster oven and hoping for the best. Side dishes were made on the stovetop, mac and cheese made crunchy by sprinkling toasted buttered panko breadcrumbs all over the top of it, and green bean casserole was heated up in a saucepan and topped with fried onions from a can, thoughtfully sent in a care package from home. This year I get to spend Thanksgiving with my family and the day after with my best friend's family but I was also lucky enough to be included in a virtual Friendsgiving by the lovely Renee over at Will Frolic For Food and J.Q. Dickinson Salt-Works.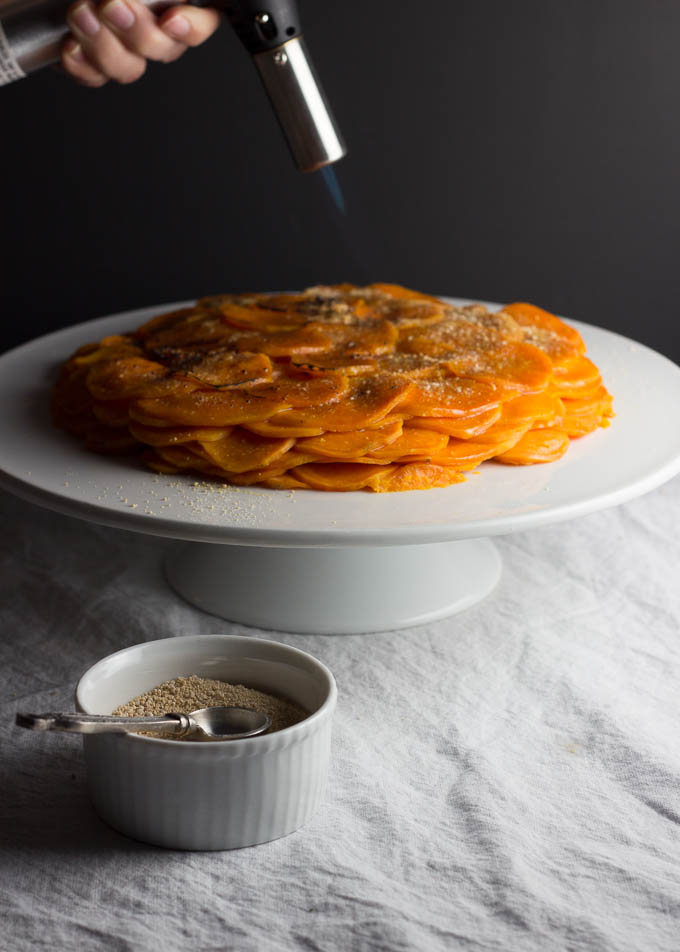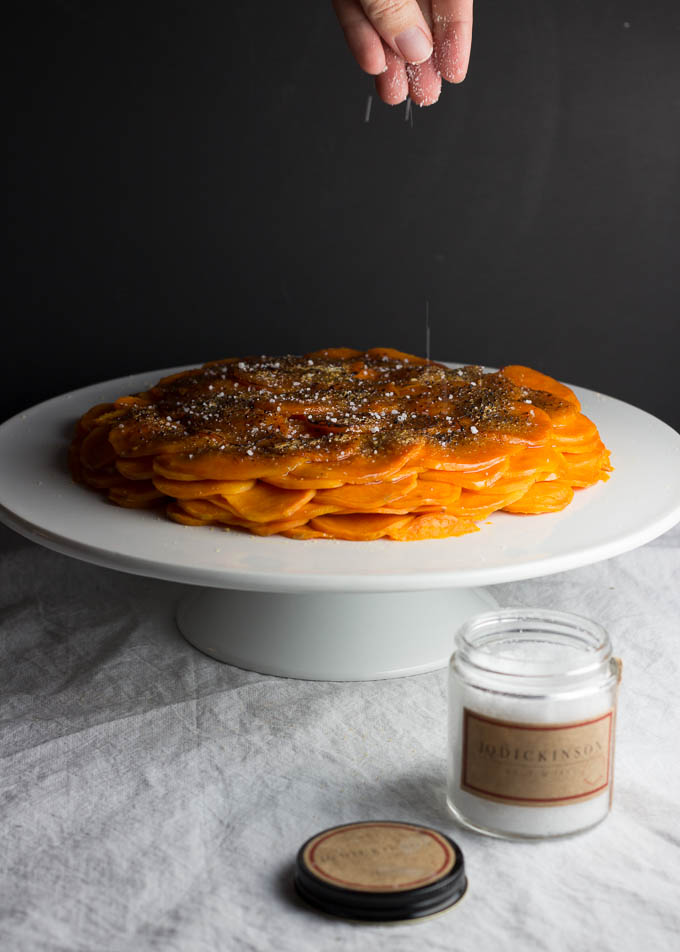 This salt is made in West Virginia by a family that's been in the business for 7 generations, sourcing the salt from briny water tapped from an ancient sea beneath the Appalachian Mountains. This salt is quite extraordinary. I discovered it this past summer when I visited Heritage Hollows Farms' store during the Rappahannock County Farm Tour and I had to buy it once I heard the story behind it. The flavor is clean and distinct, the texture has a unique crunch to it and a little sprinkle of this on almost anything will enhance the flavor of what you're eating. So when Renee invited me to this Friendsgiving, I was so excited to share this salt with you. Lucky for us J.Q. Dickinson Salt-Works has been generous enough to provide a lovely jar of salt to giveaway to one lucky person! Please enter below for a chance to win this wonderful product.
a Rafflecopter giveaway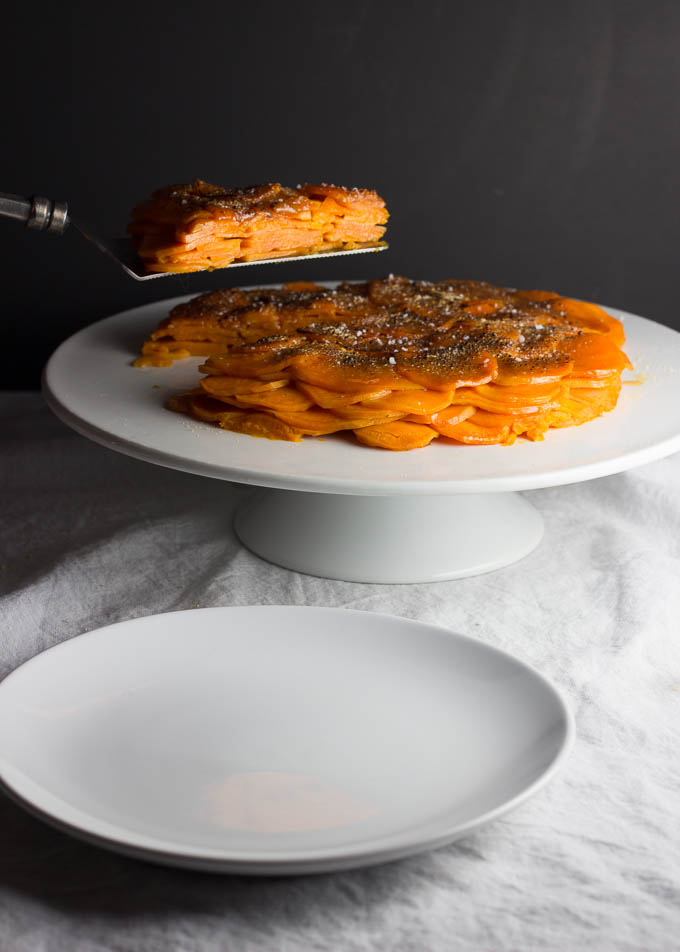 For this Friendsgiving I created something so simple, it's silly. It has four ingredients, but it does take some care. You must slice sweet potatoes thinly, layer it in a pan and brush with brown butter, press all the slices down with a heavy pan and bake until tender. Flip over the whole thing onto a serving platter and sprinkle sugar all over the top of it. I used maple sugar because I love the flavor. Use a blowtorch to brûlée the top of it or stick it under a broiler. Sprinkle the salt over top and enjoy the salted caramelized flavor of the crunchy top over tender, sweet potatoes. You can check out the rest of the dishes brought to our virtual Friendsgiving table by the talented people who participated below:
Butternut Squash & Kale Gratin via Mabel and the Wooden Spoon 
Apple, Herb, and "Sausage" Stuffing via Earthy Feast
Roasted Squash and Pepita Pumpkin Dip via Salt and Wind
Vegetarian Quinoa Lasagna via The Pancake Princess 
Thanksgiving (from scratch) Menu Roundup via The Faux Martha 
Salted Rosemary Einkorn Breadsticks via Food Loves Writing 
Chipotle Mashed Potatoes with Greens (Vegan, Gluten Free) via Jessica Murnane (formerly One Part Plant)
Gluten-Free Herb Stuffing with Brussels Sprouts and Cranberries via Heartbeet Kitchen
Autumn Squash Confetti Pasta Salad with Almond Butter Dressing (Gluten Free, Vegan) via Will Frolic for Food
Classic Creamy Mushroom Soup (Vegan, Gluten Free) via Will Frolic For Food
Salted Pecan and Bourbon Brownies via London Bakes
The "Salty Pilgrim" Ice Cream Sundae via Glazed and Confused 
Salted Caramel and Pumpkin Flan via Hummingbird High 
Cinnamon Icecream with Applewood Smoked Salted Cider Caramel via Bread and Barrow 
Salted Chocolate +Butternut Squash Bars via Dolly and Oatmeal
Mini Salted Chocolate Pumpkin Cheesecakes with Oat Shortbread Crust (Gluten Free) via Will Frolic for Food
Salted Chocolate Cream Pie via Dunk & Crumble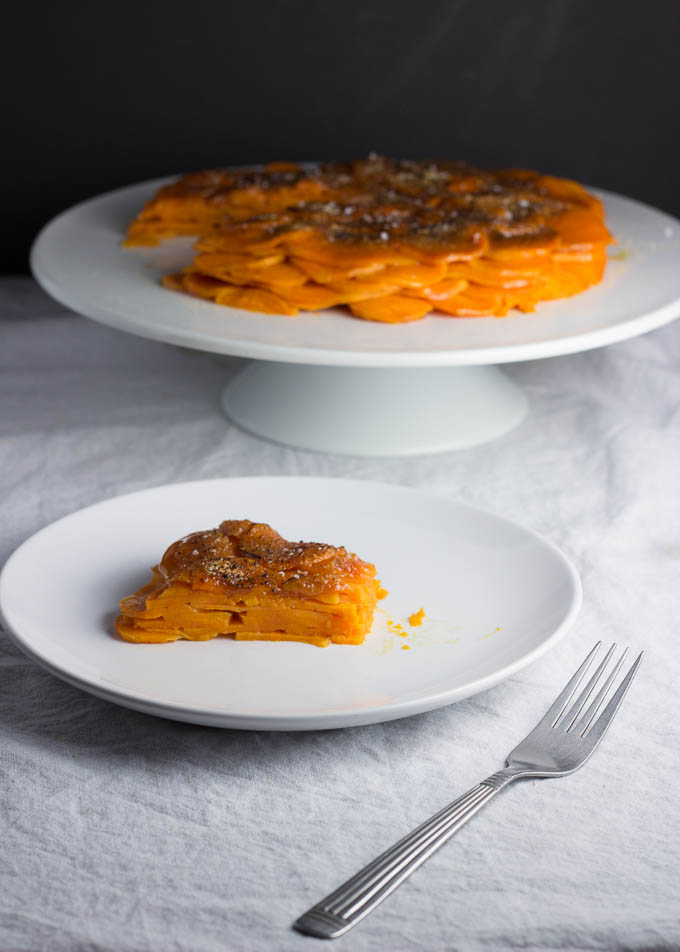 Salted Maple Sweet Potato Anna
Ingredients
2 pounds of sweet potatoes, peeled and trimmed
¼ pound of unsalted butter
¼ cup of maple sugar
1 teaspoon of J.Q. Dickinson salt
Instructions
Heat the oven to 450 degrees.
Melt the butter over medium heat and swirl around the pan until the foam subsides and it browns and smells nutty. Be careful not to burn. Set aside off the heat.
Slice the potatoes with a mandolin or very sharp knife to be ⅛th of an inch thick.
Brush the bottom and sides of an 8 inch round pan with the browned butter.
Starting from the center, arrange the slices of sweet potato in a circular pattern with the slices slightly overlapping into one layer covering the bottom of the pan. Brush the slices with butter evenly.
Repeat with layers of sweet potato and butter until you run out of slices. Brush with remaining butter (it's okay to have some butter leftover).
Cover the potatoes with foil and press down evenly to compact the slices. Set a heavy ovenproof pan on top of the foil and put the pans into the oven for 30-40 minutes or until the potato is soft.
Take out of the oven, remove the top pan and the foil. Use a spatula or knife to run along the side of the pan to loosen. Set a serving plate on top of the pan and carefully flip over the pan.
Sprinkle the maple sugar evenly over the top of the sweet potatoes. Use a kitchen torch to brûlée the sugar (or flip sweet potatoes onto a sheet pan and broil under high heat to melt the sugar).
Let the sugar cool and sprinkle the salt generously over sweet potato Anna.
0