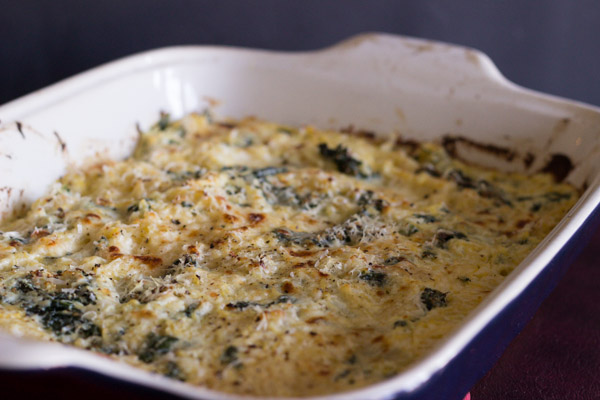 I was really excited about it becoming cooler last weekend but the weather suddenly became incredibly hot for October, peaking in the upper 80s. Today as I prepared this casserole, between the sautéing and the broiler on high I was sweating profusely and wiping my brow between photo set ups. Although fall hasn't really arrived yet it doesn't mean that one can't enjoy some fall produce. Perhaps I can will autumn to start by eating a lot of squash…
This dish has been on regular rotation at dinner time because it's simple to make and delicious. The creamy ricotta and sour cream combined together make it seem rich but it's balanced out by the healthy strands of spaghetti squash and the sautéd kale. A crust of salty pecorino romano lends nice flavor and texture to finish the dish.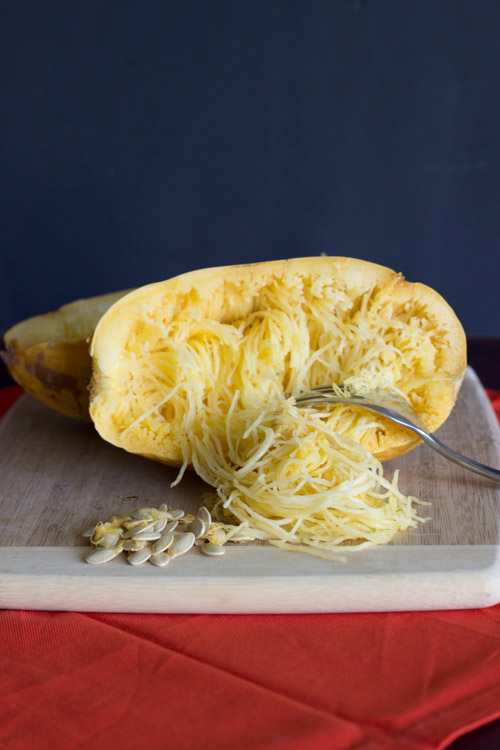 Some cut the squash in half and roast it in the oven but I prefer to poke a few holes in the squash with a knife and roast it whole. I always get anxious cutting a winter squash, so I prefer to roast it first to make it easier to handle. After roasting the squash, remove the seeds and use a fork to separate the strands of squash. A quick sauté of the onion and kale, a quick stir with the squash and ricotta cheese will be all the active prep needed for the casserole. Top with the cheese, bake for 20 minutes and broil to brown the cheese.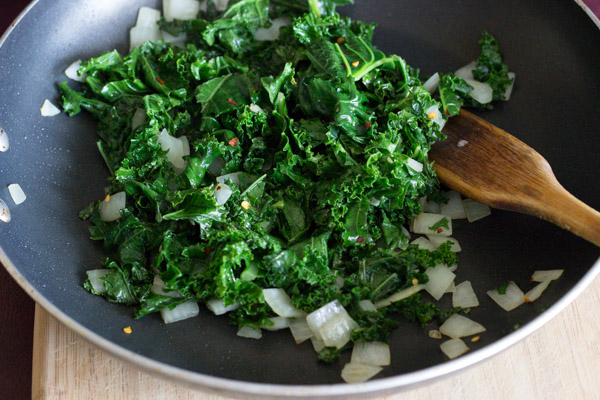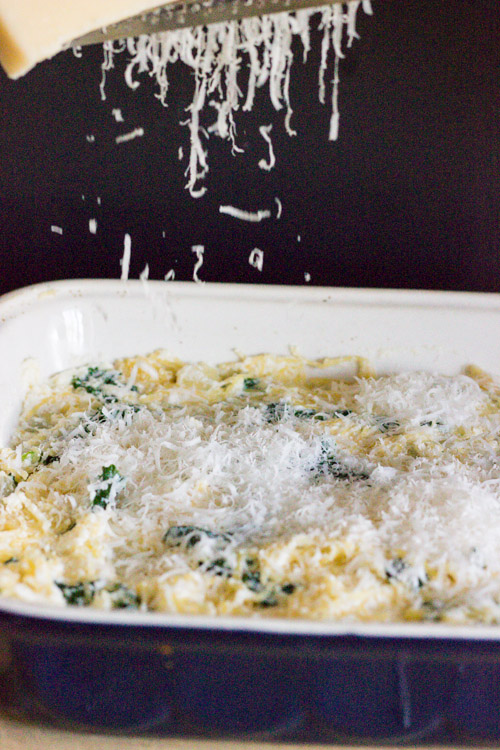 This dish is perfect as a side for a pot roast or a some grilled chicken, but I also like to take leftovers to work as a main dish with a side salad. It reheats beautifully and could also be pre-assembled ahead of time if you are planning to have people over with several dishes to prepare.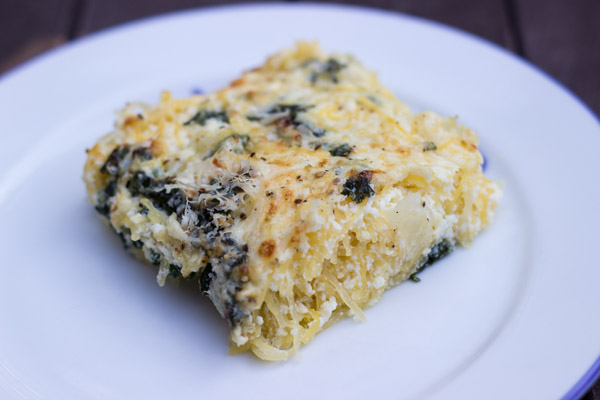 Spaghetti Squash and Kale Casserole
Ingredients
1 medium sized spaghetti squash between 2-3 pounds
2 teaspoons of olive oil
5 cups of chopped kale, stems removed
½ cup of diced onion
2 teaspoons of garlic, minced
⅛ cup of white wine
1 teaspoon of red chili flakes
1 teaspoon of fresh thyme
1 15 ounce container of part-skim ricotta cheese
½ cup sour cream
1 egg
1 teaspoon of salt
½ teaspoon of black pepper
½-3/4 cup of grated pecorino romano
Instructions
Poke several holes into the spaghetti squash and roast for 45-50 minutes in an oven at 375 degrees.
When cool enough to handle, cut the squash in half and scoop out the seeds.
Mix together the ricotta cheese, sour cream, egg, salt and pepper in a large mixing bowl.
Use a fork and separate the strands of the squash and add to the cheese mixture.
Heat the olive oil over medium heat and sauté the onion and garlic for a few minutes. Add the red pepper flakes, thyme and kale.
Pour in the white wine and cook until the wine is evaporated and the kale has wilted a bit and turned bright green. Add to the mixing bowl.
Put into a 9 by 13 inch casserole dish and spread evenly.
Top with grated cheese and cook for 20 minutes. Turn up the oven to a high broil and cook for 5 minutes or until the cheese is golden.
0