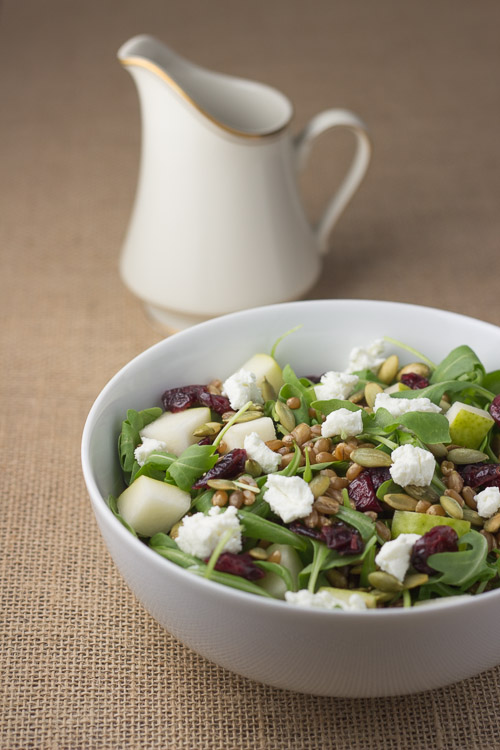 It's been a few weeks since I posted anything and in my last post I complained about the unseasonably hot weather. After that we had a week of dreary, rainy weather and ever since it's been very, very cold. I love colder weather so I'm fully embracing the change in seasons by eating… salad! I know it seems a bit odd to crave salad in this kind of weather, but you need to understand that when you live for an extended amount of time overseas, there are certain things that you develop insatiable cravings for. And for me, it was arugula and goat cheese. I saw arugula in restaurants and maybe once in a while in a grocery store, but it wasn't easy to find. I remember coming back to the States and being completely overwhelmed by all the salad green choices in the grocery store. It's something you really take for granted until you can't have it anymore. As for goat cheese, I would get it gifted to me whenever anyone visited me from the US (along with an assortment of all sorts of delicious cheese that is hard to find in Korea or very expensive there).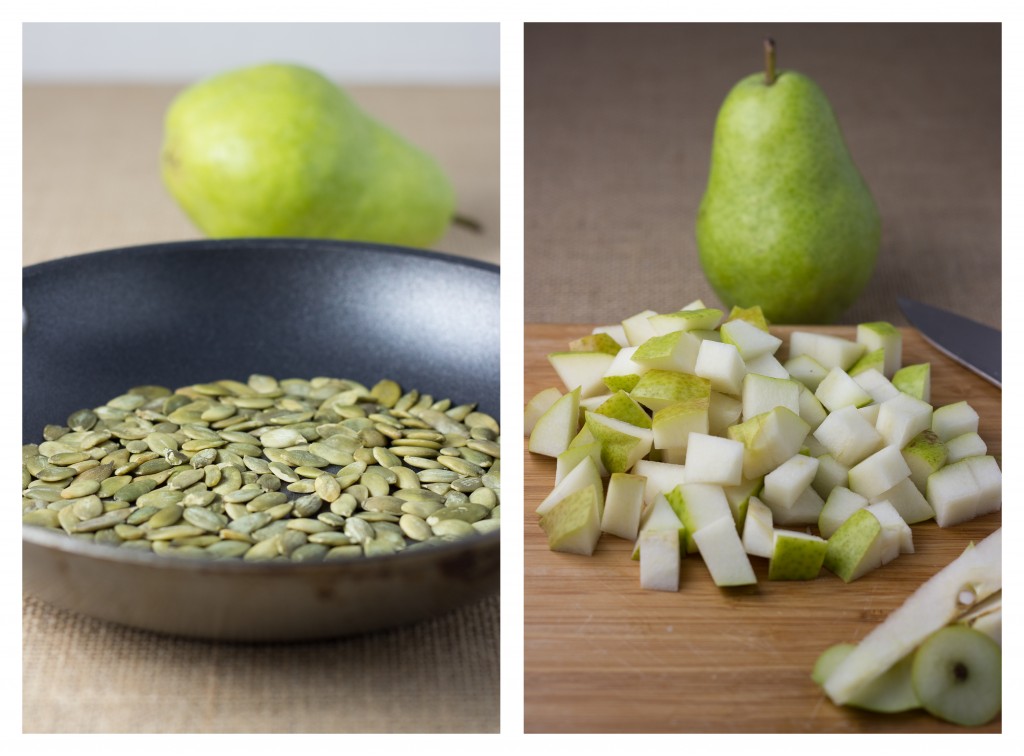 I really wanted to make a salad that combined the chewy texture and nutty flavor of wheat berries with the peppery flavor of arugula. The diced pear adds a sweet crunch, along with the pumpkin seeds, and I like how the sweet and tart dried cranberries play off the tanginess of the goat cheese. No salad is complete without a nice vinaigrette and with them being so easy to whisk together, there's no excuse to buy anything in a bottle. But wait- what is a wheat berry? It's the origin of whole wheat flour. It's the whole grain, so it's very nutritious and good for you. It takes a bit of time to cook, but the end result is worth it. Along with barley, I like to make a big batch and I'll throw it into salads or use it as the base for a "rice bowl" to take to work for lunch during the week. Give wheat berries a try in your next salad!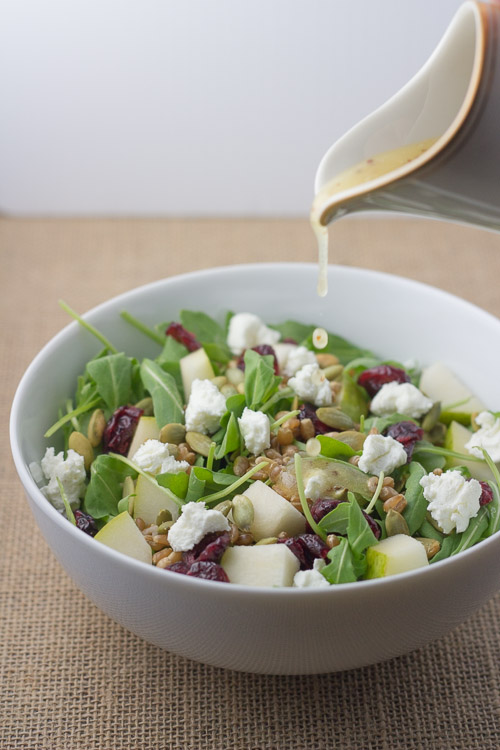 Toasted Wheatberry and Arugula Salad with Champagne Vinaigrette
Ingredients
For the salad
1 cup of uncooked wheat berries (also called hard red winter wheat)
3 large handfuls of arugula
1 Bartlett pear, diced
½ cup of fresh goat cheese, crumbled
¼ cup of dried cranberries
¼ cup of raw pumpkin seeds
For the vinaigrette
1 teaspoon of minced garlic
1 teaspoon of dijon mustard
½ teaspoon of salt
1 tablespoon of honey
3 tablespoon of champagne vinegar
½ cup of extra virgin olive oil
freshly ground black pepper for serving (optional)
Instructions
Put the wheat berries in a dry pan over medium high heat for about five minutes, constantly stirring until they get slightly toasted and brown and they smell nutty.
Add three cups of water and a large pinch of salt. Bring to a boil then lower the heat until the water is at a gentle simmer and cover with a lid. After about 20-30 minutes check for doneness. They should be be tender yet chewy. If they're not done, keep them cooking at a simmer and check them for doneness every five minutes.
When the wheat berries are done cooking, drain and let cool.
Put the pumpkin seeds in a dry pan and toast on low heat, stirring constantly and watching carefully so that they don't burn. They should be lightly browned and smell nutty.
Combine all the ingredients for the salad.
Whisk together all the ingredients for the vinaigrette together minus the olive oil. Slowly pour in the olive oil in a steady stream while whisking vigorously.
Toss together the salad with the vinaigrette and serve with a sprinkle of freshly ground black pepper on top.
0