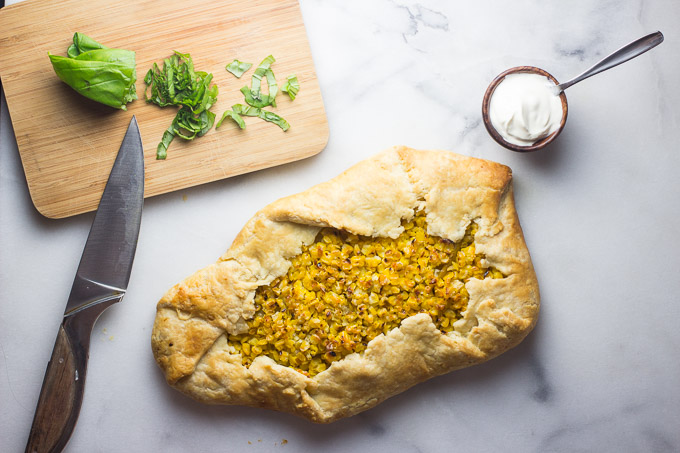 It's August and I keep seeing mentions of summer being over but the 90+ degree days tell me otherwise. The evenings hint of an impending change. While I still get painful mosquito bites whenever I dare to bare my legs, I can feel a coolness in the air at night. I try to ignore the signs for pumpkin spice treats and the back to school signs, but I know that many changes are coming quickly.
Since I've last posted, my birthday quietly happened, the second anniversary of starting this blog passed, and I signed a new lease on a place in the Bloomingdale neighborhood of DC. I will finally be a city resident once again! The best part of all this is that my boyfriend Dave will be joining me after a year and a half of living apart.
He came down here after his job ended on a mission for us to find a place to call home. We looked in different neighborhoods around the city but didn't find anything that felt right for us. We looked at a place in LeDroit Park the second day of our search and it wasn't what we wanted but we happened upon the little farmers market in Bloomingdale in front of Big Bear Cafe. We walked around a bit and fell in love with the area.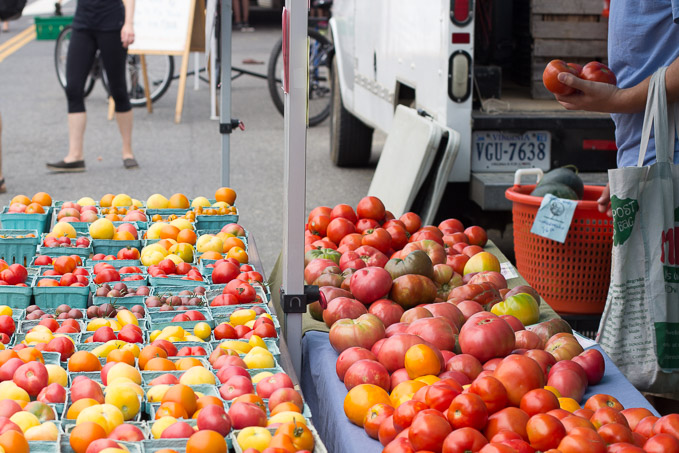 "I want a place with some kind of enclosed outdoor space inside the block just for us. Someplace no one else can get to or see," he said as we walked down streets lined with century old rowhouses.
Two days later while I was at work he sent me a listing for a row house there with a "nice deck" and lots of other vague descriptions. The pictures posted weren't very promising and I decided to go forward with the same attitude I had tried to keep throughout the whole process, stay optimistic but keep very low expectations. We emailed the contact and went the next day to see the place in the evening. Like other places I had gone to see in DC about six other people showed up as well.
We walked in and it was everything we were looking for. A nice open layout to host friends, a kitchen with plenty of space for me to make a mess in, someplace with beautiful light for photography (a bay window with southern exposure!!!), and just what Dave wanted- a nice cozy outdoor space for us to enjoy inside the block.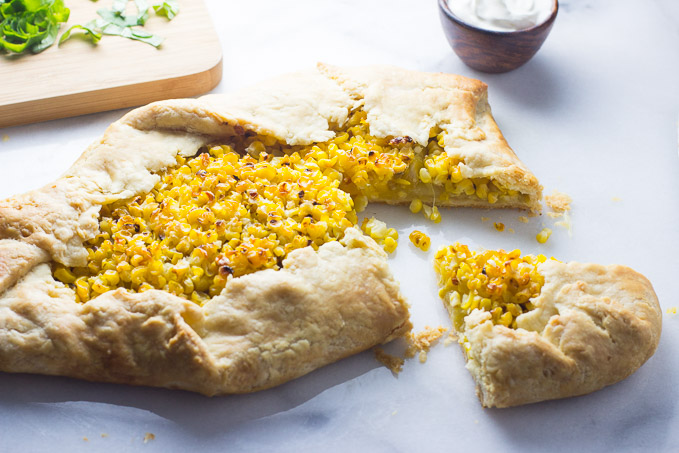 Next month we will officially be DC residents and I am SO excited. And to celebrate this exciting time, I've created this simple savory galette featuring some summer treats from the farmers market in our new neighborhood.
Welcome home.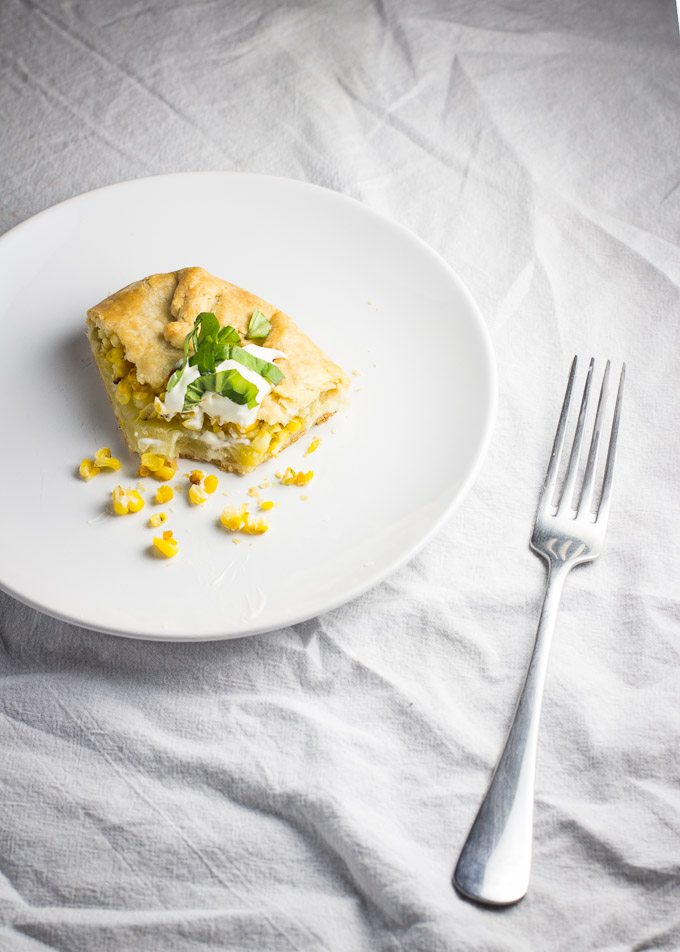 Tomato and Corn Galette
Ingredients
Crust
1½ cup of flour
½ teaspoon of salt
8 tablespoons of unsalted butter, diced
up to ¼ cup of ice water
a few tablespoons of milk or whisked egg
1 large heirloom tomato, sliced ¼ inch thick horizontally
2 ears of corn, shucked
salt
creme fraiche and chopped fresh basil for serving
Instructions
Whisk together the flour and salt. Cut the butter into the flour mixture until it is cut into small pea sized pieces.
Add the water a tablespoon at a time, stirring with a fork until the dough just comes together (it took me about 4 tablespoons of water).
Put dough in a flattened disk onto plastic wrap and chill in the refrigerator for at least 30 minutes.
Meanwhile liberally salt the slices of tomato and drain on paper towels.
Preheat the oven to 400 degrees.
Grill the ears of corn on a grill pan or cast iron skillet over high, turning gradually to char all over. Once cooled, cut the kernels of corn off the cob.
Roll out the dough on a floured surface into a 12 inch round about an ⅛ inch thick. Move to a baking pan lined with parchment paper.
Leaving a two inch border, arrange the tomato slices to cover the center of the dough. Sprinkle the corn over the tomatoes.
Fold the edges of dough inward, folding over at needed. Brush the dough with milk or egg wash.
Bake in the middle of the oven for 45 minutes or until golden brown. Serve with a dollop of creme fraiche and fresh basil.
1